News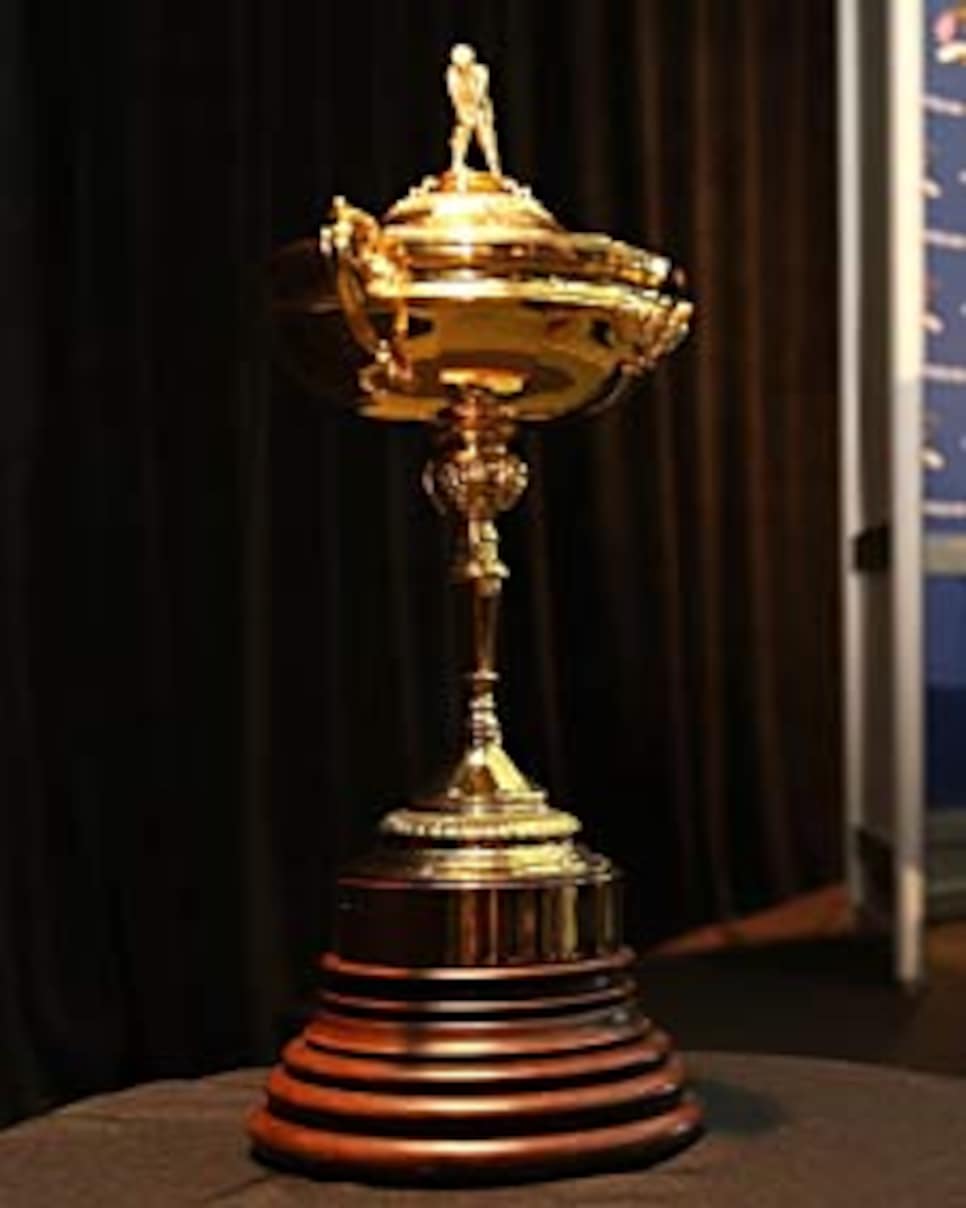 This is a Ryder Cup year. We started hearing that from European players at the end of 2007. Miguel Angel Jiménez and Ian Poulter recorded victories in November; Lee Westwood showed up at Tiger Woods' Target World Challenge looking trimmer; and Darren Clarke, down to No. 256 in the World Ranking after the death of his wife, said he was ready to make a comeback. They are all focused on next September's biennial matches at Valhalla GC. On this side of the Atlantic Ocean, American golf has the three best players in the world, a Presidents Cup in the trophy case and a Ryder Cup mindset that differs from that of the Euros: We'll start to worry about the showdown when it's time. More important to the golf fan on this continent are the exploits of Woods, Phil Mickelson and the rest of the boys. We know Woods won the Target by seven strokes, and reports from Southern California in late December have Mickelson spending more time in the workout room with strength coach Sean Cochran than the hitting bay at Butch Harmon's golf school. We'll see Lefty and Tiger together for the first time at next month's Buick Invitational. Remember how the season used to "start" at Doral? Now it begins at Torrey Pines. Regarding the big questions for 2008, they begin here...
Should the tour still open its season in Hawaii with a winners-only event that Tiger and Phil skip and that Ernie Els and Sergio Garcia, among ­others, didn't qualify for?
Although it would be nice to start the season with all the big names in the field, the reality is the Mercedes-Benz Championship format doesn't need to be changed, and neither does the venue, Kapalua Resort's Plantation Course. In this case it's all about fitting the tournament into Woods' schedule. He used to open the season in Hawaii before the PGA Tour moved the Target World Challenge deep into December, after the Father-Son tournament and the Merrill Lynch Shootout. That didn't give him enough time for the holidays, or his birthday (Dec. 30), before preparing for his first tour appearance of the year. One alternative being discussed is to shrink the FedEx Cup schedule by weeding out some weaker events so the Mercedes could start in mid-January, giving Woods enough of a break. As for Mickelson, he simply doesn't like going to Kapalua. There's a better chance of getting him to play on a ski slope, which is where he is usually based in early January. He is doubtful at the Bob Hope Chrysler Classic, too, because of the venue change to the Classic Club.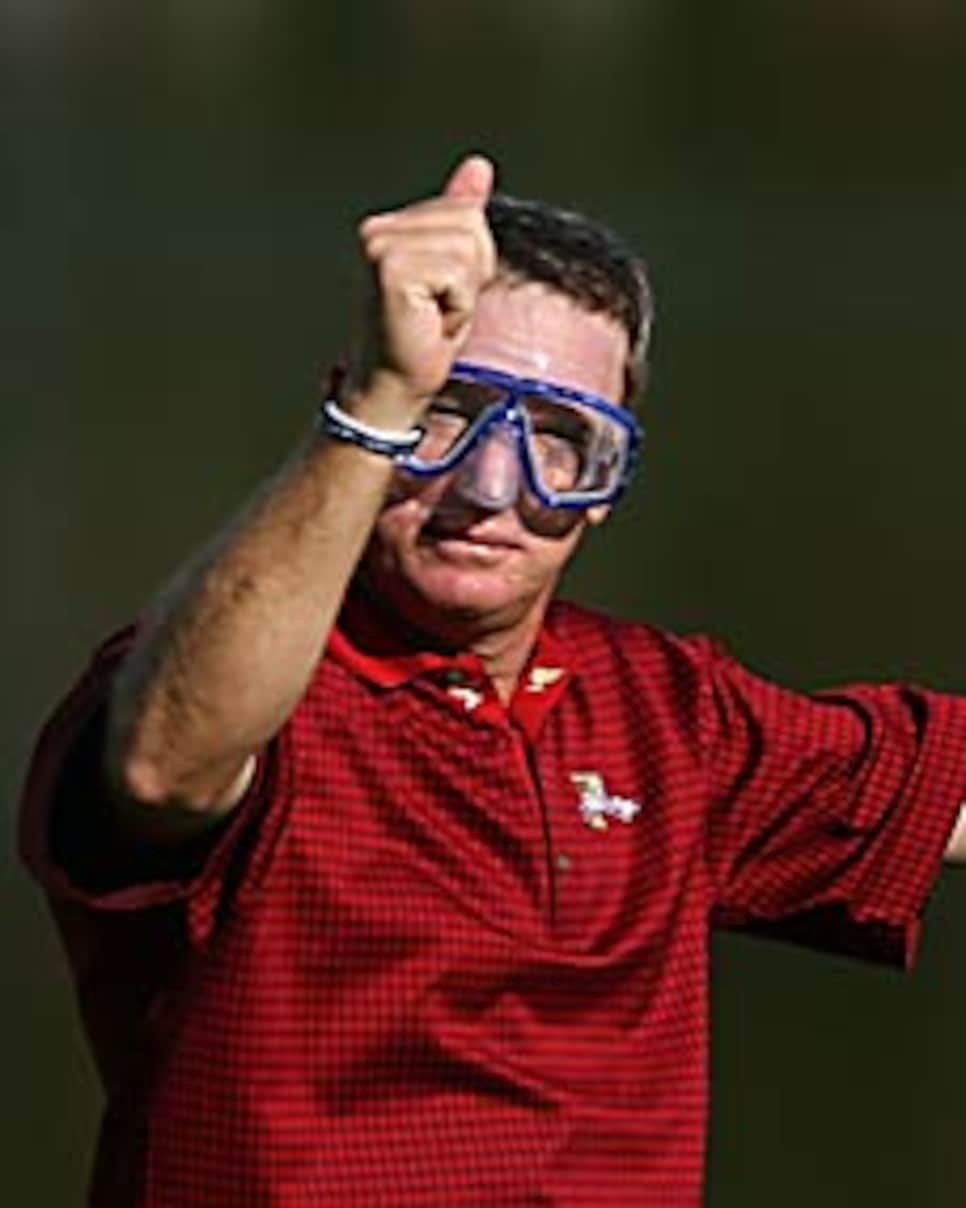 Will we see the return of Aquaman at the Ryder Cup?
Woody Austin's spirit was contagious at the Presidents Cup -- even before the face plant in that cold pond at Royal Montreal. Paul Azinger's team needs the same type of looseness -- a guy to take all the abuse -- but behind the snorkel mask lies one of the best clutch ball-strikers on the PGA Tour. Austin makes a good partner, as Mark Calcavecchia found out in the Merrill Lynch Shootout. Mickelson, who went 1-0-2 with Austin at Royal Montreal, will tell you the same thing. So yes, even though he didn't make the Golf World Top 30, Austin will make the team at Valhalla and once again be a factor for the U.S. in team competition -- perhaps even a controversial one with too many fist pumps against the thinner-skinned Europeans.
Who is going to be the breakout player of the year?
There were no can't-miss Americans coming out of PGA Tour Qualifying School where Colt Knost, the U.S. Amateur and Public Links champion, bombed in the final, and Dustin Johnson was the only Walker Cup star to earn his card. That noted, there is someone to keep an eye on among the Nationwide Tour graduates. With due respect to Aussie Nick Flanagan, who earned a three-win promotion, countryman Jason Day generated more buzz than any graduate in the developmental tour's recent history. The 20-year-old Queenslander is talking about challenging Tiger Woods -- which makes him sound like, well, a 20-year-old. Day, however, has a nagging wrist injury that has sidelined him for most of the last two months.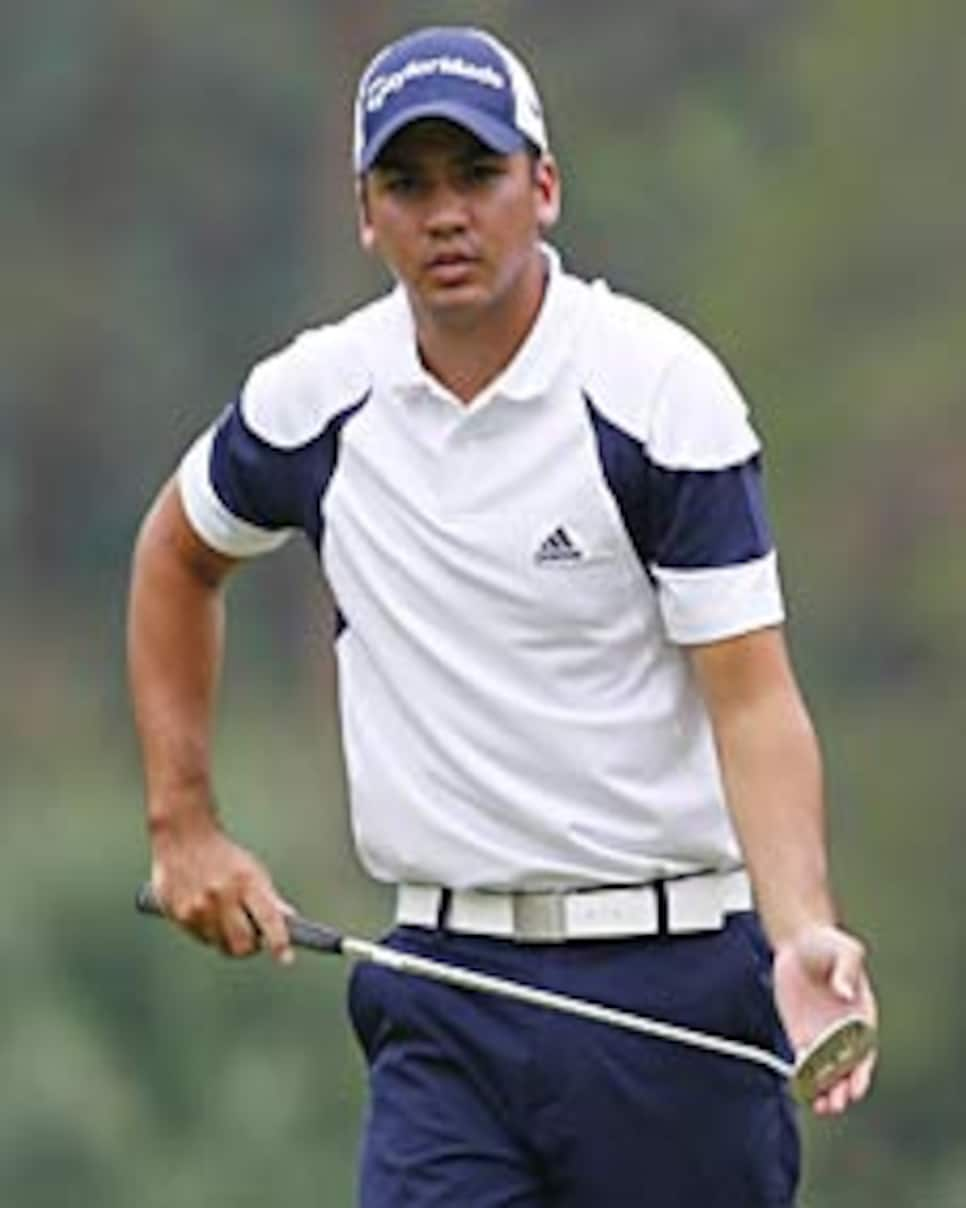 Meanwhile there is anticipation in Europe for a couple of players who don't have PGA Tour cards but could find themselves playing in big events in the U.S. if they climb the World Ranking. Rory McIlroy, the 18-year-old Northern Irishman who was low amateur at the British Open and turned pro after the Walker Cup in September, threatened to win the Dunhill Links Championship and the Madrid Open in October. Also watch out for Oliver Wilson. The young Englishman schooled at Georgia's Augusta State has been tracking on a path similar to Padraig Harrington. Wilson, 27, lost a playoff to Paul Casey in China and has finished second four times on the European Tour, including the recent South African Airways Open. We could see him in September on Nick Faldo's Ryder Cup team.
Does the revamped PGA Tour playoff schedule mean the big names will play all four postseason events?
The break between events won't prevent players from skipping playoff tournaments. Not when it is possible to play just three of the four and still win. Plus, the most important big name, Tiger Woods, only plays on venues where he is comfortable -- and Westchester CC, site of the Barclays, is not on that list. In 2009 the event moves to Liberty National in New Jersey, but unless the tour moves the New York City-area event to Bethpage Black, site of Woods' 2002 U.S. Open victory, there is a better chance of seeing Tiger ring the bell on Wall Street or hit balls at Chelsea Piers -- as he did last year after skipping Barclays on the way to the Deutsche Bank Championship. And if Tiger skips a tournament, you can expect Mickelson, Ernie Els and perhaps others to skip one as well.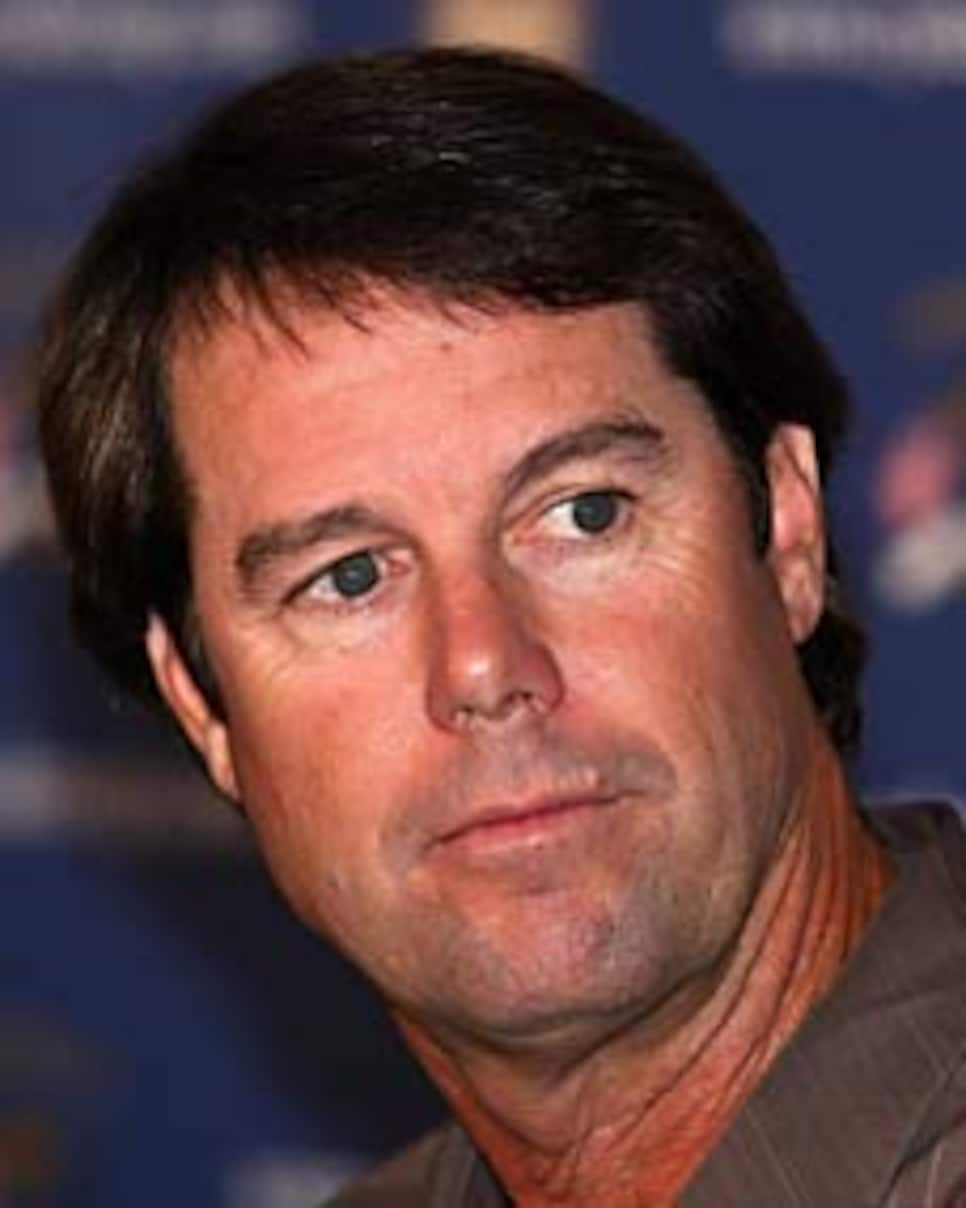 How will the new Ryder Cup selection process affect the makeup of the American team?
The points list is no longer based on top-10 finishes, just money won, and captain Paul Azinger will have four captain's picks instead of two. But for all the new and interesting concepts Azinger devised to shake up the teams that have produced back-to-back nine-point losses, with the same talent pool, will it make a bloody difference? Woods, Mickelson, Jim Furyk and Steve Stricker are in the top five on the World Ranking, but only one other American-born player, Zach Johnson, is in the top 20. The only other Yanks in the top 30 are Stewart Cink, Scott Verplank and Arron Oberholser; Cink and Verplank have been solid Cup performers but neither strikes fear in the hearts of the Europeans. And it remains to be seen whether Presidents Cup rookies Lucas Glover and Hunter Mahan have gained enough team experience to handle Ryder Cup pressure.
What type of players do this year's major sites favor? Or, more specifically, do they favor Tiger Woods?
Woods hasn't won at Augusta since 2005 or at the U.S. Open in five years -- so in both cases he's due. Especially so with the USGA taking its act to the West Coast onto one of Tiger's favorite playgrounds, the South Course at Torrey Pines, where he has won the Buick Invitational five times. But a short knocker such as Zach Johnson winning the Masters and a wild bomber such as Angel Cabrera winning the U.S. Open proves conventional wisdom doesn't always rule and shows how hard it is to win a Grand Slam. The last time the British Open was held at Royal Birkdale was 1998, and Woods finished one stroke out of the playoff eventually won by Mark O'Meara. But he doesn't have fond memories of Oakland Hills, site of the PGA Championship. In 1996, playing his last U.S. Open before turning pro, Woods hit two balls into the water at the 16th hole during the opening round and made quadruple-bogey 8. In addition, "the Monster" will no doubt bring back memories of Hal Sutton's pairing Woods with Phil Mickelson in the 2004 Ryder Cup.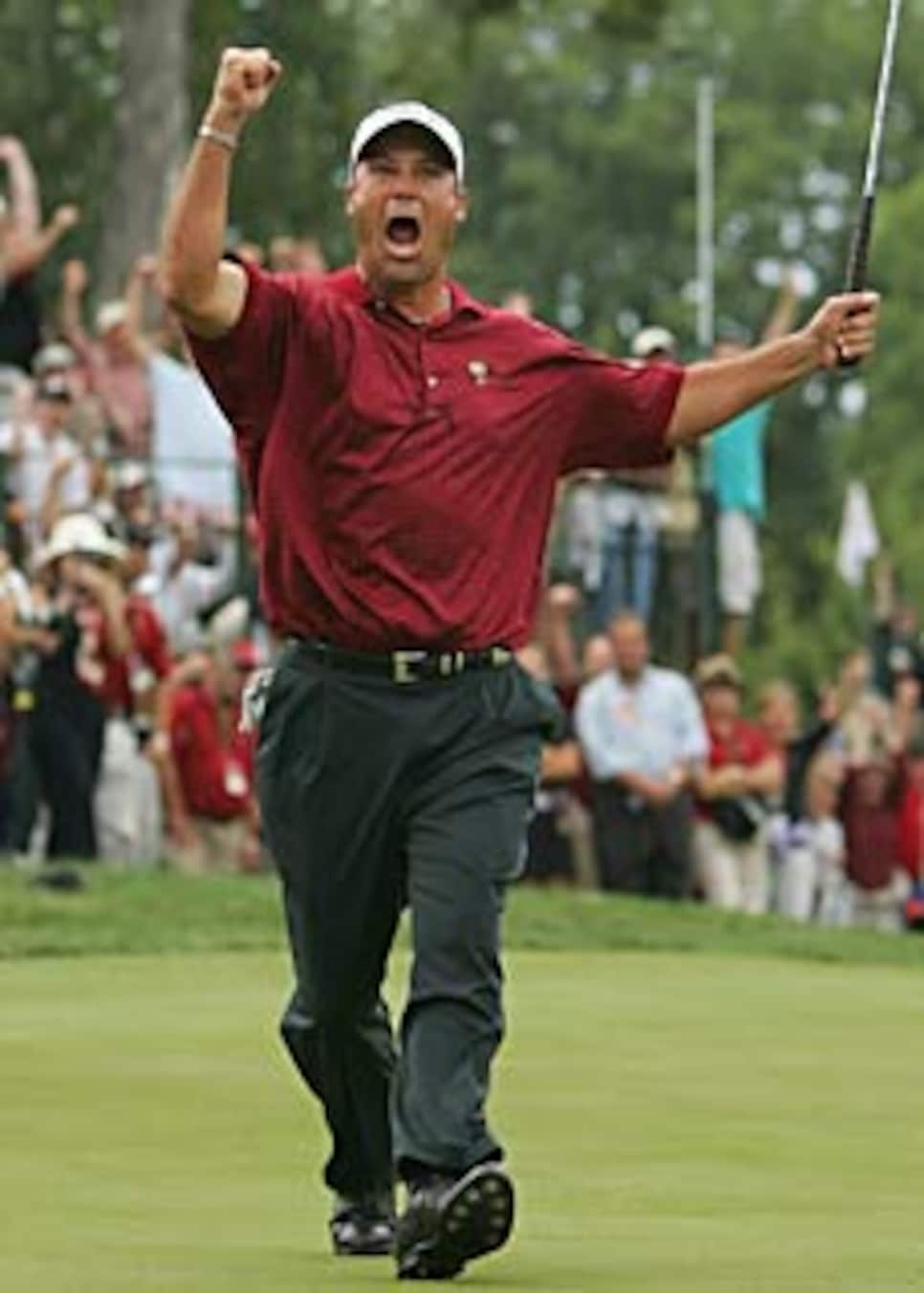 Can Chris DiMarco regain his stellar 2005 Presidents Cup form?
It's not hard to see why it unraveled for DiMarco (right). In 2006 he suffered a cracked rib in a skiing accident and the death of his mother. In 2007 he had shoulder surgery. But you can question whether he put enough effort into his game to maintain a world-class level. Rarely seen on the range or the workout room, DiMarco claims to be dedicated to improvement and says he is pain-free for the first time in two years. "I'm able to work on things I really want to work on without any pain anywhere," DiMarco said recently. Plus, he is motivated by not being part of the Presidents Cup team in 2007 after sinking the winning putt in 2005.
What can we expect from David Duval in 2008?
According to Duval, maybe a victory. The former British Open champion revealed during the Father-Son Challenge that he felt capable of winning again on tour and that his goal was playing on the Ryder Cup team in 2008. According to Puggy Blackmon, his former college coach, instructor and part-time shrink, Duval has a much better mental state now that wife, Susie, and baby daughter, Sienna, are healthy after Susie's difficult pregnancy. "I've never seen him so upbeat and excited about playing," Blackmon said. "He basically said he was ready to win or felt like he could win, mentally and physically. I love what I'm hearing. All that has been missing is the desire." That desire may come out of necessity: Duval was granted a major medical extension under a new category for family crisis and has 20 events to earn $713,235 in order to keep his exempt status on tour.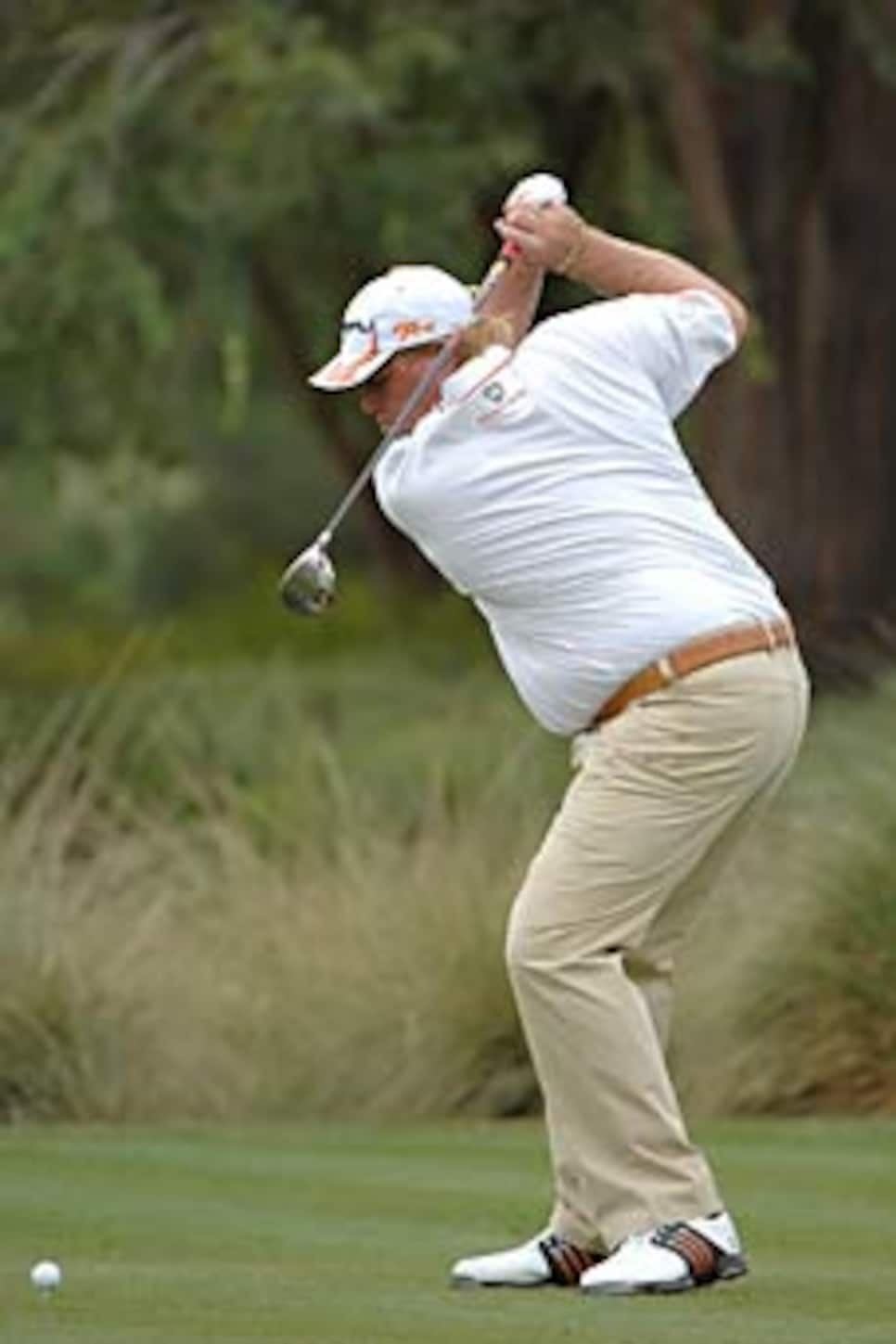 Will Butch Harmon have the same impact on John Daly that he had on Phil Mickelson?
Harmon's joining Daly's team has nothing to do with cutting down Long John's backswing, so the answer will be dictated by how much Harmon can get inside Daly's head. Perhaps Butch can convince Daly that his penchant for withdrawing from events -- and flat-out quitting -- when things start going south are not in the two-time major champion's best interest. As Daly said before the Merrill Lynch Shootout, "Butch will push you. I never had anybody push me to do things." Will Daly push back or accept the direction? "It's something that should have been done a long time ago, but I was too stubborn," he said. Harmon has told associates that he wants to downplay the relationship, a sign that Harmon wants to see Daly take a turn before he believes it.