News
Newsmakers 2007: Virgina Tech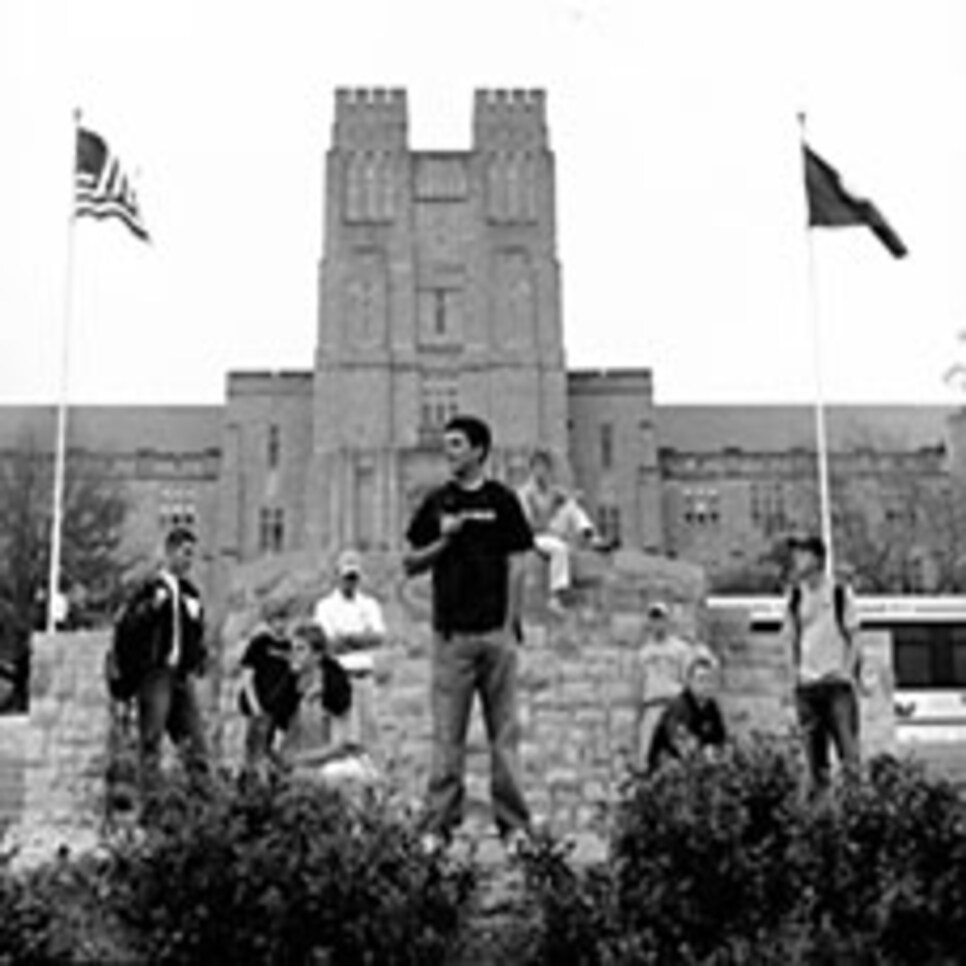 The Virginia Tech men's golf team, co-ACC champions, on campus in Blacksburg, Va., seven months after the tragedy.
Seven months later, people can still hear the sirens. It is a sound never to be forgotten, a high-speed symphony of emergency vehicles as they piled up by the dozens on the Drillfield's northwest rim. Every ambulance in Montgomery County, or so it seemed, every cop car in the Roanoke Valley.
"There had to be 50 of them," says Brian Sharp, the assistant golf coach at Virginia Tech. "We were maybe 500 yards from Norris Hall--they kept coming and coming."
As college campuses go, few are prettier or more practically designed than the 2,600-acre sprawl in Blacksburg. At the center of it all is the Drillfield, a huge grass oval with no military relevance, although it has hosted numerous Frisbee battles and neatly divides this educational metropolis into two sections: academic buildings on one side, residential halls on the other.
All structures are built from "Hokie Stone," a sandy-colored rock exclusive to the university, which owns the quarry. Anyone with an ounce of architectural sense would take a liking to the place. With the Blue Ridge Mountains as a backdrop, the grounds are classy and compact, which makes it easy to get around but brings a lot of kids into play when a student-turned-gunman kills 32 people and himself on the third Monday in April.
Then sophomore Drew Weaver and freshman Matt Boyd had just gotten out of an accounting class in McBryde Hall, putting them a lob wedge away from the deadliest single-killer murder spree in U.S. history. A day earlier the two members of the school's golf team had returned to Blacksburg from Holly Springs, N.C., where the Hokies finished 11th among 15 teams at the Courtyard by Marriott Intercollegiate.
One minute, you're thinking about the 7-iron you missed into the 15th green at Devil's Ridge GC. The next, some panic-stricken guy with a weapon is telling you to run like hell. "We come out of McBryde and see all the cops at Norris," Weaver says. "The door is barricaded, so we figure it's a bomb threat. All of a sudden, this cop comes running toward us, and he's freaking out. He tells us to get out of here, to sprint in the other direction, but he doesn't tell us what's going on."
For an introspective 20-year-old from High Point, N.C., whose cozy existence kept him a safe distance from firearms, the morning of April 16 jarred Weaver's universe with the force of a giant meteor. Many Virginia Tech students are East Coast suburbanites--close enough to big cities to glean a bit of cultural sophistication, far enough to avoid urban blight. They come to Blacksburg because it is as collegiate as a college town gets, an otherwise sleepy hamlet invigorated by a vibrant academic institution.
They come because it's in the middle of nowhere, idyllic and isolated, if not fully insulated from the scourge of the real world. "It's not like anybody comes from the immediate area," says Jurrian van der Vaart, a senior this fall who was born and raised in The Netherlands. "Everybody had to make a big decision to come here, and once they do, they find something they like. Europeans don't bond the way people do here. It's something very special."
And so the last place you would expect to find a mass homicide became the tragedy capital of America, chained to one kid's hate and the vile side of fate. As gusts of 40 miles per hour blew snow flurries aimlessly across the Drillfield, Weaver and Boyd readied themselves for the dash toward Newman Library. Less scared than bewildered, their eagerness to flee the madness didn't prevent them from pondering a scene they would surely never witness again.
"That's when we heard the shots," Weaver says. "Five or six really loud bangs, like bombs going off, and the second we heard them, my heart just jumped. It haunted me for two or three months. I remember going to bed every night that week, and as soon as I'd close my eyes, my mind would flash back to the moment we heard the shots. Such an intense sound, such a vivid memory."
If Cho Seung-Hui had waited 24 hours to conduct his mass slaughter, Virginia Tech's best golfer would have been in Norris Hall for a 9:30 a.m. class, at which point the wrong place and wrong time could have produced a very different set of circumstances. Instead, Weaver and his eight teammates were shaken but physically unharmed by the incident. None of them lost a friend or knew any of the victims personally. Their lives would go on, a victory in itself.
"It wasn't until we looked on the computer that we found out what happened," says then-junior Nick MacDonald, who couldn't have been more than 60 yards from the carnage before he was whisked off to the Architecture Annex and detained for three hours. "One dead, two dead, seven dead, then it gets to 21 and the number keeps going up and up. We thought it was an exaggeration, an Internet hoax, something like that."
Emotionally, a ton of healing would be required, and as the hours turned into days, the random loss of humanity had no less an effect on golfers defined only by the college they had chosen and the game they play. The 2006-07 Virginia Tech roster had more foreigners (three) than Virginians (two). There was but one senior: Ryan Sypniewski, who, despite van der Vaart's claim, grew up in Radford, which borders Blacksburg.
When head coach Jay Hardwick asked his boys to unveil their souls in an attempt at group therapy that Wednesday evening, Sypniewski's sobbing lament on the death of his hometown ideal shook up the room like a brick through a window. "He's been going to Virginia Tech football games since he was this high," van der Vaart says, holding his arm three feet off the floor. "He grew up five minutes from here, it was his last week of school, and it was extremely difficult for him to realize his safe little getaway wasn't so safe anymore."
If the end of the innocence didn't spark a sudden burst of excellence, the transition is as clearly marked as the two sides of the Drillfield. The young men who gathered to share their grief and disbelief walked away as a team, bonded by honesty and intensity, strengthened by advanced chemistry. "A major turning point," Weaver says. "It was a long meeting, over an hour, and everybody let everything out. There was no holding back."
Four days later Virginia Tech claimed a share of its first ACC Championship, staging a furious rally over the final nine holes to catch Georgia Tech at 10 under. Given how their week started, given the top-to-bottom strength of arguably college golf's strongest conference--no fewer than five teams were ranked in the top 25 throughout the entire 2006-07 season, the Hokies not among them--the size of the upset rates somewhere between considerable and monumental.
Virginia Tech would have been seeded seventh among the 11 ACC schools with golf programs, safely in the national top 50 but not to be confused with the elites. "As far as what we'd done that spring, everyone knew our kids were capable," Hardwick says. "We'd won a tournament [the Furman Intercollegiate], finished second and finished 10th [among 18 teams] in Puerto Rico against the strongest field of the year with very little practice coming out of the winter. People knew we were there."
Hardwick is a tall, radiant man who was a superb player in his day, one of the finest in the Middle Atlantic PGA Section from the early 1970s to mid-'90s. Since returning to his alma mater to run the program in 1983, Hardwick has been named coach of the year seven times by four different conferences, which says as much about his leadership qualities as it does Virginia Tech's history of league-hopping.
Not that any of this mattered during The Week That Changed Everything. "Our kids had an opportunity to make a difference, and they took advantage," Hardwick says of the ACC heroics. "They were hell-bent on bringing some good news back to campus--it was a real motivation for them. When you accomplish something like that, it has to elevate you. It has to take you to the next level."
And so it has. In addition to the Hokies' conference crown and an at-large bid to the '07 NCAA East Regional, Weaver in June became the first American since 1979 to win the British Amateur. Talk about monumental upsets. After knocking off two prospective members of Great Britain Ireland's Walker Cup squad in the early stages of match play, Weaver was dormie with six holes to play in the final before holding off Australian Amateur champ Tim Stewart, 2 and 1.
None of Weaver's six opponents made it to the 18th tee. "They gave me so much crap," he says of his teammates. "They told me I was the most one-dimensional player they had ever seen."
A top-50 junior coming out of high school, Weaver's decision to attend Virginia Tech was a big deal--his parents went to Wake Forest. Three other ACC schools and their snazzy programs were no more than an hour from his home, making this one of Hardwick's biggest recruiting victories. Still, the kids have to play, and to play well, it can't hurt to jell. "The first couple of years here were no fun," Weaver says. "We had no team confidence whatsoever."
There are times when a brick through a window can serve a purpose. "We were scared," adds junior Will Oldham. "We'd get to tournaments and say, 'Look how good that team is. And look who they've got.' We knew we had a hell of a golf team. It just took some time to put it together." Further construction occurred last month, when the Hokies finished the 2007-08 season's fall schedule with back-to-back victories. Seven birdies and an eagle on the final four holes at the Landfall Tradition vaulted them into a tie with Tulsa, prompting a match of non-counting scorecards, which Virginia Tech won by three.
When Hardwick invited the team out to its practice facility at the Pete Dye River Course a few hours after the shootings, hardly a word was spoken as the players tried to come to terms with the tragedy. It wasn't until the following afternoon that the athletic department officially cleared them to play in the ACCs. "One of the gutsiest calls you could possibly make," Hardwick calls it.
A Wednesday practice round in Winston-Salem was, according to several players, nothing more than a trip to the Twilight Zone. "Strangest round of golf I've ever played," Weaver says. "To play 18 holes with maybe 10 words spoken in the entire group, it was very bizarre. To be right in the middle of it all in Blacksburg, then feel so [disconnected] from it was a really sharp transition."
Sensing his team was in poor shape mentally, Hardwick relied purely on coaching instinct when the Hokies arrived at Old North State Club, home of the ACC Championship. It marked the only time all year the Hokies stayed in private housing. As their white van rolled through the residential area surrounding the course, the response to the tragedy from total strangers was overwhelming. Every lawn had a sign, everyone in the neighborhood had something kind to say. Inside the house, the kitchen table had been buried under more cakes and cookies than Betty Crocker made during her busiest stretch.
The next morning, it was no different. "When you see a University of Virginia player wearing a Virginia Tech hat, that will get your attention," Sharp says.
Sypniewski, whose perfect world had been riddled with bullet holes six days earlier, closed with a 67 to finish third in the individual competition. His eight-foot par save on No. 16 was as big as any putt made all week. After Weaver's drive trickled into the water at the par-5 18th, he roasted a 5-iron from 225 yards to 25 feet, then holed the putt for birdie. One group back, Sypniewski laid up with his second shot, then stuffed his third 18 inches from the pin.
Trailing by five strokes at the start of play Sunday, Virginia Tech torched the final nine holes in seven under. You can talk about fate, give a nod to the golf gods or spend all day searching for a deeper meaning, but more often than not, it comes down to a ball, a hole and a heart. "I told them I was prouder of the way they got themselves into a competitive mindset than any actual result," Hardwick says. "I personally relished the opportunity to spend those four or five days with my guys."
Seven months later, people can still hear the sirens, but they aren't as loud, and the memory has merged with reality. Thirty-three lives were lost, thousands of others permanently altered, but a visitor can enter Norris Hall and walk down the 100-foot corridor where all the blood was shed, where one of the darkest chapters in U.S. history was authored.
The cream-colored brick walls have recently been painted, the doors on the classrooms replaced, although the new ones have no doorknobs. Your spine tingles, your heart beats a little harder, and you may wonder who has the key. "If all this had happened in an urban area, it probably wouldn't be as much of a shock," van der Vaart says. "The fact that everything is so open here is what makes it so safe."