News
View From the Bunker: The MVP Of Coaches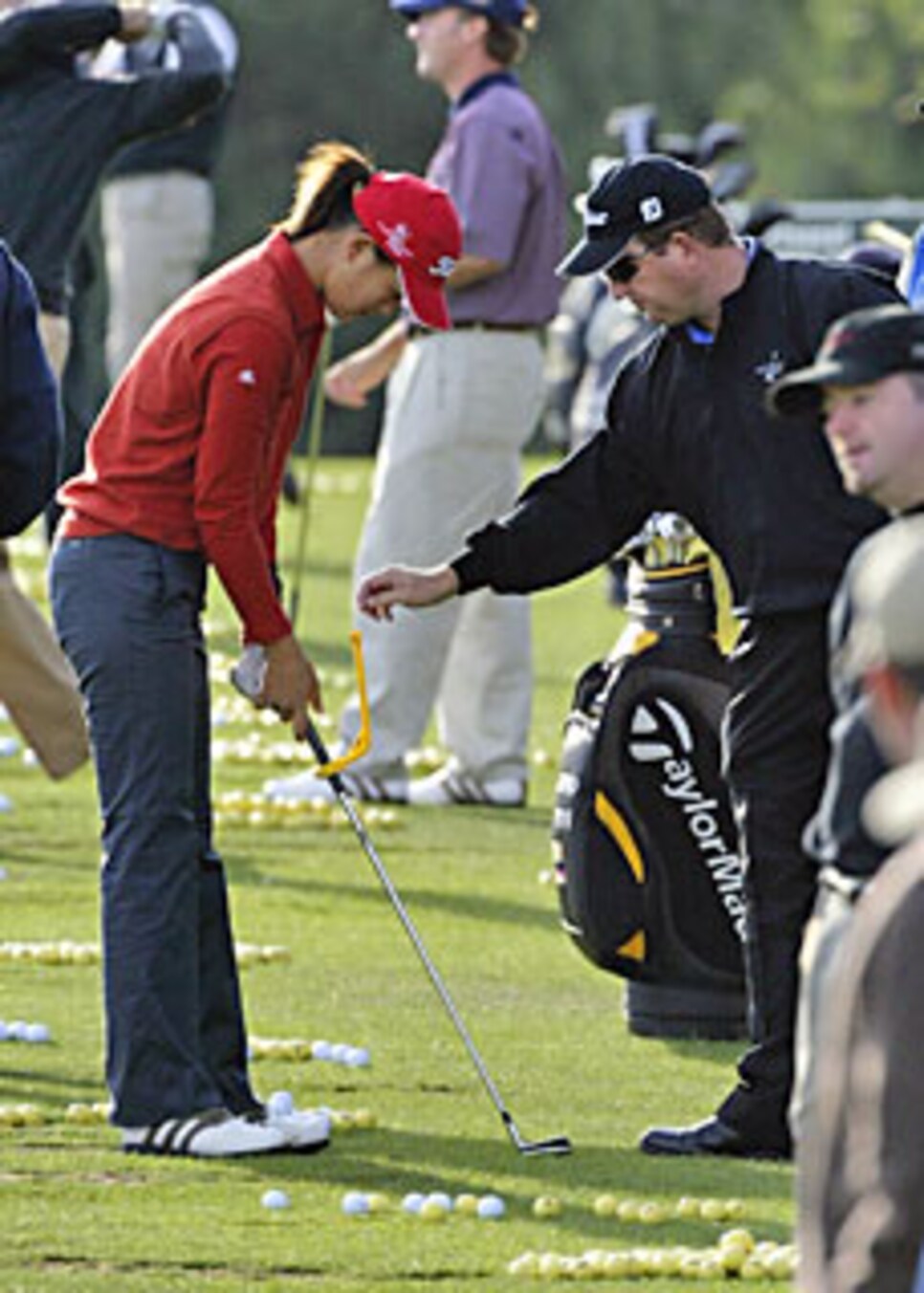 Gilchrist with former student Michelle Wie.
Rodney Dangerfield has nothing on Gary Gilchrist. The guy just can't get no respect. But for someone who got big-footed twice in an extremely short period of time, the affable 43-year-old South African may end up getting the last laugh on a couple of his more high-profile colleagues. Gilchrist has had a pretty good year -- for a guy who lost his job.
Gilchrist, you remember, was Michelle Wie's swing coach back when her gloriously fluid motion led Tom Lehman to dub her "The Big Wiesy," an homage to the wonderful rhythm of Ernie Els -- the Big Easy. But right about the time Wie was becoming a media darling, David Leadbetter, for whom Gilchrist worked, decided to take over teaching her. How's that working out?
Next Gilchrist popped up at the International Junior Golf Academy on Hilton Head Island which, during his tenure, turned out 2005 U.S. Girls' Junior champion In-Kyung Kim, 2006 Duramed Futures Tour player of the year Song-Hee Kim and this year's U.S. Women's Amateur champion, Maria José Uribe. But the folks at the IJGA decided to go more upscale and brought in Hank Haney -- he of Tiger Woods fame -- to run the show. Exit Gilchrist.
Meantime, last winter Gilchrist started working with Suzann Pettersen, teaming with mental-game gurus Lynn Marriott and Pia Nilsson in an effort to get the then-25-year-old Norwegian (and career nonwinner) to fulfill her potential. Five LPGA victories later -- including one major title and a near-miss in another -- it seems safe to say Mission Accomplished. Still, Gilchrist is a man looking for a school. "There is no one in the industry better than me in junior golf," Gilchrist said Sunday from his home in Hilton Head after Pettersen eagled the last hole to win the Honda LPGA Thailand tournament by one stroke. "I teach the whole person. I don't make everyone try to swing the same way. What's a great swing? The one you believe in."
Besides Pettersen, Gilchrist works with LPGA players Nicole Perrot, Mhairi McKay, Candy Hanneman and Allison Hanna-Williams, as well as Peter Hedblom on the men's European Tour. Gilchrist left the IJGA rather than work in Haney's shadow and because their teaching philosophies differ.
Gilchrist, who describes himself as a coach rather than an instructor, says his family is ready to relocate and that he would like to find a place to teach in Orlando, where Pettersen is based. Meanwhile, he has a player who has emerged as second only to Lorena Ochoa in women's golf. "The great thing about Suzann is that you don't have to teach her how to compete," Gilchrist says. "She is all about competing. All I had to do was build her confidence."
Speaking of confidence, there's an ex-Gilchrist student at Stanford who could use a big dose of that right now. "She needs to get less technical, not more," Gilchrist says of Wie, perhaps wondering what could have been. "She needs to feel it, not think about it."
And Gilchrist needs a place to call home.