News
TourTalk: Backdoor Tour Cards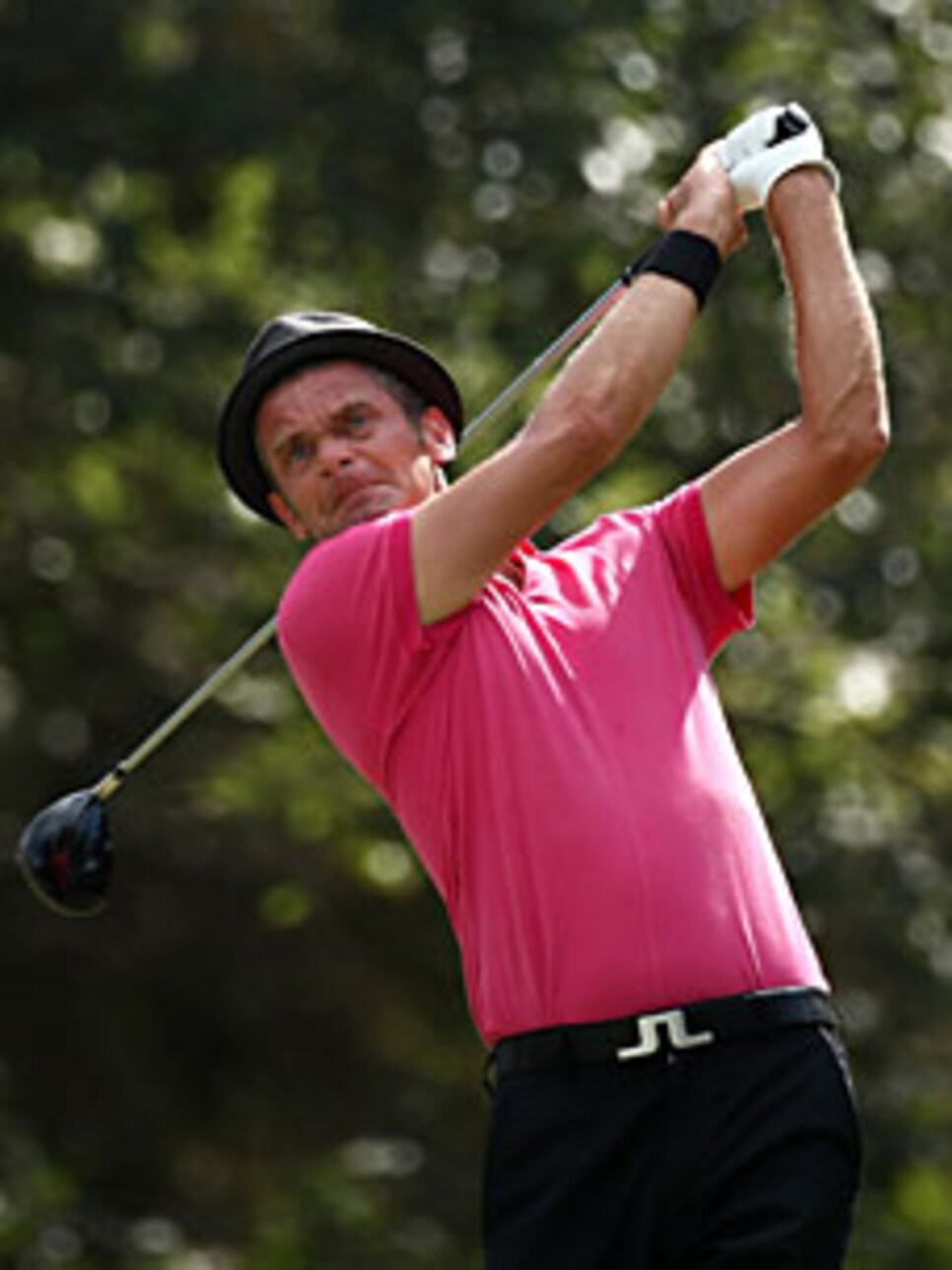 Parnevik used the fall events to secure his PGA Tour status for 2008.
Jesper Parnevik didn't see it as a step down or a second chance, but merely a continuation of his season. "Even if I had my card in September, I would have kept playing," Parnevik said on the putting green at the Tesoro Club last Thursday, where he was preparing to play the Ginn sur Mer Classic, the sixth event in the seven-week Fall Series. "For me, it wasn't like something new started in September. For me it was keep going."
The series, which trudged along last week at a tortoise's pace in Port St. Lucie, Fla., has the feel of Nationwide Tour events morphed with one of those Honda Classics at Heron Bay -- which is where Parnevik won his last PGA Tour event six years ago. While relative big names such as Steve Flesch, Chad Campbell, Justin Leonard and Mike Weir have won four of the tournaments, there remains a feeling that this fall-back is clearly a way for FedEx Cup refugees to keep their cards.
Shigeki Maruyama, another notable name who hadn't finished outside the top 80 in earnings since joining the tour in 2000, was the latest to salvage his season. By finishing T-2 at Tesoro, Maruyama earned $396,000 and moved from 137th to 103rd in earnings. "Bye, bye, Disney," said Maruyama, in reference to his now-secure status for 2008. He can end his season a week early and skip the final event of the year, the Children's Miracle Network Classic at Walt Disney World.
Like Maruyama, Parnevik had played in his share of Tour Championships. A decade ago he was a top-20 player, but when his FedEx Cup season ended after a missed cut at the Barclays Classic, Parnevik was outside the top 125 on the money list. It was the first season in 15 that the Swede did not qualify for a major.
But opportunity knocked the week of the Valero Texas Open and Parnevik took advantage of it. His playoff loss to Justin Leonard didn't convert to a two-year exemption and the trip to Kapalua for the Mercedes-Benz Championship. But it did give him exempt status for another year, the second-place check jumping him from 139th to inside the top 90 and back on tour in 2008.
"Any time you play well it's a success," Parnevik said, "whether it's the fall or the spring."
Maruyama and Parnevik were two of five runner-up finishers during the Fall Series who jumped inside the top 125. They were joined by Michael Allen at the Turning Stone Resort Championship, Johnson Wagner at the Viking Classic and Mark Hensby at the Fry's Electronics Open. Hensby arguably had the most to lose; the Australian forgot to send in his entry to Q school and was playing in his adopted hometown of Scottsdale as a last shot. By finishing second to Weir, the former Presidents Cup player (2005) dodged a bullet. "This was probably going to be my last event,'' said Hensby, who was 146th after the Tour Championship and 101st on the money list now. "So it happened for a reason, I guess."
The leading money winner on the $32.1 million series has been Flesch. Ranked 70th on the money list after hitting the wall at the Deutsche Bank Championship, Flesch returned three weeks later and won the Turning Stone event for a check of $1.08 million that was proportionate to a regular-season first-place payday. That jumped him inside the top 30 in earnings, where he remains after a T-51 at Tesoro. The importance of that spot in the post-Tour Championship world is that it gets you a berth in the 2008 Masters. Now 25th, his position -- and invitation -- is secure even if he doesn't make the cut at Disney.
"I've had guys look at me like, 'What are you doing here?'" Flesch said before the Ginn. "It's like they were trying to make me feel guilty, but I want to play in the Masters."