News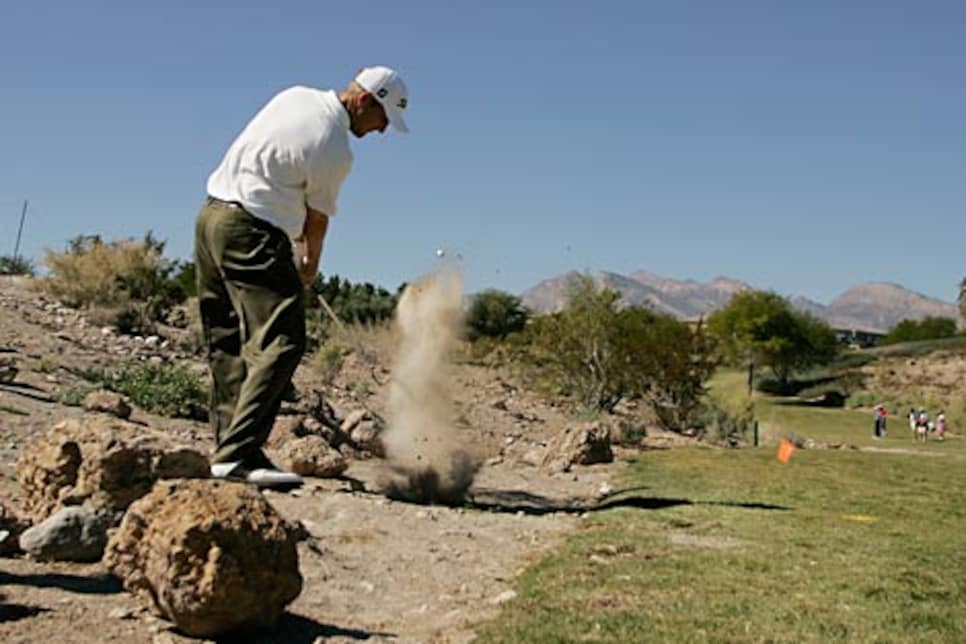 McNeill's desert frolic earned the ex-assistant pro two more years on tour.
Risk and reward aren't nearly as closely aligned as advertised in the Nevada desert, but Las Vegas intoxicates with hope, so there is always a story, amid the rubble of disappointment, of the one guy whose last shot careens into the spectrum of reprieve.
George McNeill, a 32-year-old rookie on the PGA Tour, was working as an assistant professional last summer at Forest CC in Fort Myers, Fla., when he decided that eight unsuccessful trips to the tour's rigorous Q-school wasn't sufficient proof that he might not be playing with a full deck when it comes to golf. Finishing as medalist at the final stage validated that notion, but then came last week's Frys.com Open, in the heart of the tour's new Fall Series that has been heavy on redemptive themes, and McNeill proved it really is better to be good than lucky.
Eschewing the casinos in his spare time and rarely gambling on the course, McNeill was the lone player to fire four rounds in the 60s, including a closing five-under-par 67 at TPC Summerlin, and dispassionately dismissed nearest challenger D.J. Trahan by four strokes for his first tour victory. The $720,000 first prize doubled his season earnings and top-10 finishes, and bumps him from 122nd to 59th on the money list and more importantly gets him a two-year tour exemption. It was the second win by a rookie this year (Brandt Snedeker at the Wyndham Championship was the other) and redoubled the idea that preserving a schedule after the new FedEx Cup competition wasn't a half-bad idea.
The last three winners, Chad Campbell, Justin Leonard and McNeill, combined for a meager four top-10s during the FedEx Cup season, but they have used the appended slate -- cash games only -- to turn around their fortunes.
Of course, just about all visitors to Vegas wish for such proceedings, and there was no shortage of reclamation candidates at the Frys.com Open, which next year gets its fourth title sponsor since 2000 in Shriners Hospitals for Children. Local resident Bob May, again on the rebound from back problems, held the first-round lead with Jason Gore. Garrett Willis, who in 2001 won his first PGA Tour start and had collected only one top-10 since, was tied for the lead after the second round but was just a footnote to golf's most famous gambler, John Daly, whose 63, which included an inward 28, represented his lowest score on tour in six years.
McNeill, who shared the 36-hole lead with Trahan, was flying under the radar until he emerged atop the leader board alone at the turn on a windy Saturday. When he birdied the 11th from eight feet on the way to the day's low score of 67, McNeill led by three strokes and never let anyone get closer, even when Trahan opened the final round with four straight birdies. All that did was shave two strokes off McNeill's five-shot advantage at the start of the day, but the rookie's poker face and recalibrated swing held up for a 23-under 264 total.
"The whole day I kind of had a mindset that if I shoot five under then he has got to shoot 10," said McNeill, who ranked second in greens in regulation after entering the week 167th on tour. "I felt like I didn't do anything that special. It's nice to kind of buzz around and win by four and not feel like you're doing anything all that great."
"He just played solid golf," said Trahan, who is trying to make up for a shaky start to his season (five missed cuts in his first six starts) after changing equipment. "I don't think George went out there with any kind of a new game plan. He played exactly the way he played yesterday, which was hit solid shots and give himself opportunities."
McNeill had felt his game coming around since July, when he tied for third at the Canadian Open following a stretch of eight events when his only weekend on the job came while finishing 63rd at the U.S. Open. With the combined input of his longtime teacher, Kevin Kenney, and Dr. Jim Suttie, with whom he has worked the last couple of years, McNeill has added technical discipline to his feel game. His upright swing is now shallower at the bottom and more on plane. But even more important is that McNeill understands what is happening when things go awry.
"I've put it all together, but I'm not thinking about it," McNeill said after winning in just his 32nd tour start. "I'm just going out there and playing golf."
And that's all he did in Las Vegas. He never once hit the casino floor, even though a friend set him up with a free room at the Gold Coast Casino. The former Florida State All-American took a page out of his own play book from Q school, remembering that he had not so much as drank a beer during that long week in California.
"This is a perfect week to goof off, but I figured it was better to have that same mindset and just focus on golf," said McNeill, who is well aware that among the first-time tour winners in Vegas was Tiger Woods, who is just two months younger but 11 years ahead of him. "We're the same age, but I'm a little behind him in the timeline. But this was his springboard, and maybe I can use it as mine."