News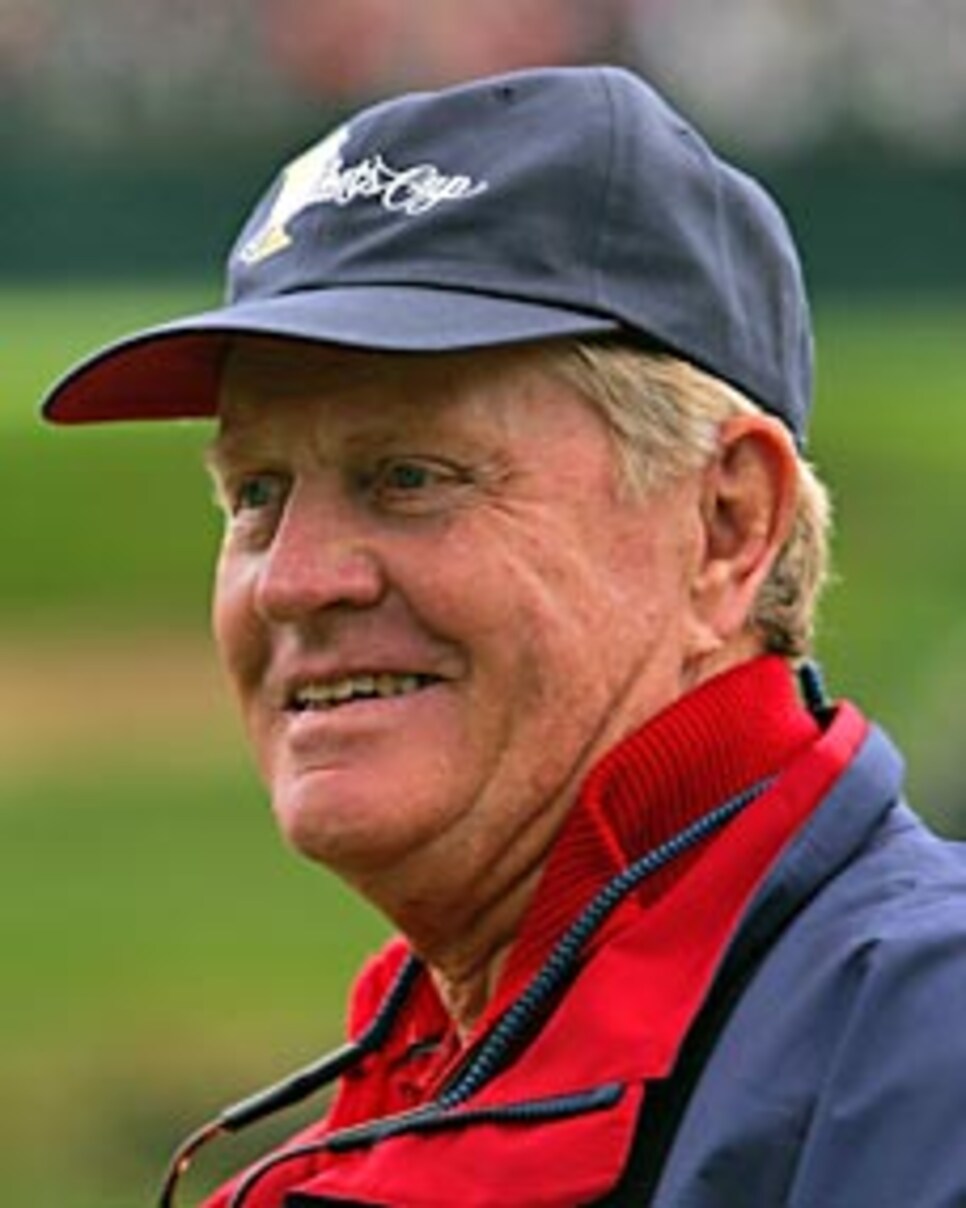 Nicklaus hit aces all week in Montreal.
It is still a maddening game, but at least when golf is disguised as group therapy, you get scenes such as last Friday's at the Presidents Cup. Vijay Singh and Tiger Woods, erstwhile visceral rivals and bitter enemies, found their drives had settled equidistant from the 12th green. They looked at each other, smiled and exchanged shoulder shrugs. Finally, Singh pulled out a tee and tossed it in the air, as you might any morning at the muny. The peg landed pointing toward Singh, who thus hit first. Then Tiger fired, and off they went, cackling down the fairway.
When the men of summer say they miss the team thing they enjoyed as boys, they aren't making small talk. A summer's worth of grim expressions borne from cutthroat competition got a facelift at Royal Montreal GC, where it would not be trite to suggest that a good time was had by all. The United States inflicted an unlikely pounding on an International squad that appeared loaded, but when Mike Weir edged Woods in a match preordained for days by opposing captains, glowing Canadian galleries confirmed that the final result would matter more than the final score.
Success can be measured in numbers, but also decibels and spirit, and this seventh rendition was an ace. Weir, the reason why the Presidents Cup came to Canada, endures more pressure playing for his country than any golfer. The tradeoff, however, is unconditional love. When Sunday's introduction of Woods -- who, by the way, is walking very gingerly on his left knee -- generated only half the screams Weir received, Woody Austin declared nearby, "Now Tiger knows how the rest of us feel when we play with him."
Fellow Americans didn't throw Woody in the lake after the victory because he'd already been there, done that. A dryer maybe. What Austin felt at age 43 was a sense of belonging. He isn't as cosmetically or socially smooth as his peers, and he occasionally feels like a pair of brown shoes among tuxedos on the PGA Tour. "But this week," said his wife, Shannon, "has changed his life." Barbara Nicklaus, the first lady of golf, maintains that, "This was Jack's swan song" as captain. But the Golden Bear counters by saying, "I'll do it as long as they ask me." To a man, the Americans would vote the Golden Bear in for 2009, along with his assistant, Jeff Sluman. Something is happening here that does not meet the eye, as to why the Ryder Cup is a half-empty proposition to the U.S. and the Presidents Cup is half full. Nicklaus is one of the most organized men you'll ever know, an unabashed detail freak. Yet, if this were school, he would be the most popular teacher, not because he's a pushover but because he seeks input and then actually assimilates it. By asking who wants to be paired with whom, he already has trumped previous Ryder Cup captains, according to a couple players who've competed in both.
When Jack implores his guys to "make sure you have fun," it is not the voice of a laissez-faire leader, but rather the wisdom of a legend who apparently notices that these same golfers tend to squeeze the club whenever the foe is Europe. During one hour on the practice range in Montreal, you heard more laughter from the Americans than during an entire week in Ireland. Jack certainly doesn't need to be involved in the Ryder Cup again, but with Sluman's credentials -- Presidents Cup experience, ability to relate to contemporary players even now that he's on the wrong side of 50, a former PGA Championship victor -- the PGA of America would not be thinking far outside the box to consider him for the job, sooner rather than later. The notion that you can't get 12 multi-millionaires to agree on anything is shattered every two years when the Americans discuss Jack and Barbara and Sluman.
Thursday, Singh contemplated a ticklish putt on the 18th for a halve in his match with Weir against Phil Mickelson and Woody Allen Austin. "Give it to him," Jack suggested to Jim Mackay, Mickelson's caddie, beside the green. Mackay darted toward Mickelson, who conceded the 43-incher. It was the second match of a competition nobody envisioned as a rout, but the magnanimous gesture was so typical of Nicklaus that he credited Mickelson and Austin with the decision. You would expect nothing less of Nicklaus, who should be back in 2009. Jack's lone mistake all week was in saying the singular fear about staging a September Presidents Cup in Montreal was the chance of snow. He was half-kidding, but talk radio harpooned him anyway. Sacré bleu! Another daffy Yank from Florida.
Scott Verplank, undefeated again as he was at the last Ryder Cup, can only hope he might savor this experience more than his 2001 Bell Canadian Open triumph at Royal Montreal. A day after, he attended an event commemorating several members of the basketball team from Oklahoma State, Verplank's alma mater, who had perished in a plane crash. "The next morning I was back home, wanting to enjoy what happened here," Verplank recalled. "But the next morning was 9/11. The world changed. It's only golf."