News
First Time Is Their Charm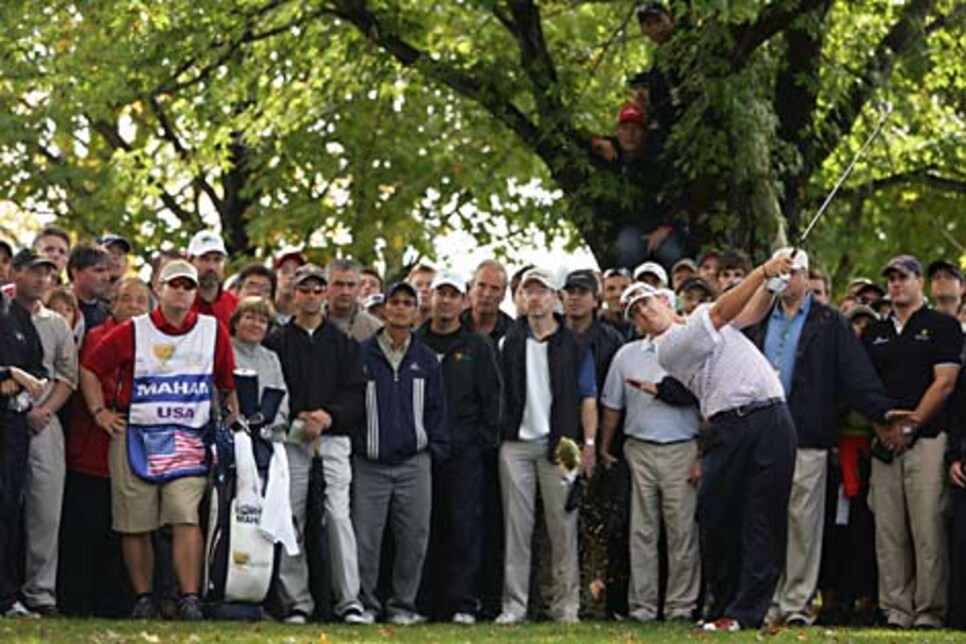 Mahan, Nicklaus' pick to hit the first shot, extended his breakout season.
Before Woody Austin turned the Presidents Cup into Aquaman and the Justice League, he was just one of three unbloodied rookies -- one old, one just a pup and one a loose-jointed country boy -- all playing for America and their peers for the first time on the professional stage. With a slip of the foot, Austin stole the show like the fool in a Shakespearean drama. But the jester also has some of literature's finest lines, just as Austin produced some of the most dramatic golf of the matches at Royal Montreal.
The elder statesman of inexperience, at age 43, Austin was the only one of the three rookies who earned his place on the team. The squad's youngest player, Hunter Mahan, and it's most countrified Frank Sinatra fan, Lucas Glover, were picked by captain Jack Nicklaus, who claimed he was looking for some new, twentysomething bodies instead of the usual old, twitchy backs with high mileage. "Why should next time be their first time?" Nicklaus asked. (Technically, Zach Johnson was a Presidents Cup rookie, but he already had gotten his nose broken in a Ryder Cup. Montreal would be nothing new to him -- except for the part about winning.)
Had Nicklaus used his two picks on Glover and Mahan in the over-cooked atmosphere of the Ryder Cup, he might well have been castigated, vilified, second-guessed and Hal Suttoned almost immediately, 18 majors or not. But because it was the less jingoistic Presidents Cup, and he had a lot of experience already on the team, it seemed like a prime opportunity for a youth movement. Seldom do rookies, no matter how good they may be, step immediately into a leading role. Tiger Woods didn't at Valderrama in 1997. You might have to go all the way back to Larry Nelson in '79 at The Greenbrier to find someone who did.
Nicklaus' gamble was not unlike 2005 when Gary Player picked Trevor Immelman for the International side. At the time Player was criticized for selecting a fellow countryman who, coincidentally, would gain access to a PGA Tour card as a perk. But there can be no doubt by now Immelman was a solid choice and a player destined to be a Presidents Cup fixture. Nicklaus can only hope to be as prescient.
As the saying goes, the children are the future. And, even though none of Captain Jack's rookies won a singles match, they did OK when it counted. Altogether, the threesome contributed 6½ points to the effort.
In addition to the ESPN highlight of the year, Austin made every putt he looked at the first two days. Despite two losing four-ball matches, Glover made 12 birdies and an eagle in 34 holes. In his Saturday four-ball match, if he had been playing any International team other than Mike Weir and Ernie Els, Glover would have won the match by himself. The 25-year-old Mahan, at one point this summer the hottest player on the PGA Tour, struck the opening shot of the matches and went out first in each of the first three sessions.
While Austin was the comic relief of Royal Montreal, the rookies brought something to the table besides a diving mask. "An important element of the U.S. team in the Presidents Cup and the Ryder Cup is having guys who haven't played in any team events," said Phil Mickelson. "These guys bring an exuberance to this event, and [we] feed off of it. We end up playing these team events now every year, and have since '94. And to have guys like Woody and Hunter and Lucas remind us how fun this is and how exciting this is, it really gets us focused and gets us excited to play."
Both last year and this, Glover made no secret of the fact it would mean the world to him to play in either the Ryder Cup or Presidents Cup. "I've said it a lot, I think it's the highest honor we can have, to wear our flag on our shirt or on our hat or on our bag," he repeated. "To be able to make it was, first of all, a dream come true and, second of all, one of the goals I set for this year." Glover played twice with Scott Verplank, who was unbeaten and untied in Montreal. "He's a pretty fierce competitor, I can tell you that," said Verplank. "He's just a raw talent. Doesn't wear a glove, just grabs hold of the club, hardly lines up and just knocks the crap out of it."
Standing beside the 16th green, where Glover three-putted to fall behind Els in his singles match, the rookie said, "It was everything I thought it would be and more. We had fun, I know that."
Aquaman agreed. "So if it all comes to a close for me at this juncture, I couldn't have asked for a better week," said Austin. "If it continues, I'm going to bust my butt to get into another one, because it's been a blast and a half."
When Mahan was asked whether that first shot Thursday seemed like two minutes ago or two years ago, he said, "Both. It's been a great week, but it's a lot. I learned a lot and definitely will know how to handle it better next time, understand it better. It's amazing. It's a ton of fun, like everyone said. You play it once and you don't want to miss out. It's quite an experience. You play with so many great players, hang around with so many great players. I think it's pretty neat to see Tiger relaxed and having a good time, like a kid playing ping-pong. Not many people get to see that. Hopefully, I'll play a lot of these. I think the rookies played phenomenal. We put points on the board and helped the team win. That's all you can ask."
Except to do it again and pass it on.