News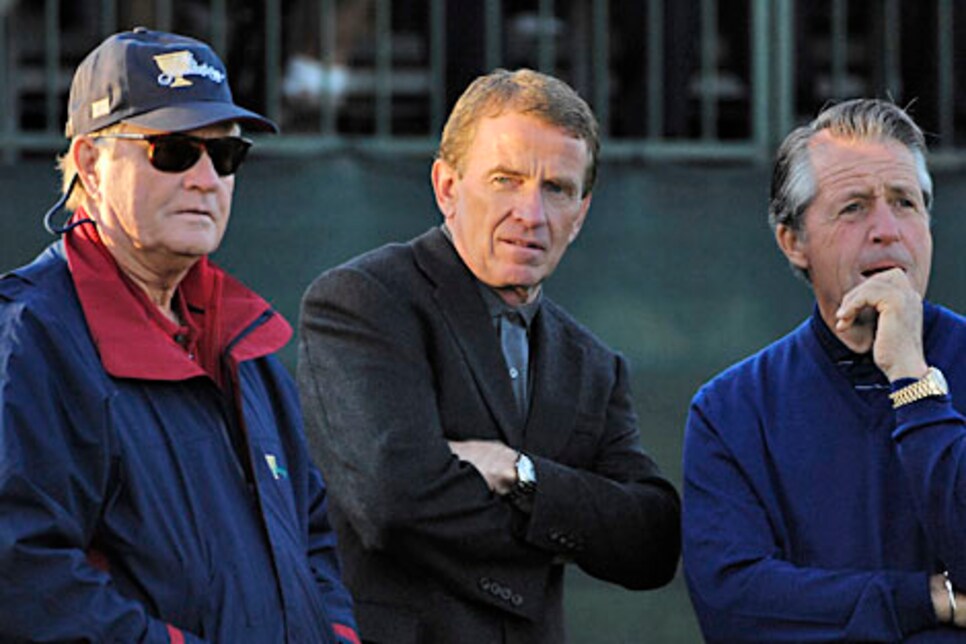 The respect for captains Nicklaus and Player is a big reason Finchem (center) feels bullish about the Presidents Cup's future.
Almost from its inception in 1994, the Presidents Cup has been the golf event that works. What it has lacked in history, originality or natural rivalry, it has made up for by always being unerringly sensible.
In terms of execution, the Presidents Cup has consistently gone the Ryder Cup one better. It eschews the dinners and functions the competitors loath, as well as the narrow "almost 50" age window for potential captains. It grows less rough to encourage more birdies and mandates less benching to encourage more team harmony. The pairing system, which allows one captain to match his players against specific opponents put up by the rival captain, produces more satisfying showdowns. For U.S. players, the Presidents Cup is invariably judged more fun.
It was true again in Montreal, where the vibe was as mellow as Malibu. But as much as golf functionaries might have appreciated the smooth machinery and lack of incident, the Presidents Cup, yet again, was played in a buzz-free zone.
Most of America's most important daily newspapers -- including The New York Times, Washington Post, Chicago Tribune and Los Angeles Times -- chose not to staff the event. Jack Nicklaus, in an overzealous gesture of sportsmanship, unnecessarily slackened the tingling tension of endgame competition when he asked Phil Mickelson and Woody Austin to concede a 43-inch putt Vijay Singh would have needed to earn him and partner Mike Weir a tie in their Thursday foursomes match. Whereas Nicklaus arguably made the Ryder Cup with his concession to Tony Jacklin in 1969, a few more like the one given to Singh could end the Presidents Cup. Of course, the big lead the U.S. gained after the afternoon Saturday session didn't help, but as the players mingled and milled around the final green Sunday evening, there was the inescapable feeling it really didn't matter who had won.
Such a condition, while previously fine in counterbalance to the overzealous Ryder Cup, is precarious now. Because of the FedEx Cup, professional golf has entered a streamlined age, where events without the highest stakes and standards become expendable, erstwhile bonanzas turned burdens. It's also an age in which the PGA Tour's most fundamental problem -- simply getting its increasingly set-for-life top members to play -- is growing more difficult. At the very least, it now takes a huge purse, a good course and convenient scheduling for an event to have a fighting chance to get the game's best. Often, it's not enough.
In this climate the Presidents Cup could find itself wanting. It offers no remuneration, no World Ranking points, no obvious mark in history. While its individual parts are stellar, the international team collectively remains a bit amorphous as a dragon the Americans long to slay. The host sites to this point have been good but not great. And the matches are now held at a time of year when the golf season is, more definitively than ever, over for the top players.
The Ryder Cup is in the same boat, except for one important difference: a team bonded by fire that presents an easy-to-grasp enemy, which translates to competitive heat and high drama. So suddenly, it's legitimate to ask, "Does the Presidents Cup bring enough to the table to remain relevant to the game's biggest stars?"
Of course, the one star who matters the most has always seemed to play team events with a difficult-to-read ambivalence, and the way Tiger Woods pulled his drive into the water on the final hole of his singles match against Mike Weir -- the kind of mistake he never makes when tied or leading on the 72nd hole of a stroke play for pay event -- only added to the impression.
It's no secret Woods would rather not play a team event every year. Indeed, if he hadn't been so heavily criticized for skipping this year's first event of the FedEx playoffs in New York, Woods may very well have decided to miss his first Presidents Cup. But Woods may be approaching the point in his career and life where getting ripped by the media will no longer dissuade him from doing what he chooses and believes is best.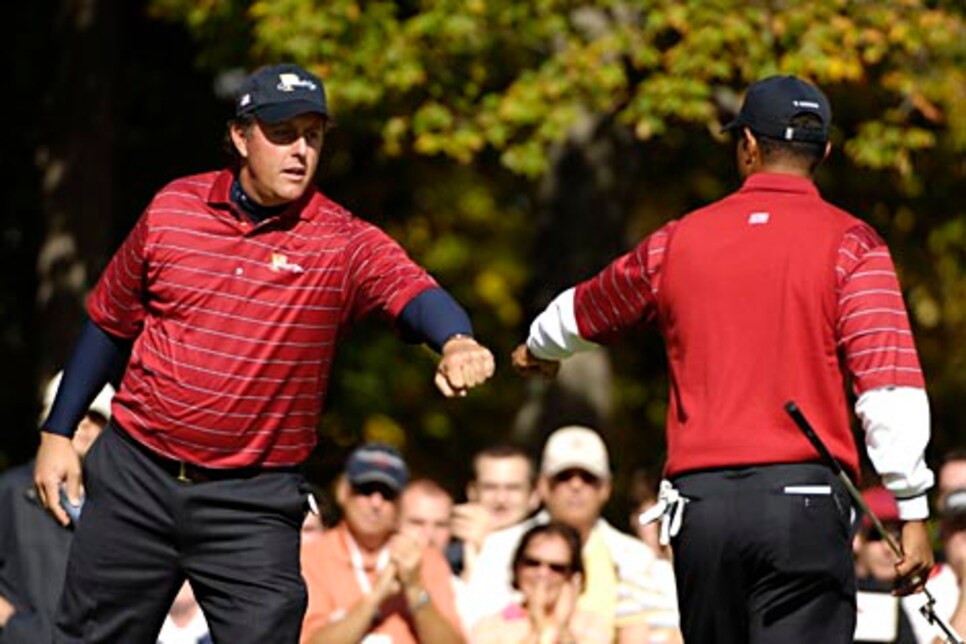 Meanwhile, the game's second most viable star, Mickelson, could potentially use the threat of not playing in future Presidents Cups as a lever to persuade the tour to make some of the changes he is seeking in the implementation of the FedEx Cup.
In an effort to head off such an insurrection, the tour has been predictably sensible. To create some breathing room for team play that did not exist this year nor will for the Ryder Cup in 2008, the 2009 Presidents Cup at San Francisco's Harding Park will be held Oct. 5-11. The 2011 event in Melbourne, meanwhile, is scheduled for November.
But while San Francisco offers enough star-quality resources, Australia will be a litmus test of the Presidents Cup's true growth. The same site in 1998 produced the most desultory American performance to date -- a 20½-11½ pasting. If Woods and/or Mickelson decide against the trip, it could start the Presidents Cup the way of the once proud, now in shambles World Cup.
Asked about the future of the event, the assessments of several principals ranged from defensively optimistic to non-committal. The former stance, not surprisingly, was taken by PGA Tour commissioner Tim Finchem. "I saw the enthusiasm, and I don't know why you are asking me about this," he said Sunday after the matches. "All I see are guys who love this competition. It's hard for me to imagine a situation where a guy wouldn't make every effort to participate because I know how much they care. Based on that, my comfort level for the Presidents Cup is high."
Ty Votaw, the tour's vice president of communications and international affairs, seemed even more comfortable. "I think in terms of the Ryder Cup and the Presidents Cup, the players really don't have a choice," he said. "They can't skip them. It's God and country."
Votaw's criteria indeed holds up for the great majority of players, who are actually most enticed by the opportunity to deepen friendships with peers. "I'd play whenever and wherever they have it," said Scott Verplank. "I think everyone likes representing their country. But it's really the experience we have all week. You'd almost be an idiot not to play if you make the team." Added David Toms, "Sure, the FedEx Cup complicates things. But I think this event and the Ryder Cup both still have to be up on that pedestal where they are never messed with. I think you have to tweak everything else around that."
But it gets more complicated for the big guns, whose absence would truly wound the Presidents Cup. While Mickelson took the same tack as Verplank and Toms, he did so only after declining to say specifically whether he was confident he would keep playing in the matches. "What do you mean?" he said, before giving a more general answer. "No, I don't think players will start skipping. I think there's too much enjoyment by the players in these team competitions. I don't see the Presidents Cup as a casualty of the FedEx Cup. I think it does too much good on the international level for all of golf to put it in jeopardy."
Also vague was the International player with the most marquee, Ernie Els. Asked if he considered it more likely that he would skip FedEx Cup events or the Presidents Cup, he hesitated: "If I say the Presidents Cup, I'll be kicking my teammates." After pausing, Els continued, "The FedEx Cup turned out to be a big deal and a pretty good deal. It's a good question. I can't answer that one. We should have a debate about it, focus on getting the right dates and work it out."
The two figures with the most influence on the future health of the Presidents Cup are, fittingly, the two greatest ever to play the game, Woods and Nicklaus.
Woods, too, danced when asked if he was reassessing his commitment to the Presidents Cup. "Any time you get a chance to make this team and represent your country, it's always fun," he said. "You know, the guys have traveled to Australia and traveled to South Africa, and we've always played."
But when asked if the Presidents Cup would lose something for him if Nicklaus were no longer the captain, Woods seemed to suggest he would be more likely to play if the Golden Bear, who has now captained four Presidents Cups, stayed on the job. "I've always loved playing for Jack, and hopefully he'll come back," said Woods. "It's always great to see him, great to have him around. He's the greatest player of all time, and to have him as [our] captain and lead us, it doesn't get any better than that."
It would be hard to imagine Finchem not going back to Nicklaus if he knew it increased the chances of Woods playing. Without Nicklaus, the only icon of comparable stature would be Arnold Palmer, who would be 80 before the matches in 2009. More likely, leading captain candidates would be FOTs -- Friends of Tiger -- such as Mark O'Meara, Fred Couples or Ben Crenshaw.
For his part, Nicklaus appears anything but eager to step off the Presidents Cup stage. While emphasizing that he was not seeking the captaincy again, he was clear he would accept if asked. "If they want me around for awhile, then I'm around for as long as they want," he said. In fact, early in the week, he didn't rule out taking another Ryder Cup captaincy if he got the call. And Sunday he was unusually emotional as he conveyed why the experience of leading the U.S. team has become so fulfilling.
"You know," he said, as his team surrounded him on the podium during the winner's press conference, "the reaction that I get from these guys and the support that I've gotten from them -- not only the support I've tried to give them, but the support they've given me -- is just something you don't [experience] very many times in a lifetime."
But Nicklaus, who will be 68 in January, knows his future captaincy would be at least as practical as it would be romantic. "Right now, the players are playing and they're enthusiastic about playing the Ryder Cup and here," he said. "I didn't envision that happening. I thought they would get tired. To this day, that hasn't happened."
And perhaps it won't -- at least for the next several years -- if the Presidents Cup keeps retaining Captain Nicklaus. At the very least, it would be the sensible thing to do.