News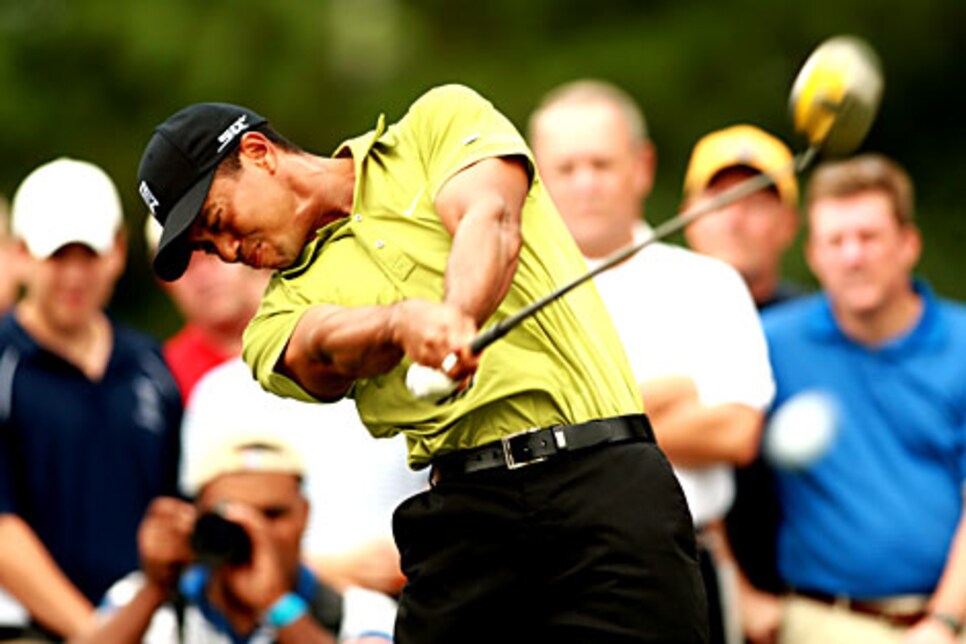 Soft and vulnerable East Lake was no match for Woods, whose game clicked in all areas.
Well, the inaugural FedEx Cup certainly wasn't a new era in golf, but it didn't jump the shark, either.
The game's lone heavyweight, Tiger Woods, saved the day by unifying the title, making sure the Player of the Year, Tour Champion and winner of the inaugural FedEx Cup all share the same skin. The first Super Bowl of golf turned out almost exactly like the first Super Bowl of Super Bowls with Woods reprising the roll of the Green Bay Packers and squashing the upstart Kansas City Chiefs, played by 29 also-rans. He did so with a 23-under-par 257, eight shots better than Georgia specialist Zach Johnson and that adolescent elder statesman, Mark Calcavecchia, who was gamely trying to join Ed Fiori as old, fat guys who have overtaken Woods on a Sunday afternoon.
In the process Woods not only won the Tour Championship at East Lake GC in Atlanta for his 61st career victory, just one shy of Arnold Palmer, but he captured the only prize in the roughly six centuries of recorded history of the game that came equipped with its own actuarial tables -- the $10 million deferred FedEx Cup payout. At the prize-giving the photogs should have yelled, "Hey, Tiger, show us your 401-k!"
Woods went into Sunday with a three-shot lead, dropped a shot at the second, made a crucial par putt on the third, stuffed a 6-iron on the sixth for birdie, added another from five feet on eight and one more on the par-5 ninth, ho-hummed a 66 and that was that. The only exciting thing all day was when Woods got a scorching flier from a bad lie in the rough on the ninth and pulled his 5-wood second shot, hitting it nearly 300 yards and running it through the green while Johnson was standing there, preparing to putt for birdie. He immediately three-jacked.
"I felt bad because those guys were playing, and they were focused on what they were trying to do," said Woods who obviously didn't think he could reach the green. "It's my responsibility not to interfere with what they were doing up there with a shot like that." It was just about the only mistake he has made in the last month and a half while winning four times and finishing second once.
Immediately after Saturday's third round, in the media scrum behind the grandstand to the left of the 18th green, Woods and Calcavecchia were crisscrossing like ships in the America's Cup, tacking from one interview station to another. As Calcavecchia stood on a television platform that looked remarkably like a small gallows, Woods flipped a golf tee at his old buddy, hitting him in the arm as he walked past, grinning. Woods has always had a playful side, but it has never looked quite so accessible as it does now. Through all the personal, private changes of the last few years, Woods seems like a man who has mastered solo flight. It is as if his choice to rely on himself more than on a single teacher is a metaphor for a man in full. In a world where being Tiger Woods can be a daunting task, he seems frighteningly comfortable doing it and that, in turn, has made his golf as smooth as a gravy sandwich.
The FedEx Cup may have been, in some respects, less a season-ending crescendo than a rimshot. But any reasonable appraisal must acknowledge this made-for-TV-money "playoff" got more top players to play more golf than any of them wanted to, for more money than seems good for them, in a point system skewed to favor the favorites. If sometimes these playoffs seemed destined for the fate of New Coke or the Susan B. Anthony dollar, the war planners of Ponte Vedra Beach can take some comfort in its modest successes.
At various points in what commissioner Tim Finchem described as "repartee," the suits have been accused of bungling the name, the format, the length, the big prize at the end and the ubiquitous, unctuous promotions. If the Tour Championship is the Super Bowl, then the wild card, divisional games and conference championship were all played for the express purpose of replacing three guys with no chance of winning the FedEx Cup -- Luke Donald, David Toms and Stuart Appleby -- with three other guys with no chance of winning the FedEx Cup -- Brett Wetterich, Tim Clark and Camilo Villegas. Of course, there was the illusion of Steve Stricker (who ultimately finished second in the playoffs), which, as illusions go, was a very pleasant one. And the Boston duel between Phil Mickelson and Woods was proof the tour got one thing right -- the pairings. But was it really all that different than Doral '05 or just more stage-managed?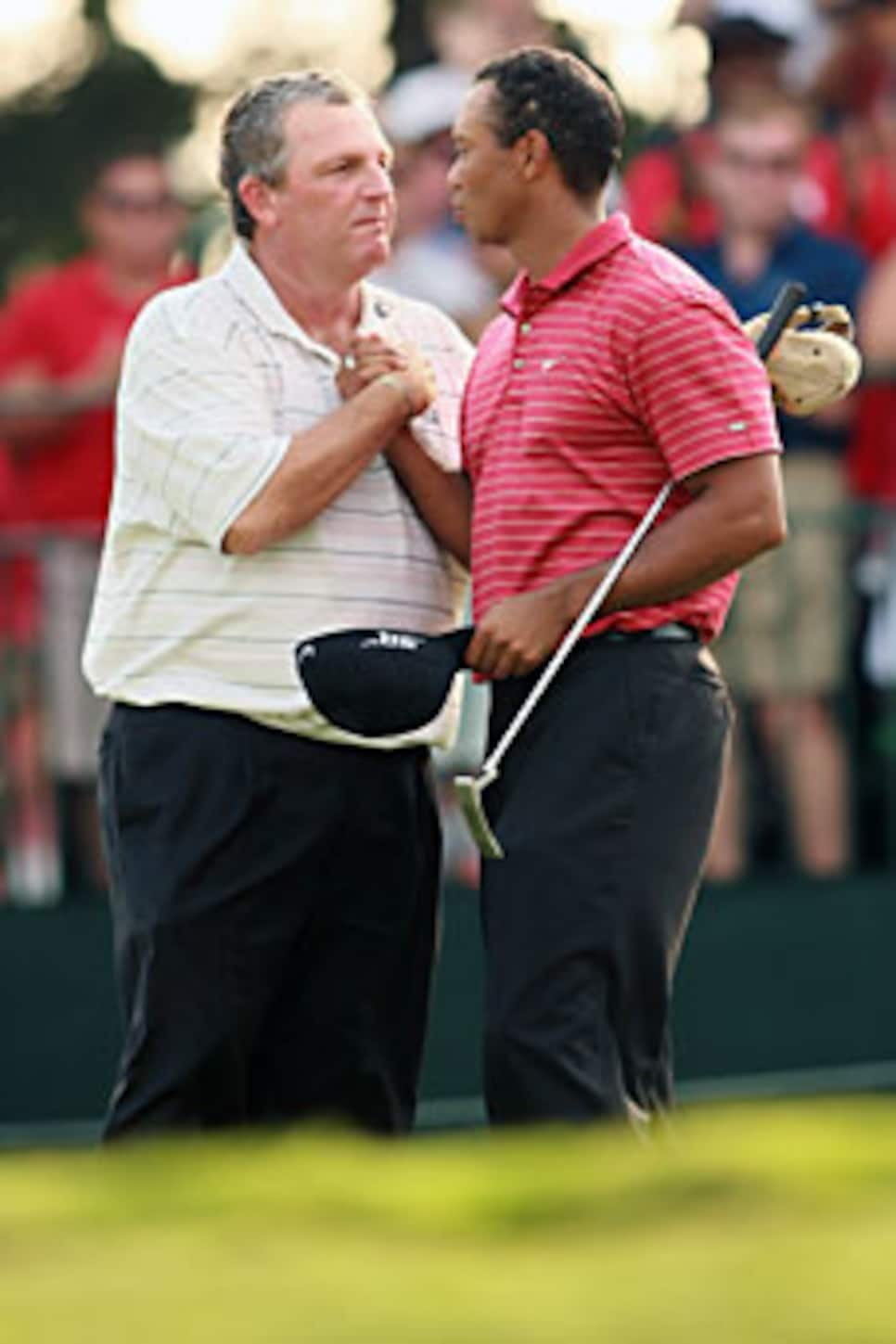 Nothing in the history of golf has given so many journalists -- most of whom have trouble counting to triple bogey -- disturbing flashbacks of high school calculus as did the FedEx Cup points. Going into Atlanta, it was all about the scenarios. Woods wins if his pilot can find the state of Georgia more than once a year. Stricker wins if the glass slipper fits and Woods plays like Britney Spears at the MTV Awards. Mickelson wins if Butch Harmon whispers another secret in his ear, Woods plays like Britney Spears and Stricker goes deer hunting. Rory Sabbatini wins if he takes a vow of silence, Woods plays like Britney Spears, Stricker goes deer hunting and Mickelson marries Butch Harmon. K. J. Choi wins if the entire field is stricken with malaria. And Aaron Baddeley wins if everyone gets malaria and plays like Britney Spears. Then again, by Saturday afternoon, the scenarios had all been snuffed. As it turned out, nobody surpassed the 112,733 points Woods had when the Tour Championship began. He didn't even have to show up to win.
Golf seasons, like people, age. Some age more gracefully than others. Vijay Singh may have won more tournaments in his 40s than any person who ever lived but, ultimately, the 40s will win. You can count on it. After the majors a golf season wanes. This is nothing to be ashamed of. After the PGA Championship golf truly captures the imagination only when the people playing it are raising flags and playing anthems. Has the FedEx Cup fundamentally changed that equation? No. Can it provide an annual exit strategy that plays a cut or two above indifference? Absolutely. And that's what makes it worth "tweaking," even if the tweak turns out to be more like piercing a nipple. In the end, beating autumn ennui may not be such a bad definition of success.
The first tweak will be the greens at East Lake, which were awful. Donald Ross' redo in the early 1900s included two putt- ing areas for each hole, one for winter grass and one for summer grass. Now, it's all bent. Well, dead bent. When the Tour Championship returns next year, they will be all Bermuda. A lot of the guys very politely said the greens putted better than they expected but, in fact, balls rolled like a game of horizontal pachinko. They were so bad there was talk of moving the event to TPC Sugarloaf, the tour's other Atlanta venue, which would be the only way Woods will ever see that place again. To ease up on the foot traffic, practice rounds were restricted and the pro-am was canceled, replaced by "The Ultimate Tour Clinic," where even the participation of Tiger and Phil was guaranteed, which was more than they could manage for the FedEx Cup events themselves.
In the end it was just too easy at Easy Lake. Poor Bobby Jones must have been weeping somewhere for the honor of his home course. Rain Thursday turned the greens from semi-dirt to soft dirt, and Tim Clark, one of the 24 non-competing markers in the field, tied the then course record on a rain-interrupted day with an eight-under-par 62, highlighted by a pitch-in for eagle on the 15th. The real rain, the remnants of Hurricane Humberto, was scheduled to hit Friday, but the worst of it took the I-285 bypass around Atlanta, and it was Woods who reigned instead.
In a six-hole stretch from the fourth through the ninth holes, Woods went seven under par for a front-nine 28 and felt pretty darn bad about it, too. He holed a bunker shot from a semiburied lie on the fifth and made a 70-footer for eagle at the ninth. "The ball was bouncing every which way. It was left of the hole, it was right of hole, left of the hole, right of the hole, and then it went in," he said. No fist pumps or finger-pointing this time, just a bowed head and a sheepish "gee-I'm-sooooo-sorry-about-that-guys" grin.
The hot streak vaulted Woods into a three-shot lead over Woody Austin who continues to delight with the immutable Laws of Woody. The first, of course, was when he outplayed Tiger on Friday of the PGA Championship while simultaneously dropping seven shots to him. Last Friday he served up Woody's first corollary which, boiled to its essence, posits, "He's not hard to beat. … he's just hard to catch." When asked to explain Austin's comment, Woods merely stared back at the questioner as if to say, "Are you actually asking me to explain the screaming monkeys running around in Woody's head?" On Saturday NBC made much ado of nothing, speculating whether or not Woody stubbed a putt on the 15th when he took an irritated stab at the green behind his ball before tapping it in. Austin said it wasn't a stroke. So did his playing partner, Woods. End of manufactured story.
Easy Lake, formidable only when someone drove it in the wet Bermuda rough, was so defenseless that through 36 and 54 holes only two of the 30 players were over par. It really bared its gums in the third round, however, when Johnson's 60 and Geoff Ogilvy's 62 were proof that even though the slow, soft greens were bad, they weren't unputtable. They were as soft as gruel, and the pins were hidden in plain sight, wherever the field staff could find a patch of grass. The putting looked like old clips of "Shell's Wonderful World of Golf." Hit it hard and take all the wobble out because, no matter what, the ball can't roll very far past the hole. Woods shot 64 without breaking a sweat and kept his three-shot lead, this time over Calcavecchia who, coming into Atlanta, said he was so tired from his prolonged stretch of golf he didn't have enough strength left to run out of a burning house. Apparently, the $7 million purse gave the old guy enough energy to get off the couch one last time.
In the end the vaunted FedEx Cup was as anticlimactic as it was overhyped, which is not to say it was a failure. Off and on, it brought together the world's best players for a four-week stretch and produced both some touching and compelling golf. Next year, post-tweak, it will be played in the shadow of the Ryder Cup, and we will see if anything worth doing is worth doing in the best interests of the game, or if the FedEx Cup will devolve into just another set of perfectly pleasant tournaments, played by a few guys for yacht money while everyone else watches football.