News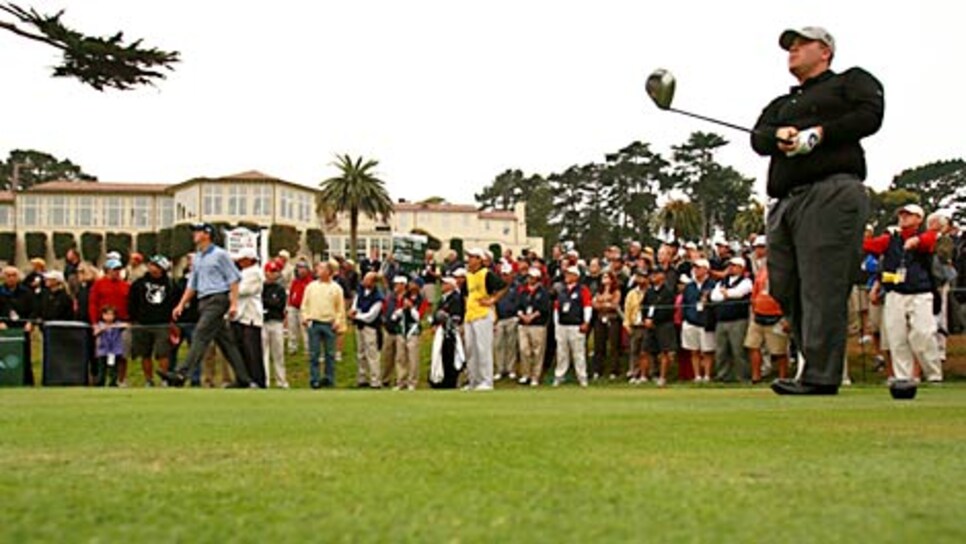 Knost, who scored a 2-and-1 victory in the final, will anchor the U.S. Walker Cup team.
With Colt Knost, what you see is what you get. There's no hiding any emotions inside his 5-foot-9 fireplug frame, one that's 20 pounds trimmer than when he went to college four years ago but remains more Walrus than Tiger. The satisfaction in his voice, then, was easy to hear late Sunday afternoon as he found a spot in The Olympic Club's downstairs bar, the Havemeyer Trophy serving for a moment as the most ornate adult-beverage container in the state of California.
"This is pretty amazing," Knost told well-wishers lined up for pictures with the winner of the 107th U.S. Amateur Championship after a 2-and-1 victory over Michael Thompson in the 36-hole finale. "It was ugly out there, but this is pretty damn cool."
This also proves a point. The 22-year-old Texan, who didn't compete in his first tournament until his freshman year of high school (which he won), can play a little golf -- even more so, perhaps, when there's a chip on his shoulder. At least that's been true the past 12 months, since Knost missed match play at last year's U.S. Amateur by two lousy strokes and told his instructor/mentor of 5½ years, Randy Smith, he'd had enough of being mediocre.
So began a memorable run, one that has included three college victories during his senior season at SMU (good for third-team All-American honors) and a U.S. Amateur Public Links title last month (good for a spot on the Walker Cup team). It also has created one major decision regarding when exactly to turn pro (good for a fair amount of agita).
"I feel like I'm one of the top players in this field," Knost said early in the week. "[But] I think I get overlooked a lot."
By becoming just the second person to win the APL and Amateur titles in the same year (matching Ryan Moore's 2004 double) and the sixth to lug two USGA trophies back home in the same season, Knost now has everybody's undivided attention. USGA officials are counting on the pride of Pilot Point, 60 miles north of Dallas, when the Americans face Great Britain & Ireland next week in the biennial matches at Northern Ireland's Royal County Down.
Knost gave them reason to believe in him even as his play on the Lakeside Course turned ragged Sunday. His belly putter gave him an upset stomach much of the day, but come gut-check time it settled down. On the 31st hole Knost made a 20-foot birdie putt for a 1-up lead. After giving the club a rest when he chipped in from 30 feet for birdie on No. 32 to go 2 up, he holed a 10-foot par-saving putt on the 33rd to halve the hole and keep the momentum.
The folks in Far Hills will take satisfaction that a member of Buddy Marucci's Walker Cup squad was the one player among the field's 312 competitors not to leave his heart in San Francisco. Many watched the eight men already picked for the team -- solid performances expected to validate their selections -- with interest. All but Jonathan Moore and Trip Kuehne advanced to match play after Jason Kokrak paced the field with a three-under 137 to claim medalist honors.
Still, the remaining players hardly had time to adjust to the Bay Area's quirky interludes of sun and fog before being sent packing. Three (Webb Simpson, Billy Horschel and Dustin Johnson) were bounced in the first round, one (Chris Kirk) in the second and another (Jamie Lovemark) in the third. "It's all right," Knost said prior to knocking off Nick Taylor, 5 and 4, in the quarterfinals Friday and Jhonattan Vegas, 4 and 3, in the semifinals Saturday. "Hopefully, we're all saving our games for over there."
As for Thompson, his focus centered on claiming one of the two remaining roster spots, the final names to be decided at tournament's end. Having won the Greystone Invitational and finishing in the top five at the Jones Cup, NCAA Championship and Players Amateur, the 22-year-old Alabama senior figured he was in the chase even before beating Simpson in the first round. Wins over fellow collegians Derek Fathauer in the quarterfinals (5 and 4) and Casey Clendenon in the semis (3 and 2) gave him more confidence.
(Sadly, his dream was dashed Monday when the USGA named Rickie Fowler and Kyle Stanley to round out the squad.)
In contrast to Knost, Thompson is a model of stoicism, a trait nurtured as a teenager in Tucson, where besides developing his golf game he was an Eagle Scout (his service project involved building a sensory garden for the blind). Such mettle proved invaluable two years ago when the then undergraduate at Tulane was forced to evacuate New Orleans with Hurricane Katrina bearing down on the city.
Initially, all Thompson thought he had lost in the disaster was his Honda Civic. As it turned out, his golf team also was washed away by the storm because the school cut the program in the aftermath. He eventually transferred to Tuscaloosa, resumed his career last September and, by season's end, became a second-team All-American.
"I'm glad I went through it, but I don't want to do it again," said Thompson regarding Katrina. "I know how to handle myself now when something like that is thrown at me, and that's a big life lesson."
Despite a standout week, Thompson couldn't save his best for last, either, making five bogeys and a double bogey through the first 17 holes against Knost before watching his opponent win Nos. 17 and 18 to claim a 1-up advantage through the morning 18. While Thompson's swing was off -- he hit just 11 of 35 greens -- he managed some afternoon heroics, including an impressive up-and-down from the gnarly rough 15 yards left of the third green (21st hole) for a par and a 45-foot par putt on the 23rd, winning the hole both times.
Yet on the three occasions Thompson, eight over with the usual match-play concessions to Knost's four-over total, took a 1-up lead, Knost won the next hole to return to all square. As was the case throughout his stay at Olympic Club, Knost's greatest asset was his ability to grind out pars on the 6,948-yard layout.
"I make very few mistakes," he said. "I'm a guy that doesn't shoot 62 a lot of times, but I very rarely shoot more than a couple over par. I know I can wear people down in match play."
Still, as Knost's frustration with hitting only 12 greens grew more obvious -- he frequently winced after disappointing shots, verbally chastising himself -- it left Thompson hopeful for an opening. "Every time he did that I said, 'Come on.' I told myself, 'OK, you can compose yourself better than that,' " Thompson said. "But the reason he's so good is that he can snap out of that real quick. He almost uses that anger and emotion to get him going."
To wit: Having lost the 34th hole to reduce his lead to 1 up, Knost split the fairway on the 35th, a 491-yard par 4. His 5-wood approach from 236 yards trickled just off the green, while Thompson's landed under a cypress 55 feet right of the hole. Thompson's third shot failed to get on the putting surface, forcing him to make a 35-foot chip for par to extend the match after Knost lagged his third to three feet. Ultimately, Thompson's try came up short.
Said Knost: "I carry myself a little different now and use that to my advantage," not afraid to admit in the last six months he's become "a little cockier." As to his success, he attributes much of it simply to having gained more experience. "I came to the game pretty late," he said. "I had some friends in high school who played golf, and I decided to try it. I'm only now really getting into a groove."
"He's a competitor. I just sensed that the first time I saw him," noted Smith. "He asked questions that players in high school don't really ask."
The one he now must ask is whether to accept invitations to the Masters, U.S. Open and British Open (all requiring he remain an amateur) or turn pro, using his momentum to try and earn a PGA Tour card. Knost will wait until after the Walker Cup to make the final decision, although he hinted that remaining an amateur any longer than April would be a long shot.
"I need a job," he said. "I'm done with school. I love golf more than anything. I mean this is what I want to do. This is all I want to do."
Truly, there is no lack of passion in the young man. Knost is champing at the bit to see just where his talent can take him. Whether this Colt will be a thoroughbred, time will tell. It would be wise, however, not to try to stand in his way.