News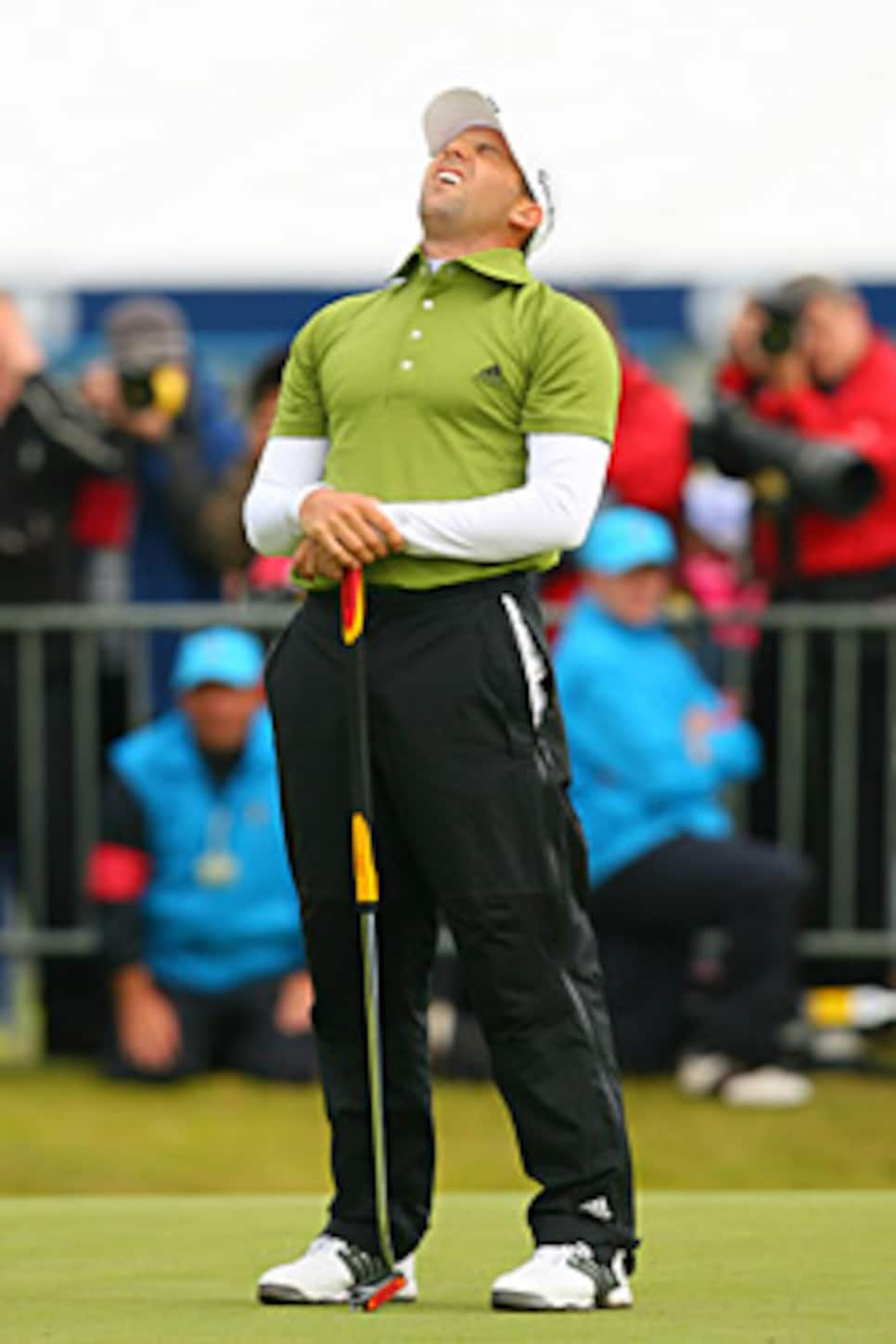 Garcia made progress with his belly putter, but Sunday indicated there's work to be done.
When Seve Ballesteros officially ended his competitive career just as Sergio Garcia was about to revive his last week at Carnoustie, it was natural to wonder if one had inspired the other. Garcia didn't discourage the possibility when he conceded the coincidence would have made his long-awaited first major championship "a fairy tale or something like that." Indeed, there's no question that since Ballesteros exploded on the scene in the 1970s -- becoming the Arnold Palmer of European golf -- and began his grim decline in the 1990s, the highest profile Latin golfer has been Garcia.
Countryman José Maria Olazábal might have two green jackets and more respect from his peers, but he always has lived the most private of public lives. Garcia has a more electric game and both courts and enjoys fame -- witness his beer commercials presenting a suave boulevardier driving fast cars and fending off beautiful women. If Ballesteros' torch could be passed, Garcia would seem the logical recipient.
The problem is that the flame went out long ago. Ballesteros' five majors, 50 European Tour victories and heroics in eight Ryder Cups happened in the analog age. His retirement press conference last week, though a surprise, was long overdue and sad. Besides, golf is now global, and Tiger Woods is the Pied Piper.
Ballesteros said he had chosen Carnoustie for his hastily called announcement because it was the site of his first Open Championship, in 1975. "There was a fight, an internal fight," he said, once again charming the journalists who have traced his always charismatic trajectory. The fight was written in his gaunt features and hollow eyes, a look that had given reports of a week earlier of his attempted suicide (which he vehemently denied) plausibility. Standing next to his former rival Nick Faldo -- who though always taller and wider had never seemed quite as dynamic as the Spaniard in their primes -- Ballesteros looked older and almost frail.
Also 50, Faldo has gracefully transitioned from competition to a successful career in broadcasting and course architecture. Ballesteros instead doggedly hung on to the hope he would somehow regain the skill that had been his reason for being. It was a graphic portrait on how much the cruel game can take from its most rewarded champions, particularly when they are passionate and obsessed enough to give up everything else. "You have to remember that I give away all my teenage years," he said.
It was poignant. Ballesteros -- sometimes petty in his battles with the PGA and European tours, often arrogant in his bearing -- has somehow always possessed dignity, all the more because he has suffered. It was the enduring image of his farewell British Open performance last year at Hoylake. Battling his way to scores of 74-77, Ballesteros' uncomplaining intensity in the face of overwhelming obstacles, as his 16-year-old son, Baldomero, carried his bag, was a father's stoic lesson in character.
Garcia, 27, who is winless on any tour since 2005, is now learning in earnest all about the suffering the game can impose, and his dignity is in development. The two men certainly possess some things in common. Both were prodigies. Both have wonderful artistry and flair. They've been at their best in the most passionate event in golf, the Ryder Cup, with Garcia's record of 14-4-2 the best ever by any player who has played 15 matches or more. They were more popular with fans than with fellow players. Especially American players.
They were in close contact early in Garcia's career, when the younger Spaniard was playing in pro events at 14. When others were saying that Garcia's drop-down move would have to be altered, Ballesteros, who came to rue his constant experimentation with swing coaches, almost commanded him, "Don't change your swing."
But any closeness ended early. Ballesteros perceived a lack of respect from Garcia when the younger man, at times, passed on representing Spain in the World Cup and the Dunhill Cup, or playing in the Seve Trophy, or missing big tournaments on the European Tour. Both men conspicuously keep their comments about the other to a minimum. They are, in fact, very different in many ways.
Ballesteros comes from the caddie yard, a boy who had to sneak on the golf course. Garcia comes from a course where his father was the pro, with full access to the facilities.
Whereas Ballesteros was forced to grow up quickly, Garcia has elongated his adolescence and is a young 27. After Europe's victory in the 2002 Ryder Cup, in which Garcia's exuberance almost exceeded even his excellent play, Jim Furyk said, "We lost to 11 gentlemen and one little boy."
Ballesteros dressed in the most basic and unimaginative clothing, favoring outfits in various and not necessarily complimentary shades of blue. Garcia is a vision in Technicolor, usually canary yellow, the color of the Spanish flag.
Ballesteros was always lost during his rare extended stays in America, stymied by his difficulty reading English and missing the Old World routines of his birthplace of Pedrena. He never took a part-time residence in the United States, and after much anticipation that he would play regularly on this year's Champions Tour, he played in only one event, the Regions Charity Classic in Birmingham, before deciding to retire. Garcia by contrast is fluent in English, has been a PGA Tour member since 1999, keeps a home in Lake Nona, Fla., to complement his permanent residence in Castellon, Spain, and has never said his commercials create a false impression.
Ballesteros has struggled to make himself a global brand. His golf course design company and other business interests are definitely small scale. Garcia is a big-time endorser with worldwide corporations.
As players, they are close to complete opposites. Whereas Ballesteros was, even in his prime, a wayward driver and prone to loose iron shots, Garcia has a reputation among his peers as the best ball-striker in the world. Ballesteros' swing was majestic but required a lot of hand action to square the club. The hallmark of Garcia's action is the Hoganesque position of his left wrist as it leads the shaft and club squarely through the hitting area with tremendous power. That difference is the reason Ballesteros had a short prime and Garcia should have a long one.
Conversely, Ballesteros is considered by many to have possessed the finest total short game in the game's history, and Garcia remains a work in progress in this crucial area. Although he is blessed with touch and wonderful skill around the greens, Garcia has for several years been one of the worst putters among the game's elite players.
To this point, Ballesteros ranks the far superior competitor. A fierce closer, he was that much more tenacious in majors, giving up the back-nine lead only at the 1986 Masters. Garcia, even as he has won 16 times (six of them in the U.S.), has shown a persistent fragility when in contention in the final round, most of it a result of his problems on the greens. He has ranked 61st in fourth-round scoring. At last year's Ryder Cup, Garcia was not, for the first time, the best player in the matches, winning all his team matches before losing to Stewart Cink in the singles. His assessment that he enjoyed team play more, to the point that he actually felt "lonely" in the singles, was telling. More alarming was his post-victory musing that "maybe some guys are made for major championships, like Tiger. Maybe I'm made for the Ryder Cup."
But Ballesteros was made for both the Ryder Cup and majors, and it seems Garcia is too good not to have that same capacity. And he made giant strides at Carnoustie.
Most important was the caliber of Garcia's putting. As he has struggled on the greens during the last several years, Garcia had grown progressively more stiff and mechanical in his method, particularly when he went left-hand low. But with the longer "belly" putter that he began practicing with after the U.S. Open (he said Vijay Singh has been advising him to make the switch for two years), Garcia doesn't seem frozen over the ball. He makes a dramatically more fluid stroke, the putterhead swinging in a freer pendulum motion, with a relaxed rhythm that is much closer to matching that of his full swing. For the first time in memory, Garcia seemed in command in the crucial four-to-eight-foot zone, with the putts repeatedly entering the cup cleanly and with perfect speed.
Temporarily conquering his Achilles' heel helped give Garcia a noticeable serenity. He never seemed close to blowing his cool in ways that have led to incidents like spitting into the hole at the 13th hole during the third round of the WGC-CA Championship at Doral earlier this year. As the leader after each of the first three rounds at Carnoustie, Garcia kept his answers during post-round interviews sober, controlling any urges to take a regrettable shot at Woods, who he has in the past called the beneficiary of favoritism from officials and the media. Garcia instead went the other way, paying indirect tribute to Woods when asked the inevitable potential hot-button question about his inability to win a major.
"Sometimes you just have to give it up for the guy that does it and there's nothing else you can do," he said, "except just keep trying."
Unlike previous Sundays at majors where he stumbled early when in contention -- notably at Southern Hills (2001 U.S. Open), Bethpage (2002 U.S. Open) and Hoylake (2006 British Open) -- Garcia started out well at Carnoustie during the final round. His only tentative shots under pressure were poor chips that led to bogeys on the seventh and eighth holes. His ball-striking remained full-blooded on Carnoustie's harrowing back nine, and though he missed some crucial putts, almost all were struck well and had a chance to fall. In the end, Harrington won more than Garcia lost.
It was the toughest kind of defeat. Garcia had led from day one, carrying the pace and the pressure, only to be nipped at the end. "I'd like to commiserate with Sergio," said a gracious Harrington as he accepted the claret jug Garcia must have believed should have belonged to him. "A major, I know, means so much to Sergio."
At first Garcia did his best to hide his disappointment. As he left the ceremony, he threw four gloves and a golf ball into the stands, and acknowledged cries of "Well done, Sergio" as he made his way to his press conference. "He smiled at me," a young woman said. "Imagine."
But at the press conference Garcia unfortunately regressed. His first words, after an awkward introduction that alluded to his bitter disappointment, were a sarcastic, "No, I'm thrilled. Luckiest guy in the world."
The self-pity continued: "I guess it's not news in my life."
"It's funny how some guys hit the pin and go a foot. Mine hits the pin and goes 20 feet away."
"You know what's the saddest thing about it? It's not the first time. … I'm playing against a lot of guys out there, more than the field."
To some, it undid all the good. It was the venting of a man young for his age. What it confirmed is that Garcia remains a work in progress. The question is: Will Garcia learn?
If so, the improvement will have to come in Garcia's attitude. His reaction to defeat showed that his focus is on fate and victimhood. Champions, however, think about optimism and accountability. When they lose, they don't make excuses or blame luck. They swallow the hurt, congratulate the winner for being better and resolve to get better themselves. If there is a torch Garcia can take from Ballesteros, it is that. It is the attitude -- the right stuff -- that he will need for his first major.
Deep down, like any young man growing up with grudging examples all around him, Garcia knows it. After his first-round 65, he said, "You learn from near-misses."
They don't come any nearer than Carnoustie. It's up to him.