News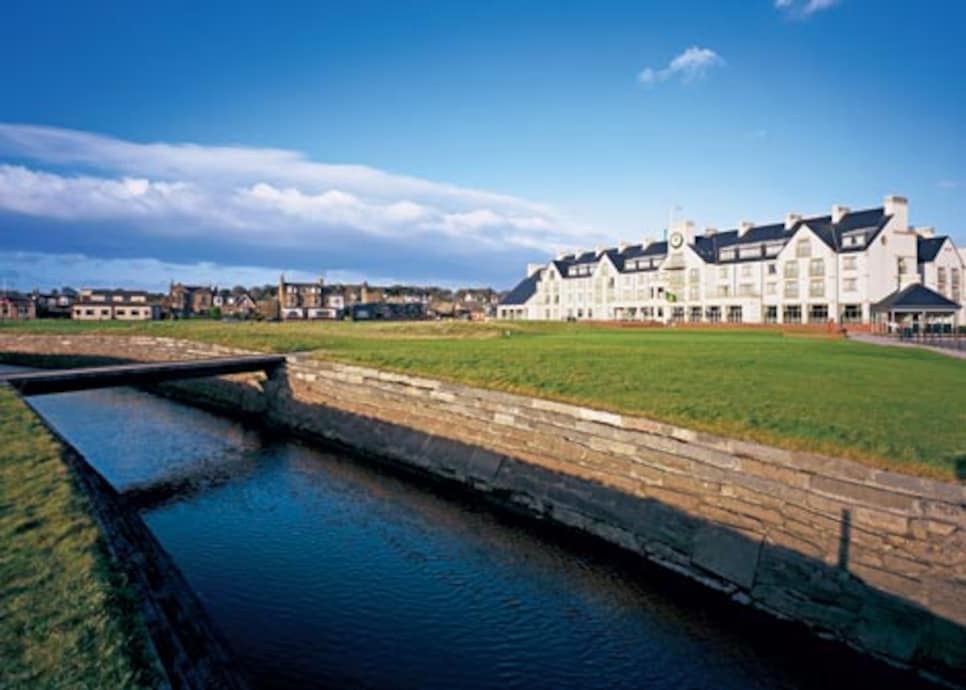 Carnoustie has long been regarded as one of the world's toughest courses.
Fabled and feared Carnoustie awaits like a black cloud on the major-championship horizon, and after getting pulverized at the Masters and U.S. Open this year, most of the participants headed across the Atlantic Ocean are wondering -- could the 2007 major rota get any tougher? The winning scores at Augusta National and Oakmont were one over and five over, respectively, and tales of the macabre still linger from the 1999 British Open, when greenkeeper John Philp wreaked havoc on the field and created an embarrassment for the Royal & Ancient GC.
This was a venue that brought tears to the eyes of Sergio Garcia after an opening-round 89, where an eccentric Frenchman named Jean Van de Velde became internationally famous for his final-hole tragicomedy, where the cut was 12 over and it took six over to play off for the claret jug. The course Ben Hogan tamed in 1953 and where Tom Watson won the first of five British Opens became known as Carnasty.
David Duval, in the midst of a four-win season, shot 22-over 306 and was biting in his comments. "When the guys said 300 would be the winning score, everybody thought they were crazy,'" he said. "But you never know." Greg Norman whiffed with a wedge from the rough at 17 and made triple bogey just after taking the lead. It was the Shark's last close call in a major. And Rod Pampling, little known at the time, went 71-86 to become the first opening-round leader of a major to miss the cut. "It could actually be a place where people wish they'd miss the cut," said Payne Stewart after shooting 79.
Justin Leonard has vague recollections -- and he was in the playoff with Van de Velde and eventual winner, Paul Lawrie. "I don't really remember that much," said the 1997 British Open champion last week at Congressional. "I remember the playoff. I remember [not] playing that good the last day, just managing it around. But the winning score was six over. It's hard to tell if you play well, it's so hard. I've got good memories, not great ones. I'm sure if I won, I'd remember it a whole lot better."
Phil Mickelson has tried to suppress those memories, which is easy to understand after going 79-76 and saying, "I wish I hadn't come here. I would rather be at home with my wife and baby. I don't think there is an individual in the R&A who could break 100 here." It was the last cut Mickelson missed in a major until his wrist injury at Oakmont contributed to a streak snapping at 30 straight. "I'm looking forward to getting back and hopefully having the Carnoustie everyone knows and loves," he said before the AT&T National.
Does such a Carnoustie exist? According to Colin Montgomerie, it does. "I talked to Monty a couple of weeks ago, and he said it's not the course it was in '99," said Geoff Ogilvy. "It's the way it should be. That wasn't Carnoustie in '99. It's firmer and drier and running and the rough is whispy, not that long, green rough they had last time, and there's probably more width than last time. Some of those lay ups were incredible."
That's what Jim Furyk remembers most -- trying to thread needles in a two-club wind. "I just remember the fairways being narrow, and we were hitting in to a lot of crosswinds," he said. "You could hit pretty good shots, hit in the fairway, take a kick and all of a sudden you would be out in the rough somewhere."
John Daly, the 1995 champion, got a scouting report from a friend who played Carnoustie during the Dunhill Links and decided not to make the trip in 1999. Mike Weir braved it and is glad he did. "I've got good memories of the place, actually," said the Canadian. "I shot 83 and made the cut. I shot 83-71, birdied 16 and 17, made an eight-footer at 18 to make the cut on the number in my first British Open. It ended up being a good week."
There were so many bogeys, the leader board operator in the press center ran out of 5s. Tiger Woods made one birdie in the last 36 holes and still finished T-7. Only 15 players broke par in the four rounds -- and it was a forebearer of things to come.
Whether it was the wind at Augusta or simply the brutal nature of Oakmont, the high scores this year are on pace to set a record (see chart). "The argument seems to be harder is better at the moment," said Ogilvy. There were no Opens at Carnoustie between 1975 and 1999. The fact that the R&A went back this quick indicates that John Philp was not that far off. In the spirit of Hootie Johnson and Walter Driver, he was actually ahead of his time.