News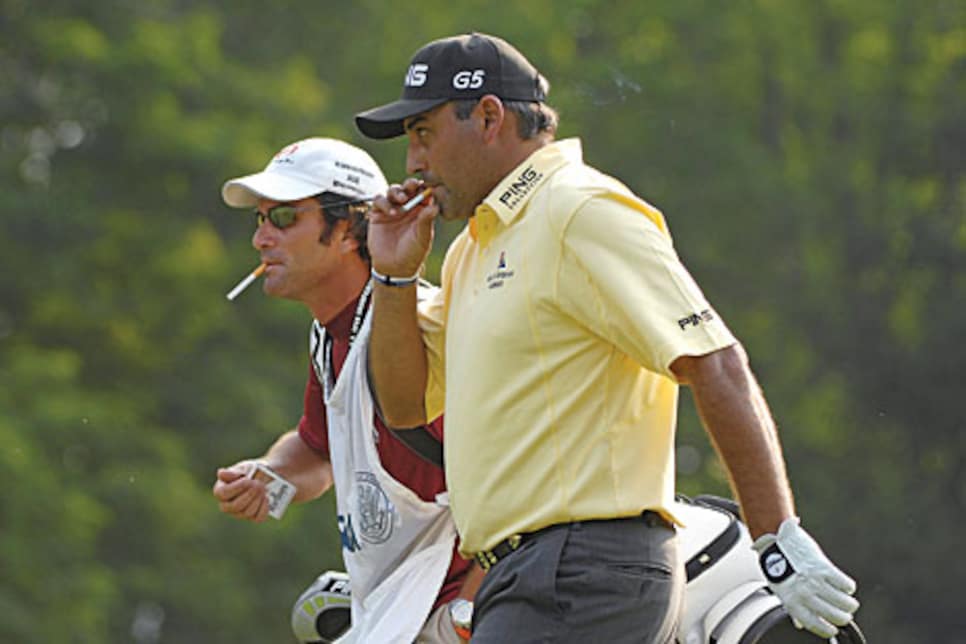 Cabrera and Gardino puffed away during the nerve-racking homestretch.
To golf's aficionados, Angel Cabrera has long been acknowledged as one of the game's huge talents. His full swing is a portrait of graceful but unstudied athleticism spawned in the caddie yard, the 37-year-old's bull-shouldered, 210-pound frame unwinding to deliver one of the heaviest hits in the game. It's an action that screams "Made in Argentina"—as, unfortunately, does his putting stroke, which tends toward the jerky and jabby, the product of a country with extra-grainy Bermuda greens.
In those ways, Cabrera is very much a latter-day Roberto De Vicenzo. But the two Argentines had always parted company in their respective ability to win. Where De Vicenzo racked up some 231 victories worldwide, highlighted by the 1967 British Open at Hoylake, Cabrera had contended often in big events but never closed. With only three European Tour victories since 2001 to go with a bevy of lesser South American titles, he was labeled an underachiever likely to falter under pressure.
"He seems to make the big mistake," the 84-year-old De Vicenzo said last year when asked about Cabrera. "He has to make what he has inside stronger."
Sunday Cabrera proved he has, and with his victory at Oakmont, he and the Maestro have become more alike. "Roberto beat Jack, and now Angel has beaten Tiger," said Argentina's best LPGA player, Silvia Bertolaccini. "The difference is that the Latin countries barely knew what Roberto had done, while millions watched Angel. Now that Angel has gained confidence, he has the opportunity to do more, for himself and for Latin American golf."
Where Cabrera found his new grit is open to speculation. Some Argentine observers believe that the positive, never-quit competitive demeanors of countryman Manu Ginobili of the NBA champion San Antonio Spurs, and Cabrera's close friend David Nalbandian, the world's 26th-ranked tennis player, have made an impression on the native of Cordoba, who often turned hangdog under adversity. "He tends to get negative on the course," said Eddie Gardino, Cabrera's caddie since 2005. "When you are the best ball-striker but don't make putts, it's easy to get down. It would cause him to lose his concentration at crucial moments."
But Charlie Epps, a Houston-based teaching professional who lived in the small Argentine city of Villa Allende in the 1980s and met Cabrera when he was as a young caddie at the Cordoba GC, believes that Cabrera's problems with keeping his composure stem from a deep-seated anger rooted in growing up in an impoverished broken home. "I remember that when he started playing he really had a temper—he just couldn't handle bad shots—and that hurt him as a tournament player for a long time," says Epps. "He's a wonderful guy who had a lot of issues because of a very tough childhood, and with time he's learned to overcome them."
Cabrera himself is a man of few words, and he offered only one in explanation for why he kept it together at Oakmont. Leaning back in his chair at the end of a celebration dinner Sunday night at Oakmont's men's grill in which he and half a dozen Argentine friends washed down filet with red wine, Cabrera puffed contentedly on a Montecristos and said, "Experiencia."
It's true that Cabrera had been in contention in majors many times. He finished one shot out of a playoff at the 1999 British Open at Carnoustie, held the lead during the second and third rounds of the 2001 Masters, and led the 2004 U.S. Open at Shinnecock Hills with a first-round 66, his tie for fourth at Carnoustie the best result. But after a disappointing third-round 76 last week that took him out of the lead and put him four strokes behind Aaron Baddeley, Cabrera finally applied the lessons.
Referencing his collapse at his previous event, the BMW PGA Championship at Wentworth in May (where he lost the final-round lead with a double bogey on the 15th hole), Cabrera told his manager, Manuel Tagle, Sunday morning, "If I get to the 15th today in the same position, the same thing will not happen." And indeed, his brilliant monster drive and spinning 9-iron from 160 yards out of the first cut of rough to birdie the 15th were the crucial strokes.
In a better place mentally, Cabrera did not let the challenge of the infinitely more battle-hardened Woods and Jim Furyk take his focus off his greatest weapon—full-blooded ball-striking on the major champinship course that rewards those qualities perhaps more than any other. As Cabrera pointed out about Oakmont's confounding greens, "Most of the time I'm not making any putts, but this week it was like everybody was missing the putts. So that gave me an advantage." And he used that advantage—pure, powerful and repetitive tee-to-green play that was simply superior to his challengers. As Woods said after giving Cabrera a congratulatory hug at the trophy presentation, "You went out and won it today."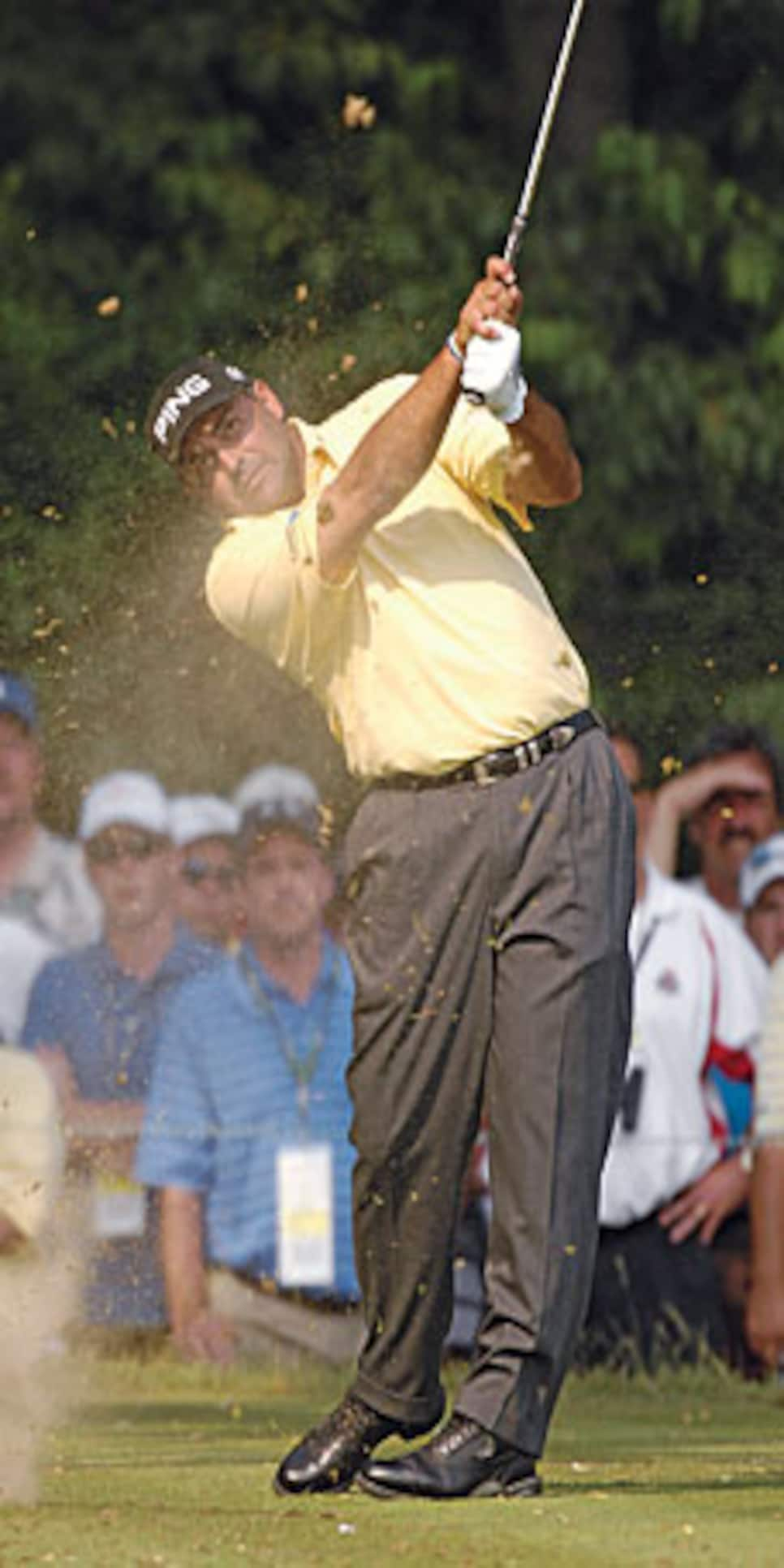 Cabrera is arguably the straightest of the game's truly long hitters. He proved just as long as Bubba Watson during their third-round pairing and finished the four rounds ranked second in driving distance with an average of 310.9 yards, half a yard behind George McNeill, who finished dead last among those who made the cut. Not included in that average was Cabrera's 397-yard bomb on the par-5 12th hole Sunday, which rolled into the first cut of rough.
While Cabrera did not hit a lot of fairways statistically, ranking 48th in the final field with 27 out of 56, he most often missed in the first cut. From there or the fairway, he was able to apply a fast, clean strike with lofted clubs, sending irons shots loaded with enough spin to keep the ball on the most desired knobs of Oakmont's greens.
Meanwhile, superb iron play proved the best antidote for Cabrera's problematic putting. Three times Sunday, Cabrera hit short irons within tap-in range: on the fifth, the 11th and climatically, that dramatic 9-iron shot at the 500-yard, par-4 15th that nearly went in. And when his shaky stroke caused him to miss three 10-footers on the back nine, the last on the 17th to make bogey, he righted himself on the 18th tee, where Cabrera tamed not only the hardest hole on the course, but the ghosts of last year's 72nd-hole disasters at Winged Foot, with one of the best pressure drives in U.S. Open history.
"What happened on 17 could have upset him, but he stayed calm," said Gardino. "On the tee, I gave him the driver and told him to just rip it over the bunker on the left with a fade. He absolutely killed it on the perfect line." Measured at 346 yards, it allowed Cabrera to pinch a 140-yard pitching wedge that stopped on the back level of the green 25 feet way, from where he was able to trundle the right-to-left swinger to 18 inches. "He muscled the course nicely," was the neat assessment of his fourth-round playing companion, Stuart Appleby.
It was Argentine golf at its best, the same muscular style that caught Ben Hogan's attention while De Vicenzo was challenging him for major titles in the early 1950s, and with which powerful Eduardo (El Gato) Romero wows the Champions Tour with his hitting today. All three players came up through the caddie ranks without formal instruction, trusting their physical gifts and creative flair for shaping shots. Cabrera dropped out of elementary school to caddie full time, to provide extra money for his family. He was mentored by fellow Cordoban Romero, who was Cabrera's sponsor when he won his first tournament, the 1995 Paraguay Open. Since then, there have been flashes of brilliance, but more often a sense of something amiss.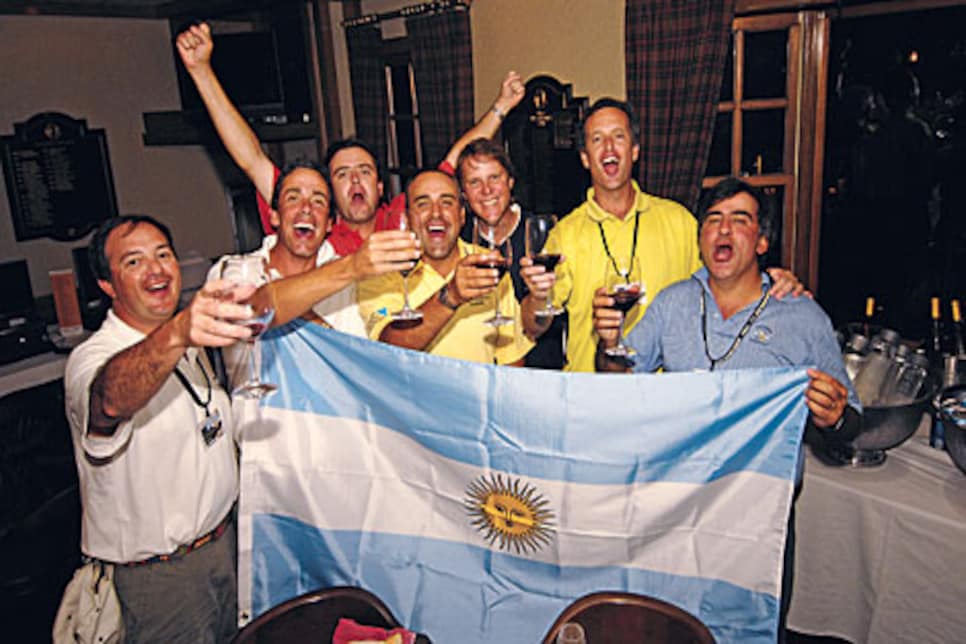 "In Argentina it was always hard for a young player to know he was actually good enough," said Bertolaccini, who won four LPGA events between 1974 and 1984. "We have always been very much on our own, and unless a person has a great natural self-confidence, it's very normal to have doubts. For a long time we have all been telling Angel that he is really, really good. But I don't think he really believed us."
Indeed, asked after winning at Oakmont if he considered himself one of the game's best ball-strikers, Cabrera said "No." But his own performance was a clear rebuttal.
"All the positions in Angel's swing might not be perfect, but the sequence in which his body moves is great," says Jim McLean, whose associate, Mariano Bartolome, often works with Cabrera. "It's a full release with no hang-on' or steering, and you can tell that he doesn't have to think about it very much, which is what you want on the 72nd tee of a major. About all Mariano fools with is setup and posture, because it's the athletic swings, not the more technical ones, that under pressure are hard to beat."
Adds Epps: "Angel just basically winds up and unwinds his body, and he has incredible eye-hand coordination. I remember coming down to Argentina to do a junior golf school and watching a group of self-taught young players swing, and the late Dick Harmon commenting, Charlie, there is not a swing thought down here.' " Epps, who speaks fluent Spanish, lately has been working with Cabrera on his putting.
Cabrera will probably always feel the most heat on the greens, and the drags on the eight to 10 cigarettes he lights in a round seem harder when he's pacing a six-footer. "There are some players that have psychologists," he said. "I smoke." But Oakmont can only increase his self-belief.
"Watch out for him now, especially at the other two majors this year," says Gardino. "This will give him a lot of confidence, which is really all he ever needed."
If more big victories come—especially if Cabrera chooses to play more in the U.S.—his ensuing public profile might bring him out of his shell. De Vicenzo was a beloved figure, especially in Great Britain and, after the 1968 Masters he famously lost because of a scorecard error, the U.S. Although to close friends like reigning Argentine Amateur champion Pablo Lozada, Cabrera is a "beautiful person," it's unlikely he will ever connect like the debonair De Vicenzo. But from his performance at Oakmont, there is a good chance the current best embodiment of "Made in Argentina" golf could end up with more majors than the Maestro himself.