News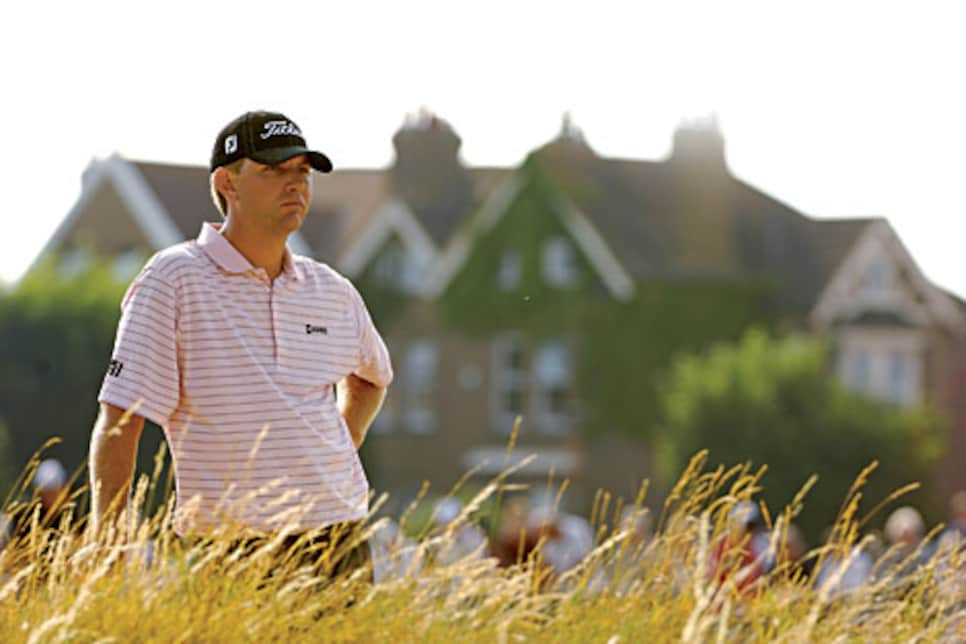 'When I sat down and thought about it, I didn't play well enough the last two months. I wouldn't have picked me.'
In the run-up to the biennial blow-out frequently referred to as the Ryder Cup, one of the prominent names on the list of sub-30-year-olds with a substantial upside was Lucas Glover. Several times, most notably at the Buick Open and the PGA Championship, Glover fired and fell back in his attempt to earn a spot among the doomed Americans. And no one who didn't make the crossing, not even an old pro like Davis Love III, wanted to be there more.
"I just think the purest, most passionate thing we can do as golfers is represent our country," says the 27-year-old Glover in a South Carolina drawl as smooth as sweet tea. "That's the No. 1 goal starting Jan. 1."
If making the U.S. team would have been an honor, not making it may have been an even better, if bitter, lesson. At the Buick, outside Flint, Mich., Glover was in the final twosome with Tiger Woods. "That was the first time I'd played with him in a tournament -- or ever," Glover says. "That was about [my] only legitimate chance to win all year. And he had to play bad for me to do it. But I was in contention, two back, on Sunday with Tiger. Pretty cool. Then all the Ryder Cup stuff."
On that particular Sunday Tiger did as Tiger does, making a bunch of birdies early to separate himself. "Now, I'm five back through five," Glover recalls. "Instead of trying to win the golf tournament, I thought, 'Boy, if I can just finish second or third and get those Ryder Cup points.' I never do that, and I did it that day. I was lucky to get it around in even and got lapped."
Two weeks later Glover shot 66 to tie for the first-round lead in the PGA at Medinah CC, but he finished 74-77-72 and wound up T-46. Despite being among the top 10 in Ryder Cup points virtually all year, he finished 14th in the standings and was disappointed when Tom Lehman did not make him a captain's pick. "I didn't perform, and I didn't deserve it," Glover says. "I really didn't. I wanted to get picked so bad, but in the back of my mind, when I sat down and thought about it, I didn't play well enough the last two months. I wouldn't have picked me either. That was hard to tell myself, but I had to."
Glover got similar tough love from his new teacher, Butch Harmon. "He said, 'Don't worry about it. We've got work to do. If we do the right work, you'll be there next time.' Good enough for me," Glover says. "That's what I wanted to hear."
Harmon sort of inherited Glover from his brother when Lucas' longtime teacher, Dick Harmon, died suddenly from heart failure almost a year ago in Palm Springs while visiting another brother, Bill. Butch sees the same potential in Glover his brother did. "When you think about the American players in that 25-to-29 age group," he says, "Lucas might be the best. He needs to get a little bit better at everything, and he knows that. By better, I mean more consistent."
The loss of his mentor last February was a body blow that undoubtedly slowed Glover much of last season. When Dick passed away, the first phone call Bill made, after family, was to Glover. "I think he missed Dick more as a person than golf-wise," said Bill of the former teacher and pupil. "I can only speak from Dick's aspect. He talked about Lucas as a proud father would talk about a son. When he spoke of Lucas Glover, he was speaking about a person he thought was special in the way he treated people. They truly liked each other … loved each other, would be the right word."
Glover still can barely talk about his old teacher without his eyes misting over. "I remember one story [Dick] would tell," recalls Glover. " 'You always take care of the little people because they're what make the world go round.' He was right. The guys in his bag room, he bought some of them teeth. He was a life teacher first for me. A pretty amazing man."
Friends of Glover, such as former Clemson teammates Charles Warren and Jonathan Byrd, will tell you what you see with Lucas is what you get, which is all well and good, once you get past the stereotypes. After Glover holed a bunker shot on the last green to edge Tom Pernice Jr. in the 2005 Funai Classic at Walt Disney Resort, Pernice said, "I kid him all the time because I just call him 'Redneck.' He's a young guy and very naive. My hat's off to him, though. Nobody realizes the kid made a $2 million birdie at the final hole of qualifying school [in 2004]. The guy makes birdie on one of the toughest holes you'll ever have to play, gets his card on the nose and now he's in the top 30."
It's easy to see where the redneck label comes from. Glover exudes a Kudzu Dubose vibe, the whiz kid with the big dreams from the Doug Marlette cartoon strip. He's 6-foot-2 and walks with a loose-jointed gait like he's headed down to the fishin' hole to meet Andy and Opie. He wears his cap pulled down too low over a shock of dirty blond hair that's kind of the anti-Ian Poulter -- instead of spiked and frosted, it hangs like someone put a bowl over his head and trimmed it with kitchen shears. His wife, Jennifer, was his high school and college sweetheart.
But his favorite singer is Frank Sinatra, not Garth Brooks, and his favorite band isn't the Oak Ridge Boys, it's the Beatles. On the golf course, between shots, he likes to think about some crossword clue he couldn't get at breakfast. When the Clemson golf team took road trips, Glover rode shotgun in the van to control the radio. "Coach [Larry Penley] and I conveniently had the same taste in music," Glover says with a grin. When he travels, he packs an iPod for the gym and a laptop for the hotel. This winter he's headed to Napa to boost a budding wine collection.
Shotgun in the university van is about as close as Glover ever got to packing heat. His shorthand explanation is, "Don't own any camouflage. A gun was given to me last year. Don't know what gauge it is. Don't have any shells for it. I happen to dip snuff, but that's about as far as it goes."
He does go hunting -- he just doesn't shoot anything. "We'll take him duck hunting," says Warren, who, like Glover, lives in Greenville, S.C., the one-time textile capital of the south, located halfway between Charlotte and Atlanta on the Interstate 85 corridor. "He's our high-priced bird dog. He'll put on waders and go get the ducks for us."
Unlike the average Labrador, Glover uses his hands and not his teeth. The latter are reserved for Charlie's Bar-B-Que. The pros from Greenville have a standing meeting at Charlie's on Mondays at noon, whoever happens to be in town -- Jay or Bill Haas, Glover, Warren and an assortment of Nationwide and mini-tour players. Charlie's is the kind of joint with a smoke stack outside and heavy wooden tables covered with red vinyl for easy cleanup. The sound of a meat cleaver hitting a chopping block is what passes for music. A plate of loose barbecue with slaw, beans and bread costs six bucks and a large sweet tea is another dollar. "Lunch is 12 minutes if you're alone and an hour and a half if you're with anybody else," says Glover.
It's impossible to get a really good look at Glover without seeing the shadow of his grandfather, Dick Hendley, behind him. Glover was raised largely by his grandfather and grandmother, Lucille. Lucas was adopted by his stepfather, Jimmy Glover, after his mother, Hershey, remarried when he was 12. Lucas doesn't talk about his real father. Neither does Hendley. Nor do Lucas' friends, if they know at all. In a tradition as Southern as fried green tomatoes, the deepest wounds stay hidden from sight.
"They were divorced before I can remember him," is all Glover will say. "It didn't affect me like it would most kids because of my grandfather and my [five] uncles. I was lucky."
This is what luck looks like: A member of the Clemson Sports Hall of Fame, Hendley was an All-American football player and baseball catcher. He was a blocking back for Frank Howard (Clemson's version of Knute Rockne) in the single wing in the days before facemasks. At 5-11 and 215, "I was actually bigger than the two guards," he says with a gravelly voice that hit 80 in August. He played for the Pittsburgh Steelers for one season, then quit when they went away from the single wing because he knew he was too slow to do much of anything except punish people out of the backfield. He returned to Greenville, got his degree and handled tickets and concessions for the local minor league baseball team, the Greenville Spinners. He knew a couple of professional ballplayers up north who invested in cleaning businesses, and he thought it might go in the South. His first clients were an Esso station, Sam's Café and a tavern whose name he can't remember. He convinced people to hire him by taking a cosmetics mirror and showing them the filth underneath the toilet rims that he then cleaned himself. His first big contract was a textile plant -- 43 toilets under one roof. It was like hitting the lottery. Today, IH Services, his company, employs more than 3,900 people cleaning everything from factories to Wal-Marts. He gave Glover his first set of clubs when the boy was 2. It had a wood with Mickey Mouse painted on the head. That club is now framed alongside Glover's trophy for winning the Funai Classic. And, when Hendley couldn't take Lucas any further himself, he took him to Dick Harmon.
"He's what America was built on, guys like him," says Bill Harmon of Hendley. Glover has a simpler view. "He's my hero, to start with," he says.
Despite the disappointments and the personal loss of last season, Glover was a statistical success, 10th in total driving, ninth in birdie average and eighth all-around. He has a lot of down-cock in his swing, a bit like Sergio Garcia's old move, and tends to hit the ball low. Jay Haas once said that asking Lucas to hit a low ball was "like asking a fish to hold its breath under water." And before anyone teed it up in 2007, he was fifth on the Presidents Cup list.
"It's not like I have to wait two years to see how I'm going to handle it," he says of his near miss with the Ryder Cup. "I get to do it again this summer with the Presidents Cup. I think it's the biggest honor in golf, to wear our colors. I don't have to wait until Ryder Cup '08 to figure it out. I get to jump right in it. I think that's a plus."
Presumably, a little new blood on some of these teams will be, too.