News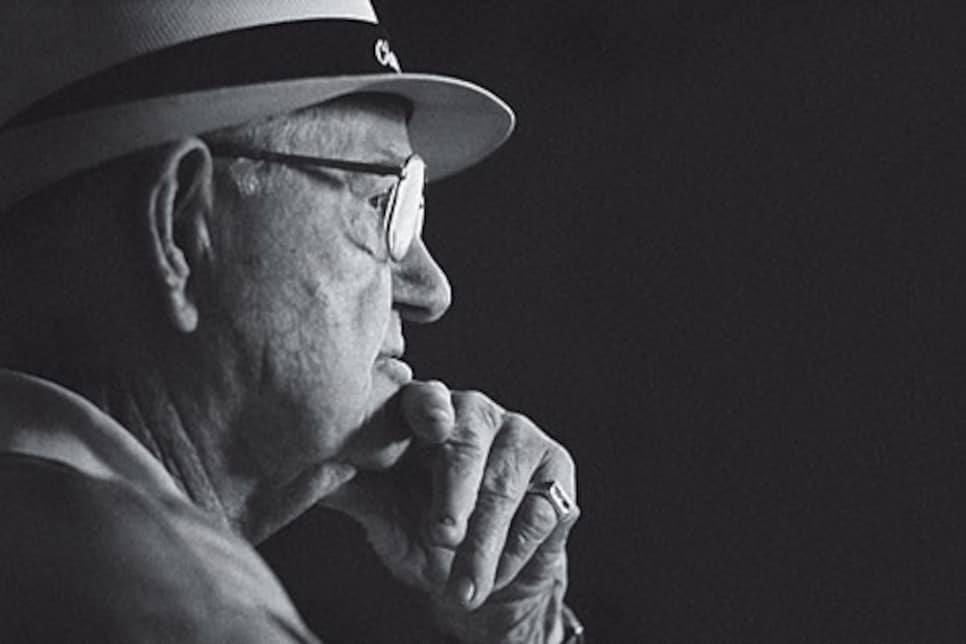 Staying in the present: Nelson, shown in 2002, kept up with the modern game he helped shape.
The mastery exhibited by many sports legends is often coated with a considerable layer of mystery, but that was not the case with Byron Nelson. His golf swing was likened to an efficient machine; his playing record, compressed by choice into a truncated prime, shone like a neon sign decades after he produced it; his character, according to those who knew him well, was more unswerving than any of the sure and solid shots he ever struck.
The mastery exhibited by many sports legends is often coated with a considerable layer of mystery, but that was not the case with Byron Nelson. His golf swing was likened to an efficient machine; his playing record, compressed by choice into a truncated prime, shone like a neon sign decades after he produced it; his character, according to those who knew him well, was more unswerving than any of the sure and solid shots he ever struck.
Although Nelson won more silver trophies than all but a handful of golfers, many of them in his fantastic 1945 season—when he claimed 11 consecutive tournaments among 18 victories—he was most proud of a long life lived by the golden rule. "If whenever people mention great players, they think of Nelson, too, that would be nice," he said. "But I prefer being remembered as a nice man with a lot of integrity, as somebody people could love and trust, as being friendly and a good Christian man."
Nelson, 94, died of natural causes Sept. 26 at his Fairway Ranch in Roanoke, Texas, slightly more than 60 years after moving there following the most concentrated period of dominance the game has known. In three seasons—1944-46—Nelson won 34 of the 75 tournaments he entered, was runner-up 16 times and only once finished out of the top 10. Ruling the tour in 1945, Nelson had a stroke average of 68.34 (a mark that stood until Tiger Woods broke it in 2000) and a final-round average of 67.45.
Among Nelson's 52 PGA Tour victories—which place him sixth on the all-time list behind Sam Snead (82), Jack Nicklaus (73), Ben Hogan (64), Arnold Palmer (62) and Woods (54)—were five major championships: 1937 and '42 Masters; 1939 U.S. Open; and 1940 and '45 PGA Championships. He was "in the money," the equivalent of making a cut in the modern game, 113 straight times, a record that also stood until Woods bettered it.
"He was a legend who transcended generations and was loved and respected by everyone who knew him," said PGA Tour commissioner Tim Finchem. "His legacy spans across his historic performances, the gentle and dignified way he carried himself and his tremendous contributions to golf and society."
Nelson carved his place in golf history with an individualistic swing against fellow icons Snead and Hogan, with whom he shared a birth year (1912) in an era when the purses were small, course conditions ragged and travel hard. The circuit visited cities such as Corpus Christi and Durham, Tacoma and Gulfport, and the pros usually got from one place to the next by car—it was a far cry from the life led by current pros who came to play in the EDS Byron Nelson Championship, for which Nelson had been the host and soul since 1968.
In Golf's Golden Grind, Nelson described the travel: "We would drive Sunday night, Monday, and Tuesday sometimes. Once you got to the tournament it took two days before you got rid of the shakes in your hands and the golf clubs quit feeling like the steering wheel. It's a wonder anybody could putt at all."
But the journeys between tournaments weren't in some ways as arduous as Nelson's path in making it to adulthood. Born Feb. 4, 1912 on his family's 160-acre cotton farm in Long Branch, outside Waxahachie, Texas, John Byron Nelson Jr. was momentarily given up for dead during a difficult delivery. Before he was a teenager, Nelson had survived a bite from a rabid dog and typhoid fever (the latter making him sterile, which, he said, is why he and his first wife of 50 years, Louise, didn't have children).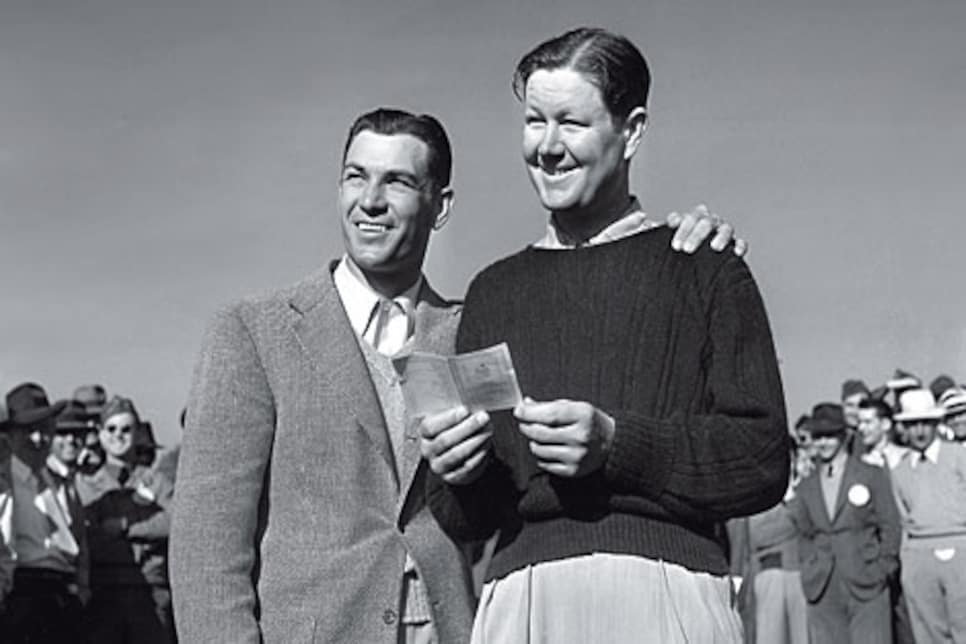 Golf became part of Nelson's life after his family moved from the country to nearby Fort Worth when he was 10. At age 12, Nelson became a caddie at Glen Garden CC, where one of his fellow loopers was Ben Hogan. When Nelson was 15, he beat Hogan by one stroke in the final match of the caddie championship.
Nelson might not have pursued a golf career at all, but having quit school in the 10th grade, he lost his job as a railroad file clerk when he was 17. By late 1932 he had earned his first check as a pro, $75 for a third-place finish in a tournament in Texarkana. The next couple of years were lean, but Nelson was in the process of developing the swing that later would take him to the game's pinnacle.
Golf had been the province of players relying on active hands and wrists and perfect timing to control hickory-shafted clubs. With the advent of steel shafts, Nelson sought to turn a complex equation into simpler math by using his lower body to drive the clubhead squarely through impact: along the target line for several inches before and after impact. Nelson fought sieges of shanking initially until he learned to curb the movement of his head with that of his legs and hips through the ball; even after he perfected his action, he would occasionally hit a lateral.
By then, though, his technique was producing the most accurate shotmaking the game has seen. Instructor Harvey Penick wrote that Nelson's dollar-bill divots, rectangularly precise and paper thin, were like few he ever observed. Nelson's shots drifted little right or left, and his judgment of distances was as adroit as anyone's. Playing in the second Masters, in 1935, Nelson watched from the adjacent 17th fairway as Gene Sarazen holed a 4-wood shot for his famous double-eagle 2. Two years later, when Nelson closed with a final-nine 32 to overtake Ralph Guldahl and win his first green jacket, he started hitting plenty of great ones himself.
His accuracy became the stuff of lore. Nelson recounted to Dave Anderson the time in the late-1930s when he was pro at Ridgewood CC in New Jersey and the caddies challenged him to hit a shot off a slate patio at a flagpole 100 yards away. Nelson chose a 3-iron and hit the pole on his second try. During the 1939 U.S. Open at Philadelphia CC, which he won in a playoff, Nelson hit the flagstick six times with six different clubs.
The legend of the British icon Harry Vardon was that he played two seasons without missing a fairway and often hit shots into divots he had made previously. Nelson, who learned how to grip a club properly when he was a kid by studying Vardon's technique in a book, once duplicated the star when he toured a course for the second time in a day. "I'll be darned," Nelson said, "I've landed in my own divot. I've equaled Vardon at long last."
Nelson's precision—True Temper, and later the USGA, would simulate his swing in the mechanical "Iron Byron" testing device—co-existed with a predilection for a nervous stomach that was heightened on key tournament days. Prior to the 1942 Masters playoff with Hogan, Nelson threw up during the night. "There were easier people to have a playoff against than Ben Hogan, you know," Nelson recalled years later to Sports Illustrated.
The straight hitter's competitive desire was sometimes hidden. "Even though folks couldn't always see it," he told The New York Times, "I had a very big desire to achieve. I got pretty steamed up inside." Once, at a 1936 tournament in the Pacific Northwest, Nelson was so ticked off after missing short birdie putts on the first six holes that he hurled his putter and it got stuck in an evergreen tree.
At his best, though, he kept the frustrations to a minimum. Ruled 4F and ineligible to serve in the military during World War II because his blood took an unusually long time to clot, Nelson crisscrossed the United States doing Red Cross and USO exhibitions (110 in all) and dominated the play that went on while some of his peers, notably Lloyd Mangrum, Hogan and Snead were serving in one capacity or another.
"They try to put an asterisk by his record," 82-time LPGA winner Mickey Wright once observed, "but just look at some old film of the conditions of the golf courses back then. And look at the scores he shot."
Snead played in six of Nelson's 11 straight victories and nine of his overall titles and won six times himself in 1945; Hogan, who won five times, competed in five of the events Nelson won. Citing the greater depth of fields in more recent years and the relative peace he had—compared to modern media demands—as his streak grew, Nelson was modest about his stunning season. "Put today's players against me in 1945," he told Golf Digest in 1996, "and I would have won more than six. I think I would have won nine tournaments."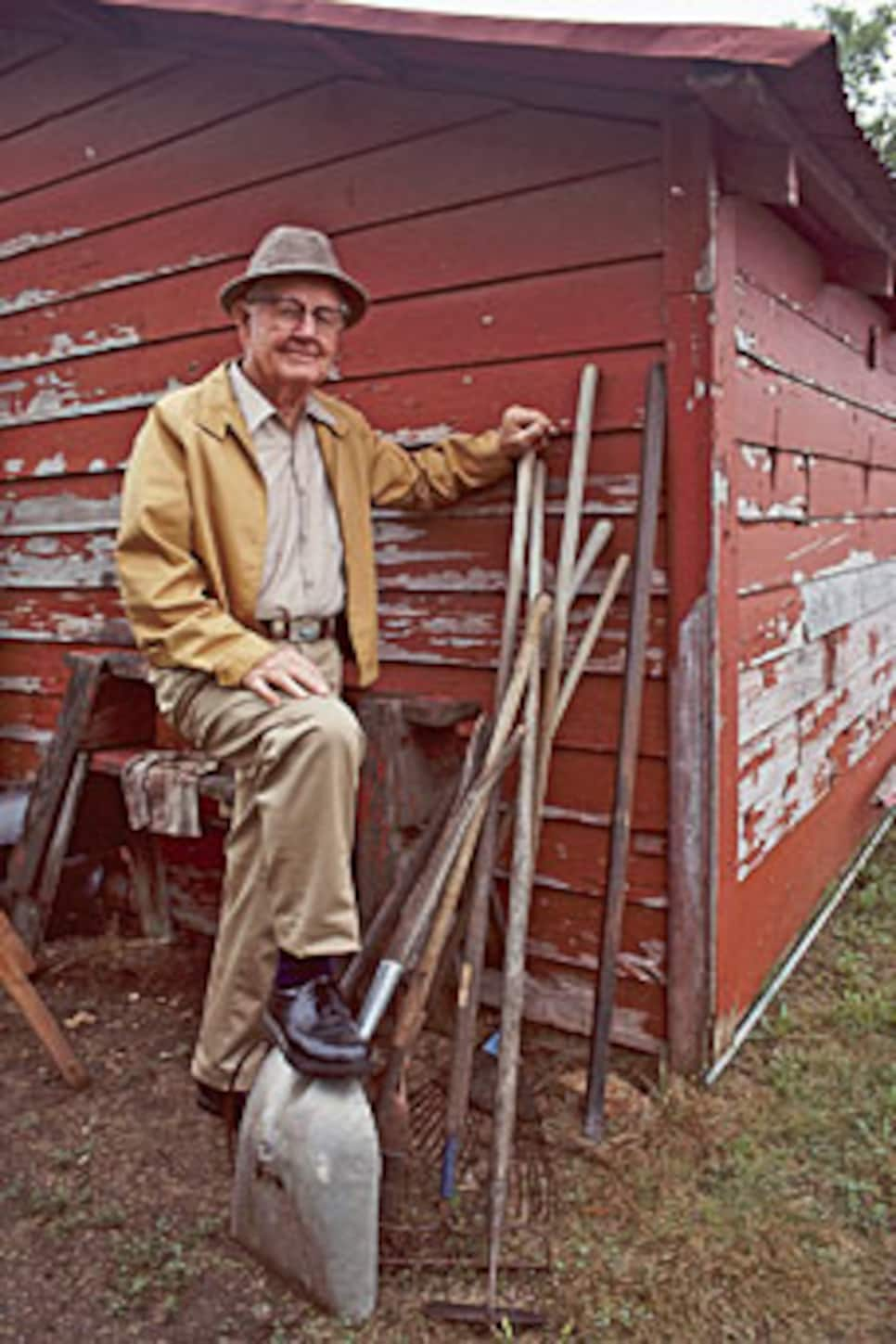 The 18 that he claimed in large measure paid for his dream ranch. Louise, skeptical of Byron's ranching skills and wary of losing any of their investments, told him he would have to pay cash for a ranch if he wanted one. His dream spread cost $87 an acre for 630 acres. He paid $55,000 and said goodbye to full-time tour life after the 1946 season, when he was only 34. Proceeds from his 1946 instruction book Winning Golf helped stock the ranch with cattle.
Nelson claimed he had just had enough of the travel and achieved most of his goals. In 1952, six years after his retirement, he acknowledged that the grind of competition had taken a toll: "The body takes a severe beating, but it is the wear and tear on the nerves which gets you," Nelson said. "Day after day, hole after hole, with no let up in the pressure. It got me. That's why I quit while I have my health."
Although he played only a couple of events a year into the mid-1950s, Nelson kept his game sharp and perpetuated his reputation as a gentleman-golfer. One of his protégés, Ken Venturi, recalled that when Nelson visited a course to play an exhibition, he always asked who held the course record. If it was the home pro, Nelson would never break it.
"For many, Byron will be remembered for his incredible record as a professional golfer, including winning 11 tournaments in a row," said Tom Watson, who became a pupil of Nelson's in the mid-1970s, shortly before he became the best player in the game. "But he will be most remembered for the genuineness and gentleness he brought to all those around him."
After Nelson joined ABC Television's broadcast team in 1963, Roone Arledge urged Nelson to modify his Texas twang, but Nelson kept talking like he always had. Nelson's voice carried like one of his long irons; Donna Caponi backed off a crucial five-footer on the 72nd hole of the 1969 U.S. Women's Open after she heard Nelson say which way the putt was breaking. (She made the putt, and won the tournament.) Plexiglas was installed to dampen Nelson's calls soon thereafter.
Nelson had his name attached to the PGA Tour event in the Dallas area since 1968, but he was much more than a figurehead. Staying active and on hand even into his final year, when he required portable oxygen and had difficulty walking, his recall of events 60 years ago was extraordinarily sharp, his interest in the current scene keen. "I got my last call from him only about two months ago," said Loren Roberts. "It was after I won the Senior British Open." Roberts, who won Nelson's tournament in 1999, was one of scores of players to receive handwritten notes from Nelson through the years, thoughtful expressions of congratulations or encouragement.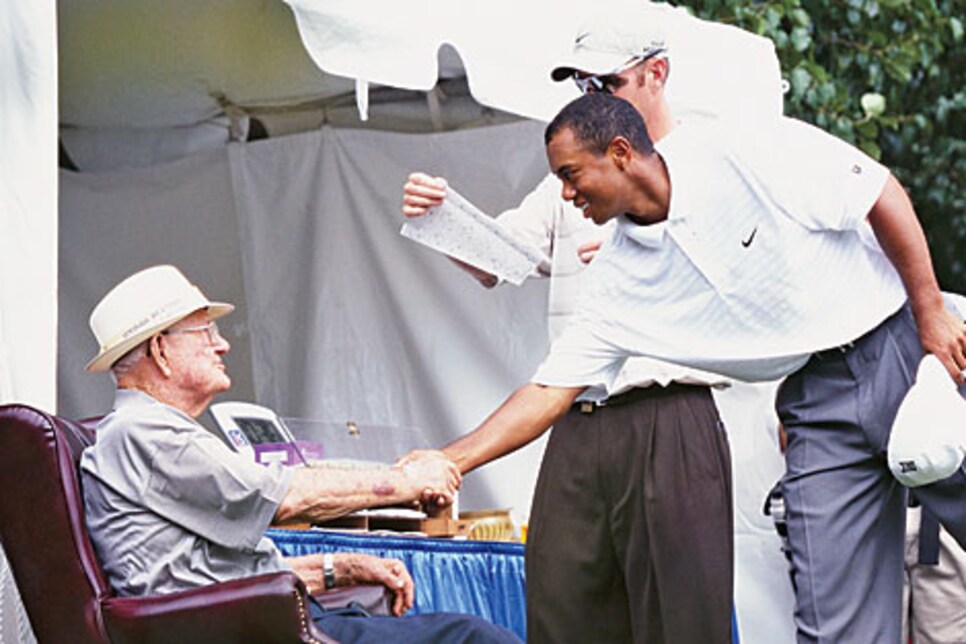 Woods, who was a teenager when he met Nelson, got his first of about 50 notes from him after winning the 1994 U.S. Amateur. "He wrote a nice letter," Woods recalled. "I was just shocked. Here is a legend of the game writing to some little amateur a handwritten letter, which I … never, ever forgot."
But it was the face-to-face contact that today's generation treasured even more, whether it was a handshake by the 18th green or getting met by Nelson at the Dallas-Fort Worth airport, as Retief Goosen was in 2005. "He was so kind-hearted, so kind and so soft and so genuine," Woods said. "He always looked at you and talked to you with extreme interest, and you don't find that with everybody you meet. He just had a softness about him that was very unique."
The captain of the 1965 U.S. Ryder Cup team, Nelson made wooden keepsakes with a psalm on them for members of this year's American team. According to family friend Jon Bradley, Nelson had 14 clocks in various stages in his woodworking shop on the day his second wife, Peggy, whom he married in 1986 a year after Louise's death, found him passed away on their back porch. Asked by the Fort Worth Star-Telegram this year how he had stayed so active into his 90s, Nelson said: "I never drank, never smoked, never chased women. And I've never had a sitting-down job in my life … I weigh 181 now, and I weighed 179 when I left the tour when I was 34. My life, for 94, is still very, very full. And I love it."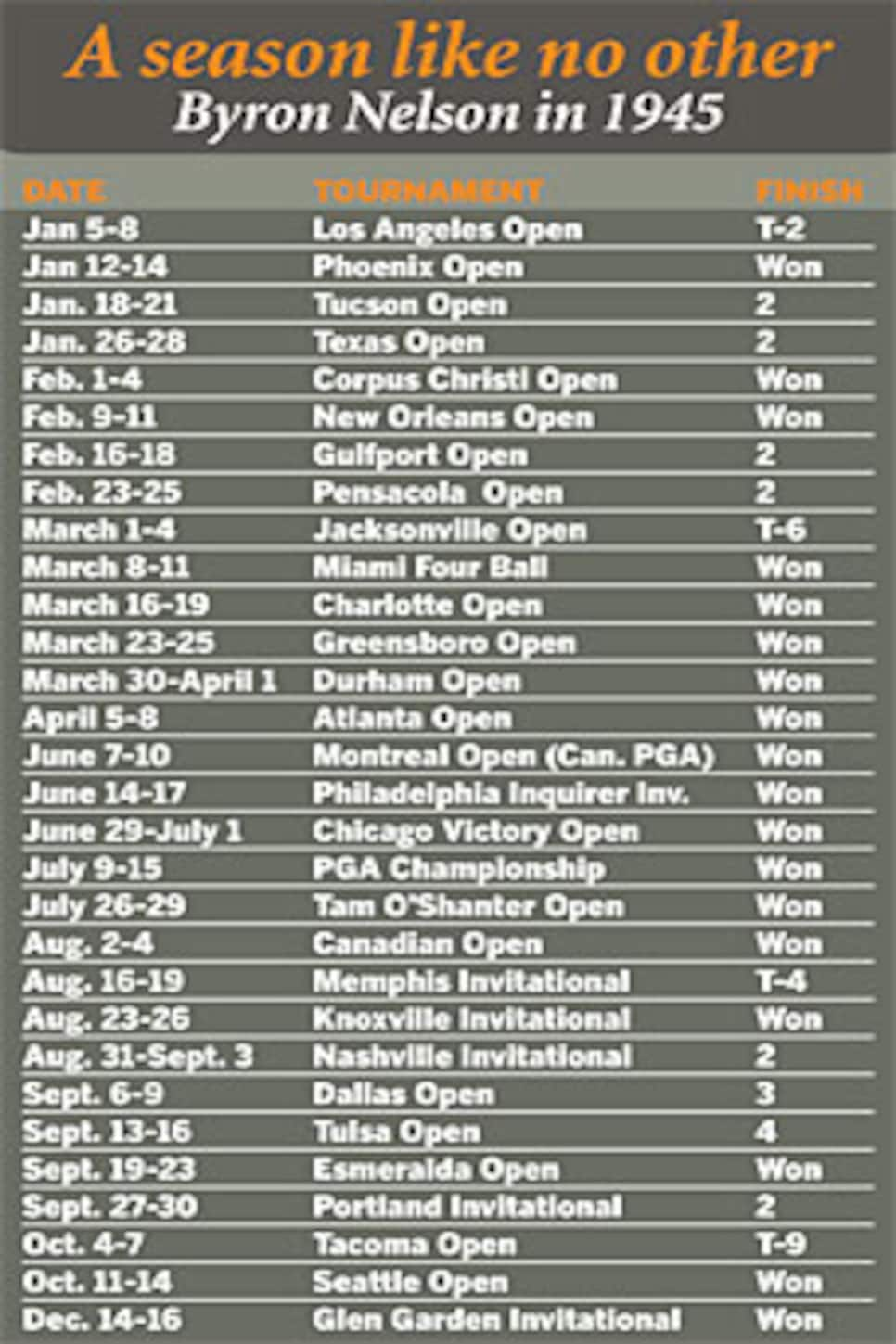 Nelson's philanthropic efforts—his namesake tournament has raised $94 million for the Salesmanship Club's efforts for troubled youth—were recognized the day after his death when the U.S. Senate approved a bill to grant him posthumously the Congressional Gold Medal, Congress' highest civilian award. Nelson was one of the original 13 inductees into the World Golf Hall of Fame in 1974. Also that year, he won the USGA's Bob Jones Award for sportsmanship and the William D. Richardson Award from the Golf Writers Association of America for his outstanding contributions to golf.
More than 2,200 people attended Nelson's funeral Sept. 29 at Richland Hills Church of Christ, which was both a tribute to a humble man and the end of an era. The 50th anniversary of his 1945 success had put Nelson back in the reflected glory of his accomplishments and afforded newer generations the chance to appreciate him anew. "I don't have many worries," he said to Golf World in 1995, "but the biggest is that I'll wake up like Rip Van Winkle and find out this has been one long dream. Or that I'll forget every wonderful thing that ever happened to me."
He needn't have worried. Nelson lived it all: superb golf and solid citizenship, a streak that was only beginning with 11 tournaments in a row.