News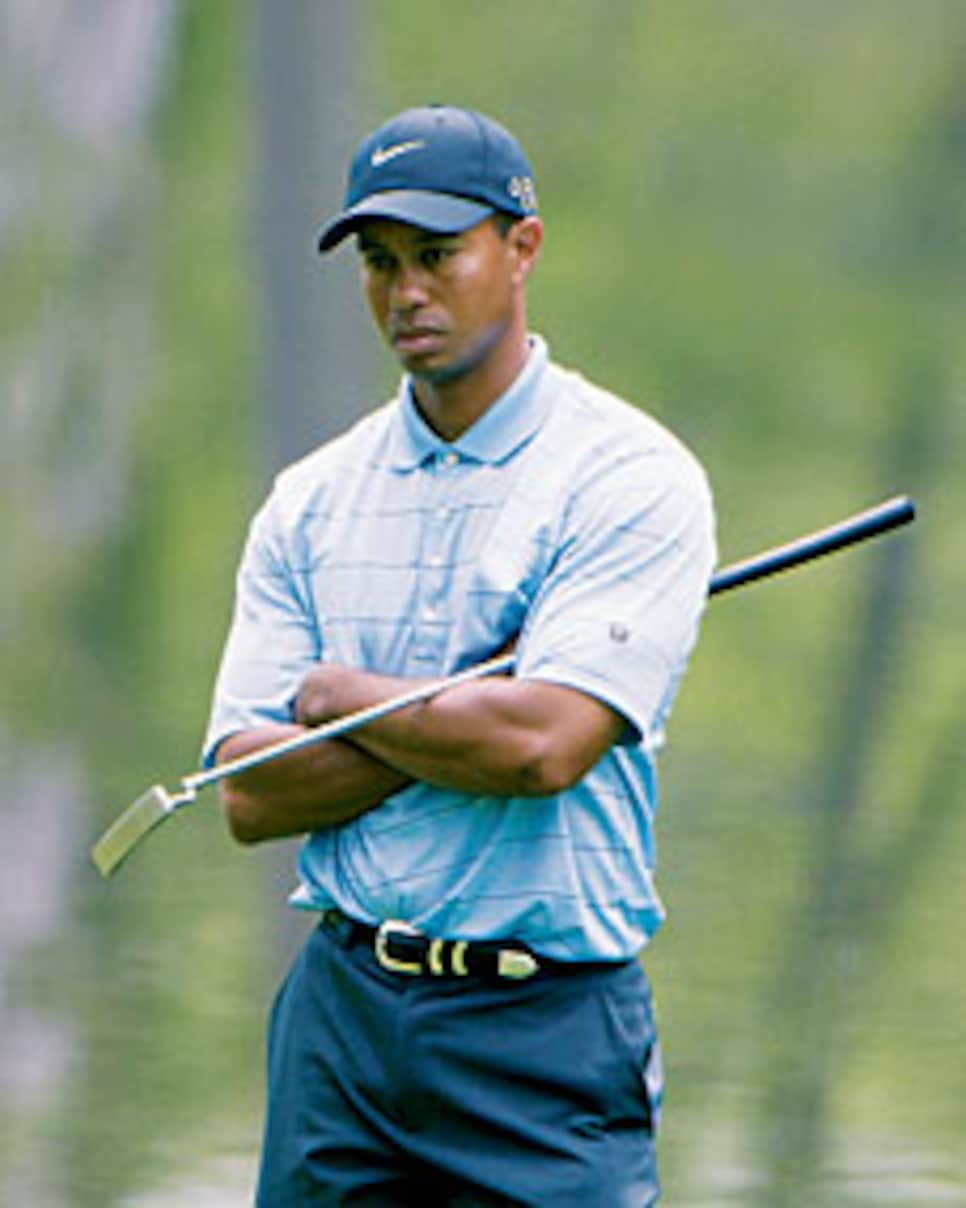 Woods endured some anxious moments but came through when needed.
Hank Haney knows too well that for Tiger Woods, the bad shot still lurks.
While the rest of the Masters throng watching Woods stride to the 71st hole was still quivering from the deliciously drawn-out drama of the holy-roller chip that restored a two-stroke lead over Chris DiMarco, Haney leaned his lanky frame hard toward Augusta National GC's 17th tee box and watched worriedly as his pupil's elaborate practice-swing routine was interrupted by the moving shadows of spectators. When Woods proceeded to spray his drive miles right, the teacher bowed his head in frustration.
"Jeez, Louise," Haney said, his jaw clenched. "I hate that friggin' shot. We are fixing that friggin' shot."
No doubt Woods was muttering something similar, but likely spicier. Indeed, it is the way in which player and coach share the same level of intensity, dedication and passion that has bound this duo for more than a year now in the quest for the ultimate swing. But as a startling succession of loose shots by Woods over the last three holes of regulation proved, he still lacks the total command that made him such an ironclad closer during his phenomenal 1999-2002 run. While his good shots at Augusta ranked among the best of his career, his bad shots were worse than any he had hit in his first eight major championship wins as a professional. His swing is still an unsolved riddle, the near automatic nature of his epic golf of 2000 traded in for a psychological tightrope requiring extra concentration to stay upright. The solution is best approached with the quality Haney says is the most important for any student: patience. The best word to capture its current state? What else? "Close."
Although it was widely compared to the "A-ha!" moment in May 1999 that triggered Woods' greatest sustained run of championship golf—seven Grand Slam triumphs in 10 starts from the '99 PGA Championship to the '02 U.S. Open—it turns out his much ballyhooed epiphany before his ice-breaking victory in Japan last November was a bit of a false alarm. Even in his wins earlier this year at Torrey Pines and Doral, Woods wasn't satisfied with his ball striking. "I didn't hit it the way I know I can," he told the media before the Masters. "I still had to continue to work on things." More worrisome, his two most recent performances, at Bay Hill and the Players Championship, were downright poor.
As he always has on the eve of a major, Woods met the issue with hard work. And as much as it will be remembered for his epic hole-out and earlier explosion of seven straight birdies, Woods probably won his fourth Masters during the five consecutive long days of preparation with Haney at Isleworth leading into the tournament. "Tiger knew he wasn't hitting the ball well enough to win the Masters," Haney said. "But I've never seen anyone who works harder or smarter."
According to both parties, no component of the game was overlooked. Haney said there was a particular focus on eliminating "the compression move"—Woods' tendency to lower his head and upper body on the forward swing. It was the cause of two startlingly poor tee shots in the last month, each of which traveled less than 200 yards: a fat pop-up opening drive at Bay Hill and a drop-kicked top off the second tee at Augusta during Woods' nearly disastrous first-round 74. "Except for that shot, Tiger was excellent at staying tall through the hitting area," said Haney.
The work didn't end when the sun went down. With Woods wielding a weighted club in the living area of his Isleworth home, Haney would manipulate his torso and limbs to accentuate the sensations he wanted his pupil to feel in a correct swing.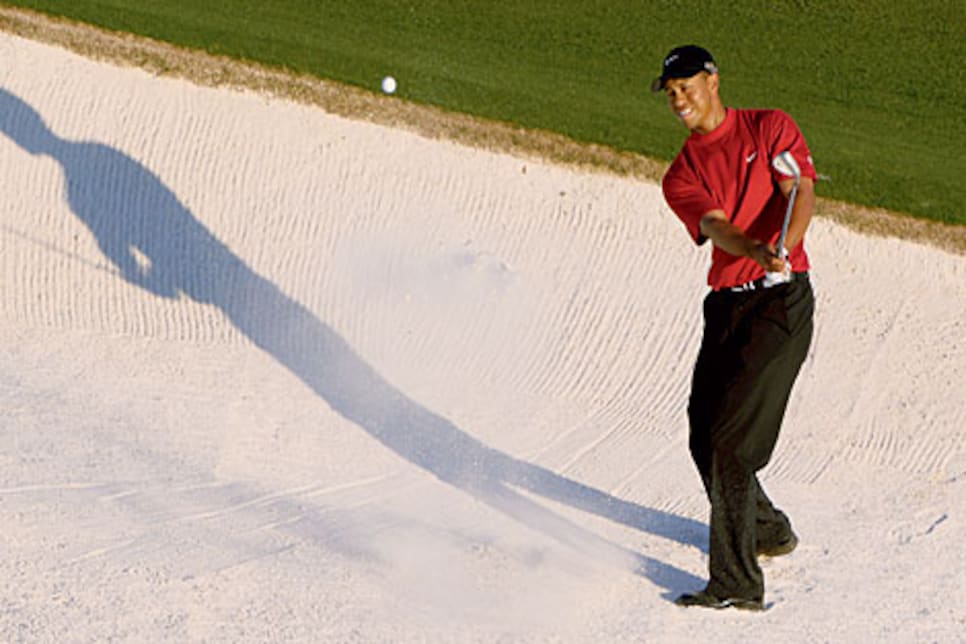 "A lot of my teaching is hands on," explained Haney. "I'm not going to go out in the middle of the Augusta National driving range and look like I'm playing chiropractor with Tiger Woods. But at Isleworth we do that all the time. I move him around so he can feel the whole swing. Then he can try to repeat those feelings in his practice swings. It's why he's started taking so many practice swings, especially compared to the other players. There are different practice swings depending on the trajectory and curvature of the shot he wants to play.
"Watching his practice swings is one of the ways I can tell if he's really understanding what he's doing," Haney said. "For Tiger, our work together has been a different way of thinking about things, and it's taken him some time to get it sorted out in his mind. But it really started to happen the week before the Masters. Right before we left for Augusta, he told me, 'This is the best I've hit the ball in my life.' "
Woods has a recent history of striping the ball on the practice range and struggling on the course, to the point where he has referred to himself as "Ranger Rick." But he was confident enough to tell the press Tuesday before the Masters started, "This year, I know that my ball striking is there. That's a big difference."
The best measure of Woods' improved tool box is his dramatically increased length off the tee. Along with equipment changes that have made him technologically current, Woods' backswing is significantly longer under Haney than it was with his previous instructor, Butch Harmon, a development Haney says will produce more power without necessarily resulting in a loss of control.
"If the club is on the right plane, length of backswing is not something I worry about," said Haney. "Bottom line, he's a lot longer. He might miss a few more fairways just because a longer hitter's ball will always travel farther off-line, but it's worth the tradeoff. [Distance] had always been a big advantage for him, and in the last few years he had gradually given it away. Now it's back, and among the best players, he's the longest hitter on the tour. If you possess the other components of the game, length is the key to being a dominant player. My goal would be that when they talk about the greatest ballstrikers of all time—like Hogan and Trevino and Moe Norman—I'd like to help Tiger get to where he is mentioned. The thing is, none of those players had the power Tiger has. So he has this incredible potential, and I'm just trying to help him reach it."
At Augusta, Woods hit several drives in the 350-yard range, his longest a 375-yard wallop on the second hole Saturday afternoon at the start of the third round. Without his Thursday clunker off the same tee, he easily would have led the field in driving distance. Woods also put together his best ball-striking display since hiring Haney, when he reeled off seven straight birdies later in the round on his way to a seven-under 65. All were converted with birdie putts inside 15 feet.
But golf is still a game of minimizing mistakes, and Woods will not approach the level he reached in 2000 without improving his worst shots. Ironically, it was his series of poor drives and approaches on the last three holes of regulation Sunday that set up his most important takeaway from the Masters. On the verge of truly blowing a major for the first time in his career—which would have been all the more devastating because he had gone 0-for-10 since winning the '02 U.S. Open—Woods gathered himself in the playoff and hit his best two shots of the final round, a pure 3-wood tee shot and a flushed 8-iron approach to set up the winning birdie.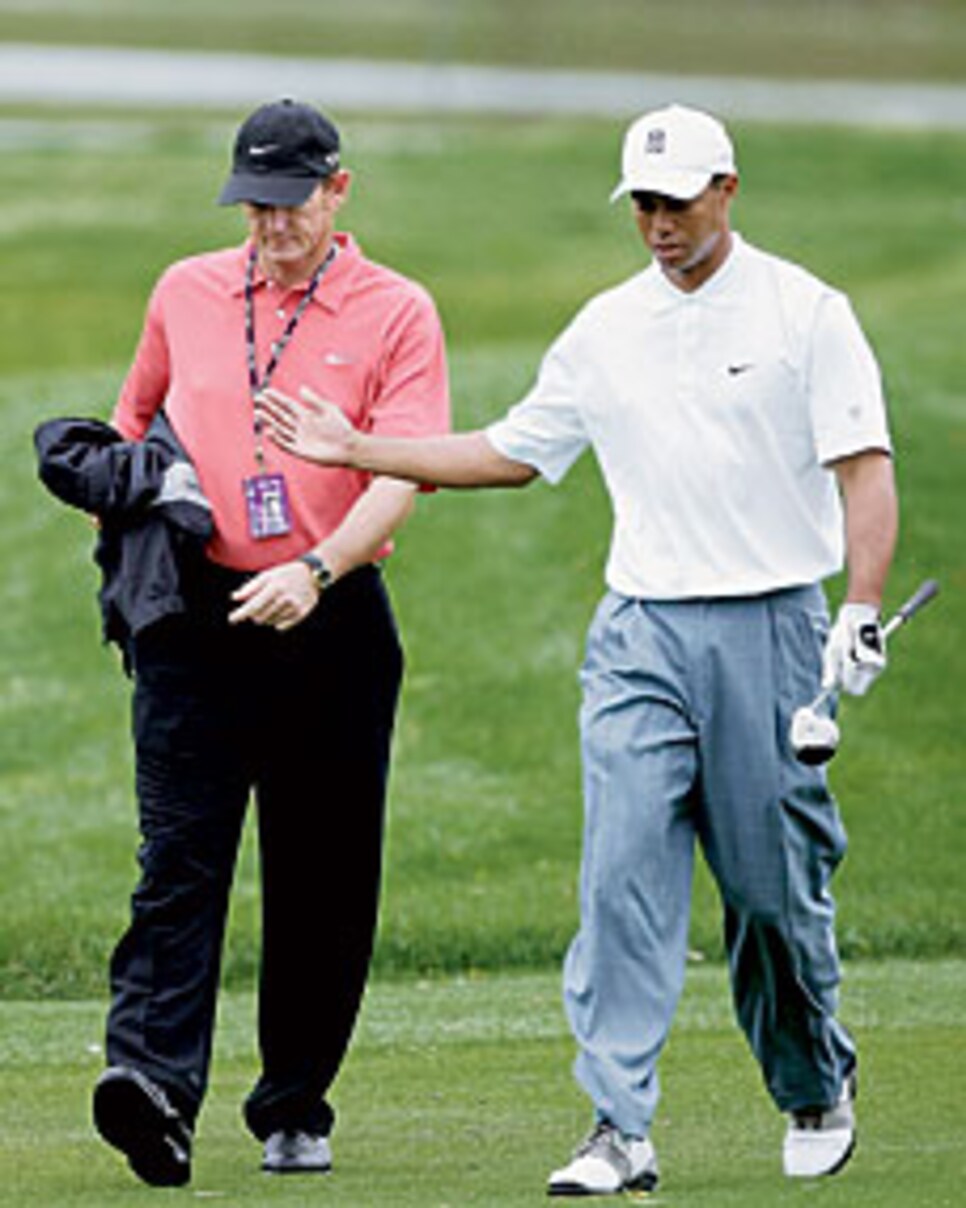 "That's what made me feel so good," said Haney, who after exulting with a forceful "Yes!" when Woods holed the winning putt, described his predominant emotion after the battle as relief. "Obviously, Tiger has a lot of different ways to get the job done down the stretch," he said. "One of them we saw at Torrey Pines, where he just played a big cut to get the ball around because he didn't have total belief in his swing. At the time he was proud of that.
"But obviously my goal is to have him make his good swing when it's all on the line. And on the playoff hole he did. I could see on the tee that he was making practice swings that were committed to what we had been working on—and then he hit two fantastic golf shots under absolutely the most pressure you can face. Some of that was just Tiger being Tiger and showing his great heart. But in terms of building trust in his swing changes, there's nothing better." Especially when you're trying to fix those friggin' shots.