News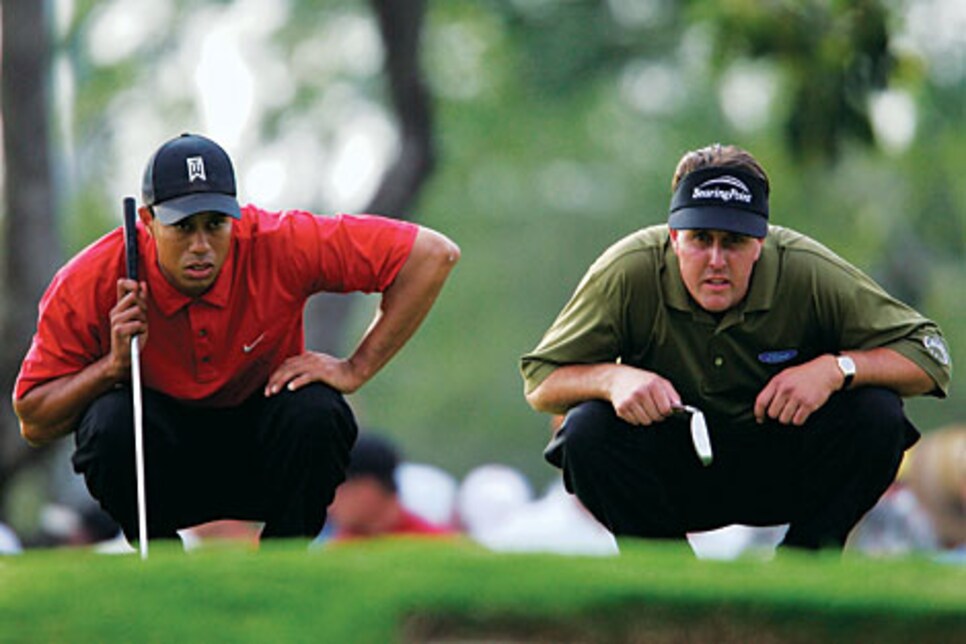 Match play: Woods saw is way past Mickelson with a 66 in Sunday's tight duel.
They arrived from the beach in imperfect waves and from the streets in droves. They came in stretch limos and taxicabs, on motorcycles and on foot. Some of them wore high heels, and also the women dressed up. And many among these thousands of spectators had one thing in common.
Cell phones. But if you were on the Ford Championship scene Sunday, you would have wanted to ring your friends, too. Besides, after those infernal battery-operated nuisances were removed by an efficient security blanket, the atmosphere was predictably electric. Tiger Woods vs. Phil Mickelson. That promoter of hair-raising fights, Don King, surely would have applied one of his corny subtitles to this duel of heavyweights. Like "Dimples for Dollars at Doral."
It was only riveting, and it's only March.Golf's match of the century could be replicated soon, perhaps at a major, quite likely featuring superstar contemporaries. Think the PGA Tour is happy? "I know I am," declared Woods, who drove a Buick into Mickelson's showroom with a one-stroke victory on a Blue Monster course both of these virtuosos tamed, all the better to effect dazzling numbers. Tiger shot 66 and returned to No.1 in the World Ranking—displacing Vijay Singh, who snagged a share of third with Zach Johnson on the undercard—by booking a tournament-record 24-under-par 264. Mickelson signed for a final-round 69 and waited quite a while for the ink to dry before he faced the salsa music blaring from a saloon beside the scorer's cubicle.
"The result sucks," said Mickelson, drained and deflated. "But this was probably the best thing that could have happened to me. I felt like I was playing better than anybody, and I just knew I was going to win today, and when I didn't, it's a great slap in the face because I'm going to work my tail off. When I come back to the Players Championship and Masters, I'm going to be ready."
Woods drained a 28-foot putt on No. 17 for his career-best 27th birdie of the week to assume a lead he would retain, albeit not without trepidation. "Tiger, I can't see!" yelled one fan from across the pond on No. 18, where Woods stood, back to the masses, as Mickelson chipped from 30 feet above the cup. The ball gently tracked toward the hole, inching along, before grazing the right lip. "I thought it was in," sighed Mickelson. A birdie there would have been his 28th, and it would have meant overtime. They might still be arm-wrestling. Tiger and Phil said what? They campaign for a shorter schedule?The way they're playing, they should want this season to continue forever.
Mickelson, while building a two-stroke lead after 54 holes, admitted after Saturday's festivities he was pulling for Woods to make a push into second. The wish materialized, and Sunday's featured 1:45 p.m. match did evoke an Ali-Frazier feel when the golfers stepped through the ropes, Woods in a red shirt, Mickelson in olive, black trousers for both. Luke Donald, a European Ryder Cup member, said his team took note at last September's happening when Woods and Mickelson, America's opening twosome, stood on opposite sides of the first tee. Not much change in body language here. Tiger wore his Vladimir Putin mask, Phil was smiling throughout, as though he just remembered a dirty joke. Woods talked mostly with caddie Steve Williams, whose tip would include one of the sponsor's $140,000 rocket cars. Mickelson bantered with his bagman, Jim Mackay, and NBC's Roger Maltbie. Neither Woods nor Mickelson watched a lot of each other. You can't do that in boxing, unless you want to wind up on horizontal hold, but where is it written that these rivals must be friends? They can dine together when they're seniors. Right now, they should jab and circle and counterpunch because it's fun for them and the galleries.
Woods halved his deficit to one on No. 5, then caught Mickelson with a birdie at No. 10 to square the cards at 22 under. At No. 12, a burly, 600-yard-plus par 5 reached in two only by Woods Saturday, he did it again Sunday by clocking his new Nike 3-wood 280 yards. "Actually, I thought I hit it thin," Woods related. When he canned the 25-foot eagle putt and punctuated the celebration with a fist pump, Woods was two up. "I loved it," recalled Mickelson, "because I wanted Tiger playing his best."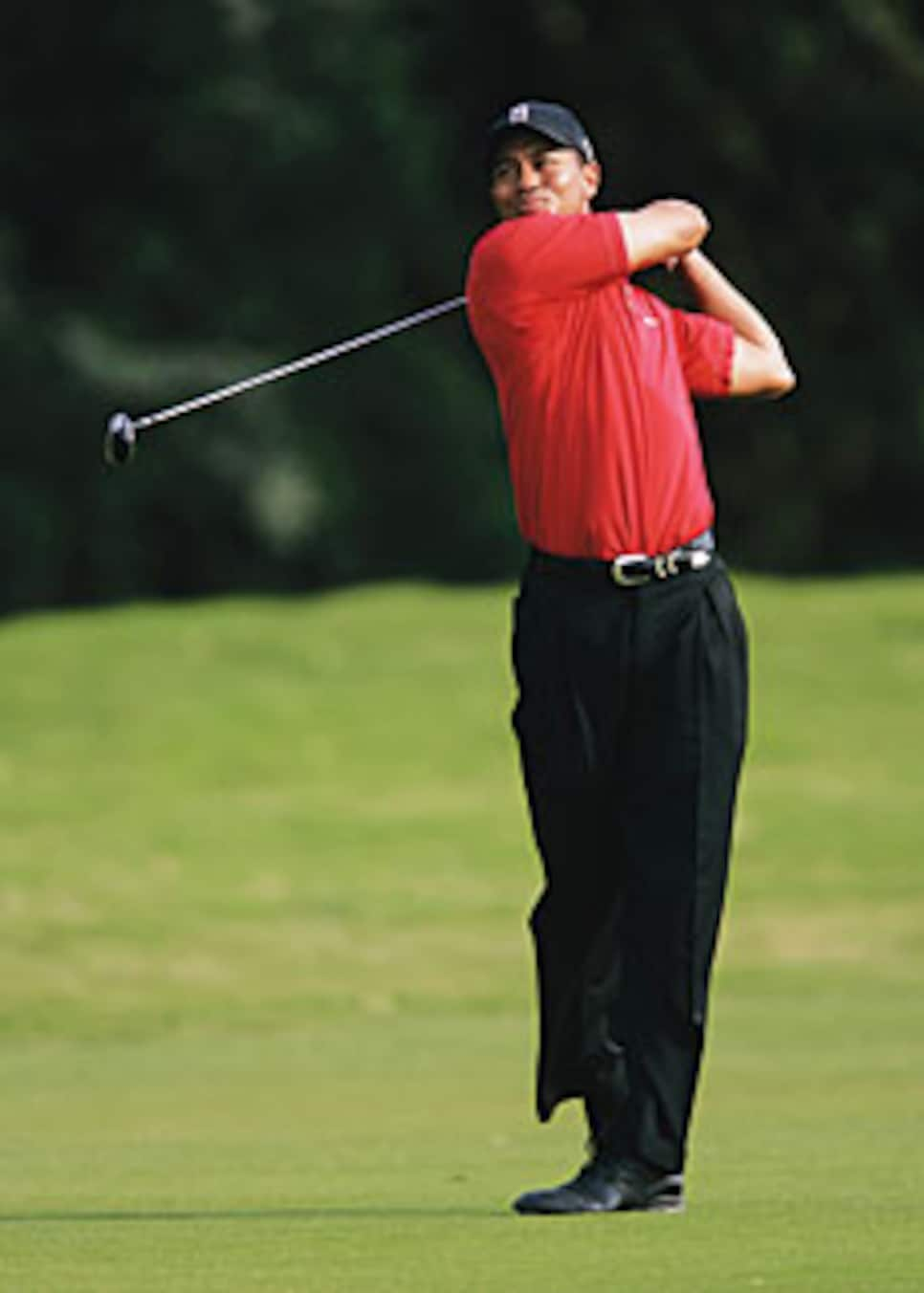 Again, Phil got what he asked for. But Woods, who respects Mickelson, did not receive the keys to the car just yet. The lefthander drilled a splendid 3-iron to the par-3 13th, made the birdie putt, then stuffed his approach on No. 14 for another birdie. All even again. Mickelson rued that he failed to convert a short birdie putt at No. 15 and an even shorter par putt at No. 16, where Woods logged his first bogey in 40 holes before Mickelson reciprocated, rapping his five-footer for par a bit too hard. "I thought," mused Mickelson, "that's where I should have taken control."
Even before Sunday's grand finale, it was obvious that this tournament, if not destined to be won by a power hitter, certainly would not discourage driving on the shoulder. Woods located only 26 of 56 fairways, still one more than Mickelson, who hit just 25. Some players in the fray, like Scott Hoch, remember when Doral's rough used to eat golf balls."If everybody else knows what's going on, then the PGA Tour has to know what's going on, right?" Hoch reasoned."So the only conclusion you can reach is that they want things the way they are. They not only don't want to grow rough, they want to take it away on courses that used to have it. There's no need to hit the ball straight.Just bomb it."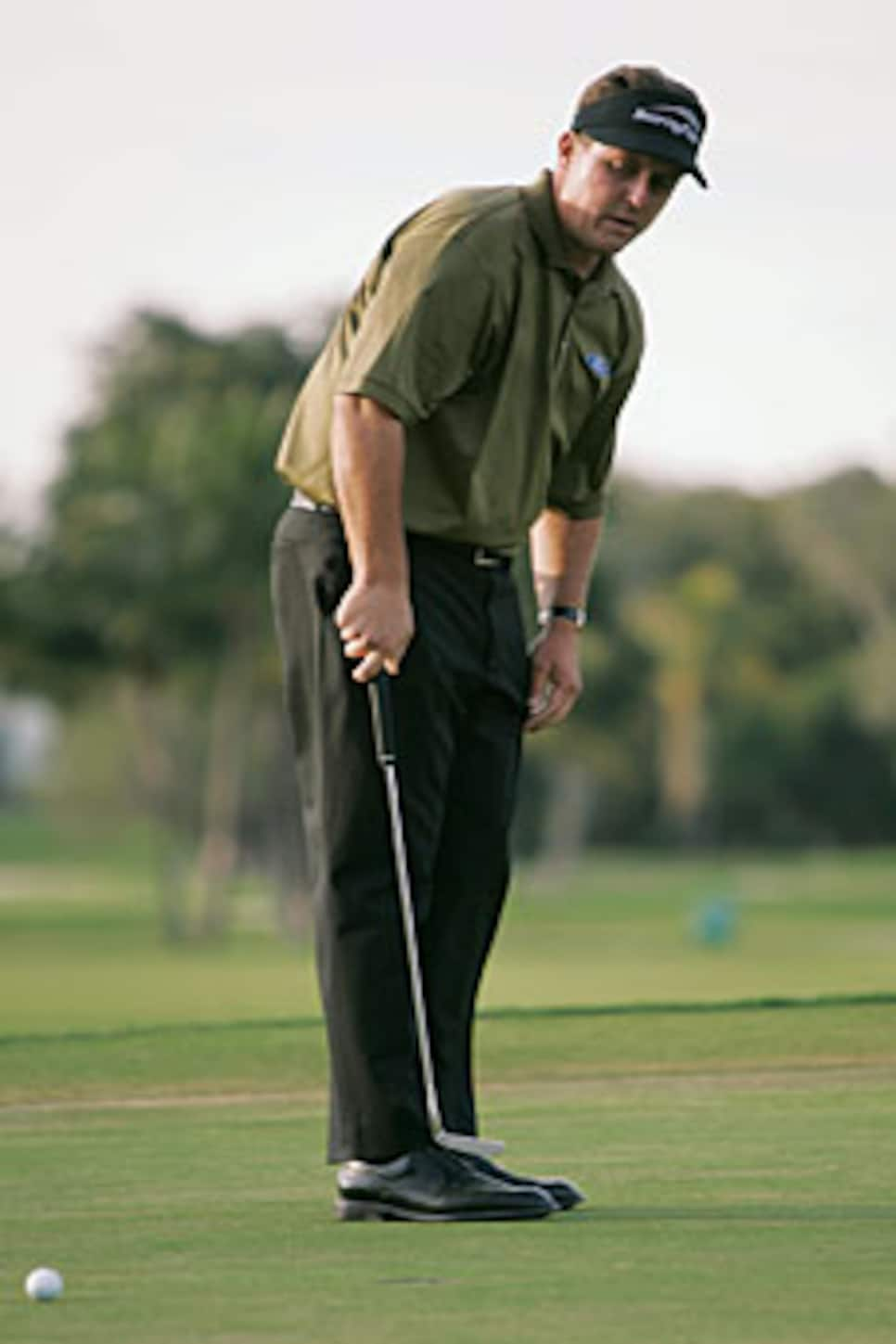 Rick Smith, who sees Mickelson almost as often as does Phil's wife, Amy, was amazed at his student's distance. "You see that bunker Phil just flew it over?" Smith said, pointing at a sandbox about 290 yards from the sixth tee. "That used to be in play!"
Meanwhile, Woods, as long as he cares to be, seems in a groove eerily akin to 2000."There's no doubt about it," he said, when asked whether he's confident in his swing."But it was tense. We were both excited. I can't speak for Phil, but I was certainly nervous out there.If you're not nervous on a day like this, you're not alive."
Rain fell earlier in the week, and although the overseeded greens firmed up Sunday, they stayed green, not always the case at Doral. Thus, Florida-born players sampled the softness here and reasoned they had lost their home-course advantage.Mickelson broke from the gate on a relatively windless and predominately gray Thursday with 10 birdies, including six on his last eight holes, to shoot an eight-under 64, good for a share of first place—the eighth consecutive stroke-play round he found himself atop the leader board, a streak that started after his second-round 60 at the FBR Open in Phoenix. Woods had 65, Retief Goosen had 67, Singh birdied three of his last four holes for 68 and David Toms had 69. Woods charged Friday morning with five birdies in six holes during one stretch, but then he bogeyed three consecutive holes for 70.He was five behind Mickelson, in a fifth-place tie after 36 holes with Singh, who had 67, and Toms, who shot 66.Eleven of the world's top dozen players were here, and just two missed the cut: Adam Scott and Davis Love III.Everybody else stayed and the man who didn't come for the stone-crab dinner, Ernie Els, conquered Dubai.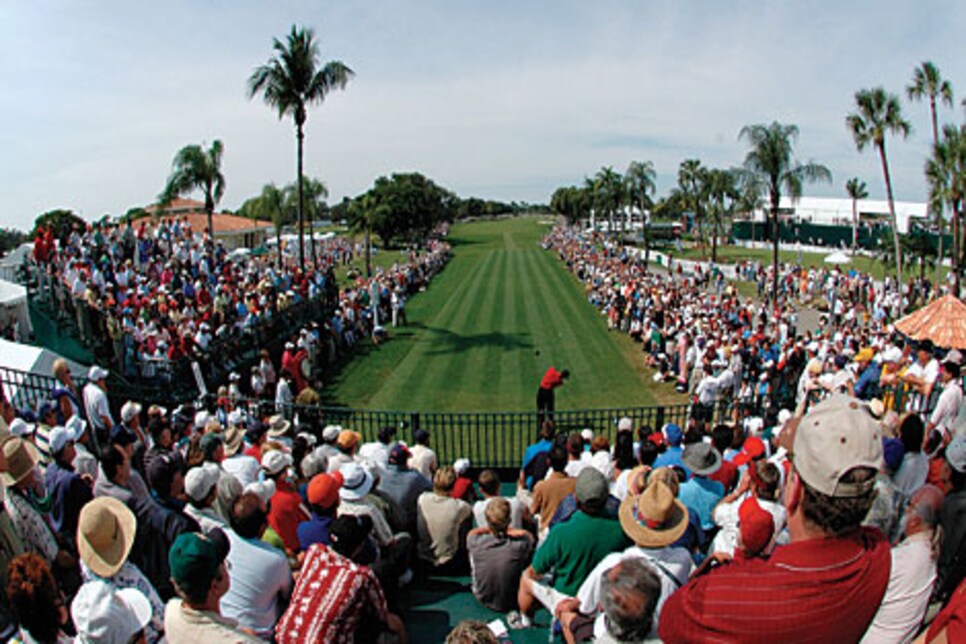 Saturday the drama began to build. Mickelson was in the last twosome with Billy Andrade, two back after 36 holes. Mickelson was on again.His first bogey since Thursday was dwarfed by four birdies on the front side, but just as he appeared ready to ditch all traffic, Woods floored it two groups ahead. He birdied six holes on the back, including No. 16, a 360-yard par 4 which he drove. "Everytime I looked up, he was one lower," noted Mickelson, who survived two of his more errant misses off the tee at No. 17 and 18 to post his second 66 in a row for 196 while You Know Who, after promising father Earl a birthday present on his 73rd, unwrapped a 63. Tiger says he thinks Dad has kicked his cigarette habit, but that was before those taut 18 holes with Mickelson.
Sunday morning, according to Eddie Carbone, the ecstatic tournament director, about 4,800 extra tickets were released and devoured (officials said it was the first Sunday sellout in the 44-year history of the Doral event). Mainstream Miami went bilingual bonkers for golf, and here's the bonus: Hundreds of kids were in the audience. Was it pro-Tiger or pro-Phil?Too close to call, even on a cell phone, but it was loud. "There were times I couldn't hear Stevie," Woods said, "because my ears were ringing."
Wholly Toledo. A harbinger of impending fireworks came early Thursday when Esteban Toledo pulled a 6-iron on the 18th hole. His ball took one hop and disappeared into the cup for an eagle 2. He was the first Ford Championship competitor to play the hole since Craig Parry's playoff-ending 6-iron for eagle against Scott Verplank in 2004.When Parry heard the news, he remarked, "That's freaky." Indeed, what would the odds have been of consecutive approaches on the PGA Tour's toughest hole, almost a year apart, resulting in a pair of deuces?More twilight-zone stuff: Toledo wasn't actually away in the morning's first threesome. Andrade was. "But I was over by the trees on the right, waiting on a ruling," Andrade said. "So I told Esteban to go ahead from the fairway. How about that?"
How about what followed? Amateur psychologists—and feel free to emphasize amateur—will dig deep to ponder the damage inflicted upon Mickelson by this excruciating fall-from-ahead defeat. But many of these same armchair quacks are those who theorized that Woods, having exchanged bachelorhood for Elin Nordegren's hand in marriage, would lose that edge, that fire in his furnace, that passion to regain the throne. They should have seen him when he missed a putt on No. 14, and in a fit of pique sliced his right index finger on a divot fixer.
"That was smart," chirped No. 1, after he left another victim bleeding on a rousing Sunday inside the ropes.