News
Making Beautiful Music Together
They probably walked a hundred miles of fairways together, yet neither man felt even remotely compelled to learn something about the other. Two of the best golfers of a generation, the lead characters in several Ryder Cup dramas, both players had reputations cast in cement: the fiery Yank, the fastidious Brit. "He was quoted as saying I had a homemade grip and a hatchet swing," Paul Azinger recalls. "I was quoted as saying he's the slowest player on earth, but in all those years, I'd never had a conversation with him. Who has?"
[Ljava.lang.String;@2f3406f0
If a rivalry needs animosity to arouse curiosity, this one succumbed to healthy pomposity. "I never had conversations with a lot of guys," Nick Faldo says, as if six major titles aren't enough self-defense. "I wasn't a small-talk type of person in competition -- that's my makeup." During yet another rain delay at the recent Nissan Open, Faldo seems antsy in a trailer alongside the ninth fairway at Riviera CC, shuffling around the confines like a man whose personal cocoon has been threatened, the terms of idle chatter not completely his.
Azinger has a confession: "Working with Faldo is shockingly enjoyable. We even drive to the course together. There are some quiet, awkward moments once in a while, but I'm four or five up in on-air heckles."
To what do we owe all the irony? Having safely ignored one another for the better part of 20 years, a couple of warhorses from opposite ends of the pasture find themselves sitting side by side as twin propellers of ABC's revamped golf coverage -- two rookie television analysts whose assignment is to interact on the most public platform possible, to inform and entertain, to stimulate and articulate. By year's end Azinger and Faldo will have shared approximately three full days' worth of live airtime (that's 11 tournaments together), and if the first dozen or so hours are any indication, Oscar and Felix are as compatible as green eggs and ham.
"I'm pleasantly surprised by the natural chemistry," says Mike Tirico, the splendid anchor whose role has evolved to include duties as traffic cop and referee. "It eventually develops over time between every group of [commentators], but there's a lot of natural chemistry here for two people who were in the same small circle of 50 guys for [two decades], who were at a lot of the same events and in the same locker rooms but didn't know each other."
From this chemical alloy comes water-cooler buzz, something ABC's golf presentation has lacked for years. With Curtis Strange in the lead-analyst chair from 1997 until last spring, the product wasn't so much flawed as it was nondescript. In his prime as a player, Strange was opinionated, even acerbic. In the booth, however, that sharp voice became diluted by a reluctance to criticize fellow tour pros or embark on insightful, imaginative tangents.
The network hired Mike Pearl as executive producer in the fall of 2003, and an overhaul was quick to follow. Longtime golf producer Jack Graham was relieved by Mark Loomis, who had been handling ABC's college football telecasts. Strange departed about six months later. "I did feel our coverage needed a shot in the arm," Pearl says. "That was obvious by the changes we made from top to bottom."
Corey Pavin and Hal Sutton were the first to spend a weekend alongside Tirico, neither very effectively. Loomis doesn't like the word "tryout," but semantics aside, he had talked to Azinger back in late '03 and knew he hadn't been brought in by Pearl to maintain status quo. "You want somebody who is interesting to listen to," Loomis says. "You also want somebody who says what they think and won't second-guess themselves. If you go after someone who is trying to be controversial, it's not going to work. You need somebody with [inherently] strong opinions, and that's how both these guys are."
And how. Faldo wasted little time establishing an ultra-candid tone at the Buick Invitational, ABC's first event of '05. When Tiger Woods fanned his 2-iron approach at the 72nd hole, jeopardizing a one-stroke lead, St. Nick reacted as if he were watching a 16-handicap, lambasting Woods' faulty position at the top of the backswing and clumsy position at impact. In a voice teetering on incredulity, Faldo wondered aloud how one of the greatest players in history could miss 20 yards short and 20 yards to the right at such a crucial moment -- a shot so poor that it turned out OK, avoiding the pond fronting the left half of the green.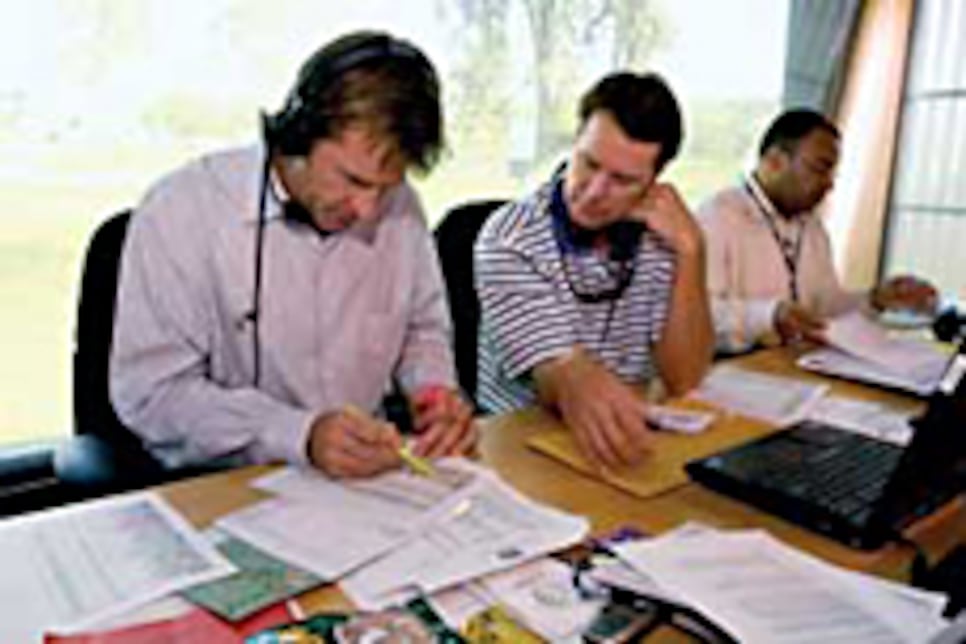 To make sure nobody missed his point, Faldo dissected a replay of Tiger's pre-shot rehearsal, paying specific attention to an open clubface and suggesting Woods was a long way from correctly applying the theories of his swing coach, Hank Haney. "For a split second, I thought [Woods] might be embarrassed," Faldo says a month later. "I saw it and reacted, simple as that. Obviously, all the talk in recent months has been about Tiger's swing. We'd gotten film on him in 2000, when he was awesome, and things are very different right now. It was so unlike Tiger."
More than one member of ABC's coverage team thought Faldo's analysis was a bit over the top -- hypercritical to the point of exaggeration. It also was the type of fearless commentary once considered the sole property of NBC's Johnny Miller, long recognized as TV golf's only educated loose cannon. In a game that has fallen far behind other major sports in terms of transmitting negative appraisals to viewers, Faldo's frankness was a watershed moment. In assessing the glass as half-empty, one can see how it is three-quarters full. Continue this article
So yes, things are very different now. At the top of its coverage of the Nissan Open playoff two Mondays ago, Tirico pointed out that because the event had been shortened to 36 holes, the winner of sudden-death would not be credited with an official PGA Tour victory. Tirico turned to Azinger, who flatly stated that the $345,600 difference between first and second place was the only reason to be out there. Faldo, dressed in a zip-neck sweater, did not appear amused. "This had better be riveting because it's damned inconvenient," he declared. "And let me apologize for my attire. I don't do Mondays."
At some point last fall, the idea of a three-man booth began generating enormous appeal to Pearl and Loomis, both of whom had spent the majority of their careers producing other sports and were eager to avert the traditions often associated with TV golf. To wit, Loomis, a scratch handicap who played collegiately at Vanderbilt (opponents included LSU's David Toms and Florida's Chris DiMarco), sprinkled his production staff with people who had no prior golf experience. " I want to be factual, not personal. If a guy hits a great shot, I'll say it. If he hits a cow, I'll call it a cow."-- Nick Faldo
The result is a slightly more square version of ABC's "Monday Night Football," a fully modernized take on the Graham era and something unmistakably different from the middle-of-the-fairway presentation at CBS. "You hear, 'This is how golf is done,' and I thought it would be kind of interesting to bring in some people who weren't golfers," Loomis says. "I wanted a balance of people who would give us new perspective."
Still, the Samuel L. Jackson intro and updated graphics don't go very far without provocative talent. ABC caught Azinger, 45, and Faldo, 47, at a time when both were looking to reduce their playing schedules, or at least begin a second life. "I'd talked to Loomis the year before and said no, then finished 126th on the money list [in '04]," Azinger says. "That's not the end of the world, but I felt like, three strikes and you're out [he'd finished 90th and 169th the previous two years]. If I'd played better, I might have been more reluctant to do this."
Faldo, meanwhile, was two years into an "image makeover" and a third marriage, his current wife, Valerie, being a public-relations specialist. Rumors of St. Nick's dry sense of humor abounded forever, but only now is the world getting an earful. Television promises to further the fresh Faldo, whose British accent and haughtier-than-thou sensibilities might be as valuable as his mastery of the unconquerable game. "The personality we saw in dribs and drabs is legit," Tirico says. "He's funny, and that makes this easier."
As the Englishman himself will tell you, "American television looks remarkably similar. There's the guy on the left and the girl on the right -- and here comes the weatherman! I feel like I've got a style, like I can bring something to the viewer. I've never tried to copy anybody. My main goal is to make the viewer sit up and get closer to the TV, to take notice. I want people to feel it. And I want to be factual, not personal. If a guy hits a great shot, I'll say it. If he hits a cow, I'll call it a cow."
If ABC had any reservations about doubling the expense and commitment that come with dual analysts, Tirico might have unintentionally nullified them. The most versatile anchor in sports, Tirico works a three-man team on NBA and college football telecasts and serves as air-traffic controller for ABC's NBA studio shows. He has collaborated with more than 150 partners over the years, making him the Linus Pauling of on-air chemistry.
Golf, Tirico will tell you, is a different animal. The audience demands higher standards because it is filled with more self-proclaimed experts -- the viewer is very likely a recreational player. "A lot of people are members of clubs," he says. "They're not afraid to be opinionated, and they have a better understanding of the intricacies of their game than a football or basketball fan. The golf audience is the most fickle, the hardest to please, the one you can never satisfy. And that's good because it keeps you from getting complacent."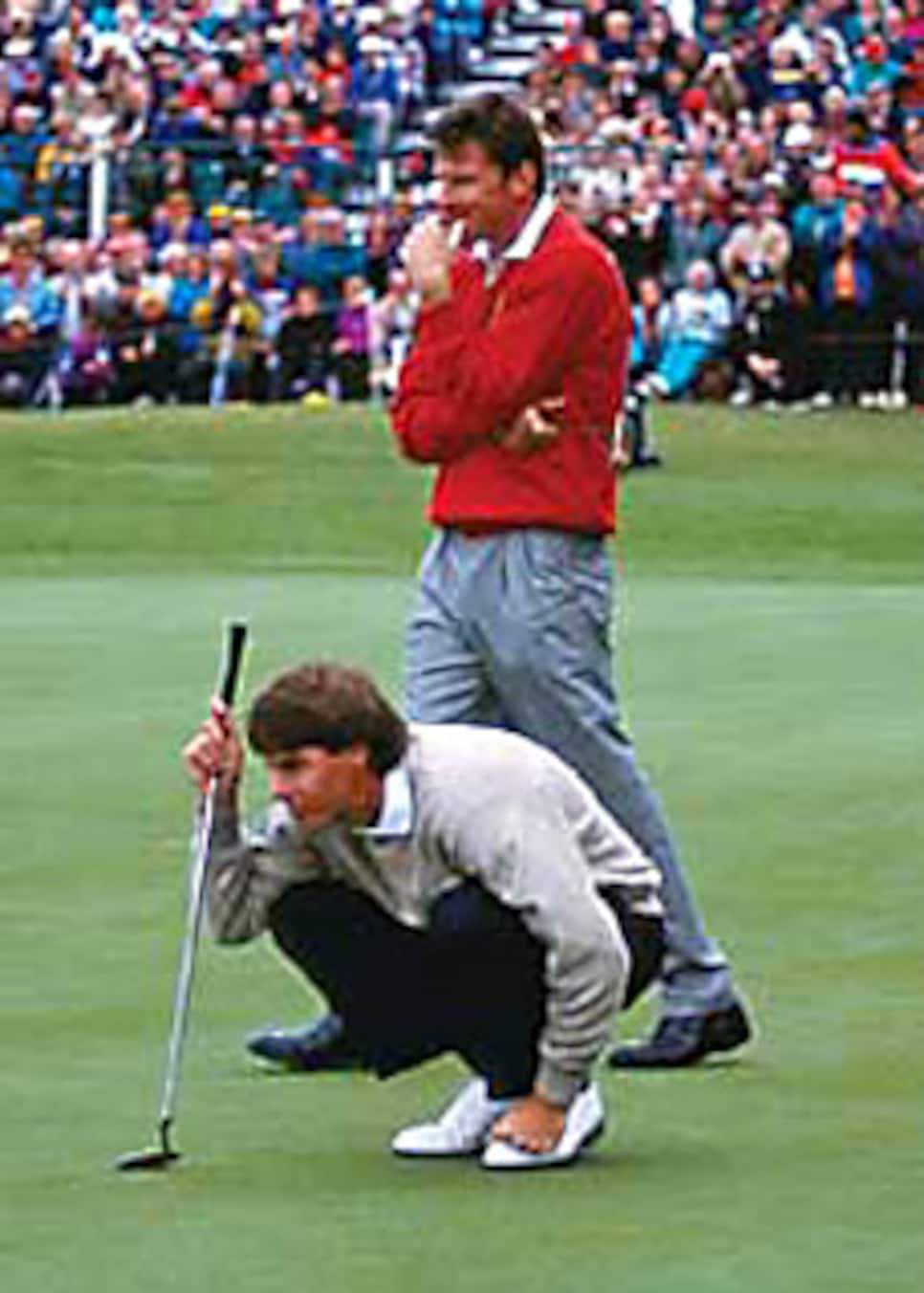 Beyond its potential to move the needle on public interest, the Azinger-Faldo tandem is incredibly credible. A combined seven major titles and 55 victories worldwide serves as the substance, but on TV style obviously matters, and in this case, roles have quickly emerged. A common man if one ever made it on the PGA Tour, Azinger is a popular, likable player in a cliquish world. As the author of the memorable line, "I'm not here to make policy; I'm here to make history," his ear always has been close to the ground on matters involving gossip and government. He knows today's players inside and out, an offshoot of his relatively egoless disposition.
Not only was Faldo cut from a different cloth, he was assembled at another factory. Forever aloof among his brethren, he is a scientist of the game from a technical, architectural and strategic standpoint. He may not know Chad Campbell's preferred ball flight, but he sure as hell can tell you why Campbell consistently hits it right to left, or why the 18th hole at Riviera, despite the appearance of being a left-to-right hole on TV, favors a nice draw.
When he stops interrupting people in mid-sentence, as has been the case when ABC brings players atop the leader board into the booth for on-air interviews, Faldo will only improve. "He's a mega-talent," says Azinger, who admits he needs a stroke or two per side from his partner right now. Even Strange, the man whom the two replaced, has positive feedback: "I think Nick is excellent, and I think Paul will get better."
Four weeks into ABC's wholly revised golf presentation, nobody appears to be sandbagging. "I can't tell you how many people have come up to me and told me what I should be doing differently," Loomis says. "From people I play golf with to people I've known for 30 years, they all have an opinion as to what I should do. I've never had that happen in other sports." In a highly subjective business televising a purely objective game, this qualifies as very good news. And good news, dare it be said, is always better than no news at all.