News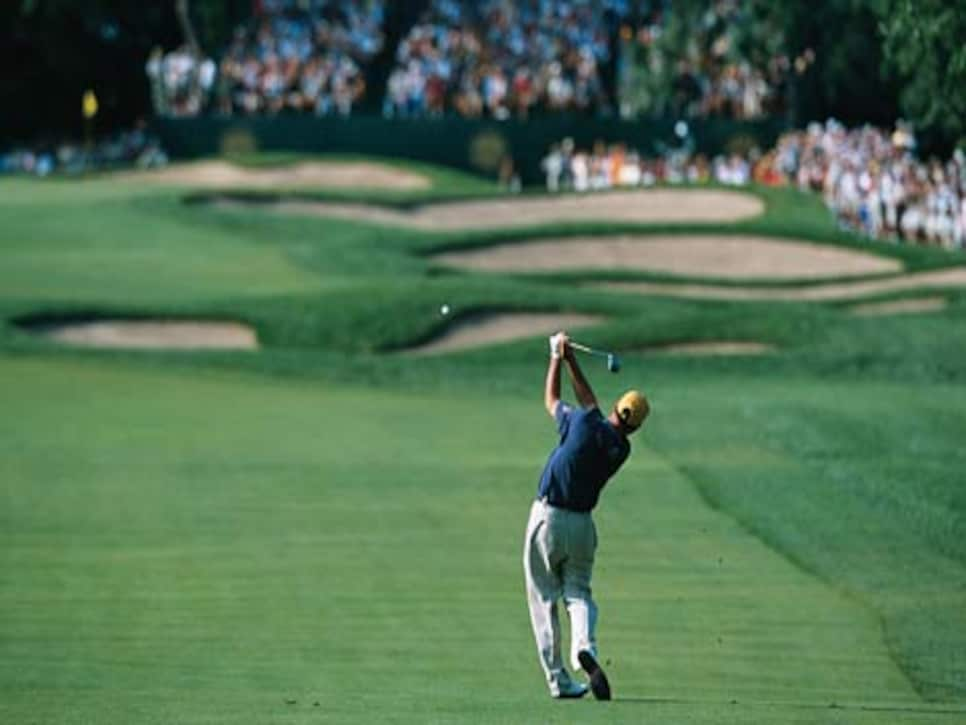 Beem, attacking the 15th hole, didn't hold back Sunday, closing with a 68 to prevail under major pressure.
CHASKA, Minn. -- The on-site victory party was vintage Rich Beem, if there is such a thing. A bowl of pretzels, a bowl of peanuts, a can of mosquito repellent and an undisclosed number of adult beverages on the caddie terrace outside Hazeltine National GC, not some jacket-and-tie dining room. To further commemorate the occasion, a couple of Beem's buddies brought an honorary guest -- a three-foot statue of Jack Daniel, previously under detainment at a nearby liquor store.
There was just one thing missing: the winner. When he finally sat down with his friends last Sunday night, his shirt untucked, his face on every network, his life permanently altered, Beem could not chase away the Pepto Bismol fast enough. "I started the week with a brand-new bottle and almost finished it this afternoon," he said. "I took a really, really big swig around 12:30 -- my doctor told me it was OK. He said you can't O.D. on Pepto."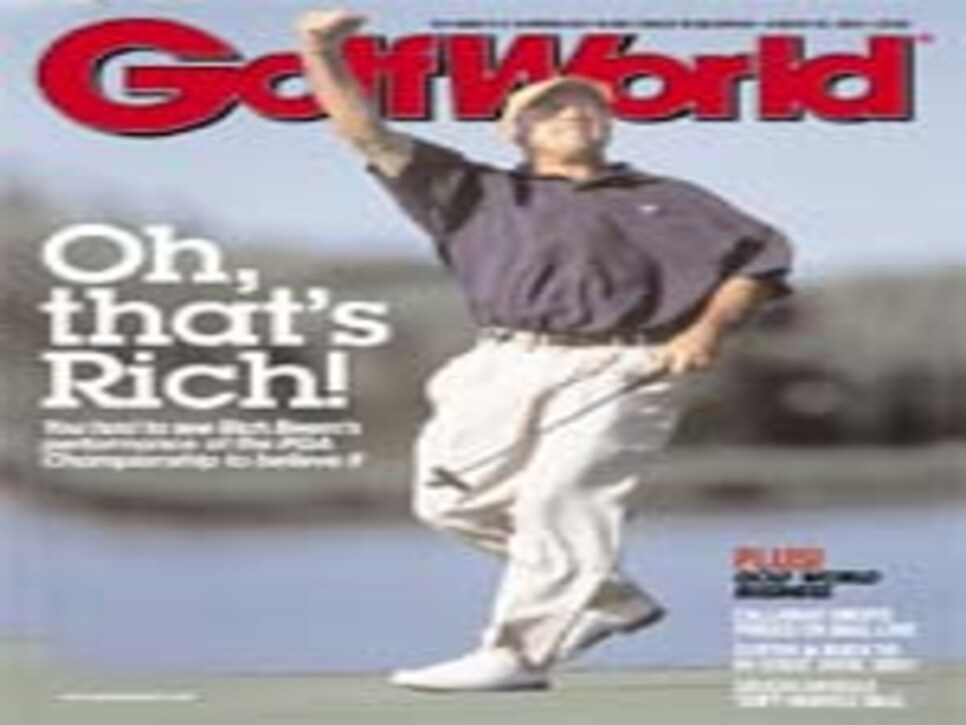 Try as we might, it would be equally difficult to overdose on golf tournaments as memorable as the 84th PGA Championship, a 72-hole joyride from which Beem and his pals fittingly rode off in a stretch limousine. In a Cinder Fella combination of John Daly's victory at the 1991 PGA and Bob May's 2000 playoff loss to Tiger Woods, Beem dodged a flurry of Tiger birdies down the stretch to beat Woods by a stroke, becoming the 12th man in 15 years to make the year's final major his first major title. "I am so flabbergasted by this," he announced. "You just have no idea."
Now $990,000 wealthier, with five years of fully exempt status (including all majors) and two victories in three weeks, the former stereo/cellphone salesman suddenly finds himself with a very appropriate name. Not since Daly has a player risen from obscurity so swiftly or redefined his career in such glowing terms. Not since Daly has golf's competitive upper class been so hysterically undermined. After winning the Kemper Open in 1999, Beem seemed to go out of his way to cast himself as another PGA Tour one-hit wonder -- a player of ample talent whose ambitions never rose above the first floor.
It all made for great copy at Hazeltine. With Woods lurking all weekend but never leading, with Fred Funk campaigning to succeed Jesse Ventura as governor of Minnesota, with Justin Leonard looking to re-establish himself as the ultimate shotmaker in a power hitter's world, Beem became the stray dog nobody wanted to see leave. One of his better lines came Saturday evening when he was asked about playing in Sunday's final pairing with Leonard. "If I go to bed tonight thinking about it," Beem said, "I'm not going to get any sleep no matter how many pills I take."
After moving into the picture with a second-round 66, Beem retold his story as the accidental tour pro: "I was working up in Seattle [making $7 per hour at Magnolia Hi-Fi] for about a year and watched Paul Stankowski win the [1996] BellSouth Classic, and that kind of fired me up about playing golf again. I didn't have much success on the mini tours and decided to go back to El Paso CC, where I worked for the better part of 2½ years.
"That's when the head pro, Cameron Doan, came in one day and said, 'Rich, you have two choices. Either you're going to quit here and go play golf for a living or you're just going to have to quit.' I was really not a very good assistant pro. I finished eighth at Q School in '98 and here I am, still at it. I can't believe it."
I'm sure he had cotton mouth all day, but I think he just needed to see that he could handle the pressure.-- Sara Beem'
Bill Eschenbrenner, the head pro emeritus at El Paso who still counsels Beem on his swing, confirms that the kid was one of the shoddier assistants in club history. "He didn't mind [running down] the ladies golf association from time to time," Eschenbrenner said. "He didn't make a whole lot of friends there. He wasn't into running the mixed member-guests."
Thus, imagine the irony of Beem winning the major championship hosted by the national organization of club pros -- that's like adding Warren Harding to Mount Rushmore. The catch is that Beem is long on charm and honesty, incapable of arrogance and highly unlikely ever to take himself too seriously. "It didn't take more than five minutes to tell he was a genuine person," said his wife Sara, who met Beem on a blind date in October 1999 and married him last December. "I'm sure he had cotton mouth all day, but I think he just needed to see that he could handle the pressure."
There was plenty of it to go around. Beem began the final round three strokes behind Leonard, who appeared uncatchable while firing a back-nine 33 in Saturday's boisterous conditions -- steady winds of 25 miles per hour with gusts in the 40s. On a firm, fast golf course where shaping and trajectory meant far more than length, the little Texan was in his element. "I felt like my play today was better than the British Open in '97 or the Players Championship in '98," Leonard said, not sounding like a man with anything ominous in his rear-view mirror.
Woods, meanwhile, was puttering along, rolling his ball better than at any time all year, five strokes behind Leonard but burdened by a deceptive piece of history: He'd never won a major in which he trailed after 54 holes. That stat would mean a lot more if Woods hadn't collected those eight majors. Asked about his chances Saturday night, Tiger didn't go out of his way to complicate things. "All I have to do is play well, make some putts," he said. "It's really no big secret. There's only a few guys ahead of me."
This was Leonard's first time holding a lead with Tiger on his tail, and at least theoretically, he seemed like the perfect guy to withstand any charge. Nobody has built a finer career out of beating bigger, longer players, and as Hazeltine continued to dry up after Friday night's awesome thunderstorm -- three inches of rain fell on the course in 12 hours -- the hardening terrain only seemed to play into his steady hands. "You look at his 'sum', he's won some pretty big tournaments on tough courses," Woods said. "He hits the ball pretty flat, and this kind of suits him."
So go figure. Sunday's perfect weather yielded perfect scoring conditions, but it's hard to imagine Leonard holding up under any circumstances with the swing he brought to the final round. His first sign of trouble came on a yanked approach into the second green. He hit a poor chip, then missed a par putt from 10 feet. At No. 6, he went after a cozy back-left pin and almost wound up in the hazard left of the green. The bogey dropped him back into a tie with Beem, who had birdied two of the first four holes.
Arriving at the par-3 eighth, Leonard was reeling but hardly done. All that changed with his worst swing of the week -- a block that never had a chance of clearing the pond right of the green. Most of his early misses had gone left; this one brought death into play and indicated he was a man with little idea where his ball was going. "I tried to play aggressively and put too much pressure on my short game," Leonard lamented. "A day like today, when the golf course is out there for the taking, I knew there were a few guys who still had a chance with a low score."
Beem was one of those guys, his cause greatly enabled by the notion that he had nothing to lose and more than a little bit to gain. A perfect example came at the par-5 seventh, where he had 260 yards to the hole and his foot firmly on the gas pedal. He recalled, "My caddie [Billy Hein] goes, 'What do you think?' I said, 'Well, we haven't backed off all week. Why start now?' So I pulled out the 3-wood." Beem heeled it just a bit, but he missed it slightly to the right, the side with no water, then got to the green and saw he had a 60-footer for eagle. His attempt to make a miracle 3 died inches from the hole, and at nine under, nobody had a better spot on the leader board.
The shot everybody will remember came at No. 11. Again, Beem had a monster distance -- 248 yards to the front, 271 to the pin -- on a par-5 Woods hadn't hit in two a group earlier. Out came the 7-wood, a club for which Beem should be required to pay long-distance charges. "He just kills that thing," Hein said. Beem would have been happy with an eagle putt of any length -- to end up with a seven-footer with very little break was precisely the break he needed.
Now trailing by three, Woods responded by three-putting from 12 feet on No. 13 and hitting three consecutive bad shots on 14. When he arrived on the 15th tee, he trailed by six, which only makes his desperation charge as amazing as anything he's ever done. "We were walking down the fairway," Tiger said, "and I told [caddie Steve Williams], 'If we birdie in, we'll win the tournament. Let's just suck it up and get it done.' I didn't miss a shot coming in."
Neither did Beem, setting up a finish similar to the Woods-May brawl of two years earlier. Woods birdied the 15th from six feet, the 16th from 12 feet and the 17th from 10 feet. Unaware his lead was shrinking so rapidly, Beem calmly stepped to the tee at the dangerous 16th and launched the 7-wood to the center of the fairway, then drifted a 9-iron over Lake Hazeltine and drained the 35-footer for birdie.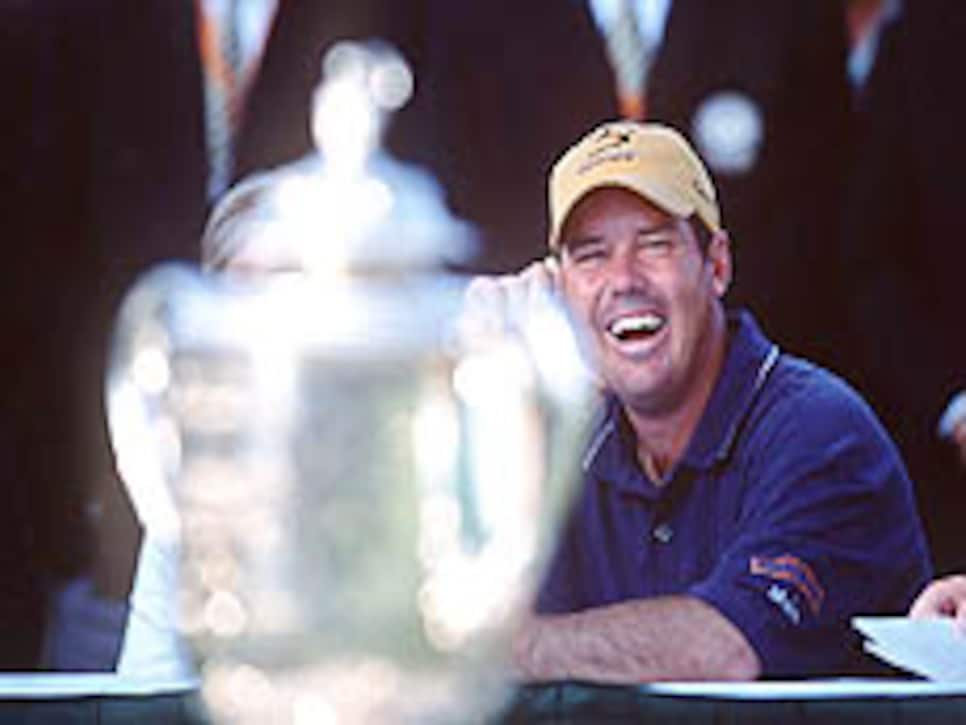 "Sometimes it might be a benefit to be a little naïve in that situation," said Woods.
"I've played dumb before," added Leonard. "It's a pretty good place to be. After this week, he won't be able to do that anymore."
Maybe, maybe not. "I know I told you guys [Saturday] that if I was leading by a couple going to 16, I might puke," Beem said. "But I was as committed to that [tee] shot as any I've ever hit. When I sat up here yesterday, I didn't know if I had what it took to win. I figured out how to deal with the pressure. I know how to control it a little better now, and I think I can feed off that."
All of which leaves us to wonder: What happens if he runs out of Pepto Bismol? Ask any tour player about Beem and they'll tell you the talent has always been there, but at this level, talent goes for $1.99 a pound. "I think this tournament is going to make him a better player," Leonard surmised. "People are going to expect a lot of him now."
One of those people may or may not be Beem himself. Marriage and an exercise program have helped alleviate the mental stress that goes with being a member of the tour's middle class, but all week, the eventual champion clung to the notion that he really doesn't belong. It was a tough week for confidence, with defending champ David Toms making the strange admission that he's not in the same league as guys like Woods and Ernie Els; with Funk holding dear to the I'm-not-worthy theme; with Beem swearing he's not good enough all the way to the trophy ceremony.
"It's pretty amazing just to think about him winning this event," Eschenbrenner said. "A guy who worked behind the counter wins the PGA Championship. It seems kind of sappy."
If nothing else, Beem has continued to evolve. The stereo salesman of 1995 found himself working a dead-end club-pro job in his adopted hometown, which led him back to competitive golf. The same members who couldn't stand him giving lessons funded his voyage onto the PGA Tour, where he won in his 12th start and promptly got complacent. A drunk-driving charge at the 1999 British Open didn't help matters. "[I paid] about a $600 or $700 fine, but the worst punishment is the embarrassment that went with it," Beem admitted. "I've said this before -- it was a pretty low time in my life."
Three months later, Beem met Sara, but he still seemed content to overplay the benefits of the two-year exemption he received for winning the '99 Kemper. He played 29 events in 2000 without a top-10 finish, failing to crack the top 125 on the money list. Last year, he needed a tie for seventh at the Michelob Championship to avoid Q School. "I took a bold step this year after we played well [finishing fourth] at Doral," Beem said. "I told [Sara] to quit her job. We had actually talked about her working the entire year, and then after I had a pretty good start, I told her I wanted her traveling with me full-time."
Still, the question remains -- just how good is Rich Beem? The stats say he is a player of above-average length off the tee, but last week at Hazeltine, he was hitting the ball as long as Woods. The stats say he is a relatively poor putter, but nobody's stroke looked smoother under the heat, and nobody needed fewer putts all week than Beem's 107.
He could be the hottest player on earth, this year's Wayne Grady, or he could be reinventing himself. Until three weeks ago, Beem was perhaps best-known as the subject of the book Bud, Sweat and Tees, an unseemly peek at a guy who was frittering away his potential one beer at a time. Now the guy is a major champion, a crown that could sit perfectly atop his head or prompt claims that the book should have been titled Bud, Sweat and Tease.
Either way, the champ has some living to do. "I'm absolutely giddy -- that's the best way to describe how I feel," he said, wrapping his hand around a Jack and Coke. "My dreams never got this far. Even when I was a kid, I couldn't dream this big." Vintage Rich Beem. Maybe there is such a thing.
A brief look at Sunday's play in the final round of the PGA Championship:
Winner: Rich Beem, who shot a 68 to win by a shot over Tiger Woods.
How much?: Beem earned $990,000, along with a string of benefits that include a five-year exemption on the PGA Tour.
First timers: With Beem's win, 12 of the last 15 PGA Championships have been won by players who had never won a major title.
Another first time: It was the first time Woods has ever been the runner-up in a major championship.>
What happened?: Third-round leader Justin Leonard began the day three shots ahead only to ballon to a 77 to tie for fourth.
Tiger's charge: Woods birdied the last four holes to make it close. He was five shots behind before making his move.
Key shot: Beem's 5-wood 263 yards to about 6 feet on the 11th hole. He would make it for an eagle, the only one on the hole all week.
Picture perfect: After three straight days of weather delays, the final round was played in perfect conditions, with temperatures in the mid 70s and a light breeze.
Notable: Beem was a $7-an-hour cell phone salesman only a few years ago. He still keeps a business card in his wallet to remind himself of those days.
Quotable: "Honestly I was more concerned about myself than I was about Tiger." -- Rich Beem