News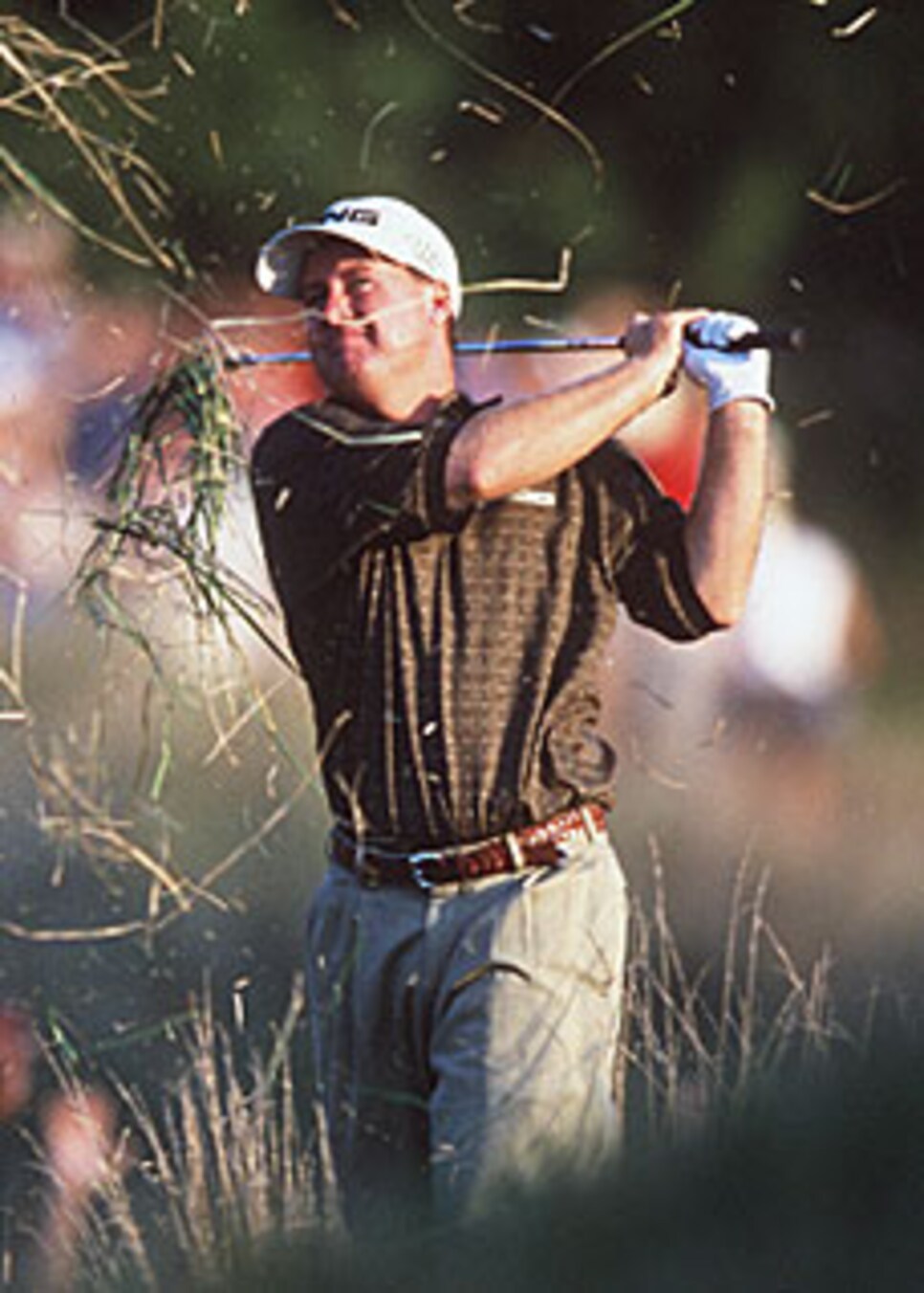 An avid hunter, May nearly bagged big game with a clutch final round.
We left the British Open last month worried that golf would be ruined, that Tiger Woods would turn the game senselessly boring with his assault of the major championship record book. Even the great man himself, Jack Nicklaus, said it at St. Andrews: The game needs rivalries. Nicklaus had Palmer, Player, Trevino and Watson. Woods needs somebody to keep him company, otherwise we'll all be watching tennis again.
Turns out, we were searching in all the wrong places. We were looking at David Duval, Ernie Els, Colin Montgomerie, Davis Love III and Vijay Singh. We were even thinking Generation Y, somebody like Sergio Garcia or Charles Howell, when the chosen one was right in front of us, quietly finishing tied for 11th at the Old Course on the day that Woods completed the career grand slam.
His name is Bob May, and he darned near destroyed the theory that Woods is unbeatable in major championships by pushing Tiger to the brink at Valhalla with one of the most amazing final-round, final-pairing performances by an underdog in history. Please, no May Day headlines. This is a rivalry that's built to last.
First, that body. To beat Tiger, it has been proven that muscle isn't the way to go. Look at what happened to Duval, who overdid his workouts, sprained his lower back and had to withdraw from the PGA. Now behold the physique of May, who, at 5-foot-7, 165 pounds, embodies what golfers used to resemble before the current generation of Protein Bar-eating, weight-pumping athletes who aren't mentally and physically in balance without their daily session in the gym.
"I used to have a whole gym in my house," May said late Sunday night. "It seemed as though every time I went in there, I hurt something. I definitely want to get in better shape, but I'm not going to do a whole bunch of lifting."
The guys who have beaten Woods are Ed Fiori (when Woods had the Sunday lead), Billy Mayfair (in a playoff), Darren Clarke (with a cigar in his mouth) and Hal Sutton (with a sweat-stained shirt). You won't see any of them on the cover of Men's Health showing off a set of six-pack abs. Maybe there's hope for Colin Montgomerie after all.
"In the offseason I do a lot of bird hunting in Arizona," May said, explaining his workout program. "You climb mountains 500 feet high, eight hours a day, carrying a shotgun, I think that's pretty good conditioning for your heart."
Second, that swing. This is not a thing of beauty, either technically or rhythmically. It's not Els, not Love, not Singh, not Mickelson. You won't see it sequenced any month soon in Golf Digest, nor will you hear David Leadbetter, Butch Harmon, Jim McLean, Rick Smith or any of the top instructors take credit for it.
May's restricted move back and through the ball is a throwback to the days when John Ball and James Braid went after a gutta percha while wearing a coat and tie. At the top, May raises his right elbow and crosses the line like Larry Nelson. His first move down is a Raymond Floyd-like jerk of the shoulders and arms. Woods probably hasn't seen anything like it since he was playing in the U.S. Amateur, although Buddy Marucci is a much smoother swinger of the club.
To Eddie Merrins, the Little Pro at Bel-Air CC in Los Angeles, it is textbook. "Bobby definitely swings the handle," says Merrins, who wrote the book on the concept. "He swings the club beautifully." The key to May's swing is not only that it repeats, but that it holds up under pressure. Three straight 66s to close, then a 31 on the back Sunday afternoon will usually work most weeks on the PGA Tour. "I'm a swing-by-feel guy," said May. "I don't like to get too technical."
Finally, there's the Bob May School of Sports Psychology, which is based on a theory that Els, Love and Montgomerie might want to apply to their own psyches next time they draw Woods for a partner: They should stop admitting that Tiger is unbeatable. They should quit playing in fear. They should look at Tiger as being Eldrick. In other words, they should start looking him in the eye the way May did and lose the defeatist attitude.
"Anybody's beatable," said May. "That's golf."