News
Golf Needs A Rival For Tiger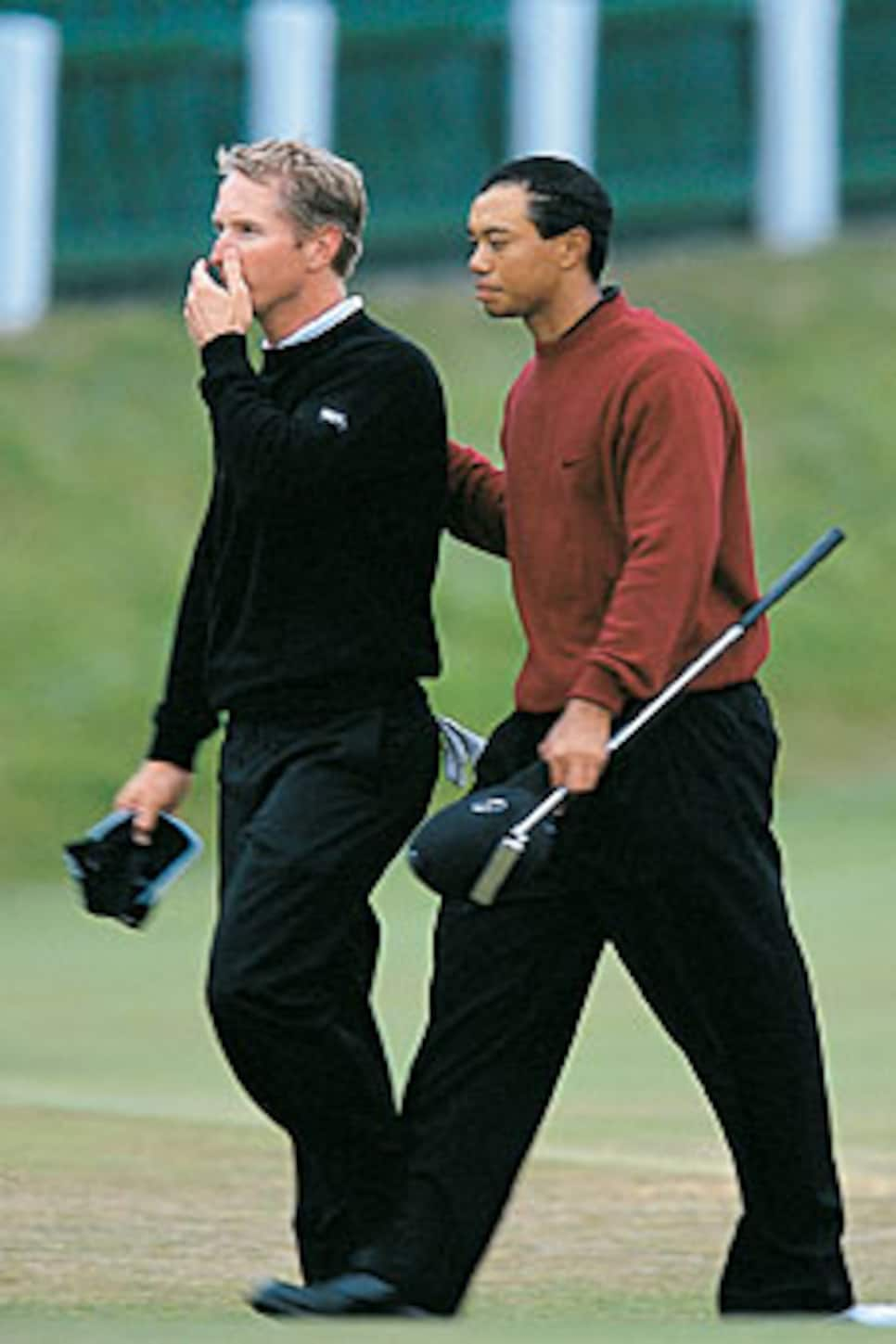 Woods told Duval to walk off the Old Course's 18th green like a champion.
Somewhereoutthere, notevenonour radar screens yet, is the rival. He may be playing junior golf. He may be in diapers. But until that boy becomes a man, Tiger Woods will play with the game of golf until he becomes bored with it. Or until we become bored with it.
At the Old Course Hotel Saturday night, Chubby Chandler addressed this phenomenon after a dinner with Tiger's celebrated swing coach, Butch Harmon.
Chandler is the manager of Lee Westwood and Darren Clarke, two of the four players who proved earlier this year that Tiger can be beaten. That seems so long ago now that Tiger has won the last two majors by 23 strokes.
But what Chandler said after dessert made sense: Tiger's torrid run is a tremendous boost for the game of golf, but if he keeps this up, or if no one comes along to stop his domination in major championships, then the game will be in trouble.
It's hard making that argument right now. Tiger won the U.S. Open at Pebble Beach by 15 strokes, but the global fascination was astounding. At St. Andrews there was no drama—Tiger led by three after 36 holes, by six after 54 and won by eight. Didn't matter. A record 230,000 witnessed the Millennium Open, and as Sir Michael Bonallack, captain of the Royal and Ancient Golf Club of St. Andrews, commented afterward, "Most of them were here to see Tiger."
But how long will they flock to see the virtuoso if the virtuoso plays alone? At what point does the Tiger Show lose its ratings? Can we continue to be a captivated audience while he marches toward the Nicklaus Number? Now that he's got the career slam, what's left?
Realistically? The Grand Slam. Tiger is going into Valhalla only two swings away from a shot at it in 2000. He doubled the 10th and tripled the 12th in the opening round of this year's Masters and still finished fifth. It would surprise no one if he one day achieved it.
"The guy is simply in a different league," said Nick Faldo after his record of 18 under at St. Andrews in 1990 was broken by Woods.
When Earl Woods predicted 14 majors for his son at the 1995 U.S. Amateur, he had the bar too low. The over-under on Woods now is closer to 25 because he continues to get better, and with the exception of the occasional tournament when Westwood, Clarke, Phil Mickelson and Hal Sutton have their "A" games, nobody else plays on the same level. Not week to week. And definitely not in the majors.
No three-putts at Pebble Beach. No bunkers at St. Andrews. No challengers at either venue. If he continues to win two a year, Woods will have passed the professional major-championship record of 18 held by Nicklaus by his 32nd birthday.
"Never has the game been dominated by one man as much," said Gary Player. "Jack never dominated. He won the most majors, and I would never deny that he's the greatest player who ever lived, but nobody's ever dominated like Tiger Woods."
When he is dialed in, there is no one on the planet who can match him category for category, no one who has the ability to raise his game, deal with the crush of the crowd and the demands of the media. Tiger has become the world's best athlete and perhaps its most famous person. Yet it definitely has not gone to his head, and as of yet, it has not affected his heart, his hunger or his will.
Els admitted Sunday he didn't feel like playing after an opening round of 66 was followed by indifferent middle rounds of 72-70. You'd never hear Woods admitting to that because he doesn't identify with a defeatist attitude. If he were eight back, as Els was, Tiger would be thinking 63. Guys are psyched out, playing for second.
"Everybody has thrown up a white flag and surrendered," Nicklaus said Friday. There has been no Player, Palmer, Casper, Trevino, Miller or Watson, the way there was in Nicklaus' career. "The game," Nicklaus says, "needs it."
In Woods' case, maybe the foil is Charles Howell. Maybe it's the AJGA champion. Maybe Els, Mickelson and David Duval can find a gear they haven't found. Tiger doesn't sound like the type of young man who is going away until Nicklaus becomes the second-greatest golfer who ever lived.
Asked if he would ever tire of winning and move on to something else in golf, Woods flashed his Cheshire smile and shook his head.