News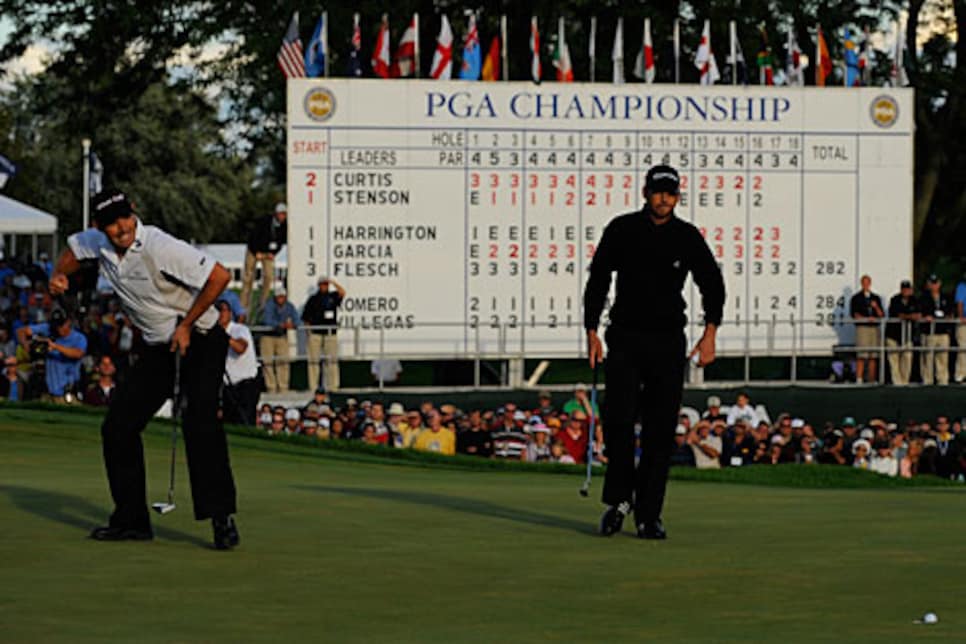 That does it: As Garcia watched, Harrington sank a 15-footer on the 72nd hole to steal his victory.
If major championships were the Beatles, the PGA Championship would live happily as Ringo, somewhere between the shadows and the background. Apolitical and less demanding than its imperial peers, the PGA has upgraded in recent years with a commitment to premium venues and a player-friendly philosophy on course setups. It doesn't hurt when Tiger Woods wins your tournament four times, either.
Woods wasn't the only notable absentee at Oakland Hills CC, a layout ­originally conceived to inflict U.S. Open torture, then remodeled twice to ensure future generations of pain. One might have figured PGA of America managing director Kerry Haigh would whip out some Bob Hope Chrysler Classic rough to counter Oakland Hills' diabolical greens, or maybe water the putting surfaces so a few birdies might be made.
That certainly wasn't the case at the 90th PGA. The kinder, gentler major was nowhere to be found, punctuating a year in which pursuit of the game's four biggest titles would extract abnormally high levels of blood, sweat and fears. From the aggressive anti-scoring alterations at Augusta National—two players broke 70 in the final round—to the USGA's rendition of Torrey Pines and a wind-whipped Royal Birkdale, 2008 was a good time to make 15-footers for par.
For 2½ days, Oakland Hills might have been the meanest. Haigh not only grew the rough, he had the grounds crew rake it back toward the tees to make shotmaking more difficult. Those who did hit fairways were forced to putt defensively on the tilts and mounds. Both nines finished with killer stretches—the field made a grand total of two birdies on the seventh, eighth and ninth holes in the final round. There were three birdies Friday on the 17th and 18th. Sunday, that number soared all the way to six.
"Majors are supposed to be difficult, but they're not supposed to be absolute root canals, and that's how they're all getting," said Steve Flesch, who finished sixth. "If we're trying to attract people to golf, and they [come to watch], why would they go, 'I want to play that game?' It's fun to watch guys make birdies. The PGA is committed to growing the game. Is this how they want golf to be portrayed?"
Enter Mother Nature, who has been known to wreck a lot more tournaments than she has helped. When a Saturday afternoon downpour halted play in southeastern Michigan with the final three pairings yet to tee off in the third round, the suspension led to a very different PGA. Softer greens meant better scoring. Better scoring would define a 36-hole Sunday that became more compelling by the hour, resulting in one of the year's most dramatic finishes and a worthy champion who plays his best golf when it matters most.
Weather or not, Padraig Harrington still might have claimed his third major victory in 13 months, although one suspects it wouldn't have been with a pair of 66s Sunday, or by holing three huge putts down the stretch to outlast Sergio Garcia, whose residency at the Heartbreak Hotel was extended until April '09. Harrington is golf's ultimate grinder, the first European to win the PGA in 78 years, just three weeks removed from a brilliant final nine in fierce conditions and a successful defense of his British Open crown.
In situations that demand supreme mental toughness, the Irishman may not be Woods' equal, but he is the closest thing without orange-and-black stripes on the headcover of his driver, and this was as close as things get to a one-day major. Faced with a long haul over a short stretch, those in contention would have to deal with fatigue and competitive mood swings, a course that had changed radically from a day earlier and a 20-degree drop in the temperature.
You had to adapt and adjust, all while keeping a positive mindset and staying in the moment for 10 hours, which isn't easier said than done because it all sounds pretty hard. "You get chances in a major tournament on the back nine, and you've got to take them," Harrington assessed. "I'm a great believer in making it your responsibility whether you win or don't win."
If the value of a sport psychologist is impossible to measure and difficult for many to justify, Harrington has become a human advertisement for the services of Dr. Bob Rotella, whose decades of working with tour pros had never produced a player so strong between the ears or as dependable in the clutch. Paddy didn't even turn pro until he was 24 years old, mainly because he wasn't good enough, and though he obviously has made massive improvement since, his development included a lengthy stretch of second-place finishes on the European Tour.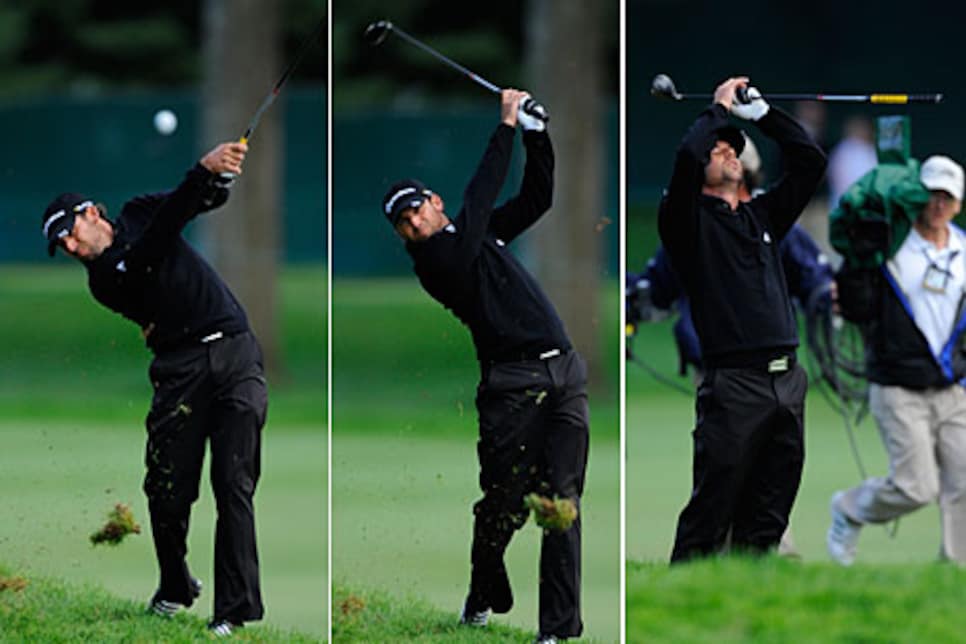 It's not that nobody saw this coming, but that nobody had bothered to look. Harrington's career is a shrine to the proverbial work in progress. Lots of progress, lots more work. "I have probably been the leading player in Europe for close to six years, and I still get asked if I am," he said. "I might have lost it a couple of times, but more or less, it's been close to six years. It's a big step now to move up and start competing at a different level."
When it comes to justifiable irony, you can't beat the fact that Harrington has knocked off Garcia in two of his three major victories. The two may not be enemies, but they're not close by any stretch, and while Harrington has applied his voracious work ethic to earn everything he has, Sergio, if not exactly lazy, remains the gifted prodigy without a big trophy.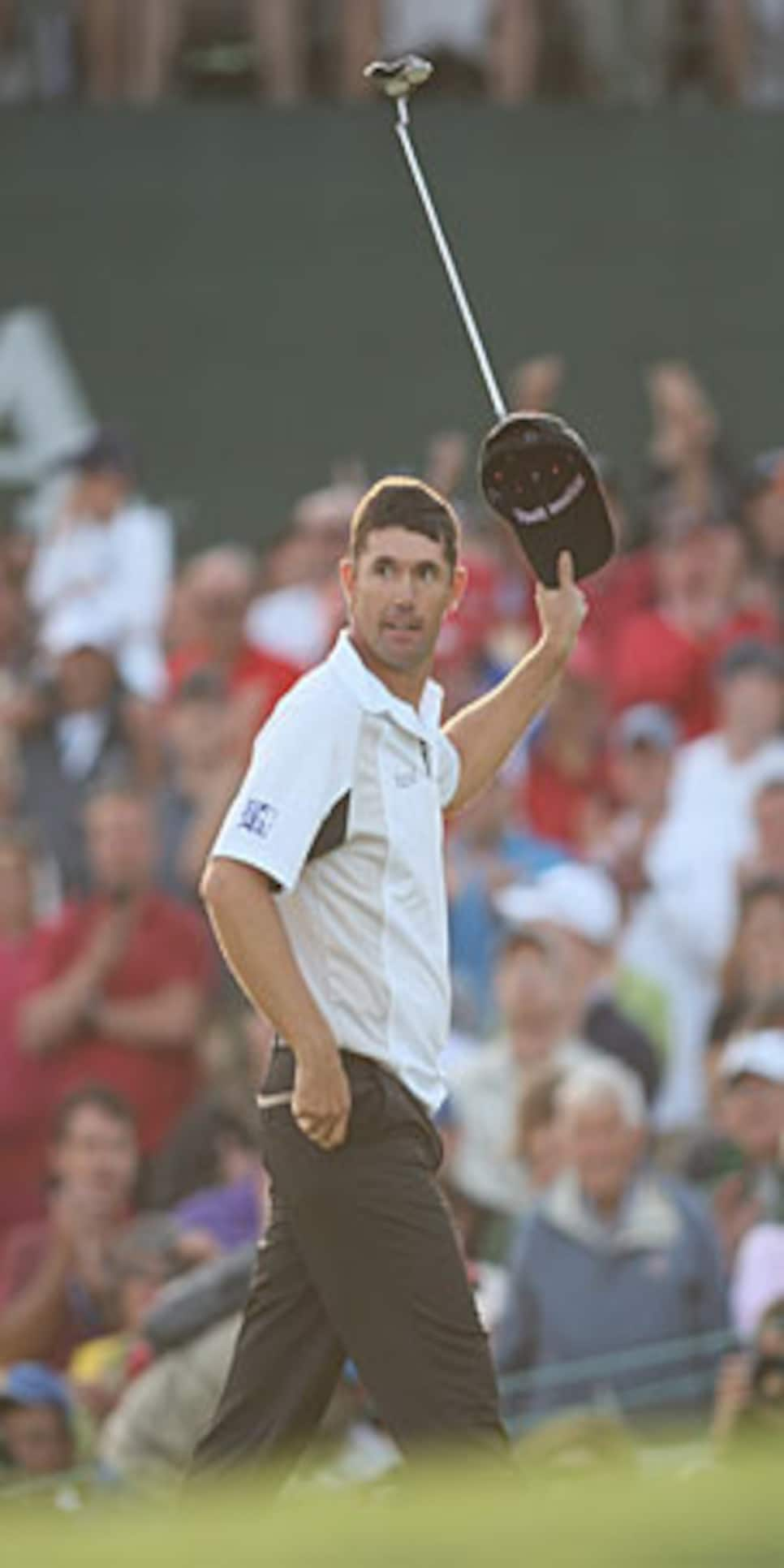 At the 2007 British Open the two went head-to-head in separate groups in regulation, then met in a four-hole playoff. Garcia did nothing terribly wrong that day, although the mistakes he did make cost him dearly, certainly enough to deprive him of his first major title. Oakland Hills was a different story. Playing with Harrington in the final round, leading by a stroke at three under par, Sergio had a 6-iron into the par-4 16th and pushed it right into the greenside pond.
"There is no doubt that was the opportunity I was looking for," Harrington said. "That was the opening of the door."
Whether Sergio's shot was a silly gamble to a tight pin or a bad shot under pressure, Harrington smelled blood. His spectacular up and down from the left bunker allowed him to pick up a stroke on a hole where he seemed certain to lose one. Instead of trailing by two with two to play, Paddy jaunted to the par-3 17th on a surge of adrenalin and a share of the lead, then knocked his tee shot 10 feet from the hole.
Undaunted, Garcia ripped a 5-iron to less than half that distance. By this point, what had been an utterly boring major for the first two days, then washed out on the third, had successfully lobbied for consideration as the best finish at a PGA since Woods went overtime against Bob May in 2000. Harrington made his 10-footer, leaving Garcia, notoriously poor from short distances since the early days of his career, with four feet to retain a share of the lead, nothing to win and everything to lose.
He would later talk about hitting a good putt, which is what poor ­putters often do, but Garcia pulled it, the same left miss that had cost him two holes earlier. Conventional wisdom had been wrong all week in thinking Sergio had no chance of winning on these greens, but now he was buckling. If Harrington could par the vicious closing hole, it would take a semi-miracle or a playoff to beat him.
His drive tumbled into a fairway bunker and his 8-iron from the sand came out 12-handicap fat, but there are times when Harrington will not be denied, and this was another of them. He would one-putt eight of the final 10 greens, the last from 15 feet at the 18th to slam that door Garcia left open.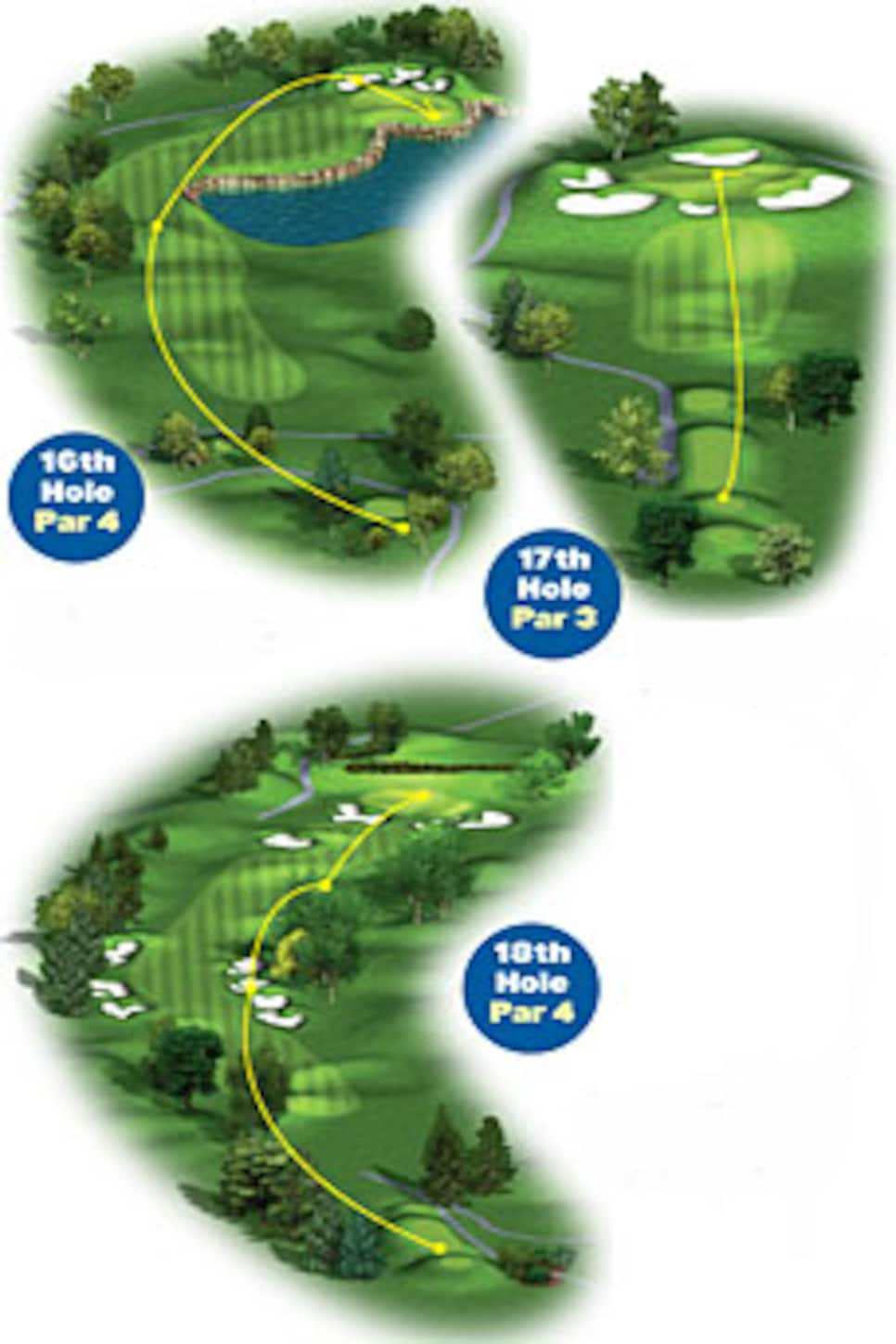 There may be more talented golfers on this earth, but to find a grittier one, you'd best look on another planet. Harrington is one of the great overachievers of this or any generation, a man in the right place at the right time. Kind of like the guy who used to drum for the Fab Four.
Padraig Harrington one-putted the last three holes at Oakland Hills (all from 10 to 15 feet) to finish par-birdie-par and win the PGA Championship. On 16, he hit 3-wood off the tee and had 133 yards to the pin on his second shot, but pulled his ball into a greenside bunker. After blasting out to 15 feet, he saved par to tie for the tournament lead. After a 10-foot birdie putt on 17, Harrington hit his tee ball into a bunker on 18 and his approach came out fat. His 7-iron third shot ended up 15 feet right of the flag, and he made the putt to finish at three under, two strokes ahead of Sergio Garcia and Ben Curtis.
[Ljava.lang.String;@6e92116b
"There are guys who get a little fortunate. They get in contention and manage to get things going their way, either because they play well or because somebody comes back. I feel like I've played well enough to win more than two majors in my career. Unfortunately, it hasn't happened."
Sergio Garcia, who had his third runner-up finish in a major at the PGA Championship and ninth top-five finish.
"If you're going to finish second and they tell you that you qualify for the Ryder Cup, I think you'll take it. That's almost a victory in itself."
Ben Curtis, whose T-2 at Oakland Hills enabled him to secure a spot on his first Ryder Cup team.
"This redesign by Mr. Jones needs to be redesigned. It's way too hard. I'm a big PGA of America guy, but this week, it was like things happened too fast for them, and they lost control of an event where players are historically allowed to play."
Steve Elkington, on Rees Jones' renovation of Oakland Hills and the PGA of America's course setup.
"I felt an edge in terms of my experience. I felt an edge in terms of my ability to take an opportunity when it comes around."
Padraig Harrington, on whether he had an advantage over Garcia coming down the stretch in the final round.