News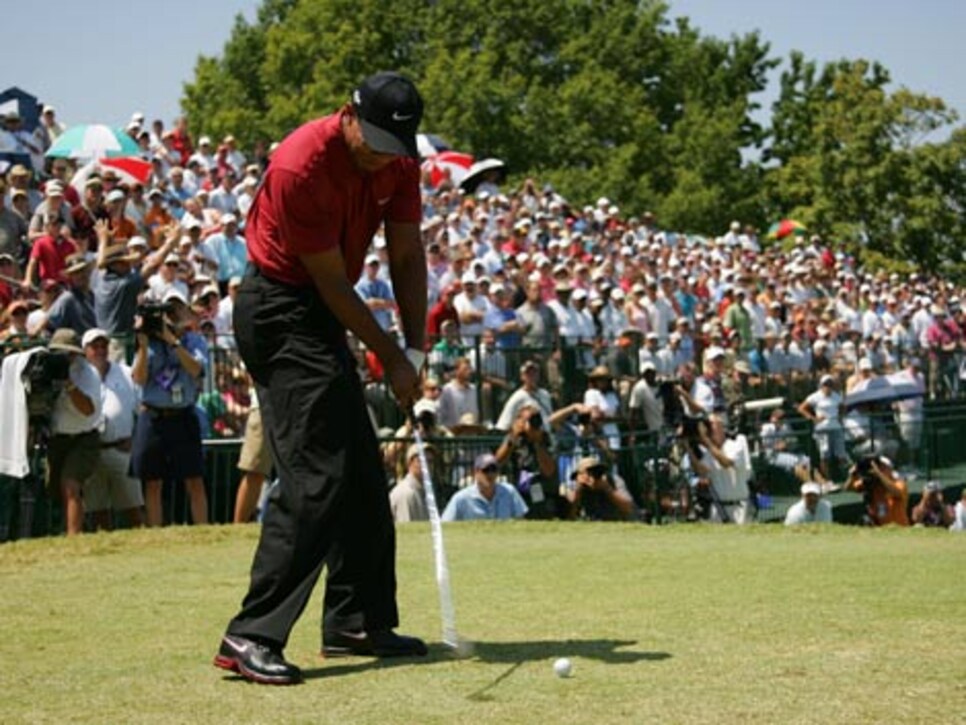 The modern ball's workability is not a problem for Woods.
Early last week players took a look at Southern Hills CC, where most holes featured some form of dogleg, and concluded that simply bashing the ball as far as possible wasn't going to work. The ability to work the ball would be rewarded.
"[Southern Hills] certainly does have some movement to it," said Tiger Woods. "You have to shape the golf ball both ways, [but] this week you'll probably be shaping it with less club."
Added Scott Verplank: "It's definitely a ball-striker's golf course [and favors] a guy who can curve it. If you can curve it both ways off the tee, you can play it aggressively."
But wait a minute. Hasn't part of the argument of those claiming the modern ball is the ruination of the game been that shotmaking has been lost because you can't shape the ball because of its lower spin rate? What Woods, Verplank and others said seemed to indicate that isn't the case.
"You can work it," said Jim Furyk. "I have no problem maneuvering it both ways, and that lets me hit a lot of different shots into the holes here." So what gives?
What gives is this: Although the modern ball spins considerably less, especially at tour-player swing speeds, the best players in the game are still skilled enough to work the ball the way they want when the situation calls for it. According to Dean Snell, senior director of R&D for TaylorMade, spin rates of today's multilayer balls are like those of two-piece distance balls of the past, making it harder for the ball to move. "The players can still draw or fade the ball," said Snell. "Just not as much as they used to."
Using the parameters set for ball testing by the USGA, Snell said a wound ball such as the Titleist Tour Balata would spin at 4,000 revolutions per minute. Compare that to the Titleist Pro V1x or TaylorMade's TP Red or TP Black balls at 2,700 rpm (the equivalent of a Pinnacle Gold ball or Maxfli Noodle) and you see a reduction in spin rate off a driver of almost one-third.
Add in Tulsa's searing heat, which Phil Mickelson said makes the ball actually go straighter (a point confirmed by several golf ball R&D types), and it would appear shaping shots should be almost impossible. But there was plenty of evidence to the contrary last week as players routinely moved the ball left and right.
"It was a bit of a different game," said Retief Goosen, who won the U.S. Open at Southern Hills in 2001. "It's not easy to hit the fairway with any club off the tee. So it's really how you feel about your game, how aggressive you want to get. But there's no doubt that working the ball is needed on a number of holes." Still while last week may have proved shotmaking is not dead, Snell provided one tidbit that shows the bomb-and-gouge style is alive and well.
"Check the driving accuracy stats," said Snell. "Even though the balls go straighter due to lower backspin, most of the top players were about 20 percent more accurate when using the higher-spinning wound balls." A quick check of the accuracy stats of Woods, Furyk, Mickelson and Vijay Singh shows that indeed their average accuracy has dipped 15 percent from 1999 to today.
But last week, for one week, it was just like old times. And it was kind of fun to watch. While some may argue that is why the ball needs to be changed, it might just be that we need more venues such as Southern Hills.
Equipment scoop from the tours
John Daly may have been spending time in the casino instead of practicing, but the TaylorMade techs were busy building him a new SuperQuad driver that was cut down an inch (from 45 to 44 inches) to increase Daly's control off the tee. The 10.5-degree driver also was bent to 7 degrees to reduce the loft and open the face, minimizing chances of a hook. Daly had the weights set with 20 grams on the toe and only six on the heel for the same reason. ... Stuart Appleby and Anthony Kim both changed to Zen putters last week. Appleby used a ZA2 model with an s-bend hosel and had the company use a heavier bead blast on it to reduce glare. Kim, meanwhile, putted with a ZZ2 model with a Plumber's neck hosel. ... Thomas Björn (pictured) played with a prototype of Callaway's latest fairway wood built on the Fusion technology platform. The club also featured a reconfigured sole plate (inset) designed to increase playability from a number of turf conditions. ... Score one for metal spikes. Zach Johnson put 5 millimeter metal spikes in his shoes to get better traction. "I don't have a whole lot of foundation down on the lower part of my body so I feel like I need all the traction I can get when I'm swinging," said Johnson. ... Nickent built Jeff Quinney a set of prototype 4DX CB irons, but he did not put the clubs in play.