News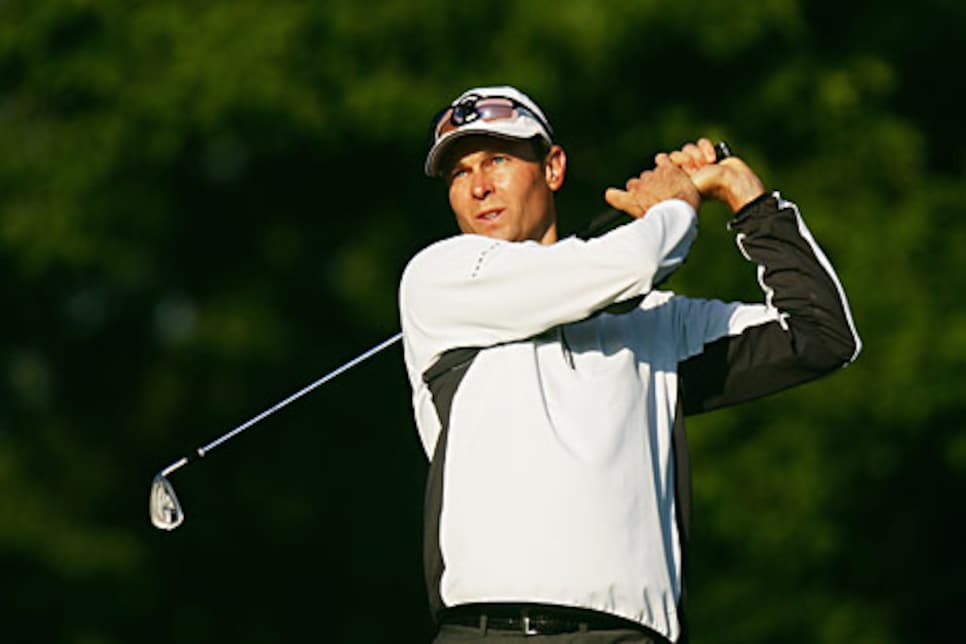 Estes says a rules change would make hitting fairways important again.
THE USGA's deadline for comments on its proposed rule on grooves passed last week, and USGA senior technical director Dick Rugge had little to say on the subject other than it should take a couple of months for the folks in Far Hills to consider carefully the information presented.
But that doesn't mean debate over the proposal has ceased. Although the comments are not made public, one person who responded to the USGA -- Terry Koehler, president and founder of Eidolon Golf -- posted his response on his company's website. Koehler said, "Average golfers are not using grooves to antiquate golf courses the way the PGA Tour players are." Instead, Koehler argued that grooves are enabling golfers to cope with modern agronomy, design and construction.
"The USGA has long held to the principle that if it is good for average golfers, and good for the game, then you support the evolution of equipment," Koehler said.
Indeed, the rule would be the first rollback in equipment regulations since 1931. Still, it will be interesting to see if the rule goes into effect (and many manufacturers expect it will) and how greatly it will impact tour players.
Bob Estes has been around long enough to play with both V and U grooves and he thinks it's a sound idea.
"I'm all for it," said Estes. "I can't wait to get everybody playing V grooves because I can't stand seeing a golf course where guys are able to drive it in the rough and use their U-groove wedges -- 9-iron, whatever -- and hold the green out of Bermuda rough. That's going to make a huge difference on a lot of golf courses virtually every week. Then, it's going to be closer to being back to the way golf was meant to be. ... [You should] be rewarded for hitting the ball in the fairway when a lot of guys aren't penalized for hitting it in the rough."
Estes' belief is exactly the point the USGA has been using to make its case for a groove rollback -- that the correlation between accuracy and success on the PGA Tour is virtually nonexistent. Still, it is a point for discussion. About one-third of all players who have recorded a top-10 finish this year have finished in the top 20 in driving accuracy that week. About one-third have been in the bottom 30 in accuracy the week of their top-10s. The average rank is 31st. Is driving it straight a requisite for success? No. But it certainly helps in some cases. Fred Funk won an event this year while leading the field in accuracy. Phil Mickelson finished fifth in accuracy at Pebble Beach when he won. Zach Johnson finished T-2 in accuracy at the Masters and T-6 in winning the AT&T Classic. There are other examples, too, where hitting a few fairways appeared to mattered.
That, along with the toughness Firestone displayed this past week after ratcheting up the rough, brings up the question: Why not simply grow the grass? It is an idea Rugge is not comfortable with. "You don't want to get to pitch-out length," said Rugge of making the rough a no-fly zone. "That isn't golf. The rough isn't supposed to be a hazard."
Which is why Estes is for the rule change. When asked what kind of player would benefit, Estes didn't hesitate. "The guy who hits the ball in the fairway," he said.
Equipment scoop from the tours
David Toms replaced the Cleveland QuadPro 5-wood he has carried for the better part of seven years (and used to make his highlight-reel hole-in-one in the third round of the 2001 PGA Championship at Atlanta Athletic Club) at the WGC-Bridgestone Invitational. The new bat? A TaylorMade Burner 5-wood. Toms signed with TaylorMade at the start of this season. ... Srixon has a number of new products in the works, including a new driver -- the Z-RW -- a prototype of which Robert Allenby used at Firestone. The driver, which boasts a noticeable red weight band around the rear of the clubhead, will be available early next year. ... Aldila's DVS driver shaft has been getting some attention, including in Ryan Moore's Ping Rapture driver. The DVS features a more responsive tip than the company's NV shaft to promote a slightly higher ball flight. ... Steve Flesch switches drivers frequently, and he chose wisely last week in Reno when he changed to a 9.5-degree Cleveland Launcher Comp driver and averaged 328.1 yards (ranked third) in winning at Montreux G&CC. ... Paul Casey's work on the greens improved last week at Firestone after a switch to a Nike Unitized Retro putter -- a design where the head and shaft are engineered as a single piece. ... If you want a sneak peek at Wilson's latest player's iron, take a look in the bag of European Tour pro José Manuel Lara, who is playing Wilson's Pi7 irons, a cavity-back blade design.