News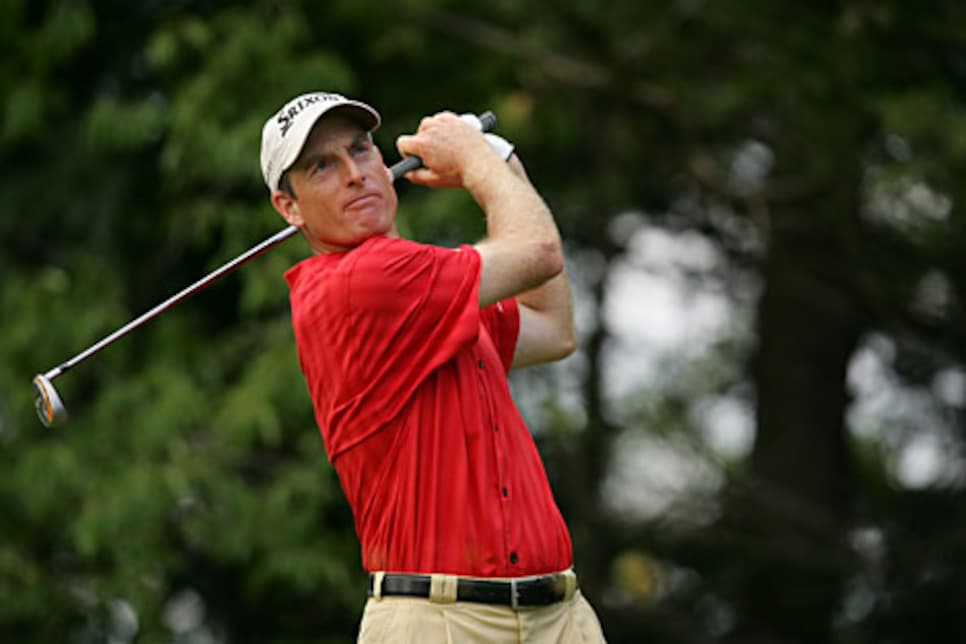 Seeing red: Furyk got his first win of 2007 by shooting a final-round 64.
The Canadian Open again got the kind of winner its heritage ought to command, Jim Furyk, a marquee player who methodically has been constructing a record that eventually might warrant Hall of Fame consideration. History at any rate is certain to recall him fondly, more so than it will the Canadian Open. History has a big tent, but one more accommodating of its champions than its championships.
The demise of the venerable Western Open was instructive. Only the majors are sacrosanct. And only the strength of its winners in recent years has kept the once prestigious Canadian Open from sliding into the abyss. The last five, including two in a row by Furyk, have been won by major champions (Mark Calcavecchia, Vijay Singh and Bob Tway were the others), rescuing it from the obscurity that might still be its fate. Furyk only served to mask the underlying issues that plague the Canadian Open.
For that and more, this national championship is grateful. Squeezed as it was between the British Open and the tandem of the WGC-Bridgestone Invitational and PGA Championship, tournament management viewed it as no sure thing Furyk would even return to defend his championship. Obligation, sports fans now understand inherently, is not necessarily part of the modern athlete's vernacular.
"I had a lot of people thank me for coming back this week," said Furyk, who, give him this, readily acknowledged his obligation. "I appreciate it, but I feel like it's thanking me for something that you should do."
He did it with a flourish, as well. He began Sunday's final round tied for fifth, three shots in arrears of a certifiable Hall of Famer, Singh. In a matter of four holes, Furyk not only erased the deficit, but took the lead on the basis of two birdies and a hole-in-one on the fourth hole. He never relinquished the lead in its entirety, shooting 64 at Angus Glen GC outside Toronto to beat Singh by a shot, his first victory since winning the Canadian Open in September of last year.
Two of the preeminent stars in golf gave the top of the leaderboard a sheen that belied the troubles lurking beneath the surface. For the second straight year, the Canadian Open was played without a title sponsor. "When everything's said and done," tournament director Bill Paul said, "we'll lose $3 million. It's a concern."
This, too, was the first year of a six-year contract for the tournament to be played in this dubious place in the schedule. It will dramatically hinder its ability to secure a field worthy of a national championship that began in 1904 and counts among its winners Walter Hagen, Sam Snead, Byron Nelson, Arnold Palmer, Lee Trevino and Tiger Woods, an event Furyk said once "probably had a feeling about it that it was the fifth major." Tournament management even chartered a plane to ferry players from Scotland to Canada, as an inducement to British Open participants who might have been balking at playing the Canadian Open because of the logistics. Among the 18 players who accepted the offer was Furyk, who was coming anyway.
There are no weak fields in golf these days, just nondescript ones. The albatross is that those that don't include Tiger Woods anchoring the field turn the focus from who's playing to who's not, as was the case last week at Angus Glen. Exacerbating the issue was the absence of one high-profile player on which the tournament was banking, and the withdrawal of another.
Davis Love III's design firm had been retained by the Royal Canadian Golf Association and Angus Glen to renovate the North Course there ahead of the tournament. Love was consequently expected to play and, according to Paul, indicated in every conversation he had with him in the run-up to the tournament that he intended to play. "I was disappointed he didn't show," Paul said.
Paul, meanwhile, extended a sponsor's exemption to John Daly, whose automobile made a better impression. Daly shot 75 in the first round, then withdrew from the event for the third time in five years, this time citing a shoulder injury. It was also the fourth time he withdrew from a tournament this year and ninth time over two years. The tickets the tournament sells by virtue of announcing his participation ought to contain a caveat, a caveat emptor, as it were: Buyer beware.
"He's a hard guy to turn down," Paul said when asked whether he'd invite him again next year. "He's still a popular guy among spectators. Unfortunately for John, at some point in time his personal life or injuries are going to get in the way of tournaments and sponsors supporting him."
Daly, incidentally, left town in his Maybach, with Tennessee license plates that read "Open '95," in honor of his British Open win at St. Andrews. It is a car valued in the tony neighborhood of $400,000. You drive for show and, well, you know the rest.
The Canadian Open winner did not three-putt until the 72nd hole, and then only as a result of guarding a two-stroke lead. But on one memorable occasion earlier that day, Furyk needed no putts to complete a hole, the 209-yard par-3 fourth, which he aced with a 5-iron. In four rounds, in fact, Furyk had only seven strokes on the fourth hole. "I thought about that on the walk to the green," Furyk said. "I was talking to [playing companion] Pat Perez. I said, 'You know, I birdied this hole the first three days. Three 2s and a 1.' " Perez simply shook his head.
Furyk birdied the first three holes of the back nine to open a lead that proved insurmountable. Singh kept it dramatic by birdieing the 16th hole, which in concert with Furyk's bogey at 18 moved him to within a stroke of the lead. Singh had a dicey downhill 18-footer at No. 18 to force a playoff and missed. The victory was the 13th of Furyk's career. Excluding 2004 when he underwent wrist surgery, he has won at least one tournament every year since 1998. Given how often he contends (nine top-10s in 19 starts this year alone), you would expect him to have won more. It likewise suggests that, at 37, he's not done writing his résumé.
"I'm sure Tiger feels like he should have won more," Furyk said. "I definitely feel like I've let my share slip through my fingers. I don't think I'd be the player I am if I didn't feel that way. I still feel like I've got quite a few good years ahead of me."
Can the same be said of the Canadian Open, a tournament once so formidable that Jack Nicklaus couldn't win it? The Golden Bear finished second seven times, incidentally, yet he kept coming back. It speaks volumes, surely. If only we could be sure anyone is listening.