News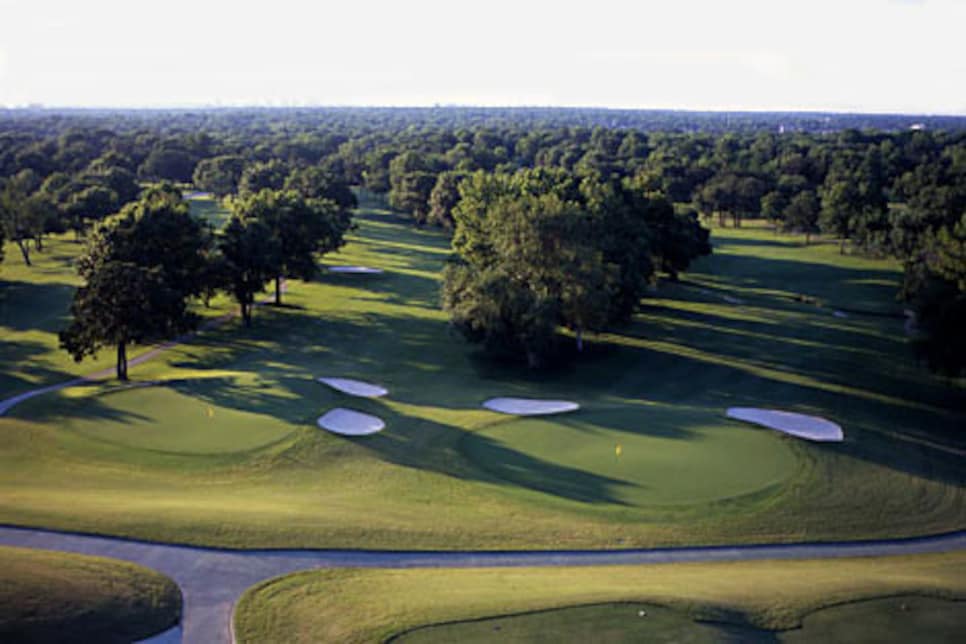 The greens at Nos. 9 (left) and 18 have been rebuilt since problems at the 2001 U.S. Open.
Southern Hills CC has rarely elicited great spectator or player enthusiasm. One of a select few Depression-era creations lumped into golf architecture's "Golden Age," the Perry Maxwell design devolved into a series of claustrophobic corridors forcing too many irons off the tees, only to have balls plop onto a dreary shade of common Bermuda grass. Other than the severe ninth and 18th greens turning silly during the 2001 U.S. Open, provocative design elements have rarely impacted the six majors played at the grand Tulsa club.
However, barring unlikely course-setup follies or a weather nightmare, those lukewarm impressions will change when the 89th PGA Championship debuts a longer (7,131 yards, up from 6,973) and more thought-provoking Southern Hills. Despite nearly 20 inches of rain since June, Maxwell's understated 1936 creation should showcase detailed turf care, subtle design restoration and the PGA of America's creative setup touches.
Credit for the club's resurgence goes to a variety of sources. Since 2000, $30 million has been invested into the facility, with $22 million going toward an impressive renovation of the stylish French-Normandy clubhouse and another $7.3 million into the course and maintenance facility.
"The sacrifice made by the members has been huge," says Nick Sidorakis, the club's longtime general manager.
As with so many Golden Age layouts, early photos of Southern Hills reveal sensible tree-planting schemes and rugged-edged bunker faces. But as at so many other classics, the club embarked on a 1950s tree-planting binge and bunker faces swelled over time. In 2004 Southern Hills began the politically painful but necessary effort to recapture the spirit of Maxwell's original layout while incorporating modern infrastructure elements that would better handle the inevitable thunderstorms: greens rebuilt to USGA specs, trees "lifted" or removed, bunker faces lowered and stabilized and, last winter, a Precision Aire subsurface root-cooling system was installed to ensure rapid draining capability. Nonetheless, it is new superintendent Russ Myers' attention to detail that is highlighting architect Keith Foster's deft restoration work and PGA setup guru Kerry Haigh's creative course preparation.
"The course is better than where I thought we'd be, especially considering all the rain we've had," says the 35-year-old Myers, who will be leading his first major after several years in various roles on the maintenance staff at Augusta National.
Myers is quick to point out Tulsa suffered through 28 days of 100-degree-plus temperatures last July and August, so the firm greens supported by five to six inches of hearty A1 and A4 bent roots could easily wither by PGA week.
Meanwhile, Myers and his crew of 50 have been pampering the newly installed U3 Bermuda grass fairways and roughs. This retro strain is more vibrant aesthetically and should provide a tight fairway surface if this year's relentless rains ever stop. As rough, the U3 will start PGA week at a surprisingly modest length of 2¾ inches to encourage heroic recovery shot attempts that will highlight the subtle wickedness of Maxwell's elevated greens.
Even more intriguing are the hand-mown areas leading into the course's 15 artfully placed tee-shot bunkers, a product of Haigh's revitalizing setup. The result—fairways that look wider than they really are—should encourage more tee shots with drivers than seemed possible during the confining 2001 U.S. Open.
Veterans of Southern Hills majors will immediately notice the lively combination of Haigh's fairway-contour adjustments and Foster's new back tees. The 464-yard opening hole's new shape embraces the two bunkers down the right, 272 yards away, instead of cutting them off with a buffer of rough. Combine the new cut with a surprisingly generous looking 25-yard-landing area, throw in memories of the difficult-to-hit first green, and players will be enticed to take advantage of a fairway slope at 290 yards that kick-starts drives and dangles the reward of a wedge approach.
Options and nuance, intangibles lacking from previous Southern Hills majors.
The par-4 second features a new tee stretching an already demanding 471-yarder by 17 yards. Now a creek and bunker complex create a significant forced carry of 255 yards just to make the landing area. If the prevailing southwest wind shifts to a westerly breeze, some may cry "unfair."
"There's fairway in front of the creek," Haigh notes with a smile.
Driver also will be a tantalizing option at the 451-yard third, where a new back tee was installed after the club removed Oklahoma's largest elm to bring some air and sun to the shaded second green. Once a cluttered and forgettable 408-yarder that still would benefit from several lightning strikes down the left side to bring a creek into play, the use of driver sets up a short-iron approach to one of course's most severe greens.
Still, Southern Hills' rejuvenation is not all about improved strategy of the tee. The crisp cut also has been brought to the approaches, where walk-mowers create tight turf entryways that lend a Royal Melbourne or Augusta National-before-the-second-cut-look. For good measure, newly added tight-grass chipping areas will highlight steep side slopes on the second, sixth, seventh, 11th, 12th and 17th greens. By no longer enclosing the putting surfaces in rough, players will be forced to rethink their way from tee to green.
The rejuvenated sixth has benefited most from tree removal and the installation of a closely mown creek bank that sets up an ideal Sunday hole location reminiscent of Augusta's 12th (except that it will play 45 yards longer and favor a right-to-left shot).
The dogleg-left, 384-yard seventh features an entirely new green replacing the out-of-character Robert Trent Jones creation installed prior to the 1958 U.S. Open. Dave Bryan, Southern Hills' 19-year head pro, convinced members that while the club was rebuilding all 18 greens to USGA specs, Foster should be asked to offer an alternative to Jones' containment-mounded, oversized putting green. Foster eliminated the mounding and inverted the green floor to produce a wide but shallow surface blending seamlessly with the others, complete with Maxwell "rolls" and a steep right side fall-off that sends errant approaches into a creek. Even architecture aficionados will be hard-pressed to notice this is not a Maxwell original but, instead, Keith Foster channeling Maxwell.
Bryan also is pleased with the possibility of seeing more drivers pulled on the club's world-famous par-4 12th, where the combination of more tantalizing fairway contouring and the natural downslope rewards aggressive drives with a distance boost. A tightly cut creek bank awaits at the green, so a premium will still be placed on hitting the fairway.
The newly lengthened 507-yard 16th recalls Southern Hills' recent past. Too many trees shade the wildly undulating but perpetually soggy landing area, choking life out of an otherwise stout and attractive par 4.
On the other hand the ensuing 17th features Haigh's most devilish fairway contour work. Considered one of the game's great short par 4s because of its clever little boomerang green, this downhill 358-yard dogleg right forced 2001 U.S. Open contestants toward the upper left of another rollicking fairway. That play secured a wedge-shot approach off a hanging lie. In other words, no options: Just hit from point A to point B.
Haigh has since widened the landing area out to the right, bringing the creek and numerous possibilities into play. Contestants can lay back and confront a 110-yard approach from a hanging left-to-right lie that makes close approach shots unlikely, or place their tee shots closer to the green while flirting with the creek. The latter option secures a flat lie along with a shorter second shot and the preferred angle to all hole locations, particularly Sunday's inevitable back-left position.
Haigh brought even more compelling nuance to the finishing hole. Viewers may recall the tedious process of watching 2001 U.S. Open contestants slash second shots out of the 465-yard hole's right rough. The hard-bending left-to-right fairway features two tiers requiring the unorthodox notion of playing away from the inside of the dogleg to open up the best approach view. This time around, tee shots leaking right will find a fairway widened to 38 yards, though trees still block a clear shot at the green. Expect to witness something missing in the technology era: Wildly sliced recovery attempts that may get players into even more trouble than had they simply pitched out.
That said, all of this subtlety and theatrical potential will only be remembered if the ninth and 18th greens do not repeat the burlesque antics that plagued the 2001 U.S. Open. In a span of 45 minutes, Mark Brooks, Stewart Cink and Retief Goosen each three-putted the 18th, with little doubt the USGA's decision to halt mowing Sunday night through Thursday evening of championship week influenced the strange events. While their actions kept shots from rolling down the steep fronting hills, USGA officials also estimated the ninth and 18th greens were a foot slower on the Stimpmeter than the rest.
"Like putting through fringe," Cink said after a heartbreaking double bogey left him one shot out of a Monday playoff that Goosen won with a 70.
The troubles started when a former staff member's 1999 middle-of-the-night green vandalization forced a hasty re-grassing prior to the 2001 Open. The club has since, under Foster's watch, rebuilt and softened the ninth and 18th greens. Prior to the most recent renovation, a Stimpmeter reading of 10 feet reduced cupping space to 15 percent on the ninth green and 16 percent on the 18th. The two complexes, nestled remarkably close to one another, were shifted eight feet to the left to get away from mature trees. Meanwhile, the front edges were raised and the back edges lowered on each green. Foster also snuck in a new front-left hole location to make the 18th green more versatile for Haigh come tournament week. With planned speeds in the 11 to 11½ range, both greens will teeter on the edge but should prove manageable.
This newfound stability, combined with Southern Hills' continuing its select tree-removal work and the expected praise for its new short-grass areas, might even have the U.S. Open returning. While the governing body of North American golf already has the 2010 U.S. Amateur scheduled for Southern Hills, USGA senior director, rules and competitions Mike Davis has publicly admitted the need for another Midwest U.S. Open venue. Combine that with the USGA's newfound love for classic courses removing trees and restoring short grass, and it may not be long before another national championship returns to Southern Hills.
But first there is the 2007 PGA Championship, where the golf world may just be pleasantly surprised—even entertained—by Perry Maxwell's minimalist masterpiece.