News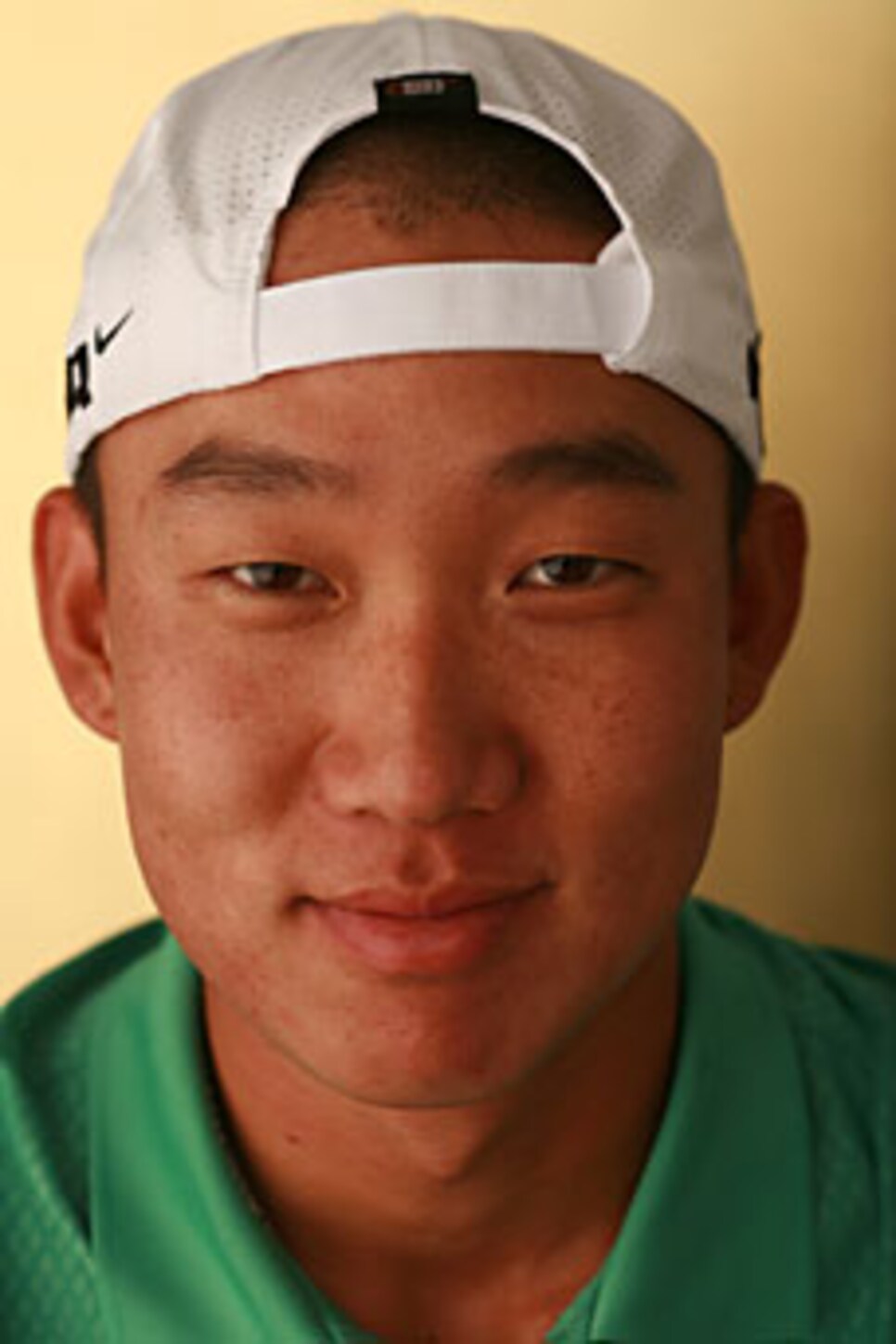 There is nothing imposing about Anthony Kim, notwithstanding his occasionally big mouth. He was born without a mute button, but then where would he have put one? He's already a scale model, 5-foot-10 (maybe) and 160, if you count the belt buckle that weighs, what, 40 pounds? He set out to be the first three-sport star, but he was too short for the NBA and too slight for the NFL. "Well I'm bigger than Earl Boykin," he says of the NBA's shortest player. So is a 5-iron, and it can't dunk, either.
That left golf, a game once ruled, incidentally, by a man known as Bantam Ben. Kim intends to count himself among its giants, the No. 1 player in the world, he says dispassionately and not infrequently, as though he considers his ascension a formality. Got a problem with that?
"I'm sure they do, but not to my face," he says defiantly.
Of course, he'll have to scale Mount Everest to get there, and there won't be any sherpas to help him. You take on Tiger Woods at your own peril.
Say this for Kim, at least: He isn't afraid of imposing figures. History is his witness. He won a battle of wills with any boy's most daunting opponent—a ruthlessly demanding father, who in Kim's case often reduced him to tears, once by pretending to discard a trophy he had won with an over-par score. Dethroning Tiger might seem the easier challenge.
Kim quit speaking to his father for the better part of two years. Given his reputation for running his mouth, this showed extraordinary discipline, the kind Paul Kim used to demand of his son. The irony would not have amused Paul; the pain cut too deep. It still does. "I was so sad," he says now. "I was wrong."
Their estrangement ended in December, the day Anthony earned his PGA Tour card. Moments after the Tour Qualifying Tournament ended (he tied for 13th), he made the short drive from PGA West to his parents' home in La Quinta, Calif. The family's group hug lasted 10 minutes.
Today Anthony, 22, is the youngest member of the PGA Tour, and if potential were redeemable for cash, he wouldn't need a mortgage for that house he is buying his parents in San Diego. He tied for second in his PGA Tour debut at the Valero Texas Open last September, shooting 66-65 on the weekend, a bold display for a neophyte pro who should have been shackled by fear. He has earned $1.4 million in his rookie year, suggesting that his bravado is not counterfeit.
Kim has endured because he loved the game more than he hated his father's mistreatment. "When I wanted to be in his face telling him exactly what I thought, it would just hit me," Kim says. "I don't want to do this for anyone else but myself."
Say this for him as well, he may be on the small side, but he is tougher than Oakmont. Kim was born in Los Angeles to Korean immigrants who came to America in 1971 seeking a better life. Paul Kim wound up with an oriental herb business and a contagious passion for golf. When Anthony was still in diapers, he sat in his highchair, a bottle in his tiny hands, and was mesmerized watching Paul work on his swing in the backyard. When the toddler wouldn't stop crying, Paul had only to park him in front of a golf telecast to pacify him.
Kim developed an insatiable appetite for the game, though not for school. His mother, Miryoung, countered his poor grades by locking his golf clubs in the closet. Miryoung wanted Anthony to become a doctor. Paul wanted him to become a great golfer. "They balanced each other out," Kim says. "Whenever my dad would cross the line, my mom would say something. Then when my mom would say something that was just outrageous, like golf doesn't matter, then my dad would step in."
Anthony began agitating for a home on a golf course, using the promise of better grades as a bargaining chip. Maybe later, Paul told him. In the meantime they enrolled him in Campbell Hall, an upscale private school in North Hollywood, to separate him from potentially damaging influences in Los Angeles' Koreatown. "Lots of kids have trouble there, drug problems, joining the gangs," Paul says.
Trouble found him anyway. A freshman at Campbell Hall, Kim encountered an older, stronger boy who began bullying him on a daily basis. Eventually the boy escalated hostilities by punching Kim in the face, apparently without considering the possibility that Kim might counterpunch. He did. Kim broke the boy's jaw.
The cockiness that has come to define him might be traced to this knockout punch that earned him a one-day suspension and overnight respect from his classmates. His grades improved immediately, as did his demeanor. He smiled more and was eager to go to school, though he declined to surrender his dream of a golf course outside his bedroom window.
Eventually, Paul relented. Before Anthony's sophomore year the family bought a home near the first green of the Stadium Course at PGA West, then moved their son into it, meanwhile staying behind in Los Angeles to tend to the family business and coming to the desert on the weekends. "That was awesome," Anthony says. "If you're 16 and you had the house to yourself all the time, you'd be in heaven, too."
Access to six courses and a variety of practice facilities allowed his game to blossom. As a sophomore at La Quinta High, he won Southern California's high school championship, adding to a series of successes that unexpectedly bought him more trouble.
"I sent him to Colorado, to Florida, all over the place," Paul says, his cracking voice revealing his remorse. "I always tell him, Second is nothing. Only first.' Second, I throw away the trophy. Even when he was in first place, at one over par, I act like I throw the trophy away. I tell him over-par winning is nothing. So sometimes he cried."
Paul loved his son, but he had no example on which to rely to help him navigate the maze presented by raising a child. "My father not know love," Paul says. "Only chasing women." And so Paul kept pushing, while Anthony quietly seethed. "I grow up in Korea," Paul says. "Old custom, with parents and teachers, you don't talk back. Tony was a good boy. He does not talk back too much."
Kim assumed college would provide a respite from his father's verbal abuse. He opted to leave the state and accepted a scholarship to Oklahoma, where, about 100 miles from Southern Hills, site of this week's PGA Championship, he majored in spectator sports and the parties that succeeded them. "I had the best time at Oklahoma," he says, recounting his embrace only of the college experience that transpired outside the classroom. Open books became his nemesis, lectures an earache. "I was trying to find ways I could talk on the phone without the teacher hearing, instead of actually listening," he says.
He became a rabid fan of the university's team sports, of which golf was not one, by his reckoning. "College golf is a joke," he says, bemoaning the fact teamwork and chemistry are promoted to the exclusion of individuality, and, well, who's there to block for you on a golf course? He had his own ideas on practice, too, and it didn't always jibe with the team concept.
Oklahoma coach Jim Ragan does not entirely disagree. "When you're on the course, you have to be a little bit selfish," he says. "It's such an individual sport." Ragan's issue was that Anthony's ability—he was a three-time All-American—gave him a forum from which to lead by example off the course, and he rejected it. "When he was in college, he could have worked a whole lot harder," Ragan says. "He got out from under the shadow of his parents a little bit and enjoyed the college experience."
Actually, his father's shadow stretched from Los Angeles to Norman, Okla., and Anthony was struggling to extricate himself from its hold. "He drink a little bit," Paul says. "I got the information from Oklahoma. He didn't practice much some times. Things like that."
It precipitated an urgent phone call to Anthony. Paul began another verbal assault on a son whose well of tolerance had run dry. Anthony began screaming at his father before ending the call that suspended their relationship.
"I think I had built up so much anger toward him because of the fact that I felt like he didn't need to push and he still pushed," Anthony says. "He was talking about practice all the time. Every time I was on the phone with him, any time I was around him. He did it because he didn't really know any better. He just wanted me to succeed."
The call exposed Paul to his own failures as a father. "I talked to him pretty bad," Paul says, choking back tears. "I was sorry about what I did. I should have known better. I asked too much of him."
More irony that Paul's sorrow would not allow him to appreciate is that Anthony may have emerged a better person as a result. His hard edges soften around kids. Ragan's young daughters know Anthony as the tickle monster. Then there were the volunteer hours that Sooner golfers put in working with juniors. "He just poured himself into that," Ragan says. "He's got kind of an edgy personality, but that kid's got a really good heart. You don't always see it, but it's in there."
Paul's incessant harangues might also have helped to inure Anthony to criticism, freeing him to speak his mind. Honesty has consequences that aren't always agreeable and as a result has become an endangered species in sports. Kim is attempting to revive it, which hasn't always put him in good stead with PGA Tour officials. He was vociferous in his denouncements of tournaments that would not give him sponsor's exemptions after he tied for second and 16th in two PGA starts last year.
His honesty is a hybrid of his mother's insistence that he tell the truth and his own determination to avoid the beige paint that golf buys by the barrel. "I just remember watching TV and hearing all these answers that players were giving, answers that had no opinion," he says. "You don't know what they're thinking. You don't get to know them. I'd rather have 50 people love me and 50 people hate me than have 100 people who don't even know who I am."
Obscurity isn't likely to be an issue for Kim. In the third round of the Nissan Open this year, he wore one black shoe and one white shoe to compensate for the inability of his golf to help him stand out. Tough to miss the belt buckle, too; it features his initials in large block letters. "The best investment I made for $40," he says. "If there's a company out there with diamond belt buckles that wants to talk to me..."
To accessorize so boldly in the absence of even a single PGA Tour victory, or even any extensive experience, takes panache. Or nerve. Either way, it speaks to Kim's steadfast confidence. He doesn't stroll down a fairway; he swaggers down one.
"I learned a long time ago that almost all great players have a sense of cockiness about them," says Bob Lewis, the captain of the victorious U.S. Walker Cup team for which Kim played in 2005. "Anthony's got that. He's got a tremendous belief that he's a great player, and that's just the way it is. He's the real deal."
However Kim's story unfolds, one chapter already has closed, on Christmas Day, 2006. Kim was home visiting his parents in La Quinta, when he asked his father if he wanted to go hit some balls. Paul readily agreed, and they went to the range at Trilogy GC, the bona fide PGA Tour professional and the once abusive father, side by side, their tempestuous past dissolving beneath the desert's warm winter sun.
"Can you look at my swing?" the son sweetly asked the old man, who hasn't stopped smiling since.