News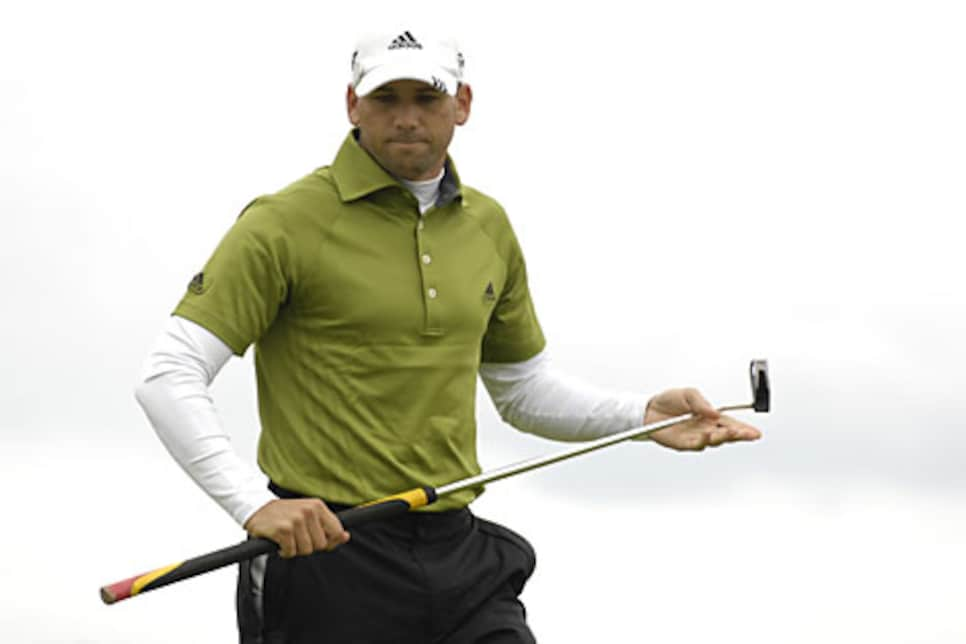 At Carnoustie, Garcia nearly became the first to win a major with a belly putter.
Two weeks ago Sergio Garcia skillfully used a TaylorMade Rossa Corzina belly putter at the British Open and almost became the first player to win a PGA Tour major using a longer-than-standard putter. And had Garcia's 10-footer on the 72nd hole fallen, he not only would have lifted the claret jug, but also rekindled the debate over whether long and/or belly putters should be allowed.
Thankfully, that argument remains on the back burner—at least for now. But there's no disputing a number of professionals on all tours currently are using longer putters effectively, Garcia at the British Open being just one example. That same week Tim Clark and Kenny Perry both used longer-than-standard putters and finished in the top five at the U.S. Bank Championship in Milwaukee. Last week, Nick Faldo used a belly putter to finish T-14 at the Senior British Open while Vijay Singh used a Never Compromise belly model in finishing second at the Canadian Open.
Although talk of the fairness of such clubs may never subside, the ridicule that once came with walking onto a tour putting green with a long putter is beginning to fade. A few years ago Rocco Mediate recalled the blows to his ego. "I was the anti-Christ," said Mediate. "Guys were busting on me. I'd tell them, Why don't you leave me alone? I'm just trying to earn a living.' "
But when asked last week about the stigma, Faldo had a different reaction. "I played [the week before] with [Trevor] Immelman and [Carl] Pettersson, and they both had belly putters," said Faldo, who used a specially made TaylorMade Rossa. "So I felt pretty cool. I was in with the in' crowd."
But why do some of the best players in the world go long? In its early stages, long and belly putters were used solely as a last resort—the final act of putting desperation. Now such clubs are primarily used to gain a competitive advantage.
"I love the way it gives you a pure release," said Faldo. "Technically, it will produce a better stroke and a better roll."
Still, longer putters are not reserved just for older players. Kevin Stadler, all of 27, said he has gone long for "too long, probably eight years now." Stadler switched after his freshman year of college. "I grabbed it as a joke, but I won the first tournament that I used it and stuck with it," he said. "It has the perception of being an old man's club, but if I'm going to make more putts, why wouldn't I use it?"
Chris Couch, who switched to a long putter at age 28, had a similar story. "At Q school in 2001 I averaged 32.5 putts per round and missed my card by five shots," he said. "My hot rounds with the short putter were definitely better, but I'm definitely more consistent with the long putter." When asked why more players haven't changed to longer putters, Couch said, "They are two totally different strokes. It takes weeks to learn how to use the long putter. Most guys don't want to take the time to do that."
But some players do take the time. And once they do, they don't want to hear anything about the club being somewhat of a crutch. Count Peter Lonard among that group. "If it's legal, it's legal, and if it's not, it's not," said Lonard. "If [other players] have a problem with it, then tough."
Equipment scoop from the tours
The Senior British Open saw the old-timers using some old clubs in their quest to win at Muirfield. Scott Hoch used a 365cc Titleist 983K driver while Jerry Pate went even further back in time, hauling out a 7.5-degree Titleist 975JVS that, at 312cc, is nearly one-third smaller than the 460cc heads most players use. The tour vans at Muirfield also were busy, especially in the area of high-lofted wedges, a necessity to escape the steep-faced bunkers. Still, seven players, including champion Tom Watson, had just one other wedge in their bags in addition to the pitching wedge. . . Chris DiMarco became the latest player to put Ping's prototype G10 woods in play, adding the driver and 3-wood last week at the Canadian Open. . . Although 11-woods are fairly common on the LPGA Tour, they are almost nonexistent on the PGA Tour, making Daniel Chopra's decision to use one at the Canadian Open noteworthy. Chopra used a Ping G5 with 27 degrees of loft at Angus Glen GC. . . Canadian Open champ Jim Furyk (below), who has bounced back and forth between a Nickent and Adams hybrid in recent weeks, was back with an 18-degree Adams Idea Pro at Angus Glen. . . Ryan Palmer went back to his Titleist 905R driver at the Canadian Open and posted a whopping 315.1-yard driving distance average, ranking him T-13 for the week en route to a T-3 finish.