News
Toski has a real feel for the game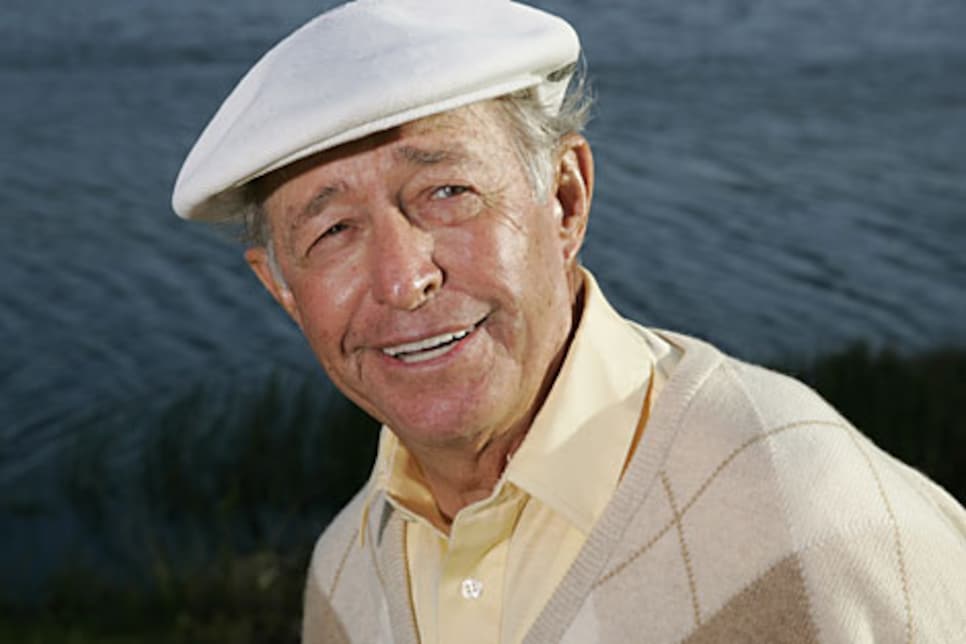 Pound for pound, Toski was one of the most impressive competitors of his era.
Bob Toski had won three PGA Tour events in 1954 by the time he arrived at George S. May's World Championship of Golf. Victories in the Baton Rouge, Azalea and Eastern Opens were worth a total of $8,000 to the Massachusetts mighty mite. "That was a lot of money in those days," says Toski. "I felt like I was secure."
But May's tournament at Tam O'Shanter CC in Chicago offered a financial bonanza of another dimension, a $50,000 first prize plus a contract to do exhibitions the following season for an additional $50,000. The winner's check was 10 times what Sam Snead earned for claiming the 1954 Masters. There also was the prestige of beating an elite field of international players.
All of the pressure fell on the slim shoulders of Toski, who stood 5-foot-7½ and weighed only 118 pounds—but told everyone he tipped the scales at 127. "I didn't want the world to think I was a 118-pound weakling," says Toski, recalling the old Charles Atlas advertisements.
Toski's hand-eye coordination and timing allowed him to drive the ball 260 yards or longer, but in the finale he needed mental toughness as much as physical strength. His hot start—birdies on four of the first five holes—was negated by a triple bogey on No. 6. "I had a six-shot lead after five holes, but at the end of the 14th, he [Jack Burke Jr.] had me by three," says Toski.
Burke hooked his tee shot at the par-5 15th over a fence and out-of-bounds, setting the stage for Toski to rally. "I hit what Tiger and these guys today call a stinger,' " Toski says. "I teed the ball so low, you'd have thought I was hitting an iron. I hit a screaming, low straight ball right down the fairway." From there he struck a 3-wood to 12 feet. The eagle pulled him into a tie, and a birdie at the final hole gave him a one-shot win over Burke and Earl Stewart.
Convinced Toski didn't weigh as much as he said he did, Lew Worsham and Clayton Heafner hauled him against his will onto a scale in the locker room that evening. "You'll probably go down as the lightest, best player in the history of the game," Worsham told Toski, who went on to lead the 1954 money list with $65,819.81. "When you see a light player on tour now," says Toski, "he's 140 or 150 pounds. I look back on it, and I'm amazed I did what I did with the body I had."
Toski performed 57 exhibitions (for $1,000 each) in 1955, realizing that he enjoyed and had a knack for teaching the sport. He quit the tournament circuit in 1956 and eventually immersed himself in golf instruction, co-founding the Golf Digest Instruction Schools in 1971 and becoming a renowned teacher of stars—Birdie Kim and Ken Duke are among his recent pupils—and average players alike.
Weighing 130 pounds at age 80, the great-grandfather, who has been married to wife Lynn for 53 years, still teaches five days a week at the Toski-Battersby Golf Learning Center in Coconut Creek, Fla. He charges $150 an hour, much less than some high-profile instructors. "That's cheap," he says of his hourly fee. "But I couldn't charge $500 an hour. I know I'm not worth it. I can't change a swing and make it that good in that short a space of time."
Toski learned to play by feel, and he teaches that way. "Video will never take the place of my experienced mind and trained eye," insists Toski, who believes instruction evolution isn't all for the good. "The art of teaching is not the art of teaching by feel as it used to be. We're trying to create robotic players compared to yesteryear."