News
As did Woods and her husband, Choi's wife, Hyunjung Kim, had her hands full Sunday.
On a U.S. Open course, in weather that was Ken Venturi hot, a Korean they call Tank with a putter grip the size of a kimchi jar and a driver as square as his jaw, kept his game about him while everyone else was losing theirs to capture the second leg of the Immortal Slam by winning the inaugural AT&T National brought to you by Tiger Woods hisownself.
A month or so ago, K.J. Choi began his assault on Mount Olympus when he won Jack Nicklaus' Memorial. It was Nicklaus' Golf My Way that started Choi on his. The Korean didn't have any literary ties to Woods, but he did notice Tiger's brand new trophy was a little heavier than Jack's old one. With Woods and Nicklaus scratched off the list, one can only wonder who's next. Anybody know if Bobby Jones has a tournament?
In order to accept the trophy from his second golfing deity in as many months, Choi had to beat one of the tour's best putters, Steve Stricker, on the lumpy, bumpy, slow-dance greens at Congressional CC. Everyone else pretty much beat themselves. Choi did it with a putting aid of his own, the Super Stroker, a device that increases the circumference of his putter grip to roughly the size of a Kosher salami. He saw it one night on an infomercial. Honest. One imagines Choi's garage back in Texas must be full of Thighmasters, ThermoSlim, Ab Energizers and Seven-Day Miracle Cleanse. Can you get any more American than that?
On the way to the scoring trailer near the 18th green to post his winning total of nine-under-par 271, three shots clear of Stricker, Choi was greeted by His Hostness, whose first words to his first champion were in Korean. When asked what Tiger told him, Choi interpreted, "He say, 'unbelievable golf.' " And it was, in more ways than one.
Choi went into the final round two shots behind Stuart Appleby. This, as they say, is where it gets ugly. Appleby, the affable Australian with the three-quarters Charley Hoffman hairdo and the close friendship with The Host, came apart in a most disturbing way. It was as if he was opening a set of Chuckie nesting dolls. On the 16th tee Saturday, Appleby discovered a hairline crack in the face of his Bridgestone J33P driver. He had a pair of replacements overnighted for the final round. It was an inconvenience, certainly, but his problems Sunday had nothing to do with a driver.
On the par-3 second, Appleby's tee shot missed the green 39 yards left. He pitched on and three-putted for double bogey to fall into a tie with Choi at seven under. On the fourth he used a hybrid off the tee and knocked it into the left rough, hit a 9-iron into the greenside bunker and made bogey while Choi birdied for another two-shot swing. On the fifth hole Appleby hit a 3-wood into the middle of the fairway, knocked it on the middle of the green and three-putted for another bogey. On the long and difficult sixth, a converted par 5, he drove it in the left rough and had to lay up short of the water fronting the green. Another bogey. On the par-3 seventh his tee shot was 65 feet from the hole. Another three-putt. Suddenly, Appleby was six over through seven holes.
At Augusta Appleby led going into the last round, doubled the first and the 12th and finished T-7. In Houston, trailing by one, he hit his second shot on the 72nd hole out of a fairway bunker and into the water after the eventual winner, Adam Scott, had done the same thing with his drive. At first blush the collapse at Congressional seems worse than either of those--except in suburban D.C. his misery had plenty of company. The rough was deep enough and the greens hip-hop enough, everyone seemed to be coughing up shots. Even the champion.
With Appleby on life support, Choi got to nine under with a birdie on the eighth when he wedged to five feet. This tied the Korean with Stricker, who also had birdied the eighth and was out in three-under-par 32. At this point Choi and Stricker (one twosome ahead) were four shots clear of the field, not nearly enough given greens on which even The Host couldn't buy a three-footer if he had been using Poa annua chits.
Stricker's birdie at the eighth proved to be his last of the day. Choi gave shots back when he three-putted the 10th and missed the 11th green 37 yards left with a 4-iron. While the two leaders struggled, Mike Weir and Jim Furyk clawed their way into contention. At five under , Furyk couldn't convert birdie chances on the 12th and 13th, then three-putted the 14th to end his run. Weir got to six under before an unlucky break--his tee shot on the 13th hung up in the fringe above the hole instead of feeding back down to it--began a three-hole bogey stretch that doomed him.
After Choi's opening bogeys on the back nine, he ran in a 25-footer for birdie on the 12th to get back to eight under par. He bogeyed the 13th with another three-putt then saved par on the 14th after popping up his tee shot and barely reaching the fairway. His 5-wood second carried farther than his drive for a routine two-putt par. Meanwhile, Stricker started visiting Congressional's thick rough and bogeyed the 14th and 15th to drop back to six under . When Choi birdied the 15th with a pitching wedge to 12 feet, he was two clear again and no one behind him seemed to have any game left in the tank. Choi added his exclamation point when he hit his 5-iron into the greenside bunker on the 17th and took the bumpy greens out of play by holing it.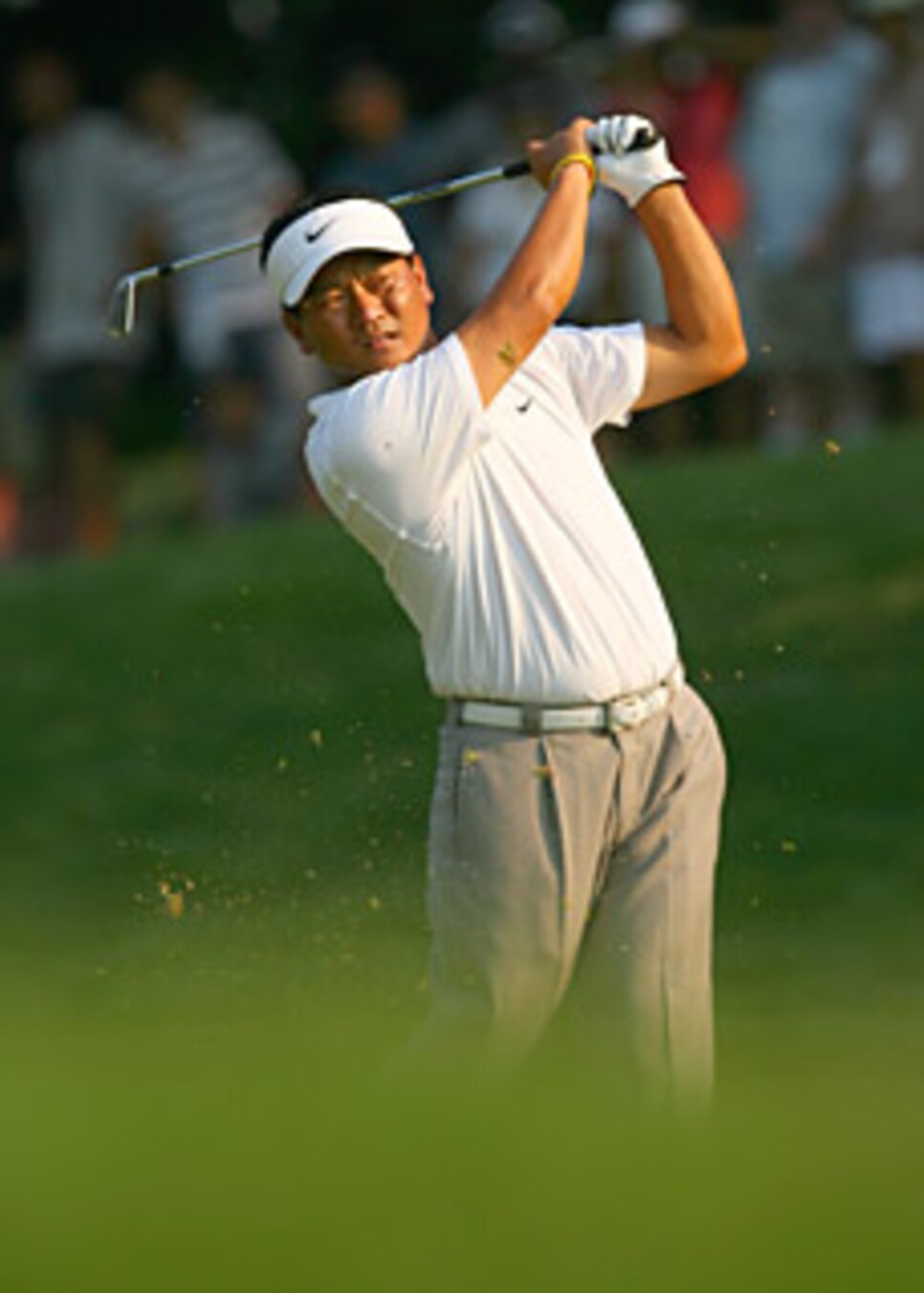 In addition to the ceremonial opening tee shot of the President Bush for whom we are now nostalgic, rarely has the pre-tournament hoopla been as interesting as it was before the start of the AT&T National. To begin with, Woods publicly acknowledged that his wife, Elin, was admitted to an Orlando hospital Thursday of the U.S. Open, a fact that led to an avalanche of sanctimonious palaver. Clearly, however, the Woodses seem selfishly determined to lead their own lives, notwithstanding the fact that everyone else knows better.
Then, in the so-you-think-your-dad-is-hard-to-buy-for division, what do you give the couple that, literally, has everything? Phil Mickelson fessed up that the baby gift he and Amy sent Tiger and Elin was a miniature Ping-Pong table, harking, of course, to the team-room table- tennis matches the pair are famous for. Good heavens, has a sense of humor broken out on the PGA Tour? What's next, a Democrat?
Once shots began being struck in earnest, the attention still remained focused on Woods and Mickelson and the inability of either to make a putt. The left-hander with the gimpy wrist was showing his rust in his first competitive round since missing the cut in the U.S. Open at Oakmont CC. He took 30 putts and never made a birdie in a four-over 74. Woods was even worse on the greens, with four three-putts and 34 total in his opening 73. But, don't cry for him, Argentina.
His Hostness put a piece of lead tape on his Scotty Cameron to combat the syrupy greens and shot 66 the next day. "It's great to see Tiger, who yesterday said he can't putt, find something," joked Billy Andrade. "Most normal golfers, you might go through a funk for six months, you can't find your putting stroke. What did it take him, six hours? So, I'm glad he found whatever he lost there for a day."
Mickelson, on the other hand, went without tape (on his wrist, that is), and nearly took out the Secretary of State. On the par-5 16th, his 2-iron second shot more or less flew over the head of Condoleezza Rice and came to rest under a chain-link fence separating the golf course from the cemetery behind the Hermon Presbyterian Church, circa 1874, where Phil was, for lack of a better term, dead. While Madam Secretary was never in serious danger, Phil's 2-iron was. Mickelson was test-driving it in competition because he thought it might be a good choice for the British Open instead of the hybrid it replaced. Not so much. "I used it off the fourth hole and hit it in the rough and made my first bogey. Then, I tried to hit the 2-iron [at 16] and ended up making double. So, that 2-iron is not going to make the lineup for Carnoustie. It's out." As was he after 36 holes.
The halfway lead was seven under par, held jointly by Appleby and Choi, who also share the same swing coach, Australian Steve Bann. Both had been among the first-round leaders as well, along with Vijay Singh, Furyk and Joe Ogilvie. Choi, meanwhile, was turning heads with his Super Stroker. One of them belonged to Harrison Frazar, who used it last year and, when he took 34 putts the first day on Congressional's greens, slapped his back on, too.
"It's got a name," says Frazar, "but I call it 'Fat Bastard.' "
A third straight round in the 60s staked Appleby to what turned out to be his rather short-lived two-shot lead over Choi. Saturday's date, 7-7-07, didn't prove very lucky for His Hostness, who had almost as good a ball-striking round as he did in the third round at Oakmont with equally discouraging results on the greens, turning, as he put it, "a 63 or 64 into a 69 very smoothly." Instead, Appleby and Choi were being pursued by Stricker, who seems to thrive on the tough venues (see page TK); Weir, who was anxious to earn a Presidents Cup spot in Montreal; and Lucas Glover, who was trying to grab a British Open slot offered to the low human in the field not otherwise exempt, which instead went to Pat Perez. And, the spiked-up greens notwithstanding, The Host always lurketh.
For the AT&T National, the easy part is now over. The imprimatur of Woods guaranteed it would be an event of stature. Securing Congressional for two years eliminated the biggest reason players didn't come to D.C.--TPC Avenel. Tiger's commitment to honoring the members of the armed forces during the week of the July Fourth holiday was a winning strategy in part because it was so genuinely heartfelt. And D.C. loved him back. The town hasn't seen approval ratings like Woods' since Dolley Madison rescued George Washington's portrait. The city voted with its feet, showing up in crowds the size of a '60s demonstration, including a rather large Korean contingent.
So, what's to keep this AT&T from becoming Tiger's version of Bay Hill or the Memorial? Well, for one, Congressional might just take a pass. And, not just in 2009 and 2011, years when it has conflicting USGA events. Had the AT&T not been linked with Woods, does anyone believe the members of Congressional would have been willing to do the flamenco dance of broken promises with the PGA Tour again? After two years of basking in the glow of the world's No. 1, their enthusiasm may wane. If that was to happen, would a retooled Avenel be good enough to suit Woods? One of the big differences between Tiger's event and Arnold's and Jack's is those guys own the joint, or control it, and Tiger doesn't.
Can you imagine Tiger, in his dotage, holding court on the vast Congressional clubhouse veranda shaking hands with the stars of the future, like Byron Nelson did for so many years? Sure. Can you see it at Avenel? Ask the Magic 8-Ball.
The date is also a secondary, though real, concern. The tie-in with July Fourth ideally suits Woods' commitment to honoring the military. However, July in Washington is abysmal, and all the White House dinners in the world won't change that. Plus, it comes at the height of the European Tour season and opposite one of that tour's best events, the Smurfit Kappa European Open. Woods will want all the world's players, not just the Americans.
There is no question, this was a wonderful beginning. But, making AT&T National into a legacy event is far from a foregone conclusion, though the prestige of, and respect for, the only guy currently playing who's in the running for the title, "Best Golfer Ever to Walk the Earth," is a powerful plus. No one has made a living underestimating what Woods can do.
His Hostness can also take some comfort in the fact Nicklaus didn't win the first Memorial, either. Of course, he did win the second. But then, what are the chances Tiger doesn't have that taped to the wall?