The Loop
Greg Norman talks about his future after dismissal at Fox Sports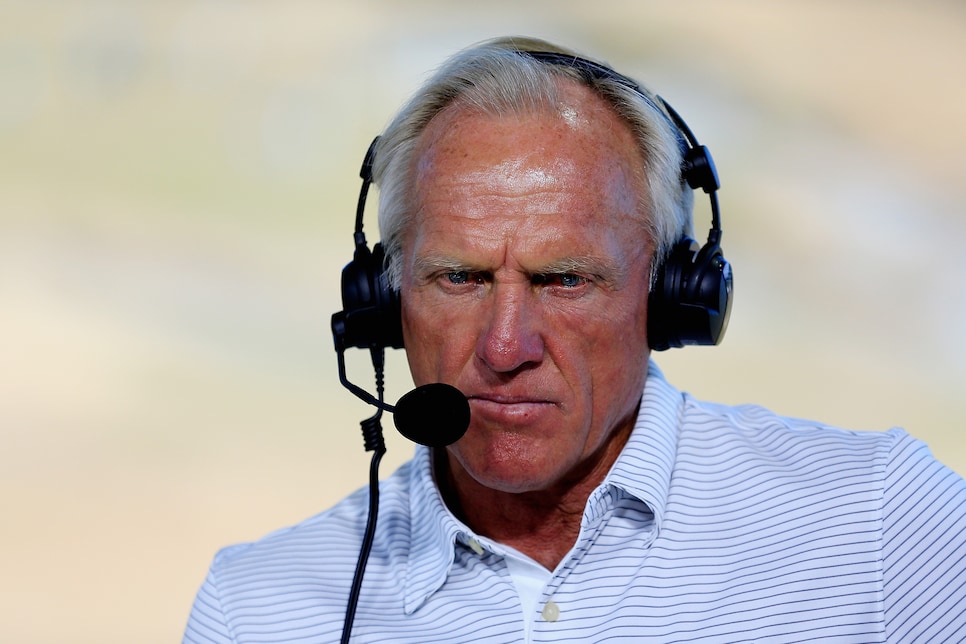 Greg Norman turned 61 last week while on a golf-course design project in Mexico. Asked Saturday morning how he celebrated, Norman said, "I didn't," explaining that he walked out of the restaurant after waiting more than two hours on his birthday dinner. "C'est la vie," Norman said.
Norman has chosen to react to a lot of things that way, especially lately. Shortly after Fox Sports let him go after one season as a TV analyst, he learned that De Mudd, the Medalist Golf Club president who "De-Normanized" his golf course, had resigned from the club.
I caught up with Norman as he drove to the Miami International Boat Show in his black Range Rover. Typical of the Shark, he didn't hold back. When asked what made him more bitter, the revisions by the Medalist president or Fox management, Norman said rather bluntly, "[They're] probably about the same."
"I got nothing but compliments from the right people that knew what's going on. I thought I was handcuffed, to tell you the truth." —Greg Norman
Norman clearly wanted to talk about his Fox dismissal, saying he was "totally broadsided" by the decision and that it was "totally contradictory to what I was told by the USGA, and many others within Fox headquarters and a previous Fox guy that was head of sports."
That reference was to David Hill, a fellow Aussie who in 1994 promised Norman that Fox would televise his proposed World Tour. "I got nothing but compliments from the right people that knew what's going on," Norman said. However, he added, "I thought I was handcuffed, to tell you the truth. There was a lot of stuff I wanted to say, but the final comment they told me [was that] I was too unpredictable. I thought that's what they want you to do in that role."
As he has many times in his career, Norman is showing an ability to bounce back from defeat. Golf Channel is talking to the two-time British Open champion about a possible role in general projects, but not in tournament TV. Asked if he made as much in the Fox buyout as he did with the $40 million he reportedly made two decades ago in Cobra equipment stock, Norman said, "All I can say about the Fox deal was it was paid in full."
Norman is also trying to rejuvenate Great White Shark Enterprises with a new staff of "younger, energetic personnel that are visionaries like I am." He promises the launch of a new company this summer that will be a game changer.
As for his playing career, Norman admits he's pretty much finished putting his game on display other than at course openings (he has 45 under contract and 18 under construction) and exhibitions. In other words, no Royal Troon for the Open Championship in July. He has gotten clearance from doctors after shoulder surgery to chip and putt, which he may do at Medalist under the right circumstances.
"I have been called by numerous members to go back there and have a beer with everybody, to try and get back involved in some degree," Norman said. "The milk out of the bottle has been spilt as far as I'm concerned, but the Medalist will always have a special place in my heart. If the members ask me to come back, I will definitely go back and show my face at the golf club."
Getting face time is a lot of what this is about for Norman—on TV, at the club and with his first two grandchildren, both born in the last 18 months. That birthday dinner never arrived, but as Norman said, "I've got so much other good stuff on my plate."
Editor's Note: This story first appeared in the Feb. 15 issue of Golf World.