Courses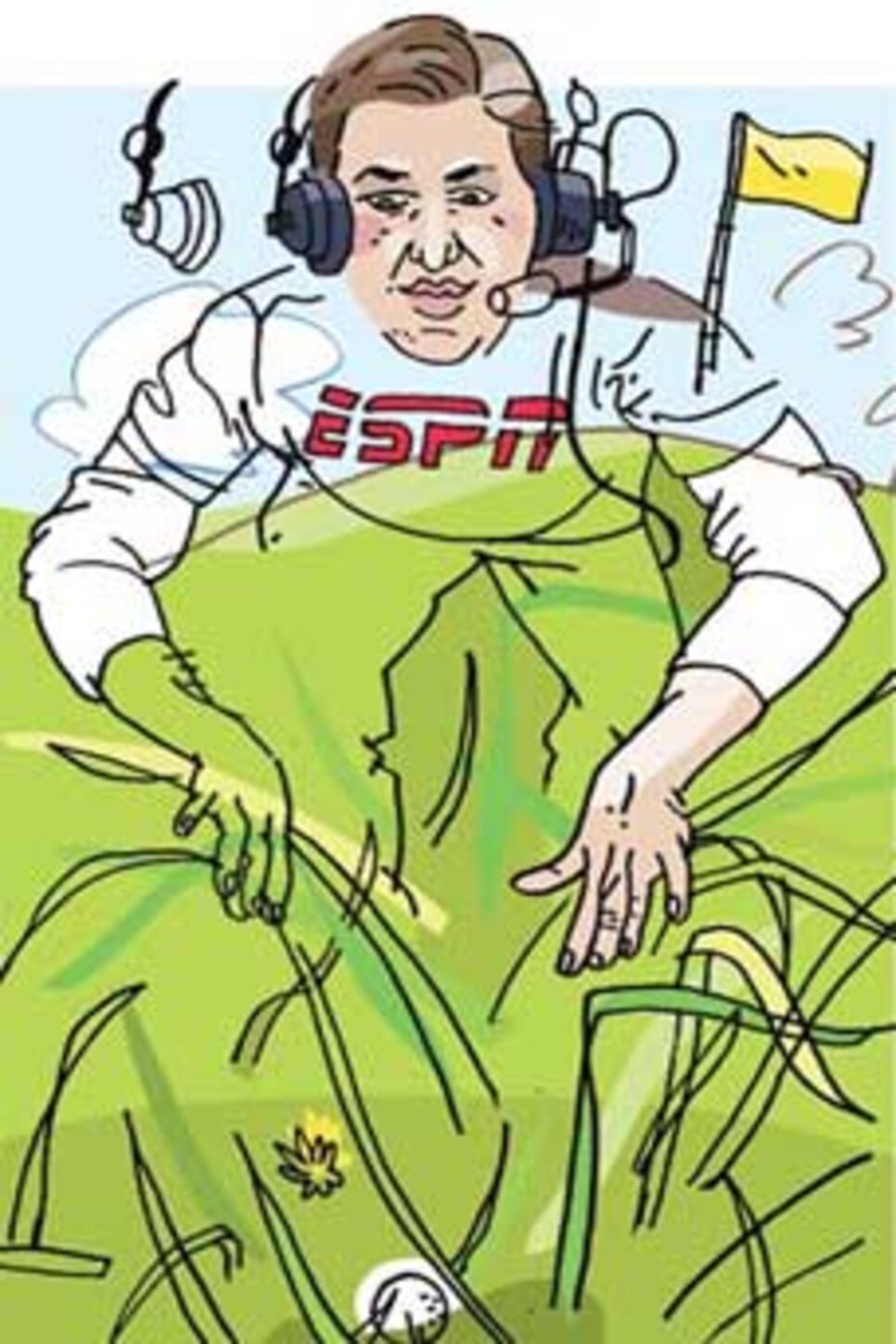 MIKE GREENBERG, 40, is an anchor for ESPN and hosts a talk show on ESPN Radio, "Mike & Mike in the Morning" with his partner, Mike Golic. He is a member of Rolling Hills Country Club in Connecticut and according to the Golf Handicap Information Network (GHIN) he recently shot a 96, 94 and 98.
What was your first memory of golf?
I would say my first golf memory was asking who Arnold Palmer was when he was always on the Pennzoil commercials. When I was a little kid I watched a lot of sports, but I didn't watch a lot of golf, and this guy was always on a tractor. I remember asking who he was, and they said he was a golfer.
What kind of golfer are you?
My USGA Index is 17.5. My goal this season is to get that down to 15, which is a big move, but I got it down from 19.6 at the beginning of last season. I'm just starting the season this year. My one complaint with my father as a parent is that, not only was he not a golfer, but also he was sort of opposed to golf. I was a country club kid growing up. I should have played golf, but my father thought golf was a sport for old men. Not only did he not encourage me to play golf as a kid, but also he discouraged me. I didn't pick up golf until my late 20s, so as a consequence I'm not very good at it, and I find that endlessly frustrating. I list that, and sticking me as a fan of the Jets, as my two biggest complaints with my father. Some day my dream in life is to break 80. If I could list the things I would like to accomplish before I die, the most important ones would be about my family, the next one would be I would like to see a cure for cancer, and right after that I would like to break 80, just once in my life on any golf course.
Your wife says she's a fan of your golf game and the Jets because she needs both to play well for you to be in a good mood.
I made a decision a couple of years ago that I'm not a good golfer. Golf is a game of endless failure and frustration. I was coming home infuriated. I was not enjoying the experience. I was getting so frustrated with my lack of progress that I made the decision: I was going to quit playing, or I was going to force myself to have a good time even when I didn't play well. This is my leisure time, for crying out loud. I have made an effort to maintain that attitude on the golf course. I would say I have done a fairly good job of that. Which is not to suggest there are not still days when I'm not speaking to anyone for a good hour after my round. And the Jets, well, that's just a lost cause.
If you had to give up the Jets or golf, which one would go?
If I could give up either one I would be a lot healthier. I'm an addict, and that's what I'm addicted to-golf and the Jets. I guess, on some level, it's better than being addicted to drugs. I know deep down, there's no way I could give up either one.
If you were going to get one lesson would you go to Hank Haney, Butch Harmon or David Leadbetter?
I think I would go to Dave Pelz because I really need a lot of work on my short game. Everyone says he's the short-game guru, right? I'm never going to be that long. One of my struggles in golf is that if I take a really full swing, if I get the coil you're supposed to have, I have all kinds of problems losing the ball right. It's a pronounced fade, and it costs me so much yardage, so off the tee I'm usually 20 to 30 yards shorter than the players I play with. As a consequence, my 60-degree wedge is my favorite club because I use it on just about every hole. That's what I need help with. If Dave Pelz is the short-game guru, then he's my guy.
Your wife told me she's thinking about playing more golf. Should she take a lesson from you or a pro?
Definitively she should get lessons from anyone but me. She should get a lesson from an infant before she gets a lesson from me. I've discouraged her because golf requires a great deal of patience. My wife is my favorite person I've ever met in my 40 years on the planet, and I'm sure she would agree that patience is not her strongest characteristic. I don't know that golf would be the game for her.
My kids are learning to play, and they like it a lot. I'm ecstatic. I'm not going to make the same mistake that my father made. I'm encouraging them to play a lot of golf. They'll be taking lessons this summer. I am, unfortunately, saddling them with the Jet-fan thing. I didn't learn my lesson there, but they are going to be golfers.
When the weather gets good in the Northeast, your wife has to drive her car to dinner functions because you'll be coming straight from the golf course. Is that accurate?
That is correct. It's one of my favorite things about her. I don't play weekend mornings because that's my time with my kids. I've been working every morning since before my kids were born. I like to have breakfast with my kids on weekends. I love playing late in the afternoon on Saturday. There's no better time to play golf. I love being the last one out there. I'll get there about 5; I'll walk nine holes by myself. I usually do it in an hour-and-a-half. Finish at 6:30, just as it's starting to get dark, jump in the shower and meet my wife at a restaurant at 7. It's perfect.
Finish this sentence: Golf with Golic is like ...
... eating a peanut-butter-and-jelly sandwich with a $1,000 bottle of wine. Golf is meant to be sipped, and Golic is a gulper. I've seen Mike Golic hit a tee shot 350 yards and wind up 700 yards away from the green. That's what you need to know. Golic plays golf with a driver, a 7-iron and a putter. Anywhere besides the tee he's hitting a 7-iron. I once gave him a sand wedge in the fairway and told him to hit it, and he actually hit the ball backward. It went up in the air, and it landed behind him. I've never seen anything like it. He's great to have in a scramble because he can hit it a long way off the tee and he's a lot of fun to play with. He doesn't appreciate the game on the level that I do.
If Golf Digest asked you to write about anything golf-related, what would you write about?
The thing that I find fascinating about golf is the honor. I would write a story about the history of players who have lost events, missed out on getting their tour card, missed out on making a cut, and a variety of other things because they've called penalties on themselves and no one noticed. We saw two examples at the Masters this year. In a time when the sports that I spend most of my time talking about on the air-pro football, major league baseball--which are embroiled in one cheating scandal on top of another on some level, the honor of these golfers who recognize that the game is bigger and more important than they are, that it's more important to play the game right than it is to win, that it's more honorable to lose the right way than to win the wrong way--that is my absolute favorite thing about golf. As I'm getting older, and my kids are learning more about sports, I'm growing to appreciate the honor of golf more, and so if I were to write a story about anything I'd write a story about that. I would send copies of that story to Roger Clemens and to Bill Belichick and ask what they thought about it.
Flipping through the channels, are you more inclined to stop on the LPGA or the Champions tour?
I'm more likely to watch the LPGA, but if golf is on, I'm watching. It doesn't really matter to me who is playing--I enjoy it.
Is Tiger versus Phil a rivalry?
No. Not unless you consider a hammer and a nail a rivalry. There's no legitimate comparison to be made between the two of them, and that's no disrespect to Phil. Clyde Drexler and Michael Jordan was not a rivalry, and Clyde Drexler was a hall-of-fame player. Phil Mickelson is an all-time great who has the misfortune of having the prime of his career coincide with the prime of Tiger Woods' career. I would say no. I love watching Phil Mickelson play, and I admire him greatly and admire all of the stuff he does for charity. The few times I've dealt with him he's been nothing but a gentleman. I don't have any first-hand knowledge of it all, but my sense is, he's not very well liked on the Tour, but I like Phil Mickelson, and I root for him. I don't think it's appropriate to call that a rivalry any more than it would be appropriate to say Andy Roddick and Roger Federer have a rivalry. It would be unfair to Federer, and I think it would be unfair to Tiger. There is no one on the planet right now of whom you could legitimately say they have a rivalry with Tiger. It's not right.
You have a three-foot putt for your life and Tiger is not picking up the phone. Who do you call next?
It's tough to say. There's a difference between guys who are great putters and guys who I think might make the putt with MY life on the line. Let me think for a minute. [Long pause.] I'm going to say Jack Nicklaus. I'll say why. He still tries as hard on every three-footer as he did before--and he'll be the least nervous.
All in their prime--Jack, Tiger and Hogan and you're the fourth in that group--whom do you take as a partner in alternate shot?
Oh my God. I'm not old enough to have seen Hogan, but he fascinates me. I read two great books about him. The owner of the Bears gave me the book, The Caddie Who Knew Ben Hogan, it's a terrific book. There's a great story in it. Hogan was playing at a country club where they were going to have an event that weekend, and the members were walking along and watching him, and he had like a 140-yard shot to a green, and one of the members, a doctor that Ben found pretentious, yelled out, "It's about a 9-iron from there, Ben," and Hogan looked at him, dropped 12 balls, proceeded to hit every club in his bag onto the green from that spot and then just looked at the member, didn't say anything, and walked away. I love that story. I would say I would choose to Ben Hogan and lose to Tiger and Jack.
What was more impressive to you, Tiger's win at Augusta in 1997 or Jack's win in 1986?
It's tough to say. They were both so impressive and so significant for two totally different reasons. I think I would say Tiger because of the historical implications, and because of the way he destroyed the field. I still say Tiger's most impressive win is what he did to the U.S. Open field at Pebble in 2000. It was ridiculous. But I think because of the history of the Masters, and because of the uniqueness of Tiger, the racial and all of the other historical implications involved, I'd probably lean in that direction. But they were both in their own ways remarkable enough. Nicklaus in '86 was something you had to see. That's another great thing about golf. Mickey Mantle could show up at old-timer's day every year, when I was a kid, but he wasn't going to go out and hit a home run against the regular players and win the game. That's the thing golf can give you. Not only is Gary Player at the Masters--he's STILL playing.
Between Jordan, Gretzky and Tiger, who's been more dominant in their respective sports?
Gretzky gets overlooked because you get people who don't care about hockey, but if you look at his numbers and compare them to all of the other records, it's a joke. Tiger may make a joke of the golf record books by the time he's done, but he hasn't yet. I would put Federer in the discussion as well, but if you look at what they've all done, they've taken the question of who is the best player in their sport and eliminated the need to ask. They've put so much space between themselves and whoever is next. There is still an argument whether Tiger is the greatest golfer of all time. I think, by the time he is done, he will be. He has dominated his era every bit as much as anyone has anyone has ever dominated an era in sports to my knowledge, but I think there is still some question if he's the best player ever. I think there is no hockey fan, who's an astute follower of the sport, who would not say Wayne Gretzky immediately when you ask who's the greatest player ever. I think there are people who would name other guys besides than Michael Jordan in basketball. I really do. There are older fans, for different reasons, who would say Bill Russell, Wilt Chamberlin or Oscar Robertson.
Pebble, St. Andrews or Augusta?
I'd like to play Augusta. I haven't played any of the three. Certainly there'd be something appealing about St. Andrews because of the history. And there'd be something appealing about Pebble because of the overall gorgeousness, but the Masters is my favorite event to watch every year on TV. I think there's something very unique and special about the place. I'd like to see it first-hand. I'd like to hit a shot on the par-3 12th hole. I need to play that hole just once in my life and figure out why that par 3 is so hard. You know, the azaleas, everything about it; I love the spectacle of the Masters. If I could play one of the three, I'd play Augusta.
Have you ever played with a professional golfer?
No. I did an event for ABC once. I did the Western Open the year Tiger almost missed the cut. It was the only time I've been inside the ropes at a PGA Tour event and I followed Tiger around one day, and I was with the leaders on Saturday and Sunday, and I enjoyed that so much. You know what I enjoyed the most, was being at the driving range. Just watching them hit the ball, listening to the conversations they were having. I was also at the driving range at the Buick Classic in Westchester. I want to say it was the week before the U.S. Open, and the players were working on stuff for the following week, and listening to the specifics of what they were working on, it was incredible. They're not playing the same game I'm playing. Take the best basketball player in the world, say, LeBron James. LeBron James and I can go out and play basketball. He's a billion times better than I am, but we're playing the same game. Forget Tiger Woods. Take the last guy on the money list. He and I are NOT playing the same game. We're not. I enjoyed watching them hit the ball on the range. I enjoyed listening to the sounds it made when they hit their shot. It was a joy to behold. I admire them so much but no, I have never played with one.
What would you shoot at Torrey Pines the week of the Open?
I'd say I would have a fighting chance of shooting 109. I would put the over-under on me at 109. [Long pause] Let me add to that--I would bet the over.
Of the courses you've played, what's your favorite?
I haven't played a lot of the really famous legendary golf courses. There's a place called the General at Eagle Ridge in Galena, Illinois. It wasn't my favorite, but it was definitely the hardest golf course I've ever played. I remember I was with a bunch of my friends and the ranger came up and said to us, "You guys are going to have to play a little faster." One of my friends looked right at him and said "You guys are going to have to make the course a little easier," which I thought was a great response. I played Butler in Chicago; that was a spectacular golf course. I've played Cog Hill, which was a spectacular golf course to play. Where else have I played? I'm very content to play what some might consider to be not so challenging country club golf. I don't need the rough up to my knees. I don't need a lot of water. I have enough stress in my life so I'm very happy playing the country clubs that I play on a regular basis. I enjoy that game very much. Oh, another one I would mention is Wee Burn, which is in Darien, Connecticut. The Country Club of Fairfield is a spectacular golf course. I'll never forget playing there. There's a par 3 a little over 100 yards, and the caddie told me to play my 180-stick because there was so much wind. I couldn't bring myself to hit a 5-iron, so I hit a 7-iron, which goes about 160, and I absolutely wound up in the water.
I'm told your wife's brother-in-law in Chicago is your golf rival. What's the bet when you play?
We usually play a nassau--front, back and total. It's gotten competitive. We get along very well, we have a great time playing, but I'll admit to once having yelled, in a close match and when he had a long approach shot, his ball was in the air, it cracks us up to this day, I actually yelled out, while the ball was in the air, "BE THE WRONG CLUB!" It was probably the worst act of sportsmanship in my entire life. But to his credit he found it funny.
Do you go on an annual buddies trip?
Not one in particular that I do with the same people. I do go away to play golf with different people but I don't have a regular annual trip.
You're on the road a lot. If you have a noon flight, what time to get to the airport?
I would love to get there at 11:55, but unfortunately in the world we live in, you can't do that anymore. I like to be the first person on the plane. It's not so much a question of when I get to the airport, but when they first announce, "We will begin pre-boarding," I'm on the plane. You know when they say, "We will now start taking people traveling with small children," I'm wedging in front of those people. I don't like standing in any line. I don't like when there's no room in the overhead. I don't like any of that. I like to be the very first person on the plane.
Your wife doesn't share your passion for being on the plane first.
That's why I don't travel with her anymore. She has her own ticket. She gets on the plane when she wants to get on the plane. One time we were coming home from Phoenix and they are boarding, and I want to get on, but she has left me carrying all of this stuff. I had to get all of her stuff on the plane so I could get on early. It was hot, and I was drenched. I don't like to sweat when I'm in my regular clothes. If you ask me my favorite golf weather, I would say the hotter the better. It makes me feel loose, my swing feels better. I love sweating when I'm playing golf, but I do NOT like sweating when I'm wearing regular clothing. I'm drenched, I'm sitting in my seat, I couldn't be more uncomfortable. I actually changed my clothes in one of those horrible little disgusting plane bathrooms because I was so sweated up from this, so that aggravates me a lot. I like to be the first one on the plane and that's why she now has her own ticket.
Your wife reads the gossip magazines for a flight. What's your reading material of choice?
I read Golf Digest, and I'm not just saying that. I've been a subscriber to Golf Digest for as long as I can remember, and other golf publications as well. I love reading about golf during the golf season. What I do is, your magazine comes once a month, and I stack them on my nightstand. Because we have a three to four month dead golf period here, and especially this past year, I didn't get to play in the winter at all because I did this game show, and I was very busy. As soon as the weather gets nice I start reading them. I'm reading the December issue, and my favorite part, without question, my favorite part of Golf Digest is Breaking 100, Breaking 90, Breaking 80, and I love the fact that you now put in Breaking 70, which is a waste of my time, but I still enjoy reading it. I rip out the little pocket thing, with the tips, the brief summary of the tips by Tiger and Annika and Leadbetter. I enjoy reading those.
So tell me this story about your 40th birthday. Your wife was planning a surprise and all she told you is to bring your golf clubs.
Well, I told her wherever we go there better be golf involved. I think she figured that on her own. She didn't tell me where we were going or what we were doing. In addition to be a germaphobe, I'm also a bit of a control person and I felt out of control. As a consequence we weren't speaking for the first two hours of the trip. But in the end, golf was involved, and I was happy with that.
The reason why you wanted to know where you were going is it would affect the way you would pack your bag?
Well, I didn't know if we were getting on a plane or not. So if we are not getting on an airplane, I don't need the schlep the travel bag and it would affect where I pack my shoes. But she wouldn't even tell me if we were getting on a plane. I said, 'Stace, you have to tell me if we are getting on a plane because that will determine how I pack my golf clubs,' and that's how I finally found out we were getting on a plane.
So where did you go and where did you play?
We went to Montreal, and I played two golf courses up there. I played real well. I think I shot an 87 on one of them, and I have never been so happy with myself in my life.
You go to the Caribbean every year for Christmas? What's the draw there?
I like any number of things about it. Last year we went to a resort on the island of Great Exuma in the Bahamas, which has a Greg Norman-designed golf course, and what I like to do there is see how many balls I can lose. When you're in the Caribbean, and it's the same in Hawaii, all the courses are right on the water, and there's a ton of wind. And so it's windy, there's water, that's the only time I will go and buy the cheapest balls they have because I know I'm leaving sleeves on the course on a per round basis. That's the only time I will actually buy the used balls in the big bucket that have been fished out of the water. I take a dozen of those because I know I'm not leaving with any of them in my bag.
You were born in New York and went to school and worked in Chicago. Which city has better pizza?
People ask me that all the time. You really can't compare them. That's like saying, "Do you prefer hot dogs or hamburgers?" The traditional stuffed Chicago pizza, and the traditional thin-crust New York pizza have nothing in common. They're both called pizza, but outside of that they couldn't be less similar. I love both, but I don't use them for the same purpose. If it's going to be dinner, than I love nothing more than a good stuffed Chicago-style pizza with spinach and pepperoni and a good bottle of red wine--it's a spectacular dinner. But there's also nothing I love more, than if you're a little hungry, walking into Ray's Pizza at 6th Avenue and 11th Street and getting two slices and eating them while you walk down the street. They should not be compared to each other. It's like saying, do you like a driver better or a putter better? They're not the same thing.