The Loop
Got an extra $15,000? You could own Arnold Palmer's golf shoes from the 1958 Masters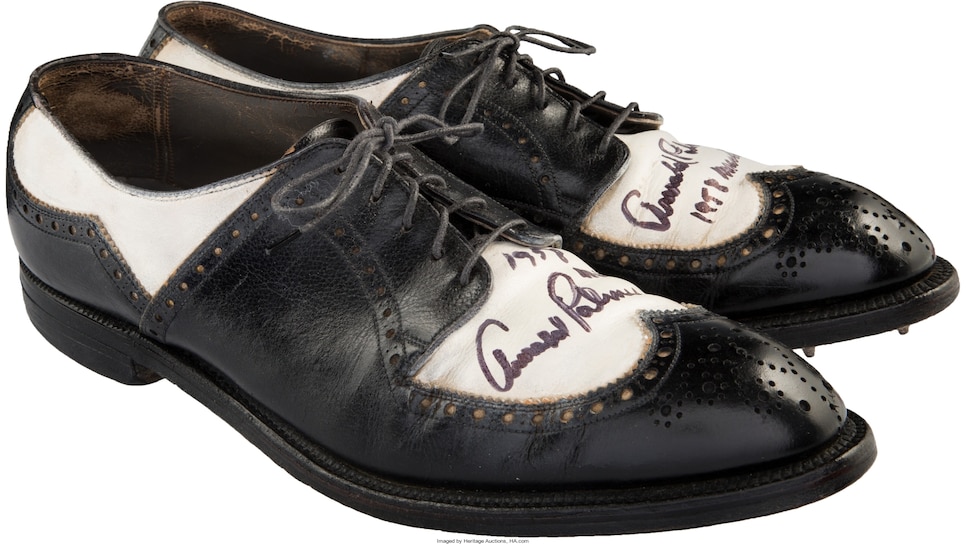 Heritage Auctions, ha.com
In recent years there have been several golf-related items that have brought big bucks at auction. But when the items have been signed by Arnold Palmer, they take on an added importance.
That's especially so in light of Palmer's death last year. Heritage Auctions is offering three Palmer-related items during its Platinum Night Sports Collectibles Catalog Auction on Feb. 25-26 and the items are sure to bring a healthy haul.
Chief among them is a 1974 painting of Palmer by Leroy Neiman, with a worth Heritage estimates is $100,000. Neiman captured Palmer in his trademark kaleidoscopic style. The image, which measures 13.5 inches wide by 23.5 inches high, was used for the cover of the April 1974 edition of Golf Digest and is signed by Neiman in the lower right corner.
The next item is a pair of well-worn black-and-white leather wingtip golf shoes worn by Palmer at the 1958 Masters—the first of his seven major championships. Palmer gifted the shoes to his personal pilot in the 1960s, who passed them down to his son. The shoes' owner and Palmer met up in 2004, at which point Palmer signed the shoes with a permanent marker, adding "1958 Masters" under his signature on each shoe. The shoes have an estimated value of $15,000.
Rounding out the offerings is a poster (estimated value $4,000) of all Ryder Cup captains since 1927 that contains Palmer's signature.