Principal Charity Classic
Good news all around leads Jerry Kelly to his first victory in nearly a year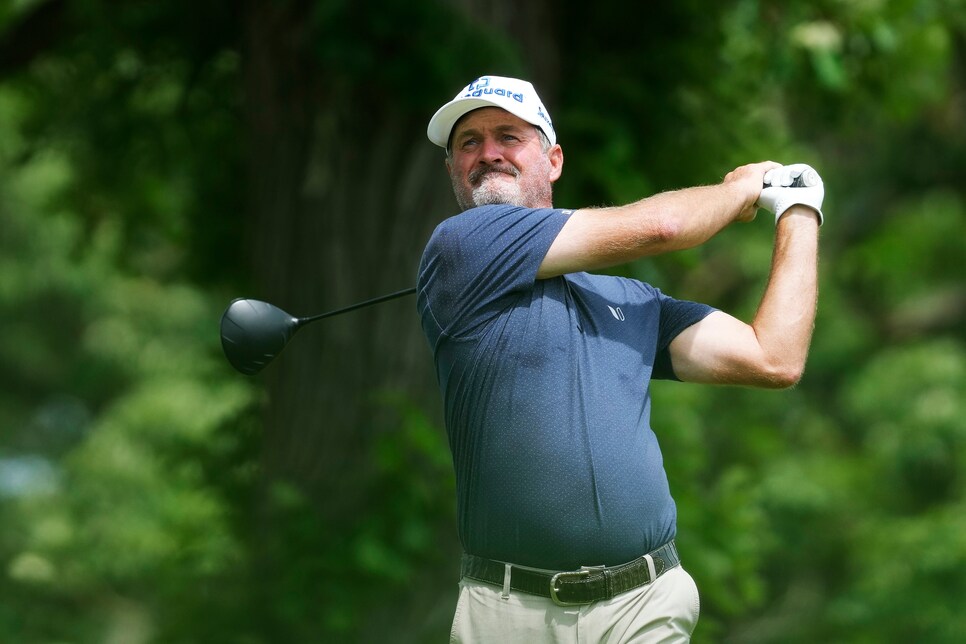 This victory was made possible by friend and family for Jerry Kelly, who rediscovered his game at the Principal Charity Classic and defeated Kirk Triplett on the first hole of a playoff on Sunday.
Kelly, 55, had been in a mild slump, when he received a putting lesson from friend Steve Stricker and good news from wife Carol.
"I had a great [time] with the family in Chicago Sunday night, Monday night, Tuesday night, and Carol got some great news on Friday," he said. "It put me in such a great mood for the rest of week. Life is good. Golf follows.
"Thanks to my man Strick, that putt felt good on the last hole."
Late last year, Carol had had a cancerous right kidney removed, and a strong follow-up report boosted Kelly's spirits. Earlier in the week, meanwhile, Stricker helped him with his putting, and it paid off again a final-round five-under-par 67 at the Wakonda Club in Des Moines, Iowa. He and Triplett completed 54-holes in 18-under-par 198.
Kelly prevailed on the first extra hole, the par-4 18th by stiffing his wedge approach shot, then holing a three-foot birdie putt.
"Steve Stricker gave me the lesson that he's been giving me ever since we played in the Shark Shootout together," Kelly said on Friday. "I don't know, for some reason that setup clicked for the way that I'm now putting. That setup that he's always wanted me in just felt awesome and I could line it up.
"I've never been able to line it up before. I could line it up, I could stroke it down the line and it had such a great roll, so much better. It's the way I used to putt. I know I'm a great putter, but I haven't been putting well."
In his previous four starts, Kelly was never in contention and finished 29th or worse in three of them. Moreover, he had not won in nearly a year, since the American Family Insurance Championship, hosted by Stricker. He will defend his title later this week in Madison, Wis., home to both Kelly and Stricker.
This victory was the ninth of his PGA Tour Champions career. Triplett also was seeking his ninth, but at 60, the number of opportunities he'll have to win again, he admits, are declining. His last victory came in 2019.