The Loop
Good Morning To Golf In Vietnam . . .
I'm getting press releases about resorts and golf courses on a regular basis. Flooded by them, actually. I received this one via e-mail today. I forward it to you with some observations on Trump-like spin:
Montgomerie Links Debuts Practice Facility
A prelude to Central Vietnam's first true golf experience, coming Aug. 1
QUANG NAM, Vietnam (2 July 2008)--Forty-two years after Billy Casper blasted sand shots into tractor tires on China Beach, golf balls are again being struck along Vietnam's Central Coast.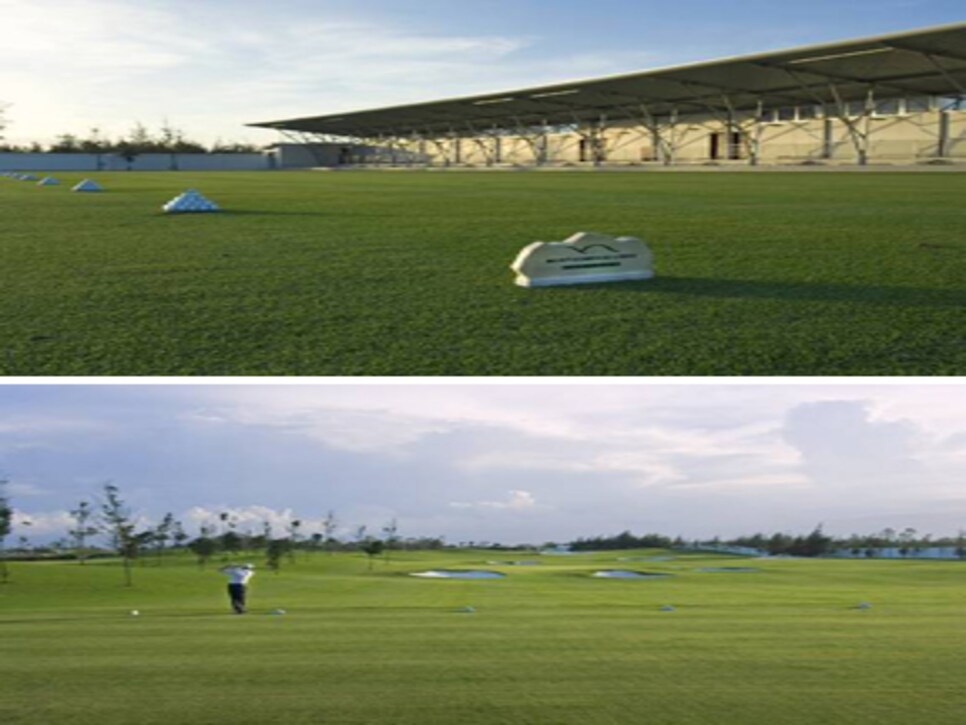 The practice facility at Montgomerie Links Vietnam opened yesterday with 30 covered hitting bays, a 300-meter-long driving range, a 450-square-meter putting and chipping area, a fully stocked pro shop and a chic cafe--a far cry from what Casper, the two-time U.S. Open champion, had to work with in 1966, when he and a U.S. combat colonel played to makeshift targets in this region during a morale-building tour of the country.
OK, OK -- morale is low boys. Set up some makeshift targets and have Billy Casper hit to them with a combat colonel. If that doesn't lift spirits . . .__
"Proper golf has been a long time coming here," said Jon Tomlinson, general manager of Montgomerie Links Vietnam, which is scheduled to open nine of the planned 18 holes for public play on Aug. 1. "From bunker-guarded greens on the range to a creatively imagined short-game area, the facility has everything a player could want in order to get ready for the soft opening."__
Wait, bunker-guarded greens AND creatively imagined short-game area??? That IS everything a player could  want in order to prepare for a soft opening. __
Designed by eight-time European Tour Order of Merit winner Colin Montgomerie, (but non-winner of a major or a tournament on American soil) the course moves over a striking landscape of wispy casuarina pines and sand dunes. Massive greens and rippled fairways are among the layout's Old World features, while lakes and Paspalum--elements missing from classic links courses--provide a touch of modernity.__
You mean to tell me, if I'm in Vietnam, playing golf, I'll be treated to striking landscape of wispy casuarina (???) and sand dunes, massive greens, rippled fairways, lakes and Paspalum grass? Book it. But if there aren't rippled fairways I'll be furious.__
The facility will also include a teaching academy led by certified PGA professionals, capable of training all levels of players through expert one-on-one instruction and video swing analysis techniques. The full program will be implemented by next spring, but components--such as special clinics for groups--are already available.__
What a cool component. A special clinic for a group.__
"Our goal wasn't just to have the first golf club in Central Vietnam, it was to set a new benchmark for world-class golf in Southeast Asia," said Peter Ryder, CEO of Indochina Capital, the project's developer. "With this caliber of practice facility as harbinger, we think it will be that--even before all 18 holes are ready next spring."__
What's that say about Southeast Asia if a driving range, even before the course is open, is the benchmark for world-class golf?__
Indochina Capital has committed $45 million to the Montgomerie Links Vietnam project, breaking new leisure ground in the most promising resort region yet developed in Vietnam.__
"Committed" -- a better word than dumped. I also love this spin: "The most promising resort region yet . . ."
Keep those press releases coming. They lift my morale.