Courses
So You Wanna Take a Golf Trip?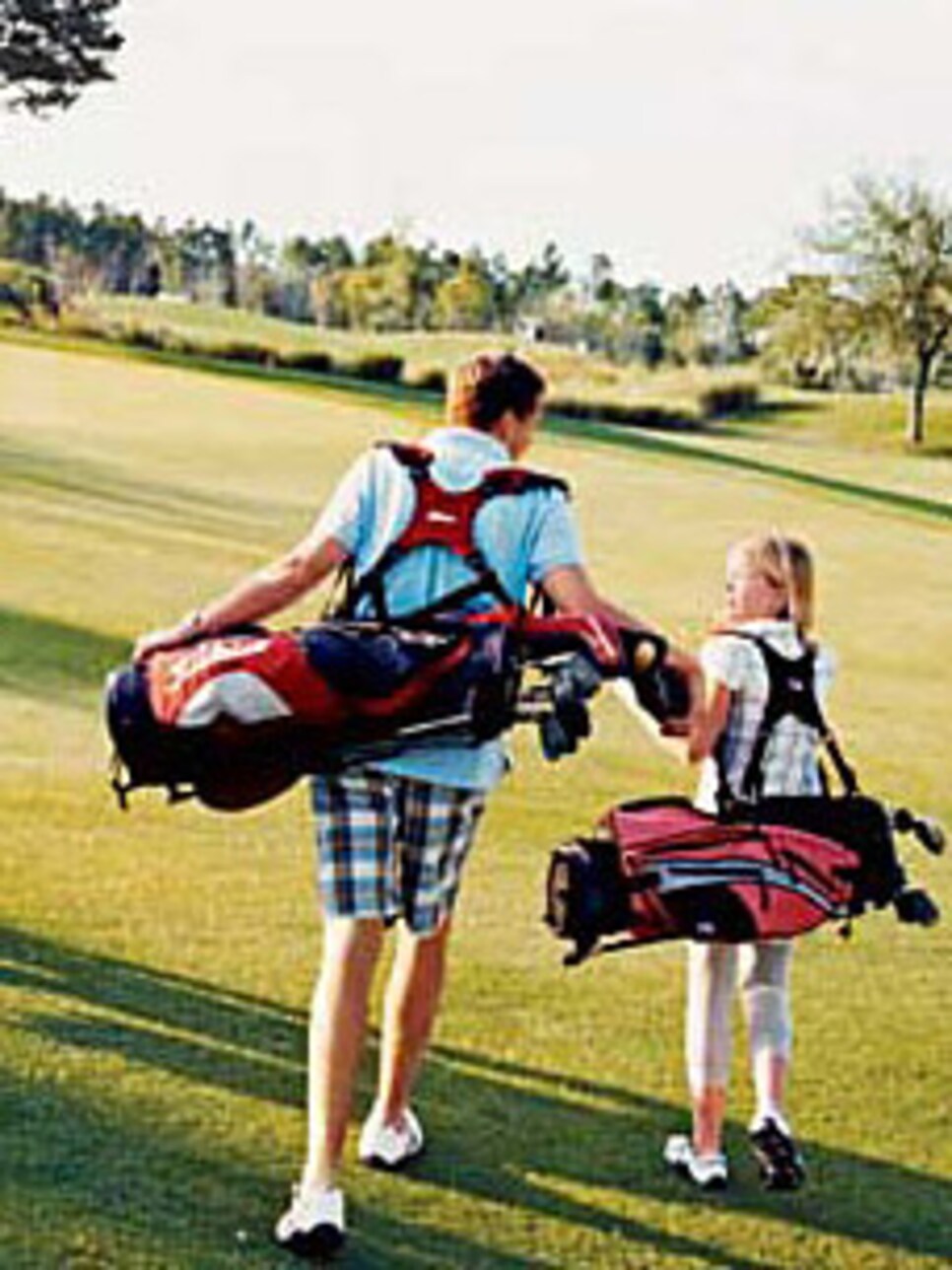 Years ago, before I knew what the Internet was (I still don't, but that's another story), before I had a cell phone (I have one now, but lose it more often than I use it) and before cars came with dashboard computers that can navigate you to any golf course on the planet, my idea of golf travel consisted of a hastily packed duffel bag, a trunk full of golf clubs, golf bag and shoes, a Waffle House pocket guide and a rolled up, nacho-chip-stained copy of Golf Digest's 1990 Places to Play guide.
This was a while ago, mind you. Well before Places to Play became the comprehensive golf tome you hold in your hands now. But even then, which according to the National Golf Foundation was approximately 3,000 new golf course openings ago, that little 16-page volume of course listings and phone numbers and eight-word course descriptions was my Rosetta Stone, my Book of Revelation, my treasure map. Anytime I turned a corner and noticed unusually green grass through a stand of trees, I slowed the car and found the listing for some soon-to-be-discovered pot of golf gold in my rumpled up Places to Play. In it, I would find my way to golf courses I might never have known or seen and, more often than not, never saw again. To me, they became legendary places, not because of their stature or rank, but solely for the good fortune of having found my way to them and then spending four hours or so building a lifetime of memories. There was that November afternoon playing Penn National's original 18 in a snow squall, that January side trip that led me and a buddy to a sporty Pete Dye municipal course in High Point, N.C. (Oak Hollow, green fee: eight bucks), that lonely Fourth of July when I stumbled upon the Lewisburg (W.Va.) Elks Country Club and that Christmas present trip my dad and I took to Sea Trail Plantation in Sunset Beach, N.C., where we sang country songs and alternately navigated by way of the Waffle House guide and Places to Play.
Though I still prefer to travel the old way, it is not the method I'd recommend. In fact, that's why I went to some golf travel planners, people whose job it is to figure out what works and what doesn't on a golf trip. Keep their thoughts in mind when that old golf wanderlust starts to kick in. Plan accordingly, certainly, but stick that copy of Places to Play in your glove compartment or carry-on luggage. You never know when some green grass might catch your eye and lead you to your own new promised land.
These are what I like to call the emergency nine of golf travel advice.
__1. Information.__We live in the information age. The Places to Play guide is testimony to that fact. It took the Internet, the reach of the world's largest golf publication, a squadron of editors and a team of computer programmers to get this information in your hands. Your job is to use it. There is more information available about golf courses and golf resorts than ever before thought humanly possible. If you want to know what kind of sand they use in the facial scrub mixture at the new spa at Pinehurst, you can check out their website for all the details. If you want to get your hands on a Whistling Straits yardage book before you actually arrive at The American Club, you can call the resort's toll-free number and have them send you the glossy picture book overnight. If you want to read up on the 10 best resorts in Northern California, you can go to your local bookstore and buy at least one volume on the subject, maybe two. The point is, don't simply acknowledge that this information is out there, consume it. It helps you decide whether Myrtle Beach fits your needs better than Palm Springs. It helps you find the best deals and the type of courses you're looking for. Most importantly, it gets every aspect of your trip straight in the collective mind of your group. And that's an often-overlooked essential, whether you're planning your own trip or going through a travel planner.
2. Timing/scheduling. There are only two crucial aspects involved in planning a golf trip: When and where. This sounds easy; it's not, especially when you're talking about a first-time trip. I know a group that goes on two trips a year, and they haven't had an excursion yet that didn't require at least four conference calls and 45 e-mails. And they all work in the same building. Here's the simple solution from John Yaker, vice president of sales and marketing at Pam's Golf Getaways: "Plan the trip before you call the planner, then call the planner to put together the package, then go. It doesn't have to be any harder than that." A good trip packager will provide you with everything you need from transportation to accommodations to driving directions and restaurant advice. The key is understanding what experience you're after. Mike Ryan of Golf Destinations says there are some basic questions that need to be settled before you make any calls: "Do you want a stay and play resort with golf on premises or a hotel and golf package that includes play at daily fee courses around the area? If it is a golf-around package, how close do you want the golf courses? What caliber of golf are you looking for?" Finally, remember what your budget is and factor that into the timing of your trip. Discount prices during the shoulder seasons at the popular destinations may give you an opportunity to play at some places outside your budget. Figure out when and where. The how -- that's where it gets interesting.
3. Simpatico. Mark Twain once opined, "I have found out that there ain't no surer way to find out whether you like people or hate them than to travel with them." A golf trip involves a lot of time spent not playing golf. Perhaps you have learned to tolerate your pals on the golf course because you don't have to spend a lot of time talking to them. That's not an option on a golf trip, when you are surrounded by these same guys every waking -- and sleeping -- hour of every day. Snoring, which can make for some great grill room laughs during the day, can put some people in homicidal rage, especially when they're working on their third night in a row without some decent shuteye. To avoid old friends becoming new enemies make sure the size of your group is healthy (always equally divisible by four). Generally speaking, those who know suggest eight, but if that seems a bit ambitious, be comfortable with four. The joy of a larger number is that it allows for breakout groups that provide a natural release valve to potential tensions. The other thing to remember with your group dynamic is to make sure that it is dynamic. Hand out assignments, whether they be meal procurement, driving duties or social direction. The real benefit of having a specific duty for each member of the team is that while it splits up the workload, more importantly, it forces the group to depend on each member for some aspect of the experience. It's what the young kids call team spirit. And whatever you do, find someone who has people skills straight out of the Norman Vincent Peale playbook.
__4. Trip content.__Life's Little Instruction Book suggestion No. 399 reads, "Focus on making things better not bigger." Translation: mandatory 36-hole days are only a good idea when everybody in the group thinks so. Let's play two is a fine sentiment if you're dealing with a room full of young Ernie Banks clones. Some of us, however, aren't as young as we used to be. We like a leisurely breakfast, a chance to linger over the morning paper, perhaps, or maybe just to sleep in. We prefer to let others warm up the golf course for us, so that at a reasonable hour, we can approach the first tee in much the manner of one of those prime time U.S. Open pairings. So maybe we don't belong on your golf trip. The key is to set the ground rules early, probably even before you decide when and where you're going. Be prepared to be a little flexible in your schedule. Maybe leave a morning or afternoon open to see something like the Hockey Hall of Fame and the World's Largest Hockey Stick in Ely, Minn., before you tee it up a few miles down the road at Giants Ridge in Biwabik. State the mission clearly from the outset, and everyone will be satisfied.
__5. Gamesmanship.__Donald Ross, whose American home, Pinehurst, became the foundation for the golf travel industry we know and love today, was not an especially jocular fellow. He once said, "I used to be apprenticed to Old Tom Morris at St. Andrews. Old Tom used to say, 'Why make a horse race out of a grand game like golf?' I've always felt that way, too. Golf is too good a game to go out for gambling purposes. You go out for the enjoyment of the game and the company, and not for the money which you may win at it." Well, old D.R. might have known a thing or two about elevated greens and cross bunkers, but he would have been about as much fun on a golf trip as castor oil is on pancakes. The key to any golf trip is playing games, whether you've got three guys playing eight rounds in four days, or 10 couples on a weekend getaway. And while the obvious contests are always good, it doesn't hurt to mix in team events, and oddball games like Wolf and blind partner games. Money isn't the issue here, either. Find a comfortable sum to play for and then have the winners buy the losers drinks afterward. I know a group that takes a trip every year with eight guys. They play for an old tin cup that looks like it might have been a used spitoon in its heyday. The Ryder Cup should have so much intensity. It also should have so much good feelings on both sides at the end of the day. It's the competition and the smack talking before and the laughs afterwards that should be as much a part of any decent golf trip as delayed flights and lost hotel keys.
6. Serendipity. Charles Kuralt, the late CBS newsman and storyteller was the model traveler, mainly because every day was an adventure for him. He welcomed the unexpected, even searched for it, and made a great point when he said, "Thanks to the interstate highway system, it is now possible to travel across the country from coast to coast without seeing anything." It is tempting and convenient to stick to the package deal, the famous courses that everybody knows about because of their big marketing budgets, the full-service, amenity-laden resorts. (Frankly, you should visit all of these places at least once because they are the best. Places like Pebble Beach, Pinehurst, the American Club, the Cloister at Sea Island, the Greenbrier and the Homestead didn't become famous because they have recognizable logos. They know what you want and generally they get it for you before you ask. We like that.) But, you have to allow room for the unexpected. That's why sometimes you have to turn left when the itinerary says go right. The quick nine at the end of the day at the nine-hole Great Dunes Course on Jekyll Island might end up being the highlight of your trip. Planning is crucial, but deviating from the plan just slightly is almost as important.
7. Golf trip anxiety. A travel writer I know once remarked, "Most travel is best of all in the anticipation or the remembering; the reality has more to do with losing your luggage." The reality of golf trips is that they are a lot like the game itself. You know that perfect drive that ends up in a divot? That perfect iron shot that hits the flagstick and bounds 25 feet away from the hole? That perfect putt that hits a spike mark six inches from the hole? Golf gives us these sorts of disruptions, just to remind us that we can never master this game. Well, golf trips can produce their own hiccups. Somebody's golf bag doesn't make the trip. Somebody gets bumped from his flight. It rains. Hard. The key is to be light on your feet. If you don't trust the airlines, try shipping your clubs via an overnight service dedicated to golfers like ShipGolf. Or revel in the opportunity to play a slick new set of rental clubs. Many of the top golf resorts have outstanding rental sets. Missed flights will happen. One solution is to avoid scheduling a tee time for the minute your plane touches down. Travel the afternoon before and get in an hour on the range, a good meal and a good night's sleep before the games begin. And, of course, bring a rainsuit. Always. Some of the latest golf travel packages include optional "rain insurance" that refunds money spent for a round that never happens. It's not as good as guaranteed sunshine, but it gives you peace of mind, if that's important to you. But again, be willing to adjust. Expect uncertainty. Don't go to Scotland and expect 70-degree windless days. Don't go to Palm Springs in July, and be all hot and bothered after skipping the sunblock and getting a third-degree burn on the back of your neck. As Dr. Bob Rotella, the famed sports psychologist, says, "thinking badly won't help you play better."
8. Transportation. Yogi Berra always knew what he was talking about. Nobody else did. Nevertheless, his understanding of the importance of good directions was pretty clear. "You got to be careful if you don't know where you're going," he said, "because you might not get there." A golf trip is all about getting there. It is also a good deal about getting there well ahead of time. That means calling the pro shop in advance to get directions, calling the resort in advance to get directions, calling the rental car company to make sure you've got the right size car. This last point is very big, and it's a big mistake a lot of golf trippers make. Efficiency outweighs style in this department every time. As travel expert John Yaker reminded me, "It may not be very macho to rent a minivan, but you get four golfers and eight bags together and all of a sudden that Lincoln or Cadillac can look pretty silly."
9. Details. More than 200 years ago, a storied traveler came up with the definitive advice for anyone going on any excursion. "When preparing to travel," this sage explained, "lay out all your clothes and all your money. Then take half the clothes and twice the money." The tendency for golfers is to overpack. This is why golf bag travel covers tend to be so bulky. Resist the temptation to pack three changes of clothes for each day of your trip. Nevertheless, it is important to be prepared. Always call the courses a few days before you leave and make sure they'll all be playable. For one, it's reassuring if they are. If they aren't and they tell you, you still have time to alter your itinerary. And if they aren't and they say they are, then you've got a legitimate gripe and grounds for a refund. Make tee times. Sounds easy, but it sometimes gets overlooked. Not only that, make sure you have documentation so you know that Tuesday is an 8:39 tee time, not a 9:38. Again, this can be one of the major benefits of going through a trip planner. They'll take care of the itinerary and the details. They'll often also get you better rates than you could on your own. Because they tend to do a lot of business with the courses and hotels in a resort area, they are less likely to be taken for granted. If you go on your own, you may not be operating from as strong a position as you'd like.
The benefit of preparation is that it eliminates future discomfort. In short, it saves you and your buddies from turning into whining existentialists. I think Wittgenstein was three hours into a golf trip to Phoenix when he famously remarked to his foursome, "I don't know why we are here, but I'm pretty sure that it is not in order to enjoy ourselves."