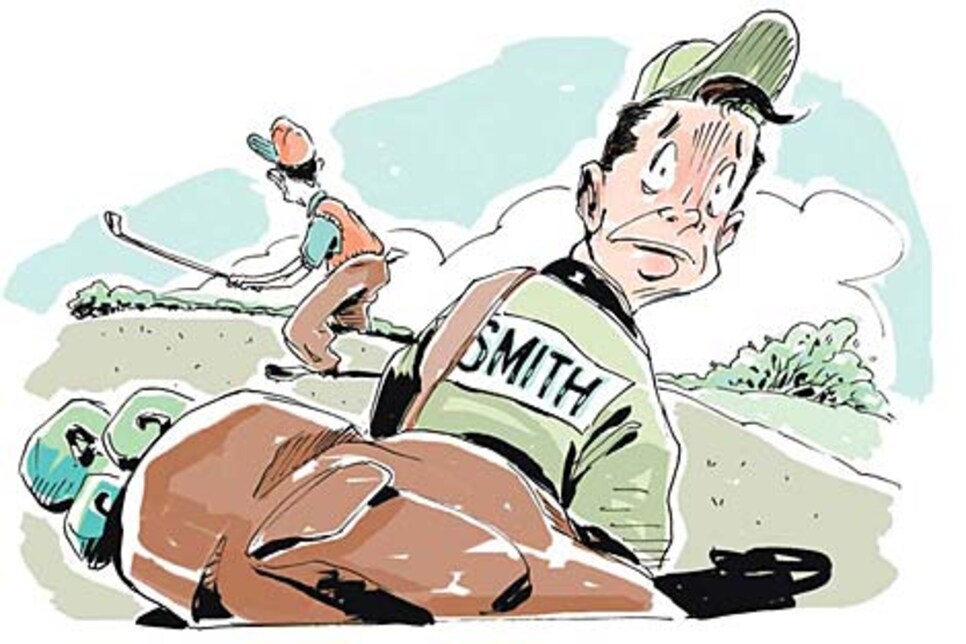 Q: A friend just broke 100 for the first time. I read that this is something only 20 percent of all golfers ever do. Any truth to that? --Becky Krakowski, Dayton, Ohio
A: Not true. At least half of all golfers in America have broken 100. On average, 5 percent shoot in the 70s, 20 percent in the 80s and 27 percent in the 90s. The average score in America in 2005 was 98.3. So breaking 100 is, well, pretty average. It's a significant milestone (especially if you do it under U.S. Open conditions--see the Golf Digest U.S. Open Challenge). But there are more important ambitions in golf beyond scoring goals. Here are the things The Golf Guru recommends every golfer do at least once, if not this year, then in a lifetime: Go on an all-golf, 36-a-day, no-spouse buddies trip. Get an autograph of a player you admire. Go to Pebble Beach. Play cross-country golf with friends on your home course on a deserted winter's day--the winner of each "hole" gets to nominate the next one. Play in a pro-am. Late on a still summer's evening, play a round on your own, taking your time and concentrating fully on every shot. Get your name on the wall of a clubhouse somewhere. Play a hole one-handed. Go to St. Andrews. Acquire a golf painting. And a really old golf book. Play 18 holes in atrocious weather, refusing to walk in despite the downpour. Hit a ball off the edge of a cliff or a ship directly into the sea. Take some lessons with a good pro. Hit the green on the 17th at TPC Sawgrass. Watch Tiger hit a shot, in the flesh. Win a trophy. Make a hole-in-one. Shake Arnie's hand.
Q: I just made a bet with a friend that Sergio Garcia will win a major in 2009. Am I throwing my money away? --Herbie Perez, Miami
A: You can't always get what you want, noted philosopher Mick Jagger advised many years ago. But, he added, if you try some-times, you just might find, you get what you need. This applies to Garcia's career. His crushing defeats in major championships--14 top-10s so far, no cigar--were not what he had in mind, but they might have done him the power of good. They have made him tighten up that looping swing. They've made him work harder, get better, be stronger. They've made him grow up and start to shed a deeply unattractive woe-is-me petulance. Important lessons have been learned. After 10 years as a pro, his time might be now. So although The Golf Guru cannot see into the future--nor, of course, condone gambling activity--I, too, predict at least one major in 2009 from this still-not-yet-30 Jumpin' Jack Flash. And many more to come.
[Ljava.lang.String;@7f548af4
How To Store Your Golf Balls
The modern, solid-core golf ball might be one of the most resilient engineering feats in polymer chemistry. It can withstand the impact of a driver at 120 miles per hour and the shearing collision of a wedge. So even if you store your golf balls in the trunk of your car during the off-season, chances are good they'll perform like new months later.
"Golf balls can lose about one yard in distance a year," says Steve Ogg, vice president of golf-ball research and development for Callaway.
Ogg says moisture getting into the core is the reason, and of the two types of golf ball covers (tour models with urethane blends and distance balls with Surlyn blends), those with urethane covers can be more susceptible.
"Moisture causes the core's compression to rise and the ball's coefficient of restitution to drop, resulting in less resiliency," he says.
Our advice: Store your extras in a cool, dry place. Like maybe your wine cellar.