Moore Scores His First PGA Tour Win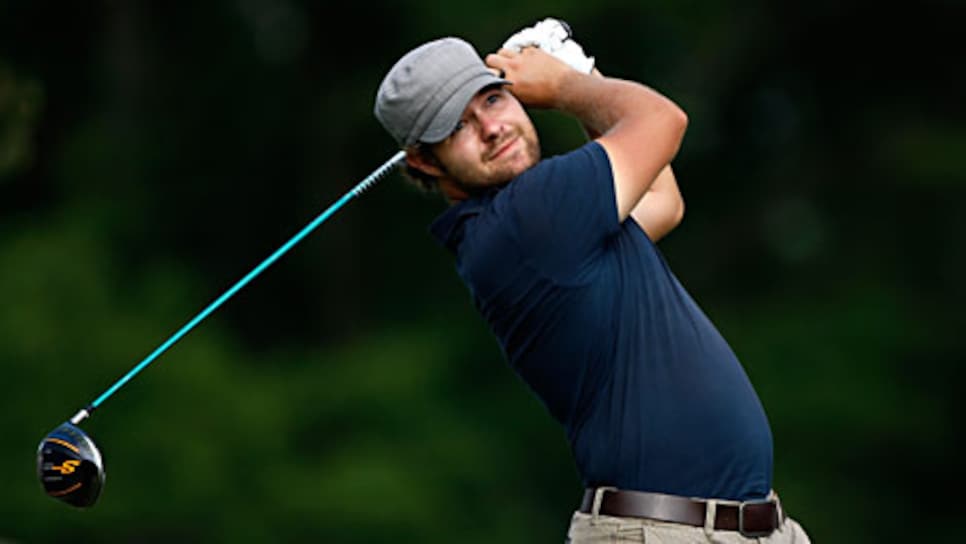 moore's five consecutive birdies on the back nine gave him a chance to contend for the title.
GREENSBORO, N.C. (AP) -- Ryan Moore won for the first time on the PGA Tour with a birdie on the third hole of a sudden death playoff to beat Kevin Stadler on Sunday at the Wyndham Championship.
Moore -- who vaulted up the leaderboard with five consecutive birdies on the back nine -- had two chances to seal the victory after his approach on No. 18 landed in the middle of the green and rolled to 6 feet. He sank that putt for his first victory in his 112th event.
Stadler's second shot on the third playoff hole skipped off the back of the green. He chipped within 20 feet, but his putt drifted to the low side of the cup.
That cleared the way for Moore to pick up $918,000 and 500 FedEx Cup points for winning the final tournament before the playoffs start later this week.
Stadler, Moore and Jason Bohn forced the playoff after they were tied at 16-under 264 through 72 holes. Bohn was eliminated on the first playoff hole after he had trouble escaping the greenside bunker on No. 18 and his first shot rolled back into the sand.
Sergio Garcia blew a three-stroke lead midway through the final round, shot a 70 and finished at 265. Michael Allen (68), Kevin Sutherland (66), Fred Couples (67), Brandt Snedeker (68) and Justin Rose (68) were at 266.
Moore and Stadler each could've avoided the playoff, but both bogeyed No. 18.
Moore sailed his drive near the cart path. His second shot bounced into a bunker and -- after a remarkable bunker chip to 8 feet -- his short par putt bent left around the hole. The younger Stadler's third shot landed on a hill behind the green but rolled back to 8 feet from the flagstick, but he left his par putt about 6 inches short.
Moore shot a 65 in the final round and had five consecutive birdies on Nos. 12-16 in moving to 17 under. Then, he headed to the driving range while Stadler finished a final-round 66 that included back-to-back birdies on Nos. 14 and 15.
Bohn -- who started the round seven strokes off the lead -- had a 62 that was the best round of the day. He followed birdies on seven of his first 14 holes with an eagle that pushed him to 16 under, grabbed the lead with a par on No. 16 and didn't miss a green until No. 17.
Stadler was attempting to join his father -- 13-time PGA winner Craig Stadler -- in winning in Greensboro. The elder Stadler cruised to a six-stroke victory in the Greater Greensboro Open in 1980.
The participants in the playoff had combined for one previous victory on Tour: Bohn's win in the 2005 B.C. Open.
Garcia could have joined them in sudden death, had he holed a 35-yard bunker shot on No. 18. His chip rolled within an inch of the cup.
Fittingly, a tournament that had trouble getting itself started seemingly didn't want to end, either.
Play stopped and started three times during the first three days due to lightning and heavy rains. The combined 9½ hours in weather delays meant none of the first three rounds finished before sundown, forcing players to return to the Donald Ross-designed course at Sedgefield Country Club each morning to finish their rounds.
For a while, Garcia's eighth PGA Tour victory seemed a near-certainty. He started the final round sharing the lead with Chris Riley at 15 under before building his three-stroke lead midway through the round, moving to 18 under through seven holes after three consecutive birdies.
Garcia has held at least a share of the 54-hole lead seven times in his career but has just two wins to show for it. He had three bogeys in a five-hole stretch between Nos. 8-12 to fall back.