News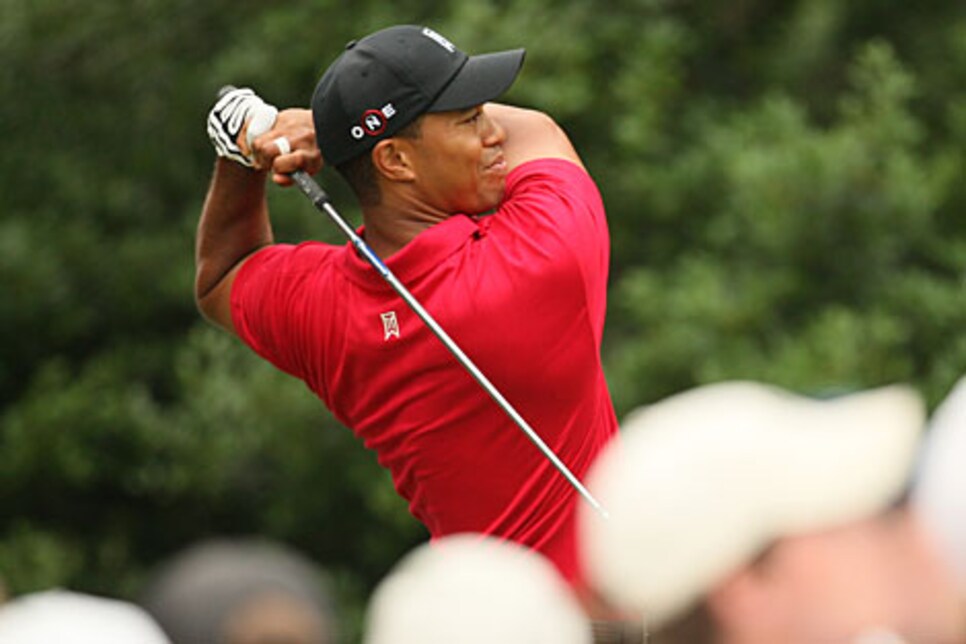 taking care of business: A huge gallery turned out for the final round to watch Woods methodically shoot a 67 and turn back his younger challengers.
Ten years from now, or even in 10 months, Tiger Woods' 68th PGA Tour victory is unlikely to pack any particular historic relevance. He didn't make a 16-footer at the buzzer by the light of the moon, as was the case when he won at Bay Hill in March. He didn't need to go 91 holes on a torn ACL and microfractures in his shin, which made last year's U.S. Open triumph the ultimate testament of Woods' toughness and willpower.
He beat Hunter Mahan by a stroke with a 13-under 267 at the ATT National, an event that exists primarily because Woods is the tournament host. Since this was the first time Tiger actually presented a trophy to himself, ground was broken, but as big deals go, that ground amounted to a patch of small potatoes. All three of Sir Eldrick's 2009 victories have come at invitationals with legends on the box cover—Arnie, Jack, himself—in his final start before a major. Again, this would mean something if Woods had won at Augusta National or Bethpage.
So there have been bigger Ws, more dramatic Ws and more timely Ws. At Congressional CC on Fourth of July weekend, the significance was subtle, the statement delivered without an exclamation point, the context provided by the two guys who finished immediately behind him. After five years of stops and starts, Mahan has made it abundantly clear he is ready to become one of the game's best young players. A final-round 62 (matching the course-record score posted by Anthony Kim three days earlier) on a U.S. Open venue with nearly every pin set on danger's edge? You must be kidding.
If it wasn't the round of the year, it was the best round nobody saw coming. "I certainly didn't see that score out there," Woods said of Mahan's eight-under Sunday. "I birdied the 10th and had a three-shot lead, make one bogey, then all of a sudden it's tied. I'm like, 'What the hell happened?' "
What happened was Mahan took a blowtorch to the old ballyard. He hit 16 greens in regulation and made six birdies on the back nine, more than anyone in the final seven pairings made all day. You have to look long and hard to find anyone who drives the ball better than the sleepy-eyed Texan, and though he has always been poor around the greens— Mahan is one of the poorer chippers on tour—there are a lot of days when that doesn't matter. Especially in the last month.
In a four-start stretch that began with a T-14 at the Memorial, Mahan has finished higher each week. He was in the thick of the Monday mix at Bethpage before ending up T-6, went 63-64 on the weekend in Hartford (T-4), then made Woods sweat all the way home last Sunday. Tiger's 20-footer for birdie at the par-5 16th proved to be the difference, a putt that found the mark just as Mahan arrived on the range to prepare for a playoff that never happened.
The dude has made a few of those over the years. "I grabbed something to eat and was watching with Elin [Woods' wife] and their kids," Mahan said. "He missed [a birdie attempt] on the 14th, and I yelled, 'Yes!' in a joking manner. It was funny because you usually don't see him miss putts."
Tiger spent the day with Kim, with whom he shared the 54-hole lead. As final pairings go, this was the sexiest matchup of the '09 season, a fitting treat for the massive galleries that turned out for the third edition of this tournament. Every hole on Congressional's front nine was surrounded by thousands of spectators, something you never see on the PGA Tour, the humanity so thick you basically had to park somewhere to see anything, then skip a couple of holes and hope nobody was following you.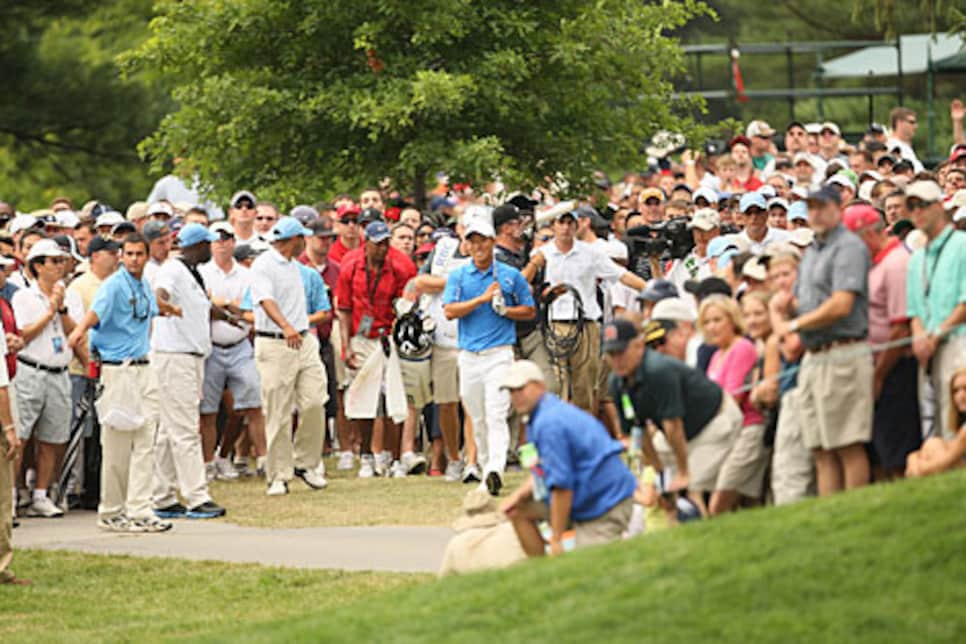 Sunday's official attendance was 43,936, and this wasn't one of those inflated totals, either. Children 12 and younger were admitted free all week. Kids that age might account for 5 percent of the population at a normal tour event; it had to be 15 or 20 percent for round four. Bethpage was caked with mud and dirty language. At the ATT National, D.C. stood for Dry and Clean.
Kim's first date with his boyhood hero started in grand fashion—a 335-yard drive on the opening hole and a flip wedge to a foot. He led Woods by a stroke on his way to the fifth tee, where he high-fived fans on the walk back to the markers, and apparently, the golf gods did not approve. Kim missed left and made a bogey, missed further left at the sixth but salvaged a superb par, then missed a four-footer for par at the eighth.
Woods had on his game face in the player parking lot and never bothered to take it off, although it didn't seem to bother AK. "He was comfortable," said caddie Eric Larson. "He kept himself in position all the way through the back nine." True, but once Kim fell three behind, he was unable to trim the deficit to less than two, and you never got the sense he would make a charge.
The final gap was four strokes, good for a solo third, Kim's first top-10 in six months. He may be a better all-around player than Mahan, and if the two aren't America's best twentysomething golfers, it's only because Lucas Glover just won the U.S. Open. Kim still has a way to go before he reaches the game's top competitive tier, however, his biggest problem being that a player with a left-to-right ball flight shouldn't be missing so far left so often.
"I started to figure it out," was his lament. "I felt like on Friday, I found a way to recover, but I still wasn't really comfortable. I know I can play at the highest level. I feel like I'm one of the top players in the world. I just need to go out there and take care of those careless mistakes. I have to get better in my decision-making and improve my putting a little bit."
That takes us to Woods, whose ability to minimize damage is one of his most valuable strengths, although it really wasn't necessary this time. Tiger continued to drive the ball long and straight, his surgically repaired left knee fully healed, and though his putting was no better than average at Congressional, his mediocre days are still as good as everyone else's best.
In the heat of battles such as Sunday at Congressional, it is almost as if Woods, who closed with a 67, just waits for the other guy to crack, which Kim did. Tiger kept a considerable distance between himself and his foe when walking off every tee box. No conversation was exchanged between the two, who are fairly close, which was an obvious departure from a day earlier, when Eldrick Almighty offered Rod Pampling a mid- to high-five after the Aussie made a curling bomb midway into the back nine.
Intimidation? "Well, I'm 6-5 and 250 pounds, you know," Woods cracked, as if he'd been waiting for a chance to use that line. "You go about your business. You can't physically influence somebody like Fed [Roger Federer] did today."
Despite the usual pre-round tunnel vision, Woods did manage to keep track of his tennis buddy's pursuit of a record 15th major title in the Wimbledon final against Andy Roddick. Federer finally dispatched of Roddick while Tiger was on the range, and within minutes of hearing the outcome of the epic match, had sent "Fedsy" a text message. You know Tiger's in a good mood when he tells you what he wrote to his friend.
"GREAT JOB, NOW IT'S MY TURN," were his exact words. He meant winning at Congressional, not tying the major count at 15 apiece.
That job begins next week at Turnberry, where Woods will resume pursuit of his fourth British Open title. He entered Bethpage as close as he'll probably ever get to being a sure thing, but his short game let him down, which let an excellent week off the tee go to waste. Things didn't change a whole bunch last week, but he's still a good bet to make the putts he has to make and do the things he has to do.
It's all part of being Tiger Woods, although he's not really 6-5, and he doesn't actually weigh 250 pounds. He's a lot bigger than that.