News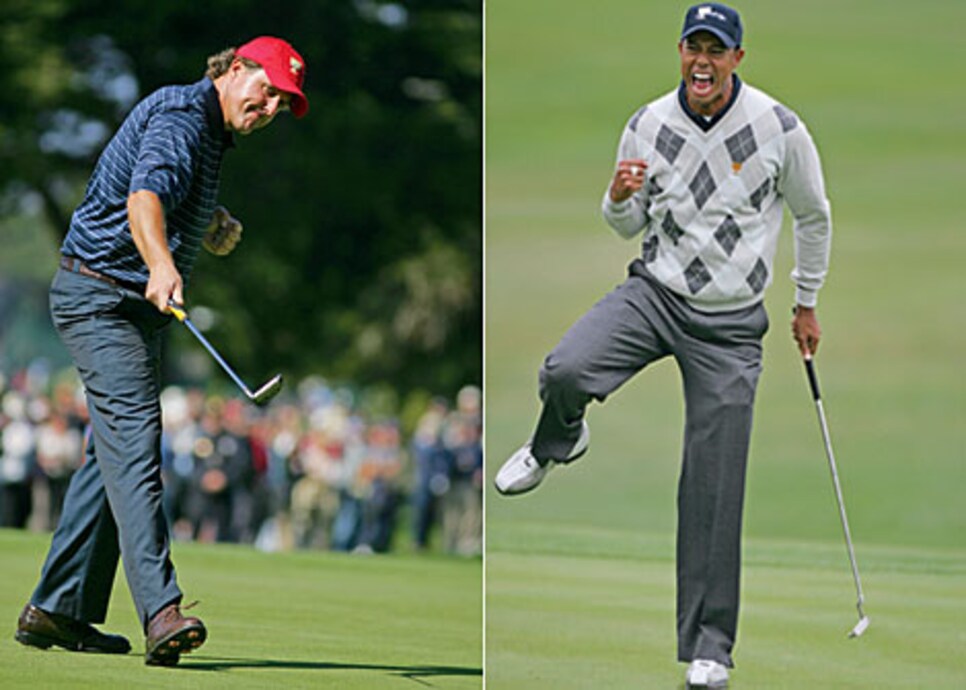 making their points: Woods' 5-0 record included a dramatic putt on No. 17 in Saturday foursomes, while Mickelson, 4-0-1, also had a hot putter.
Anything less than a hydrogen bomb is unlikely to awaken Fred Couples at 3:30 a.m., so when golf's maestro of the mattress climbed out of bed at such an unFreddian hour October 11, fretting over the outcome of matches that wouldn't begin until much later that morning, it became fair to examine the historical relevance of all that pre-dawn panic.
Finally, it can be said, somebody has lost sleep over a Presidents Cup. Sure, it sounds crazy, given the three-point lead and fleet of world-class tour pros the U.S. captain took into the Sunday singles, but while everyone else in red, white and blue pajamas was snoozing, care-free Freddie, of all people, was worried about losing.
So there you go. Not only is the truth sometimes stranger than fiction, but funnier, too. "Jay [Haas] and I didn't like the way the pairings turned out," Couples said, referring to the Saturday night draw and an ensuing conversation with his assistant captain. "We were trying to go the complete opposite. So I woke up, and for the next three hours, all I did was think about how we were going to do this and that. It was the only night of the week I worried about anything."
Which made it one more night than was necessary. If Greg Norman's squad of Internationals arrived in San Francisco as a two- or three-point underdog, it left town having failed to cover the spread, as the Yanks cruised to a 19½-14½ victory largely on the shoulders of the game's two best players. That Tiger Woods (5-0) and Phil Mickelson (4-0-1) would combine for nearly half of the winning total is hardly surprising, although some might characterize it as a trifle overdue.
Woods did most of his damage in a partnership with Steve Stricker, who sits right behind Tiger and Mickelson in the World Ranking. It would be easy to surmise that Couples' best couple came about because Woods and Stricker played together so often as the top seeds in the FedEx Cup playoffs. In reality, the skipper settled on the tandem in early September, then wasted little time informing Stricker of his good fortune.
That probably occurred 10 or 15 seconds after Woods told his captain who he wanted to play with at Harding Park, and for lengthy stretches during their 63 holes together last week, it looked as if Tiger and Stricker could play every day until Christmas and not get beaten once. You want dominance? Team Eldrick lost one hole in its first two matches, winning 12, and didn't trail an opponent until the par-5 fifth hole against Tim Clark and Mike Weir in the Saturday foursomes.
Armed with a driver that was behaving and a man who makes 25-footers in his sleep—sorry, Freddie—Tiger was free to take full advantage of his aggressive nature on the greens. That explains why the two-man Yank tank rolled through its first two opponents, but against Weir and Tim Clark, Woods was basically a non-factor, leaving the duo one over par through 16 holes and 1 down with two to play.
At that point nobody actually saw Superman reach for the red cape. It didn't take long, however, for everyone to notice he had put it on. "What he did down the stretch there, holing that putt [from 22 feet] on 17, then hitting that great 3-iron in there for eagle [at the closing par-5], was the big turning point of the whole competition," said Stricker, a man with a severe allergy to hyperbole. The 3-3 finish also christened a new entry in match-play vernacular: "fliparound," a noun with verb-tense variables, which occurs when a team trails late in the game but walks off the 18th green one point richer.
A pair of fliparounds in the first two sessions had kept the Internationals close, so Woods' late heroics were indeed crucial. What looked like a one-point U.S. lead instead became three, but Tiger reverted to spectator mode Saturday afternoon while Stricker poured in seven birdies and basically crushed Ryo Ishikawa and Y.E. Yang by himself. "I helped out on three holes all day," Tiger assessed, doing well not to overstate his contribution. "Steve was a stud, and I was pretty much a cheerleader."
Mickelson, meanwhile, could afford no such luxury. He compiled his unbeaten week with three different partners, all of whom came to Lefty with their games in a certain amount of disarray. After winning his opening bout with Anthony Kim, who has struggled all year and offered little Thursday, Philly Mick was paired with Justin Leonard, whose missed three-footer on the 18th Thursday had cost the U.S. a half-point, ending an entertaining first session on a bizarre note.
Lefty and Leonard combined for eight birdies to pull away from Retief Goosen-Adam Scott, sending Mickelson into the team room late Friday afternoon with a request: He wanted to team up with Sean O'Hair, who had already lost twice and wasn't making anything. "Sean and I had talked about playing together later in the week," Mickelson said. "I think he wanted to start off playing with someone he knew pretty well."
That turned out to be Hunter Mahan, but after Mickelson-O'Hair hammered Goosen-Camilo Villegas in the Saturday foursomes, the world's best left-handed golfer had successfully reinvented himself as a first-aid kit. "With Phil, he just made me feel like I could hit the ball anywhere," said O'Hair, offering a strange assessment to the positive effects of the partnership. "It's just nice to play with somebody who makes you feel comfortable out there."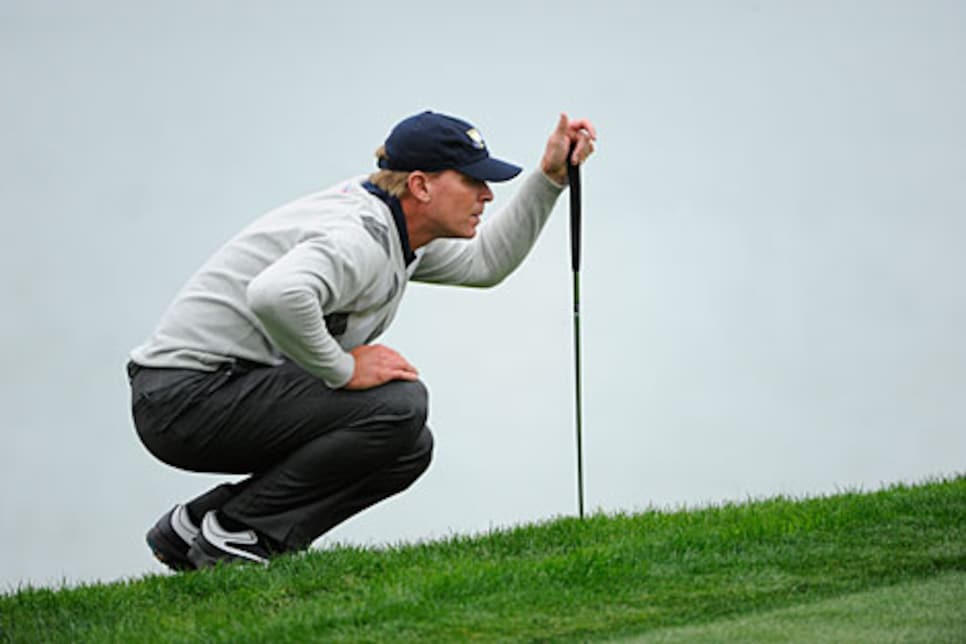 For all Woods did to make this the best week of his pro career in the team match-play format, Mickelson was the best player on the grounds from start to finish. He carried lesser partners, kept the ball in play off the tee (for the most part) and holed a couple of cross-country putts to ignite late weekend rallies. "The three guys I played with all have very different personalities," Lefty said. "I loved partnering with them, loved sharing that experience, and it's even more fun when you're successful and play good golf in the process."
His disastrous performances at the 2003 Presidents Cup (0-5), then at back-to-back Ryder Cups in '04 and '06 (1-7-1), are beginning to look like ancient history. Mickelson has lost just once in his last 15 Presidents tilts while emerging as the vocal, hands-on leader Woods would never pretend or try to be. Unlike the U.S. blowout at Royal Montreal in 2007, where the younger players and first-timers were among America's most productive performers, this triumph was the handiwork of superstars.
So why was Couples wringing his hands at 4 o'clock Sunday morning? It's a fair question. Not only was this probably the strongest U.S. squad in a decade, Norman was dealt a weak hand, and his selection of Adam Scott as a captain's pick, in retrospect, was not a good one. Ernie Els, Vijay Singh and Goosen are clearly on the downslope of their careers. Geoff Ogilvy, the top International qualifier, hasn't won since the West Coast swing. Veterans Mike Weir and Robert Allenby haven't won in 2009, period.
The U.S. squad had combined for 19 victories this year, the Internationals just 10, and that's if you count the four Japan Tour Ws amassed by 18-year-old sensation Ishikawa as equal to wins on the PGA Tour. If the deck was stacked in favor of the home team at Harding Park, Norman didn't do anything to unstack it with his own Sunday lineup, which began with Villegas, Scott, Weir and Allenby, none of whom finished in the top 25 on the '09 PGA Tour money list.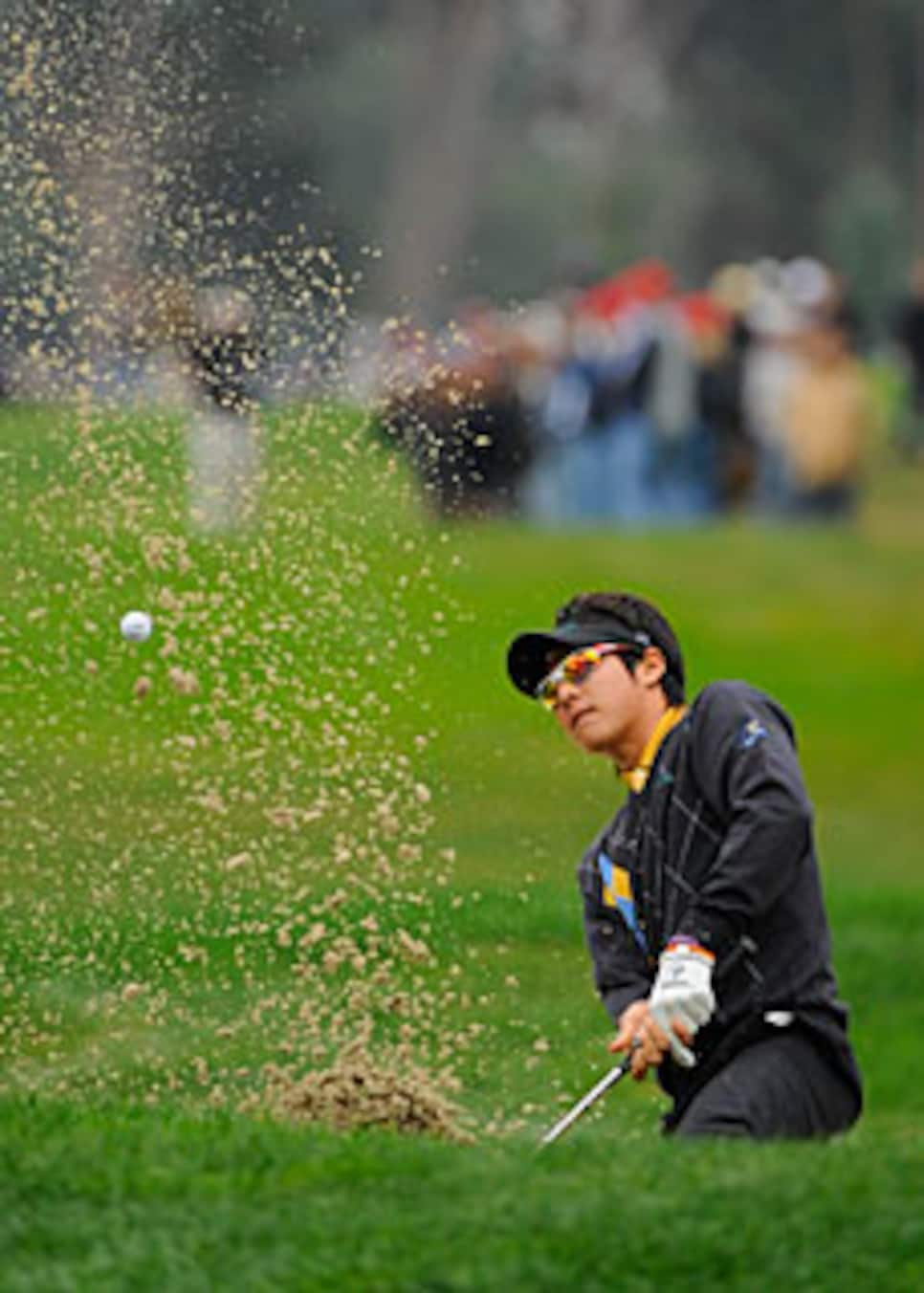 "Coming out [Sunday], we had too much to do," Ogilvy said of the three-point deficit. "Too much red [USA] on the board. We needed a good start and didn't get it."
No, they didn't. Five of the first nine singles bouts ended on the 15th hole or earlier, four of which were won by the Americans. The U.S. went 4-1-1 in the first half of the draw, a half that didn't include Mickelson or Woods, who needed little more than a short memory to pummel Yang and extract a few molecules of revenge on the guy who denied him a 15th major title in August.
So Tiger, any pre-match thoughts about that loss to Yang at the PGA?
"Yeah, because you guys kept talking about it," he snorted.
Thank goodness he's listening, and too bad Freddie spent three hours worrying about nothing. Both skippers will almost certainly return in 2011, when the Presidents Cup heads back to Royal Melbourne in Australia, and if a bright light emerged for the undermanned Internationals, you didn't need a telescope to see that Boy Ryo is just a birthday or two away from becoming a franchise player. Nobody on the visiting team won more matches than Ishikawa, who turned 18 last month. His singles triumph over Kenny Perry put the finishing touches on a 3-2 record, a remarkable achievement for someone that age.
Despite his heritage, Ishikawa could pass as one of the Jonas Brothers and has a subtle flair rarely seen among Asian players —you're not likely to see K.J. Choi tee off in a pair of silver golf shoes anytime soon. When the kid hits a golf ball, it quickly becomes apparent that his substance exceeds his style, and when he putts, you wouldn't be a fool to assume it's going in.
His fan club isn't too shabby, either. "He's far more developed than I was at 18," said Woods, who teamed with Stricker to pound the lad and Ogilvy, his ineffective partner, in the opening session. "I was longer than he is, but I certainly did not have the ability to hit shots like he does. What he's done is quite remarkable. To win four tournaments on any tour at his age, that's unheard of."
Eldrick himself isn't exactly playing off a 5-handicap, nor is Mickelson, who identified the emergence of Stricker and Stewart Cink as the biggest reasons the U.S. has won its last three team-match events. "He's longer than he was just a year ago," Mickelson said of Cink. "He has a more penetrating ball flight, and he's gone from being a decent putter to a guy who makes them in the clutch. We saw it at the British Open, and we saw it again this week."
He's right, of course, but even if Mickelson was just being nice, there's no arguing with a man who goes 4-0-1, much less the cat with the 5-0 record. Come to think of it, there's no downplaying their considerable effect on the final outcome, either. Sweet dreams, Freddie.