News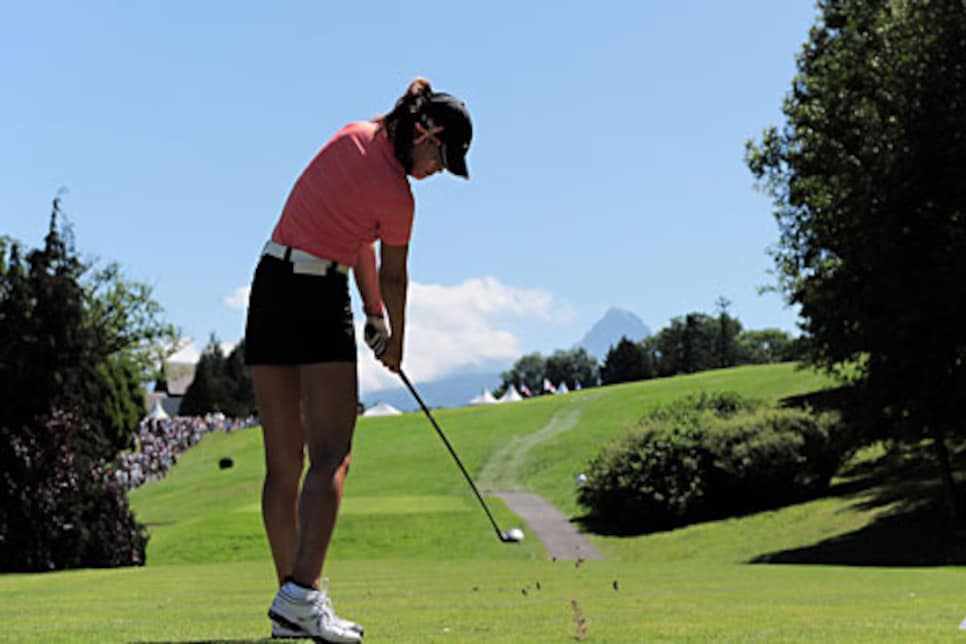 Selecting Michelle Wie for the U.S. Solheim Cup might not be popular among LPGA players, but it's the right thing to do.
LYTHAM, England -- There are two players who are making Beth Daniel's job as captain of the U.S. Solheim Cup team a lot harder than it need be -- Juli Inkster and Michelle Wie. Inkster is just about everyone's emotional choice to be one of the two captain's pick for this year's competition, and Wie is the one the people who write the checks want to see on the squad for all the obvious public relations reasons.
The problem is that neither Inkster nor Wie have done a whole lot to justify a captain's pick, which will be announced following the end of play Sunday at the Ricoh Women's British Open. But among the reasons Daniel should chose both Wie and Inkster is the simply this: Those in front of them on the Solheim Cup points list have done even less to earn a spot on the team.
Ten players get automatic spots on the American team, and right now the only one in any real danger of falling off the squad is No. 10 Natalie Gulbis. She has 201 points, 24 ahead of No. 11 Laura Diaz. Here's how Gulbis can be passed if she finishes outside the top 20 this week and gets no points:
Diaz finishes 14th or better.
No. 12 Stacy Prammanasudh finishes 11th or better.
No. 13 Pat Hurst finishes ninth or better.
No. 14 Inkster finishes fifth or better.
No. 15 Jane Park finishes second or better.
Anyone from No. 16 Wie through No. 21 Michele Redman wins.
So let's assume Inkster and Wie do not get an automatic spot on the U.S. team. In fact, let's assume the standings are unchanged after the Ricoh Women's British Open. That means Diaz is No. 11, Prammanasudh No. 12, Hurst No. 13, Inkster No. 14, Park No. 15 and Wie No. 16.
Could Daniel possibly pass over three players and select Inkster and skip four players to choose Wie? If she does, there will be voices of outrage from some players, but here's why she should do it.
First, let's make the broad case for Inkster. She's 49 years old and this will be her last Solheim Cup. She's been in the competition seven times and has a 14-8-5 record. No American has won more matches than Inkster.
Yes, Inkster has had trouble putting together four good rounds this year, but this would not be purely a sentimental selection. She still exhibits bursts of brilliance and still grinds with the best of them. She knows how to win.
Match play hides a lot of weaknesses, and you don't need four consecutive days of great play to contribute to the Solheim Cup team. And think what Inkster's presence will mean in the team room. She is a "Competitor" with a capital "C".
In making the case for Wie we also solidify the case for Inkster. Let's look at the players ahead of them on the Solheim Cup points list. Diaz has missed nine cuts this year, including the U.S. Women's Open and last week's Evian Masters, the two events before this week's point-closing Ricoh.
Prammanasudh has missed seven cuts, including the Evian Masters, and was T-57 in the U.S. Women's Open. And Hurst has missed four cuts, was a WD at the U.S. Women's Open and T-40 at Evian. Hurst, however, is the only one among those jockeying for a position on the U.S. team who has won this year. Park has four missed cuts, three WDs and no top-20 finishes since the first week of March.
No one in that foursome -- Diaz, Prammanasudh, Hurst and Park -- has been consistent this year, and no one qualifies as the hot player heading into the Solheim Cup at Rich Harvest Farms three week after the Women's British Open.
Inkster, on the other hand, has missed just one cut this year, a testimony to her grit. Wie has missed no cuts, has five top-10 finishes, including two of her last three tournaments, and has finished second once and third twice. With the possible exception of Hurst, Inkster and Wie are the best of the six players immediately outside the top 10. And don't forget that Wie didn't have the benefit of accumulating points last year since she wasn't a LPGA member then, which means her point total is artificially lower than it should be.
If there is a knock on Wie it resides in the fact that while those three top-three finishes shout of her considerable ability, they also whisper about her well-documented inability to close out tournaments.
It has been six years since Wie has won anywhere. And then there are those all-too-frequent cringe moments with the putter under pressure. Again, match play and team play mask weaknesses well, especially in alternate-shot and better-ball formats. Inexplicably, though, Wie has a spotty match-play record, losing to Morgan Pressel, Inbee Park and Yani Tseng in amateur competition.
Daniel is going to have a tough squad at Rich Harvest Farms, and her team will be the overwhelming favorite. Selecting Inkster would be more than an appropriate sendoff to one of the game's great players; her attitude would toughen the U.S. side's resolve and keep them from being lured into a letdown by their favorite status.
And the addition of Wie could have an enormous impact down the road for the LPGA. It could get her over the hump that has separated her promise from her performance.
Perhaps in that team room, alone with her peers, the real Michelle Wie will come out. Maybe in trying to win for her team she will learn how to win for herself. Think of what she could mean for that tour if she ever became a dominant force.
Perhaps Wie could spend a week watching firsthand the competitive fire that rages inside Inkster. What a learning experience that could be. Barring a seismic shift this week in the U.S. Solheim Cup points standings the two captain's picks should be Juli Inkster and Michelle Wie -- a ton of talent separated by 30 years.