News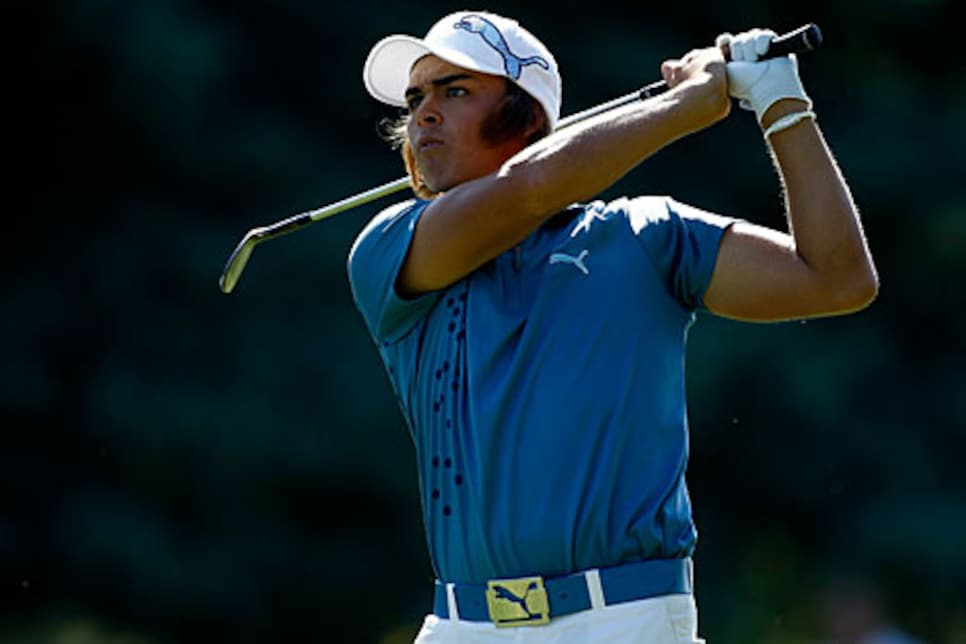 Rickie Fowler needs a strong couple of weeks to avoid a trip to Q school.
With 14 majors, 71 career victories, the most recent FedEx Cup and a 10th Player of the Year title coming his way, Tiger Woods still considers his first victory, in the 1996 Las Vegas Invitational, one of his greatest accomplishments. Why? Because with that victory, Woods avoided a trip to Q School.
Thirteen years later one of the greatest amateurs and college golfers to come along in the post-Woods Era found himself in the same situation this past weekend, coming up four strokes shy of pulling a Tiger and earning his tour card without the unpredictable and complicated process of the qualifying tournament.
With the final stage looming at Bear Lakes and the bright lights of Las Vegas calling, Rickie Fowler approached the Justin Timberlake Shriners Hospitals for Children Open looking to draw the right card -- a PGA Tour card. He brought with it the mentality of a motocross rider, going at pins when he didn't have his best stuff, his fast old-school swing bringing back memories of John Mahaffey and Lanny Wadkins in the retro-seventies.
For all his assuredness, Fowler knew the deal: With four tournaments remaining in the Fall Series and the first stage of the qualifying process coming up next week, this is the time of year when dreams either come true or don't. It doesn't matter who you are, as Martin Laird proved Sunday at the TPC Summerlin.
Laird is a tour rookie who missed seven straight cuts while Fowler was starting his last semester at Oklahoma State. The 26-year-old Scotsman who went to school at Colorado State, was the man right on the bubble in 2008, finishing 125th on the money list to avoid a trip to the finals. After 22 events (and 12 missed cuts) in 2009, he was 134th in earnings. Most of it came with a T-2 in the Legends Reno-Tahoe Open, but Laird has a history of late rallies, locking down his card in'08 with a $49,680 check in the Children's Miracle Network Classic, the final event of the year. With a playoff victory over George McNeill and Chad Campbell, he doesn't have to worry about that scenario now. He's got a two-year exemption, automatic entry into all the invitational events, spots in the Players, WGC-Bridgestone Invitational and PGA Championship, along with a free room at the Ritz-Carlton Kapalua for the season-opening SBS Championship.
Laird said he would arrive in Scottsdale, where he makes his home, without the same sense of urgency at the Frys.com Open. Although he was struggling he brought his girlfriend and parents to Las Vegas for a vacation, attending the Timberlake concert at the Mandalay Bay Resort and Casino the night before the final round. "It's going to be big," Laird said of the celebration. "I'm sure I will have a headache for a few days"
Fowler, the 20-year-old Californian who was an All-America at OSU and Walker Cup star, was playing his first tournament as a professional after a well-decorated amateur career. He just signed with SFX to represent him, with Puma to clothe him, and closed on a condo not far from the TPC Summerlin. Coming to the Timberlake tournament without a penny in PGA Tour earnings, he was hoping to follow in Woods' footsteps -- win at the TPC Summerlin as Tiger did in the fall of 1996, and skip the entire qualifying process.
The significance of what Woods managed that fall is only amplified when you look at two more recent college stars who attempted the same route. Ryan Moore, who played his college golf at Nevada-Las Vegas, was the last college player to bypass Q school. Moore turned pro after graduating in June; four months later his T-13 finish in the 2005 Funai Classic at Walt Disney World bumped him to 113th on the final money list. Ricky Barnes, a runner-up at this year's Open, didn't enjoy the same success at Q school, At 28, he's playing his rookie season and at 119th on the money list, he is still looking to secure his playing privileges for 2010 after a missed cut at the Timberlake.
Fowler put himself at a disadvantage by staying amateur through the Walker Cup -- but he knew that going in. After earning college player of the year honors, he finished second in a Nationwide Tour event in August, three weeks before going 4-0 in leading Buddy Marucci's U.S. team to a victory at Merion. Not lacking confidence in his ability, the kid with the long hair coming out of his conductor's cap put himself in position at Summerlin with a blistering 64 on Friday and birdied the 18th hole Sunday for a T-7 and a free pass into the Frys.com Open. First stage of qualifying will follow on Oct. 26, the day after that tournament concludes, in Lantana, Texas.
"If something happens these next two weeks, great," Fowler said, "but I'm not opposed to Q school."
Fowler grew up on a dirt bike, so he's fearless. As his friend, former OSU golfer Chris Tidland has said, "He sees a tough shot and it doesn't faze him. He's been off 50-foot jumps before."
While not as dangerous, this jump is just a little more complicated:
If Fowler plays well enough at Scottsdale and earns special temporary membership -- total prize money exceeding 150th place on the 2008 money list -- he is exempt at a minimum into second stage. He now has $113,700 and needs $537,958 to meet this threshold. In other words, if Fowler doesn't win at Grayhawk, he needs to finish second.
If Fowler does not hit that top-150 number he has to go to first stage in Texas, which is opposite next week's Viking Classic. If he gets a last-minute invitation to the Viking and takes that over the first stage in Texas, that's the end of his Q school -- even if he gets into the final event at Walt Disney World and makes enough to be exempt into second stage. The tour believes in one crack at qualifying.
Scenario three is where he advances past first stage, earns enough through Disney to put him ahead of 150th on this year's money list, then he is exempt into finals.
The message here, do what Laird did: Just win.