News
Where Do They Go From Here?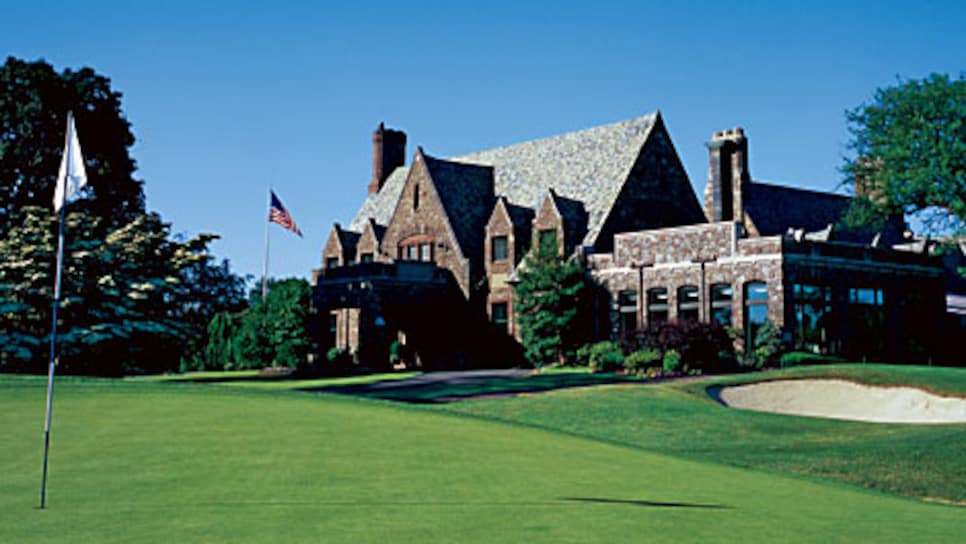 Winged Foot Golf Club has hosted five U.S. Open, but the question stands when it will host a sixth.
Run out of select vintages at the media hotel, and you start to hear angry scribes say things like this: Lucas Glover will win a major before we come back to Bethpage again.
Now that Glover has taken possession of the U.S. Open trophy, the inevitable backdoor shuffling and rumor-mongering has some reconsidering Bethpage's future Open prospects.
Thankfully the USGA doesn't select venues based on media comfort or for that matter, anyone's comfort.
No, the decision these days is mostly about a confluence of course architecture and, as one USGA official insisted last week, "the partners." That means everything from club members, managers, course owners and local politicians.
The U.S. Open figures to keep visiting a regional mix of massive scale venues with the occasional downsized event played at an architectural marvel. With that in mind, here's where the most talked-about venues stand a week after Oakmont landed the 2016 Open and two weeks after Pinehurst agreed to host the men and women in back to back weeks.
Might As Well Call Them Rota Members
Pebble Beach: The USGA and Pebble Beach Company like to bicker but ultimately need each other and they know it. Recent course changes by Arnold Palmer came as a surprise to the USGA and it kills them to give Pebble a special deal. But then the Executive Committee will see those blimp shots and whiff the smell of burning logs in their plush Lodge suite, and all will be right with the world --every ten years. Pencil in 2020 for a return.
Pinehurst #2: After rain-delayed Bethpage, the June 2014 experiment to play men's and women's Opens in back-to-back weeks seems a little less sexy. And two weeks in Pinehurst will be tough on everyone except the lucky Executive Committee members lounging at the Carolina Inn. However, Pinehurst gives the USGA a quality southern venue in a great golf town.
Oakmont: Mike Davis may widen out some of Oakmont's fairways for the 2016 championship to highlight design elements lost in 2007's injury-thick rough. If the members don't go batty over a slightly gentler and an infinitely more interesting Oakmont, the USGA will be back here every ten years. If the macho Western Pennsylvanians juice their rough and resist a better setup, all bets are off.
Olympic Club: Early reviews on the club's greens reconstruction have some Executive Committee members squeamish about the 2012 Open. While the USGA was not consulted on the drastic changes to the once character-rich 7th and 8th holes, some inside the organization expect to be blamed for the now bland holes. But San Francisco looks great on television and is even more fun to visit, especially if the Giants are in town. The course has plenty of space, there's bite back in the 18th green and the Lake Course has produced consistently exciting finishes. Albeit, with the wrong guys always winning.
Merion: Heading to this space-deprived venue for the 2013 U.S. Open still feels like a reach and many are predicting a one-off return if logistical issues turn out as painful as expected. Also going against it: the USGA can only do these revenue-light years so often. But there's no questioning the architectural artistry of the East Course. Tune in when it hosts this year's Walker Cup.
Congressional: They're redoing the greens again, starting the project after next week's AT&T event and way too close to the 2011 date. None of that can make the USGA happy. Yes, it's great to go to Washington D.C. and President Obama's love of golf will almost guarantee a historic appearance, but this should be it. The club can host Tiger's event and the USGA can go somewhere better.
Winged Foot: The members passed on 2015 and historically have needed long breathers between Opens. Eventually they'll be back.
Shinnecock Hills: There have been hints of thawing tension between the club and USGA over the infamous "middle of the night" 7th green tampering accusations. The USGA's David Fay still insists an unwanted rolling occurred, the club says the USGA blew the pooch. Either way, Shinnecock members will want a Mike Davis-engineered setup to end the dreaded verb usage for over-the-top course conditions: Shinnecock'd. Following a rough week at Long Island neighbor Bethpage, Shinnecock's stock probably rose a bit.
Bethpage Black: The public course experiment has been a huge success despite lousy weather at both Bethpage Opens. The State of New York has Craig Currier to thank for that, as his crew delivered incredible course conditions despite brutal circumstances. Sources say the post-Governor Pataki regime has been less fun to work with and the finishing hole is a certified disaster. There are options for a composite hole, a restoration of Tillinghast's original or even using the Red Course's beautiful 18th. Once cooler heads prevail and the 18th hole situation is sorted out, count on a return. The long expected 2019 date still seems possible.
Torrey Pines: No doubt the Executive Committee longed for a return when ESPN racked up rain delay tapes from the epic 2008 Open. There it was: sunny, warm, never a chance of rain, convenient hotels and airing in Eastern Standard Time prime time. Hard as it is to believe, the USGA reportedly didn't make as much money here despite a sweetheart deal that the City of San Diego won't go for again. Still, look for common sense to prevail and a 2018 return when Tiger is still active and Phil Mickelson is contemplating one last sentimental run.
Chambers Bay: Conditioning issues with the slow-maturing fescue grasses should be resolved by next year's U.S. Amateur, but if the turf is still poor and the USGA begins to get anxious about a course that may not be friendly to spectators, look for Chambers to join Champions as one-hit stumbles. Northwest location means prime time coverage and a happy network.
Erin Hills: The favorite for 2017 has seen its original Hurdzan-Fry-Whitten design undergo extensive (and expensive) changes to get ready for the 2011 U.S. Amateur. Owner Bob Lang has done everything the USGA has asked but the business side of the organization still has concerns about spectator enjoyment traversing the steep dunes.
Trump National Bedminster: Does the USGA really want to get in bed with Donald Trump? They are putting up with his overtures, playing plenty of golf at a course around the corner from Far Hills and bringing joint boys and girls junior Amateurs there this summer. But it's still hard to envision the uber-tacky Donald landing an Open.
Cog Hill: The friendly Jemseks are doing everything imaginable, including a Rees Jones redo of Dubsdread with all the bells and whistles. That would have been great a few years ago, but Reestorations don't carry the same weight they used to. The real problem here is with Cook County and the USGA's grave concerns about working with lame bureacrats. Still, a nice Midwest back-up if they get cold feet on Erin Hills.
Riviera: The USGA loves the course, weather and chance for prime time ratings but hates taking the Open to regular tour stops in a market that some still think is too close to San Diego. Kikuyu grass, traffic and space restrictions need to be worked out. That said, the Noboru Watanabe-owned club is learning to play the USGA game better. A U.S. Amateur is almost required if you want to host the Open and the club has reportedly intimated that they want one.
Cherry Hills: Back in the game by hosting the 2012 U.S. Amateur. Renaissance Golf Design's recent restoration work might help the USGA look past cramped quarters and the altitude's impact, even at a new back tee yardage of 7,500 yards.
Inverness: Another great old club and course trying its best to stay in the tournament game with the 2011 U.S. Senior Open. But is it good enough to sacrifice income with limited space?
The Country Club: The long-awaited 2013 U.S. Amateur announcement should finally happen soon. Many are still unhappy that the club and USGA didn't work something out for a 2013 Open return on the 100th anniversary of Francis Ouimet's epic win. A few prominent club members are thought to be wondering the same thing. And the USGA needs a Boston-area return now and then.
Southern Hills: When the USGA soaks up Keith Foster's impressive restoration during this year's U.S. Amateur, they may look hard again at inviting the Tulsa course to host another Open.
Baltusrol: A PGA Championship venue in 2016 and probably beyond. Even though it's so close to USGA headquarters and New York City, don't expect an Open here anytime soon (see also: Medinah, Oak Hill).
Olympia Fields: The 2003 Open wasn't a disaster, but the North Course just doesn't excite enough to jump up this list. Executive Committee member Steve Smyers boldly updated the club's South Course and it should get a look for a future USGA event.
Bellerive: The USGA would love to come to St. Louis, but as with Olympia Fields, the Robert Trent Jones slog just doesn't inspire.