News
A Long Time Coming For Chalmers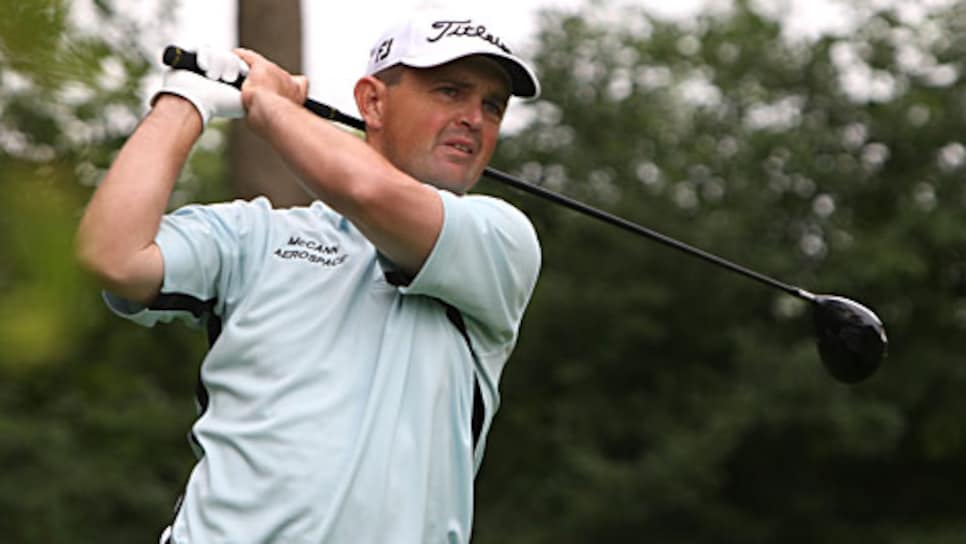 The last time Chalmers lead after 36 holes was more than nine years ago.
MILWAUKEE (AP) -- Greg Chalmers picked up the nickname "Snake" with his Australian golfing buddies.
There's no flute or entrancing rhythm to his game, just a smooth putting stroke that's kept him at the top of the leaderboard at the U.S. Bank Championship. Chalmers actually is scared of snakes despite seeing quite a few of him in his life growing up in Perth, Australia.
"There's nothing to do with snakes whatsoever," Chalmers said. "I don't charm snakes. I don't own any snakes. I have seen a load of snakes."
Chalmers stayed on top of the leaderboard Friday, firing a second-round 67 to move to 9-under 131 and build a two-shot lead over Chris Riley (66), Jeff Klauk (69) and Kris Blanks (63). Kevin Na (65), Marc Turnesa (65) and Steve Flesch (65) were another stroke back at 6.
A day after blustery conditions made the field post the worst scores in a round since 2004, temperatures plunged into the 60s and rain showers made it feel closer to the British Open at Turnberry than summertime in the Midwest at a tournament that's looking for a new title sponsor.
While Chalmer's nickname has nothing to do with snakes, he's made a winding path to the PGA tour, going back and forth between the top level and the Nationwide in recent years. He never had thoughts of giving up because he said he wasn't overwhelmed.
"If I'd been struggling on the Nationwide tour to keep my card out there, I probably would've had some serious thoughts about my career or certainly looked at going to another tour somewhere else in Europe or Japan, but I was fortunate I got my card back two out of three years I've been out there," he said.
"A career is a long time, it's a rollercoaster ride. I've had some good years out here on the PGA tour and I've had some really poor years. You've got to keep trying to improve and ride the waves, you know?"
Chalmers, who last led a tournament at the halfway point nine years ago and finished tied for second at the Kemper Open, again made a mistake early after starting his day at No. 10.
He bogeyed the par-3 14th after his wayward tee shot left him needing a 12-foot putt to make par. But, just like Thursday's opening round, Chalmers came on strong with birdies at Nos. 17 and 18. He also had consecutive birdies at Nos. 4 and 5 for the second straight day.
"It was a bit of a battle for me off the tee today, but it was a working-man's 3 under," he said.
The working man mentality should serve him well this weekend after changing conditions continued on Friday, keeping scores down and the cut line at 1-over 141.
The 35-year-old Chalmers, who started playing golf at age 13 and idolized Greg Norman, and the rest of the field dealt with stiff wind and warm temperatures on Thursday and said he'd only brought one sweater with him for the tournament.
"You don't expect it in the summertime," said Riley, who also only has one sweater with him for the tournament. "The weather is totally different today."
Norman won this tournament in 1989, and Chalmers is on the right track after needing just one putt on 21 of the 36 holes he's played.
"I made most putts inside 10 feet," Chalmers said. "At this level, if you're going to lead the tournament or be competitive, you've got to make them."
Meanwhile, Klauk didn't have nearly the same success as Friday, when he was co-leader. He was 1 over through his first nine holes and needed to rally to stay two shots back. Still, Klauk likes his position heading into the weekend.
"You can't overpower this golf course," he said. "Anybody can play. It's just a good, old-style golf course."
One that might not return next year. U.S. Bank is dropping its title sponsorship and tournament organizers say a new one must be found to continue the shortest event on tour at the 6,759-yard, par-70 Brown Deer Park Golf Course.
Na is 20th in FedExCup standings this year and is the highest ranked player in Milwaukee.
"That only means one thing -- I need to win," Na said. "That's what I need on my resume is a W out here. A win's a win even though it's an opposite field event."