News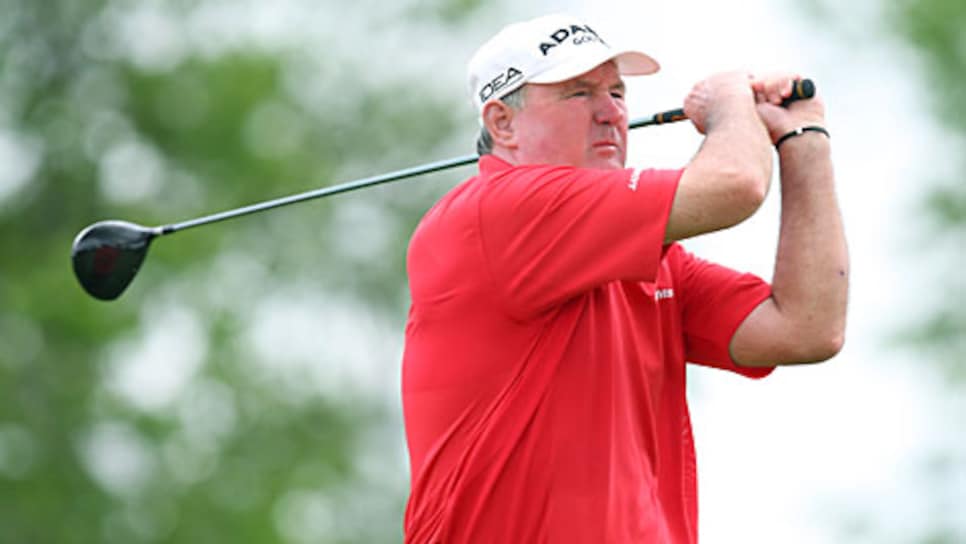 In an effort to get longer off the tee, 61-year-old Allen Doyle may have taken a step back
CARMEL, Ind. -- The rough is littered with golfers who got worse by trying to get better. For years, Allen Doyle stuck with the tried-and-true, an individualistic swing that is part Doug Sanders, part Bobby Orr, an odd but effective action honed in a Boston-area basement that has taken him to the penthouse of the Champions Tour -- 11 victories and about $13.5 million in career earnings.
An old mentor of Doyle's told him to never take a lesson from someone who couldn't beat him, and he never has. The last year or so, though, Doyle, who never hit it long, starting tinkering around to hit it farther. Combined with a natural desire to enjoy life a bit more after a decade on the senior tour -- he turned 61 on July 26 -- Doyle messed up his tempo trying to add a few yards.
Doyle's 2009 season has been a bust. He arrived at Crooked Stick GC this week for the U.S. Senior Open (which he won in 2005 and 2006) ranked 75th on the money list without a top-10 finish and having shot two 78s in his last event, the 3M Championship.
"Our courses are getting longer and a little softer," Doyle said. "They're all playing longer. You get up to those 460-yard holes and you feel like you have to give it a little extra. When you're swinging good, you can get a little extra. When you're not swinging good, you get a little less. Things kind of snowball. But I think my tempo finally is getting better where I'm not trying to swing like a madman to hit a 7-iron 170 yards."
Doyle made his mark, and his millions, by managing his game well and relying on deft putting in a manner very similar to his good buddy, Dana Quigley.
"We both played within ourselves all the years we had all the success," said Quigley, 62, an 11-time senior winner. "It's human nature to try to hit it longer. I think the competition is getting a lot better and they hit it a lot farther. I think that made A.D. try to change his game a bit. His timing hasn't been good at all, not like the old Allen. He has been messing with a lot of different drivers trying to hit it another 10 or 20 yards farther. But just being at the U.S. Senior Open probably pumps him up. I think he gets in a real comfort zone and falls back on the game he knows how to play."
Doyle had missed cut badly the last two years in the Senior Open following his back-to-back victories, but the first round at Crooked Stick certainly revealed a bit of the old Doyle as he shot a two-under 70 despite bogeys on two of his last four holes. "Not too bad, compared to the way I've been playing," said Doyle, who thanks to the layout's bouncy fairways averaged 296 yards off the tee, about 40 yards more than his 2009 average. "I thought the bad play would stop. I've been swinging at average and everything that can go wrong does, so you're shooting 74 instead of 71 and 71 instead of 69."
On a recent break Doyle also worked harder on his game than he had for much of the season. "I actually went home and did a little work," Doyle said. "I hadn't really worked that hard, so I can't beat myself up too, too bad. I found a little better [setup] position. Everything just gradually got a little better."
Despite his poor results on tour this year, it's not as if Doyle had forgotten how to play. In early July, playing with friends the week before the 3M Championship, he shot a 14-under 58 at Highland Country Club at home in Lagrange, Ga., carding an eagle and 12 birdies on the 6,589-yard layout to break 60 for the second time and better his age for the first time.
"The other club in town, I had a 59 there once," said Doyle, whose Crooked Stick gallery included his seven-month-old granddaughter, Hayden Packer. "When you get to my age, you start thinking about stuff like that -- how old will you be when you shoot your age for the first time, 65, 66, 67? I did it when I was 60. I kept the scorecard and started a 'breaking my age' file. It might be a while until I get another card in there."
Doyle is trying to make the crafty shotmaker that tore up Highland reappear on tour. "It's almost like two different men," he said. "At home, they're 'shaping' courses. You just turn that ball. You don't have to hit it that hard. Then I get out here ... "
The 70 was a small slap shot toward getting the right man to show up when and where it matters. "He doesn't even think about hitting it farther at home," Quigley said. "He just plays. His game is good enough, no question about it."