News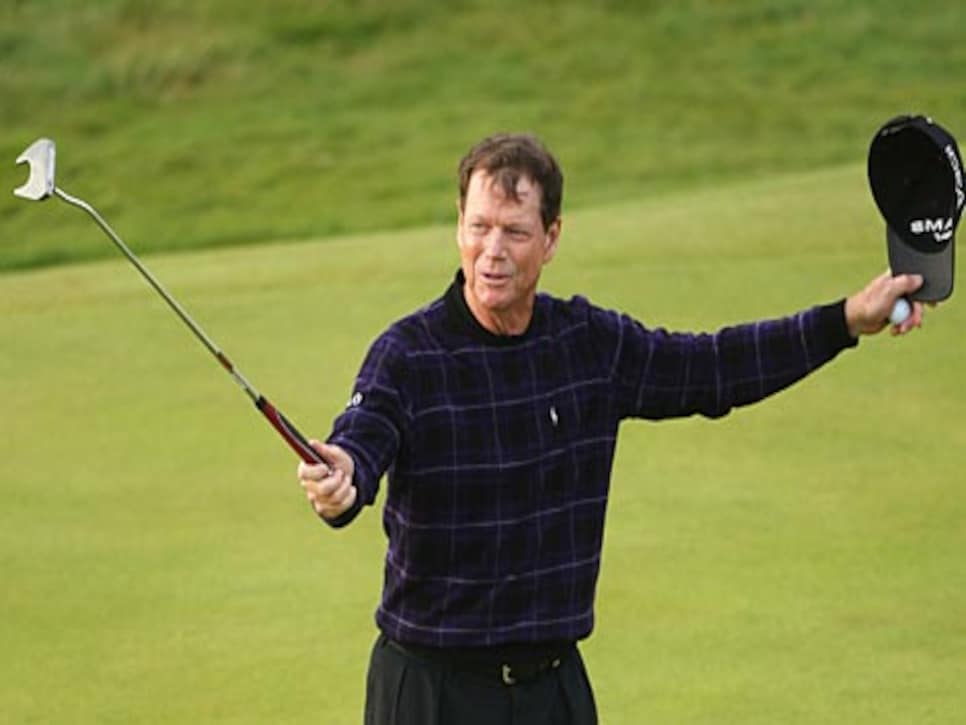 Tom Watson is one round away from capturing a remarkable sixth British Open title at the age of 59.
TURNBERRY, Scotland -- Where would a win Sunday by Tom Watson rank among the greatest tournament victories in history?
Absolutely, positively in the top 10.
Where in that elite bracket? Well, depends on the criteria. For purposes of this exercise, we will employ three: drama (D), historical significance (HS), golf skill (GS). We will then assign points between 1 and 10 for each category, and then add them up for a total -- the higher the points, the higher the ranking.
Just to be clear, the system is completely subjective, based on the opinions of one person -- me. So be it.
First, let's take my current 10 all-timers, in chronological order:
Francis Ouimet, 1913 U.S. Open at Brookline. Ouimet, an obscure 20-year-old amateur who lived across the street from the site of the championship, beats British greats Harry Vardon and Ted Ray in an 18-hole playoff to launch America's first golf boom.
*D-9, HS-10, GS-5. Total 24. *
Ben Hogan at Merion 1950. Hogan, 16 months after a near-fatal car accident, returns to defeat George Fazio and Lloyd Mangrum in a playoff.
Babe Zaharias, 1954 U.S. Open at Salem. Stricken with cancer that would cause her death less than two years later, Zaharias wins by 12 strokes.
D-9, HS-7, GS-8. Total 24.
Arnold Palmer, 1960 U.S. Open at Cherry Hills. Beginning the final 18 seven strokes out of the lead, Palmer shoots 65 for the most electrifying victory of his career and his only U.S. Open win.
D-10, HS-8, GS-7. Total 25.
__ Tom Watson, 1977 British Open at Turnberry.__ "The Duel in the Sun", with Watson shooting 65-65 over the final 36 to edge Jack Nicklaus' 65-66, with the next closest finisher 11 back.
D-10, HS-8, GS-8. Total 26.
Jack Nicklaus, 1986 Masters. At age 46, Nicklaus shoots a 30 on the final nine to beat Seve Ballesteros, Tom Kite and Greg Norman and capture his sixth Green Jacket.
D-10, HS-9, GS-7. Total 26.
John Daly, 1991 PGA Championship at Crooked Stick. Hitting drives distances that ushered in the modern game, Daly, who entered the field as the ninth alternate, wins by three in a Cinderella story that made front pages everywhere.
*D-10, HS-7, GS-7. Total 24. *
Tiger Woods, 1997 Masters. In a stunning exhibition of poise and power golf, the 21-year old Woods outdistances the field by 12 to win his first major.
D-8, HS-10, GS-8. Total 26.
Tiger Woods, 2000 U.S. Open at Pebble Beach. In the most dominant performance of his career, Woods wins by 15 strokes, the biggest margin of victory over 72 holes in major championship history.
*D-6, HS-10, GS-10. Total 26. *
__Tiger Woods at Torrey Pines 2008.__Playing with a torn ACL and a fractured tibia that causes him to bend over in pain after hitting the ball, Woods manages to get into a playoff with Rocco Mediate, which he wins on the 19th hole for his 14th major title.
Now, were Watson to hold on and win Sunday at Turnberry, he would accomplish some truly remarkable feats. At 59, he would become the oldest major champion by an astounding 11 years, and the oldest winner of any regular official tournament by seven years (that's Bob Beamon territory). He would also tie Harry Vardon for most British Open victories with six. His ninth major championship would tie the career total of Gary Player for fifth on the all-time list.
So, no argument that a victory would give Watson a 10 in historical significance. Assuming he plays at the same level in the final round, I would project an 8 in golf skill. As far as drama, chances are the finish will be close, and given Watson's penchant late in his career to miss short putts in the crucial stages, and with all the history and sentiment in the balance, it will be nervewracking. I'm projecting at least a 9 in terms of drama.
That adds up to 27. Yep, if Watson wins, it will become, to my mind, the greatest single tournament victory in the history of golf.