News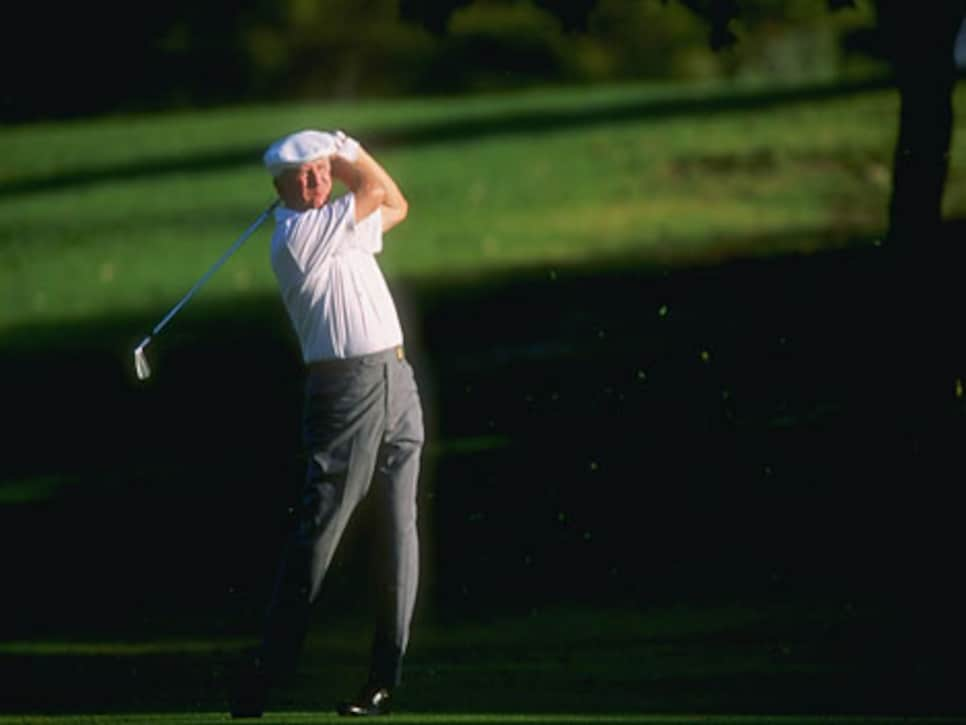 Deane Beman was competitive in the first round in the 1986 British Open before eventually succumbing to the difficult conditions.
Deane Beman has done many notable things during a lifetime in golf, but odds are that what he did on his summer vacation in 1986 will never be duplicated -- the commissioner of a sport competing at its highest level while holding office. "Might not be," Beman said modestly over the phone from his summer home in Maine, where, at 71, he plays regularly and gives no quarter.
Twenty-three years ago, when the British Open made its second visit to Turnberry's Ailsa course, Beman was in his 12th year as commissioner of the PGA Tour. He hadn't played in a tournament since 1973, but the competitive drive within -- that helped Beman win two U.S. Amateurs (1960, 1963), a British Amateur (1959) and four tour events after turning pro when he was 29 -- hadn't gone anywhere.
Early in 1986, intent to revive his game and play in the U.S. and British Opens that year, Beman hit thousands of practice balls. He worked so intensely, in fact, that he hurt his back and failed to qualify for the U.S. Open at Shinnecock Hills. Undeterred, the 48-year-old set off for Europe.
Beman made the cut at the Irish Open, where he received a sponsor's exemption. Then it was on to Scotland's Western Gailes for a 36-hole British Open qualifier. Beman shot two solid 70s, making the Turnberry field with a stroke to spare. "My guess is, the players weren't paying too much attention when I entered the Open," says Beman. "They were probably a little more mildly interested when I actually qualified."
That Beman could earn his way into a major championship after so many years in a business suit surprised a lot of people but not Jack Nicklaus, who had known him since the late-1950s. "Everyone keeps asking me, 'How's Deane going to do?' " Nicklaus told Sports Illustrated. "And I tell them, 'You watch, he's a gutty little competitor. He'll do fine. He may do better than fine.' "
Nicklaus and Lee Trevino paired against Beman and Tom Watson in a practice-round match. Turnberry's pinched-in fairways surrounded by knee-high rough was the hardest course setup Beman had ever seen -- more demanding, even, than the Olympic Club in the 1955 U.S. Open, which he played as a 17-year-old. But Beman took his return to competition at Turnberry in stride. "It's what I intended to do, so I wasn't surprised by it," he says now. "I learned from the time I was a youngster, if you can't imagine yourself achieving something, then you never will. It wasn't a surprise to me, because I envisioned myself being reasonably successful when I committed to do it."
In the first round, Beman teed off at 7:40 a.m. on what would turn out to be one of the Open's toughest weather days, with cold northwest winds and rain that made hitting Turnberry's slender fairways very difficult. Beman struggled on the greens early but finished in high style: saving par with a 13-footer on No. 15, rolling in birdie putts of 15 and 30 feet on Nos. 16 and 18, respectively, with a wedge approach setting up a tap-in birdie on the par-5 17th to complete his closing hat trick.
Beman's five-over 75 trailed first-round leader Ian Woosnam by five shots, but was better than the field average and the scores shot by some of the game's leading lights including Watson (77), Nicklaus and Raymond Floyd (78s), Curtis Strange (79) and Trevino (80). Beman's score was also better than the 76s shot by Seve Ballesteros and Mac O'Grady, both of whom were in the midst of disputes with Beman over assorted PGA Tour policies.
"I was in really good position after the first round, when we had terrible weather," Beman says. "When you're not currently competitive, it's more difficult for you in those conditions. I didn't have that much recent experience playing in bad weather. I think the more adverse weather wore me down a little bit."
Beman struggled to a second-round 78, missing the cut by two shots, and returned to his commissioner's chair, which he held until retiring in 1994 and being replaced by Tim Finchem. It wasn't his last competitive trip around Turnberry, however. In 1990, at 52, Beman played in the Senior British Open on the Ailsa course.
With rounds of 67-66-67, Beman was in charge through 54 holes, but a windblown rain as nasty as any of the weather during the 1986 Open hit on the final day, wreaking havoc with scores -- and for Beman, his eyeglasses. "I could still see up-close real well, but from 200 yards out it was hard to see the pin or the ball land," Beman says. "I was wearing glasses, and in the adverse weather, I didn't have the presence of mind to just take them off. I wouldn't have been able to see the ball land if I had taken them off, but you couldn't see it land anyway, it was raining so hard."
Beman carded a closing 81 in the horrendous weather, playing the last three holes in five over and missing an eight-footer for par on the 72nd hole that would have forced a playoff with Gary Player. The South African shot a 75 to win despite going five over on the last six holes. "If I had taken them off, my glasses wouldn't have been a worry for me, and it might have made a difference," Beman says. "It was a lot of fun -- disappointing, but rewarding, too."
After retiring in 1994, Beman competed sporadically on the Champions Tour. His best finish was a fifth place at the Kaanapali Classic in 1996, his senior forays limited by injury. His tournament days may be long over, but his love of the game endures.
"I still try to play and practice every day," says Beman, who underwent successful quadruple bypass heart surgery Oct. 20, 2008. "I'm fighting hard, and I'm not losing my skills. I love golf, but I really enjoy playing at a level that satisfies me. I don't enjoy playing at a level below that. I play at scratch, so I work hard so I won't disappoint myself. I'm getting back into walking around the golf course, gaining some stamina. I've been flagging at the end of the second nine, but I'm making progress."
No one tuning into the action at Turnberry this week will have quite the perspective of Beman, a commissioner who related to his players in a way no other sports czar could. He turned the PGA Tour into big business, his achievements many. But to compete in the 1986 Open also was a pretty big deal. David Stern doesn't even play H-O-R-S-E with LeBron James.