News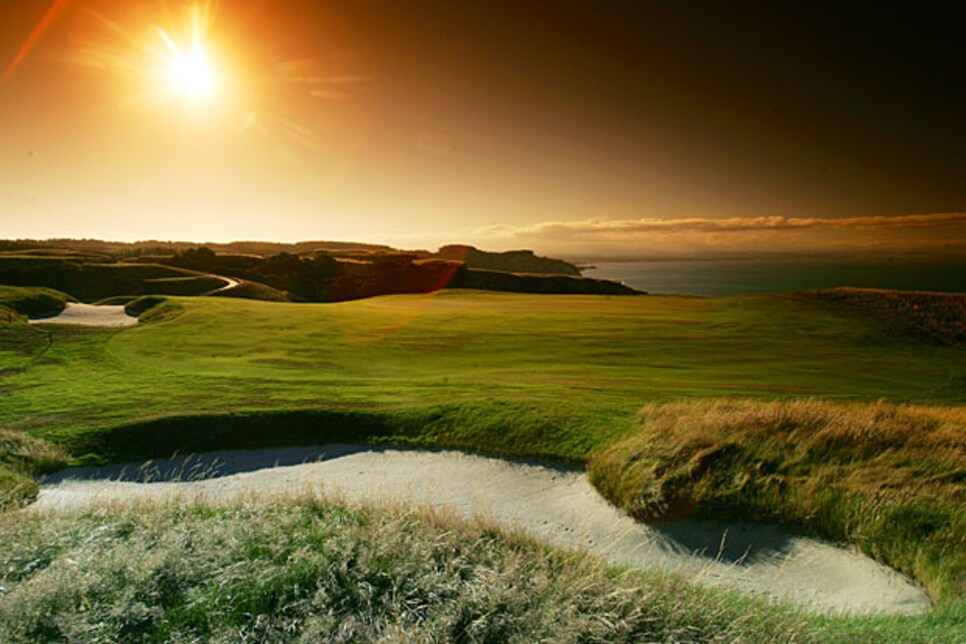 As opposed to sister course Kauri Cliffs, Cape Kidnappers didn't require builders to move an inordinate amount of earth.
In the fall of 2004, as I was flipping through a copy of Golf Digest, I spotted an aerial photograph of Cape Kidnappers Golf Course, a new design that had recently opened on New Zealand's North Island. The image was so otherworldly that it stopped me dead in my tracks: green fairways balanced high atop a cluster of finger-like cliffs that jutted out into a turquoise ocean. The picture reminded me of the impressionist paintings of fantasy golf holes I'd seen as a child. According to the article, Cape Kidnappers and its sister course, Kauri Cliffs, on New Zealand's North Island, were the brainchild of billionaire philanthropist and financier Julian Robertson, who had founded the Tiger Fund, the world's first -- and at one point largest -- hedge fund back in the '80s. He had come to golf-course development in retirement, simply as a hobby, and wound up with one of the most talked-about golf resorts in the world. I'd played some nice courses in my day, but I'd never laid eyes on one so exquisitely beautiful as the one in this magazine image. Surely, it couldn't be real. But it was, and the more I learned about the spine-tingling design -- and the more rewards it racked up, with both Golf Digest and Golf Magazine naming it one of the world's top 10 courses -- the more I realized that I someday had to see it for myself. Four years later, when I learned I was pregnant with my first child, I knew that if I didn't go soon, I probably never would.
Impending parenthood was an exhilarating yet daunting concept: My husband Matt and I were finally going to be admitted entrance into the membership of new parents who learn what it's like to love unconditionally. At the same time, we realized that we'd never again be just the two of us, able to go to a movie or take a last-minute trip without hours of prior planning or a sense of guilt. So in February of 2008, three months before my due date, we decided to take one last journey before our son arrived, one that would leave us with memories that would last forever. There's actually a name for this type of vacation: a "babymoon." In the past few years, this travel trend has become popular enough to merit an entry on Wikipedia: there, it's called "One last 'hurrah' before baby arrives."
There was no question that our babymoon would be a golf adventure. Like me, Matt has played some great golf courses through his job, so our "last hurrah" destination had to be spectacular. We had to venture to the end of the world. We had to see New Zealand.
Our journey began a couple of weeks before our departure, in the drawing room of a magnificent penthouse on Manhattan's Central Park South. Josie Robertson, Julian's wife and an integral partner in the development of both Cape Kidnappers and Kauri Cliffs, had invited me over for tea. The Robertsons spend at least 12 weeks a year in New Zealand during its summer months -- roughly late December through March -- and Josie wanted to share some insider tips on what I must see and do when visiting their home away from home. Surrounded by exquisite antiques and walls hung with paintings by Picasso and Matisse, this statuesque woman with a silky-smooth voice described the passion she and her husband had developed for the tiny country on the opposite side of the earth.
Julian had first stopped in New Zealand on his way home from a business trip to Asia in 1997. He'd been nearing retirement and was looking for some interesting side projects. He'd heard about a vacant 5,000-acre farm in Hawkes Bay on the tip of the North Island with amazing views of the Pacific coastline. The property was called Kauri Cliffs, and even though a driving rainstorm had made it difficult to make out many details, Julian had purchased the land then and there.
"When I first heard he had done this, I thought, 'what are we going to do with a 5,000-acre ranch in New Zealand?'" Josie told me. "Then he started saying what a gorgeous golf course the property could make." Josie, herself an avid golfer who started playing in her 40s and carries a 17 handicap, warmed to the idea. She convinced her husband that if he was going to build a golf course, he had to include a nice inn. Julian acquiesced and hired an architect to design and build a luxury lodge. Kauri Cliffs golf course opened in 2000, and in 2004, as the lodge was being completed, the Robertsons cut the ribbon on their second New Zealand golf course, Cape Kidnappers, some 400 miles south of the first. What had begun as a private retirement project had developed into a major business venture, albeit with a very personal touch. By this time, the Roberstons had fallen in love with New Zealand's natural beauty and kind-hearted people. "It's such a small country with every possible type of geographic condition," Josie said. "It has the most gorgeous fjords, streams, coastline and lakes, and the southern alps are just stunning. I tell women that it's the most user-friendly place in the world. You'll have no hesitation going anywhere in the country. It's so casual and laid-back, and the people are genuinely nice. It's just a really pleasant place to be."
An independent nation within the British Commonwealth, New Zealand is situated 1,250 miles east of Australia and made up of two main parts -- the North Island, which is warmer and has a flatter landscape, and the South Island, which is closer to the Antarctic Circle and thus colder and more mountainous. New Zealand was settled by the Polynesian Maori people roughly 1,000 years ago and colonized by Great Britain in the mid-1800s. Today, the Maoris make up 15 percent of the population of four million, and most of them reside on the North Island. The Maoris retain the rights to their indigenous lands, so Julian struck a deal with the local tribe after he bought Kauri Cliffs. He paid off a multi-million-dollar debt the tribe had incurred in a failed business venture in exchange for a 60-year lease. The Robertsons have done a lot to cultivate positive relations with the locals, such as paying for the restoration of Kerikeri's old Town Hall.
Two weeks after my afternoon tea date with Mrs. Robertson, Matt and I left for New Zealand. I like to consider myself a seasoned traveler who can handle anything. But flying over 10,000 miles one way in coach, even with two layovers, is not recommended when you're six months pregnant and suffering from edema, a lovely pregnancy side effect that causes swelling of the legs and feet. I came close to losing it several times in those 36 hours, especially when a New Zealand customs officer pulled me aside to inform me that my golf shoes were classified as bio-hazardous materials because American grass was stuck on the cleats. Luckily, Matt has a very calming influence on me, or I might have been charged with assault and battery.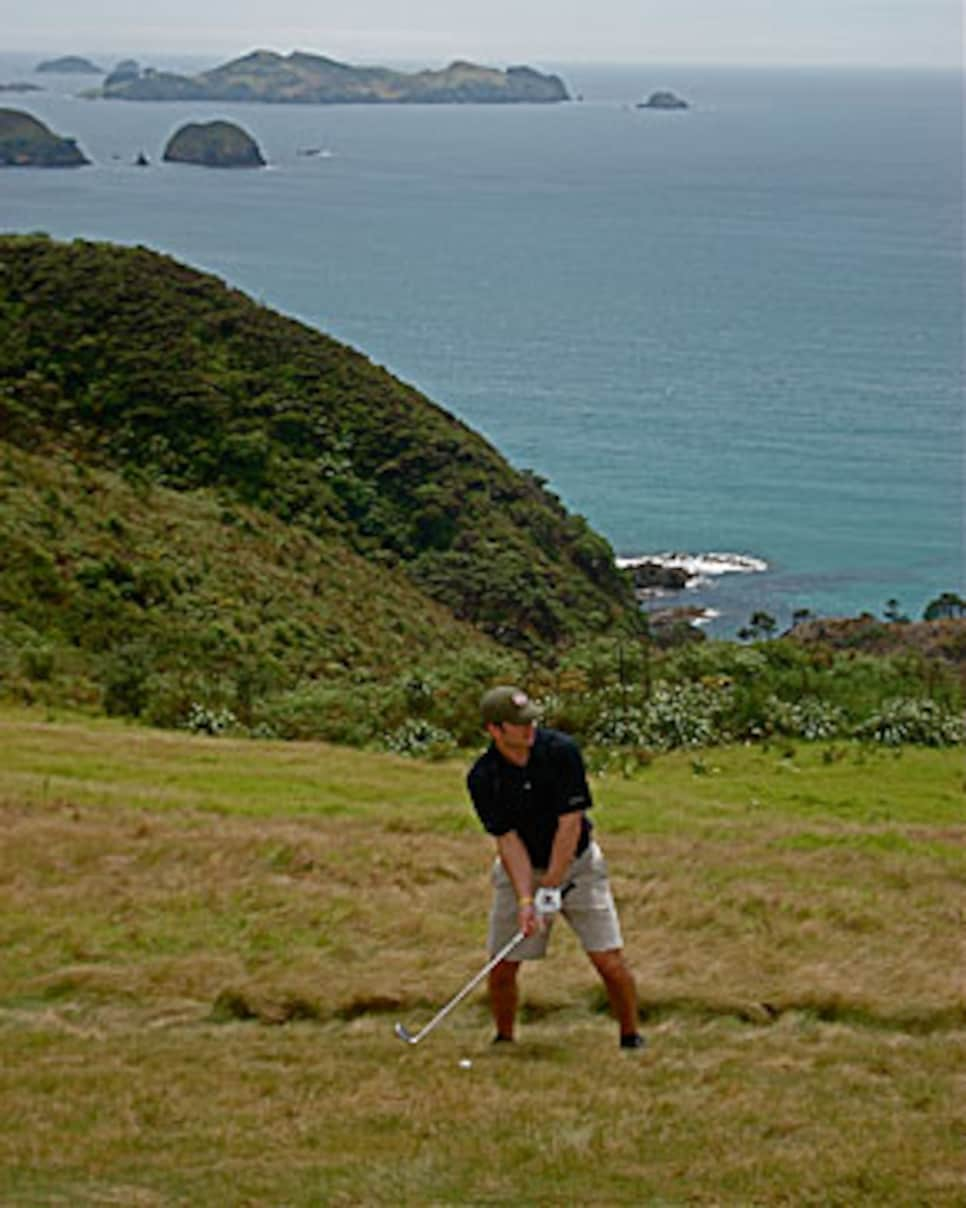 A prop plane carried us the final, 30-minute stretch from Auckland to the tiny airport in Kerikeri, and a 30-minute drive later, we arrived at Kauri Cliffs Lodge. After checking out every inch of our superbly designed room, Matt and I resisted the urge to belly-flop onto the exquisite bed and instead headed up the cart path to the main lodge for a late lunch. We walked in silence, serenaded by a strange mix of crickets squeaking and waves crashing. Set on high bluffs over the South Pacific, Kauri Cliffs is equal parts tropical jungle, beach resort and golfer's wonderland. One of its three beaches consists, not of sand, but of rock-pulverized shells that have a pinkish cast. Every Friday, lodge guests are chauffeured down to picnic tables on Pink Beach and served a gourmet barbeque dinner. I regretted that it was Monday. As we chowed down on burgers and mahi-mahi on the homey lodge's veranda, the fog lifted to reveal magical views of the golf course.
There wasn't enough time left for golf that afternoon, so we followed up lunch with a sleepy couples' massage in the new spa building, which blended into the dense forest behind our room so effectively that we almost couldn't find it. It turned out to be the perfect remedy for our travel-induced aches and fatigue. Dinner at the Kauri Cliffs lodge is a formal but familial affair. You're expected to dress up (men must wear a jacket), show up for cocktail hour and chat with the other guests. I had imagined this a buddy-trip kind of place, but the lodge was full of couples and families, most of them American. We were the youngest couple here, and considering the per-night room rate -- roughly $2,000, including meals -- the only ones to benefit from the 2008 tax-stimulus program. We feasted on tempura vegetable starters with hazelnut bread, filet mignon over carrot puree and Northland pork with honey red cabbage, finishing off with milk-chocolate volcanoes over vanilla ice cream, all the while being tended to by the five-star staff, many of whom were there on work leave from some of the best culinary schools in Europe and the U.S. At sunset, the sky turned as pink as the beach below it.
Despite the 18-hour time difference, we woke up for our early tee time on day two virtually free of jet lag. Hiring a caddie is optional at Kauri Cliffs, as is riding a cart. We took both options, having abandoned any impulse to walk the long, undulated course. It has five sets of tees: the first two, considered the women's tees, measure 4,897 and 5,774 yards respectively, and the longest three from 6,070 to 7,119 yards. Josie Robertson had told me that the second tee box is considered the "Ju-Jo tees" for Julian and Josie, but she admitted that, depending on the wind and how generous her husband is feeling that day (they're extremely competitive on the golf course and play daily matches for "huge amounts of money," even if none ever changes hands), Josie usually mixes it up and plays from the shortest set of tees on the holes with longer carries. This approach sounded good to me, considering I had no idea how to maneuver around my six month-size belly yet. LPGA Tour moms had told me that they played some of their best golf while pregnant, thanks to lower center of gravity, and I hoped this would be true for me as well.
Kauri Cliffs Golf Course was designed and built by the late Dave Harman, who is famous for his Orlando championship courses Shingle Creek and Orange County National. Given free rein during the construction, he created a diverse layout that challenges every shot in a golfer's repertoire. The signature holes go along the cliffs high above the ocean, and the inland holes have been shaped to give you a different lie on every shot. The front nine is calmer and farther away from the ocean than the back, but it's more undulated and diverse than it looks.
I started out well: my belly kept me from over-swinging -- my trademark problem -- and made my swing more compact, so I hit the ball straighter and made better contact. But the bent-grass greens were deceivingly slow; the grain went against the slope much of the time, and I three-putted the first three holes. Matt, an 18-handicapper who hits the ball a mile but rarely straight, had more trouble finding his swing. He didn't possess a magic belly to help him, but he stayed positive, as always, and we had a great time. Once we got closer to the ocean and reached the par-3 fifth hole, the views of the island-studded bay got really distracting. The land dipped dramatically, like an organic roller coaster; the higher elevations were gusty and cold, but whenever we drove our cart down into a gully, we found ourselves in a completely different climate: tropical and moist, without a hint of wind.
Following the Josie strategy, I alternated between the first and second sets of tees, depending on each hole's layout. This let me customize the round to my needs and turned out to be the perfect approach.
The par-3 seventh hole at Kauri is the most photographed on the course, and for good reason. It sits on the edge of the cliff above a Maori burial ground on the beach some 300 feet below, and beyond that, the bay. A breathtaking panorama unfolded as we approached the green, and I couldn't resist the urge to stand on the edge of the green and gaze at the islands and the expanse of ocean beyond them. Matt quickly wrapped his arms around my giant waist, to protect me from falling. We stayed like that for a moment, on the edge of something very huge. The back nine rolled along the ocean, and featured hair-raising drops and climbs, ravines and gullies. I figured out how to swing around my belly without losing so much distance -- I simply bent over more at the waist to free up my arms. Matt found his groove a bit as well, and if it hadn't been for our countless photo stops, we'd have finished in three and a half hours. Instead, we clocked in at exactly four and felt as if we've run a magnificent marathon. A round at Kauri Cliffs is a workout for your body and mind, and leaves you feeling exhausted yet accomplished. I added up my score and found that I shot an even 90. Not bad for a whale.
After golf, we headed for the coastal village of Ahipara for a little "quad biking," or ATV-riding, on the sand dunes along the Tasman Sea coast. Our guide, Rory of Tua Tua Tours, lead the way as Matt and I spent over three hours racing across one of the most popular tourist destinations in the Northland, Ninety Mile Beach. The beach is actually only 58 miles long, but still the most dazzling stretch of sand I'd ever seen. In some spots, we got our ATVs up to 55 mph, and in others, we had to tread lightly, inching our vehicles over rocks and through puddles. Once in a while, a pang of guilt hit me -- what if I was endangering my unborn child? Junior confirmed that he was okay by kicking me hard in the side. Someday, when I show him the pictures of his mom doing wheelies on the dunes in New Zealand with her belly hanging out, he'll appreciate his cool parents, even if they did fall asleep in the back seat on the ride back to the lodge.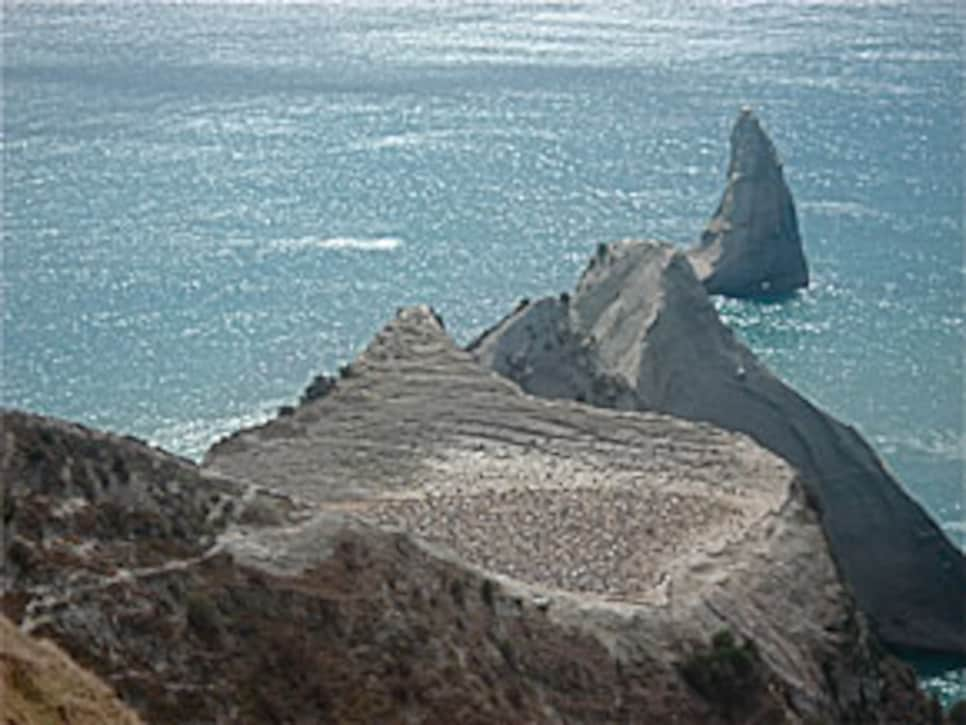 Before leaving Kauri Cliffs for Cape Kidnappers on our third day in New Zealand, we were treated to a tour of the vast estate by one of the property managers. A fully functioning farm, Kauri Cliffs houses some 1200 sheep that graze all over, accompanied by cattle that's raised for its beef. We got a close-up view of a 700-year-old Kauri tree, which measured over nine yards in diameter, and took pictures by the beautiful waterfall that's hidden deep in the woods. The highlight of the tour was a peek inside Josie and Julian's spectacular "owner's cottage." (I use that term loosely -- if this was a cottage, our Connecticut home is a shoebox.) If you have $5,000 to spare, you can rent it for a night when the Robertsons aren't here. Satisfied that we'd done well enough just by scoring a room in the lodge, we left Kauri Cliffs knowing that there would rarely, if ever, be much that could compare.
We flew to the southern end of North Island rather than drove, since the trip would've taken us roughly 10 hours on the two-lane New Zealand "highways." Three hours and one layover in Auckland later, we arrived in the Hawke's Bay region. Cape Kidnappers, which is also home to one of the largest gannet colonies in the world, sits 30 minutes farther south, but Matt and I had booked two nights at the Crown Hotel in the charming little harbor town of Napier before going there. Napier was almost completely ruined in an earthquake in 1930, and one year later re-built from scratch in mainly art-deco style. We spent two days exploring its architecture and the area's magnificent food and wine scenes (favorite meals included a "Divine Starter" breakfast at the Divine Café in Napier; a lunch of savory lamb and monkfish under the vines at Black Barn Winery in the neighboring village of Havelock North; and a dinner of braised pork and grilled venison at Craggy Range Vineyard, also in Havelock North). This region is rich in fruit orchards, vineyards, and delightful small towns.
But the culmination of our trip lay ahead, and on day five in New Zealand, we finally arrived at the gates of Cape Kidnappers. The voice on the other end of the buzzer advised us to drive the five miles to the lodge carefully and slowly. We immediately learned why: the road was narrow, steep, winding, and utterly lacking in guardrails. No wonder most guests prefer arriving by helicopter. If we had disregarded the vast ocean in the distance, we could've easily mistaken Cape Kidnappers for a huge farm in Montana or Wyoming. The lodge sat on one of the highest points of the property. Aptly named The Farm, it resembles a big barn, complete with an immense silo, which houses a private dining room. The Robertsons hired the same interior decorator who'd done their home in Sun Valley, Ida., do design The Farm; it's far more rustic and contemporary than the Lodge at Kauri Cliffs, yet it achieves the same goal of making guests feel as if they're staying in a fancy estate rather than a hotel. Our cottage suite was a rustic but modern environment, with a plasma TV hidden behind a large painting on the wall, a walk-in closet and an ample fireplace. The best surprise was the bathroom. It boasted a giant tub beside a floor-to-ceiling window, heated Frette towels and a shower stall the size of a penthouse. We took a few pictures then headed for the clubhouse. This was the round I've been waiting for. I was finally going to play Cape Kidnappers.
Like Kauri Cliffs, Cape Kidnappers has five sets of tees. The back tees are a whopping 7,147, and the two forward-most ones measure 5,182 and 5,808 yards respectively. I decided to keep following Josie's strategy and switch between tees depending on the length and layout of each hole. The oceanside "finger holes," as I liked to call them, were all on the back nine, but the front didn't lack for either beauty or brawn. The course was designed by Tom Doak, the mastermind behind Oregon's spectacular Pacific Dunes; and as Josie had explained the afternoon we met in New York, Julian was inspired to hire Doak after playing Pacific Dunes on a father-son golf trip. "Julian just flipped over that course," Josie had told me. "It fit so beautifully into the property, and that sold him." While Dave Harman had moved a lot of earth to create Kauri Cliffs, Doak's approach of utilizing the existing landscape suited the unique geography of the Robertsons' new property perfectly. By some accounts, it also made Cape Kidnappers half as expensive to build as Kauri Cliffs.
I started off my round in a bit of a trance, which turned out to be an ideal state of mind for me; I hit the ball dead straight and my short game was actually cooperating for once. But the better I played, the worse Matt fared. He had serious trouble finding fairways, and that's murder at Cape Kidnappers. The thick fescue rough swallows a ball so quickly and completely that you can't possibly find it, even if it simply fell out of your pocket. Matt swung so hard in the thick grass that his back started to hurt, and by the time we reached the ocean on the par-3 sixth, he had lost eight balls. But he didn't let a few bad shots deter him. We finished up the front just in time to stop at the minimalist clubhouse for a quick burger and beer, my first sip of alcohol since getting pregnant. Matt had more than one sip, in the hopes of loosening himself up and slowing down his swing.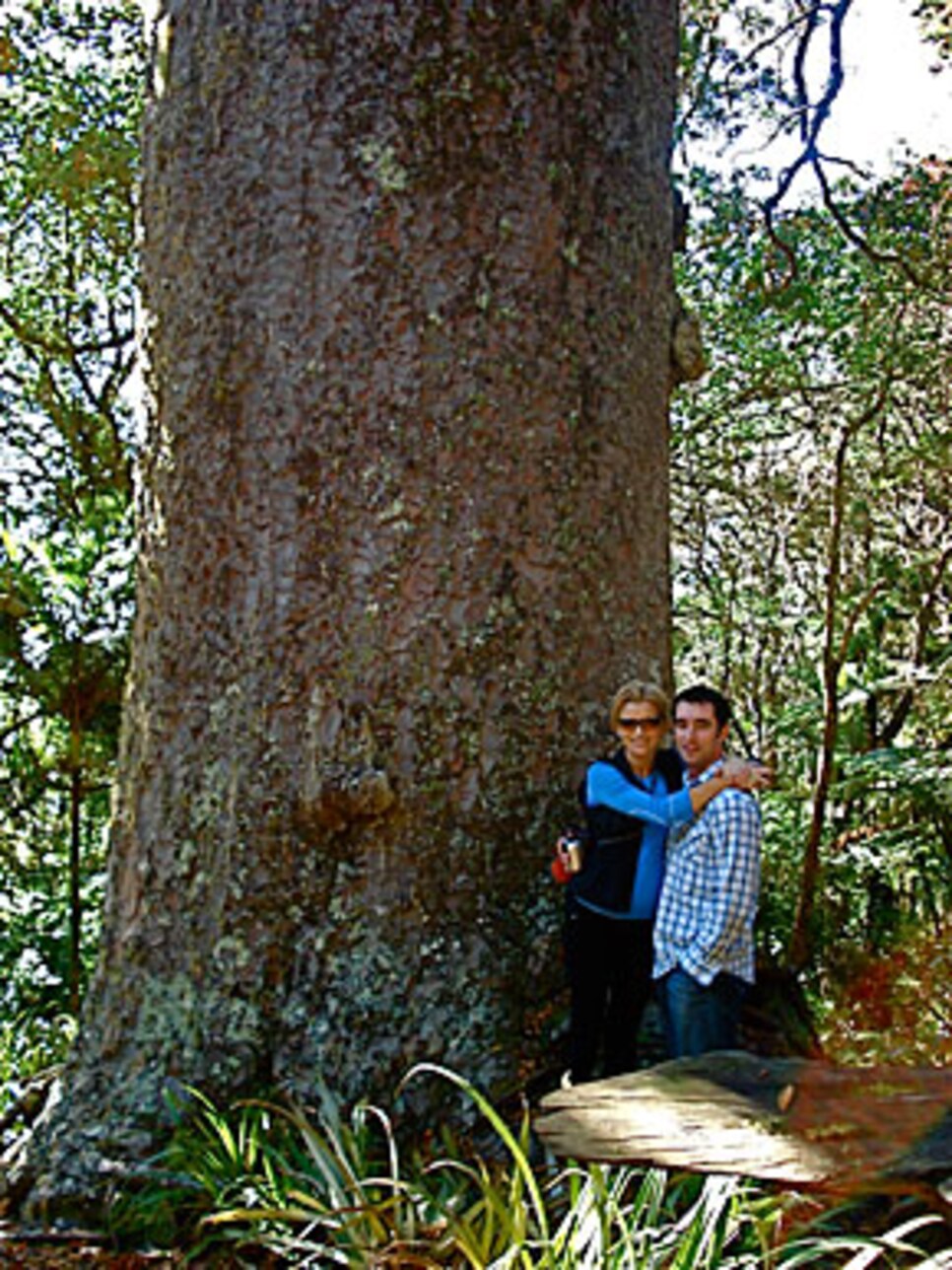 The real challenge began on the back nine. All of a sudden, the wind, which had been benign until then, picked up and the golf holes became flat and long, teetering 600 feet above the ocean. It was tough to focus amongst such beauty. On the par-5 15th, the drop down to the beach is so long and steep as to induce vertigo. No. 16 is a dramatic, downhill par 5, and its back tee is the highest point on the course, offering a panorama of the coast and waves crashing on Black Reef below. As we walked up toward the tee, I recounted for Matt a story Josie had told me about this hole. Doak had originally planned it to be a long par 4 with only the back tee set up high over the water. During construction, Josie had told him, "It's just criminal to only let 10 percent of the players see this view." Doak, a quiet guy who doesn't usually care much what other people think, took Josie's advice, moved all the tees back to the ledge and turned the hole to a par 5.
The only hole I considered a whiff on Doak's part was the par-4 17th. Playing back from the water toward the hills, it's a long (364 yards from the forward tees) dogleg right with a second shot that's severely uphill, and it has a litany of bunkers guarding the green. Even a decent woman golfer has no shot at reaching the green in regulation. I nailed a driver and 5-wood, played pinball between the bunkers and managed to almost reach, but the pin was back on a long green, leaving me a 70-yard chip shot to the flag on my third. Since I was in the process of putting together a pretty good score, the ensuing bogey ticked me off more than it should have. But I pulled it together, parred 18 and walked off the final green elated. This was as much fun as I'd ever had on a golf course. And I shot 84. Who said this track was difficult?
The next day, Matt took a golf lesson to work out the kinks in his swing while I drove to the neighboring town of Hastings to buy more golf balls. We were down to two balls with one round to go, and the way my dear husband was spraying it, that wouldn't have lasted us more than a couple of holes. We'd shelled out $100 for a dozen balls at the pro shop at Kauri Cliffs (import taxes on golf balls are apparently quite high in New Zealand), and I was determined to find some Top-Flite XLs that might hurt our pocketbook a little less when Matt sent them off the sides of the ravines.
It turned out I was the one who would need the extra balls. During our second round, I was forced to eat some serious humble pie. I couldn't believe this was the same course I'd called "easy" the day before. I wondered if Junior had lost his magical golf powers as I found more fescue than fairway, fighting the now-ripping winds. Apparently, the breezes we'd felt the day before were dead calm compared to the usual gale-force gusts that are the norm at Cape Kidnappers. But it was wonderful to watch Matt hit one great golf shot after another, and I tried to rejoice in his newfound form rather than wallow in the fact that I'd completely lost mine. Besides, it was hard to pout too much considering the fairy-tale surroundings. Cape Kidnappers had more than exceeded my lofty expectations.
Walking back to our cottage that night, Matt squeezed my hand and flashed me a smile. Our babymoon was almost over, and I wasn't happy about leaving. "See, honey, it may be all downhill golf-wise from here, but at least we got to see this place once," he said. I realized he was right. And we had so much else to look forward to.
I ended up playing golf all the way until my due date, to get Junior used to the sounds and motion of the game. We named him Lukas Hogan, and he has my smile and Matt's eyes. If there's any justice in the world at all, he'll also inherit a bit of Kiwi spirit and a lot of love for the game.