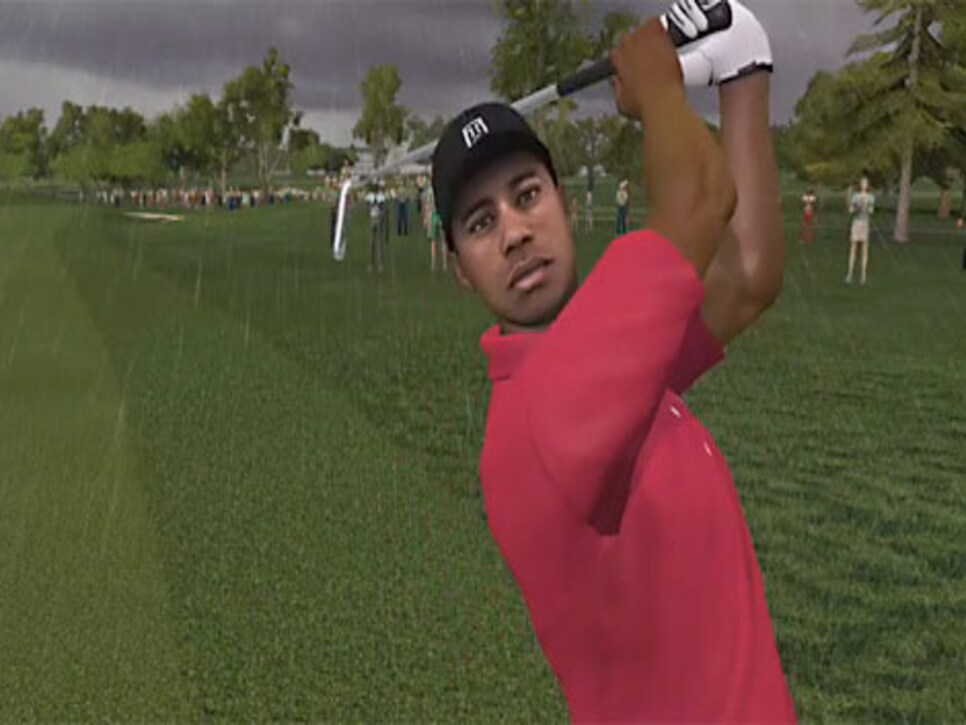 The graphics for Tiger Woods 10 are a marked improvement from past versions of the game.
Now I know what it's like to be Colin Montgomerie.
I actually thought it would be a little sweatier.
Playing Tiger Woods 10 on the swing-it-yourself Wii video game system is so much more convenient than going all the way over to Turnberry, taking slag from Sandy Lyle and scowling through a press conference.
Hyper-realistic sports video games have been a staple for the high-definition Playstation III and X-Box systems for years. But something about the golf experience is lost when you're controlling the length of your backswing with your right thumb.
On the Nintendo Wii, you wave a wireless motion-sensing controller around and its position is picked up on the screen. If that sounds like the perfect recipe for making birdies -- and triple-bogeys -- as your favorite PGA Tour player, you would be correct.
I brought home a copy of the game -- and a 12-pack of Miller High Life -- and invited two friends over for an adult version of a Dungeons and Dragons play date: Beer and a round at Pebble Beach in virtual video game land.
The knock on the Wii system is that its processing chip is a lot less sophisticated than the ones in the PS3 and X-box. Games on the Nintendo system tend to run more toward the cartoonish than the photo-realistic. That hasn't completely changed with Tiger Woods 10 -- Tiger Woods still looks like a Marvel Comics version of himself -- but the graphics are a huge step in the realistic direction.
The conceit for TW10 is the 2009 PGA Tour season, rendered through remarkably realistic real-life tour courses and a selection of PGA Tour and LPGA Tour players to choose as your golf avatar. Taking advantage of the Wii's ability to connect wirelessly to the Internet, the game also allows you to play under the current real-world weather conditions at the golf course you select. If it's 50 and foggy on the Monterey Peninsula that day, it's faithfully recreated on the screen in front of you.
Since it's my house, I get to pick my character first. It comes as no surprise that Tiger is the first face on the selection screen. A list of different attributes -- power, accuracy, recovery, approach -- run down the left side of the screen. They've resisted the urge to make Tiger a 100 in everything, giving him an 80 in putting (and luck, whatever that means), but he's the best package you can pick -- sort of like the New England Patriots in any NFL game. Instead of going with robo-golfer, I pick a guy with a physique a little closer to my own. Monty pops up on the screen, complete with the sour look he wears in real life, and a too-tight pale blue sweater.
My friend Travis goes next, and he goes with Jim Furyk -- who makes a contorted practice swing that looks just like the real thing. Alan is pretty mild-mannered in real life, but he goes for the throat when it comes to video games. He laughs at Travis and my obvious sentimentality and picks Tiger. We're not getting any strokes, either.
The best part about the TW10 gameplay is that you can pick up enough right out of the box to go play a round without hitting grounders and making 10s. With the game on its medium setting and playing from the White tees, we're all able to make successful swings off Pebble's first tee. In a particularly non-Monty kind of strategic maneuver -- he always seems to wait until the 72nd hole to hit one fat and lose -- I try to go over the trees on the right side of the dogleg right with my 3-wood and end up in pretend jail, 200 yards out. "Tiger" and "Jim" smooth it out there with long irons and have short yardage in.
The game interface is a nice combination of accurate and forgiving. You can do pretty much whatever you want with your backswing when it comes to swing path, but the length of it determines how much power you put on the shot. Take Monty back halfway with his driver and he bunts it out there 50 percent. How you twist the controller through impact determines the sidespin on the shot. Twist your wrist down and the ball goes left. Turn it up and the ball goes right. The space in between, for a straight shot, is pretty wide and forgiving, giving you a decent chance to split fairways and find greens.
Where things get interesting -- and occasionally annoying -- is when you have a finesse shot requiring 50 or 60 percent power. We spent the first two or three holes smoking shots over greens or leaving them short because we couldn't quite dial in the subtlety. Then again, if EA Sports was trying to replicate real golf, that'd be a pretty accurate representation of our collective real-world games.
And just like in real golf, there's a beer consumption nexus -- at about three, performance improves. After that, you start looking for reasons to drive the cart and sit in the air conditioning. Except that with TW10, you're already in the air conditioning, and the beer is only 10 feet away.
We chopped it around the front nine, with Tiger leading at one under, Furyk at two over and my Monty straggling behind at four over -- just like real life. And just like at real Pebble, we entered the lull when the holes turn away from the sea. But by the time we reached pretend 17 -- and we had only two High Lifes left in the box -- Tiger was still ahead at two under, but Furyk and Monty were tied just one shot behind.
As realistic as the rendering was on my 42-inch plasma screen, there's still enough of a disconnect from real golf that you're not afraid to heckle during your opponent's pretend backswing. Virtual Furyk dumped his approach shot on the picturesque 17th -- cue the harbor seals barking -- short and right, in the bunker. My Monty put a hybrid on the green, but inexplicably -- and accurately -- pursed his lips in apparent displeasure. Tiger proved to be just as clutch in the pixellated world as he is in real life, stuffing it in there five feet.
But the second quirk of the otherwise remarkable gameplay engine pops up again when you're putting. You use a series of buttons on the controller to set your aim, then draw the wand back to provide the appropriate amount of power to the stroke. However, when the controller is pointing down in a pretend putting pose, it seems to briefly lose connection with what's happening on the screen at the top of the backswing. During that pause, if you gun the controller forward, you have a good chance to hitting the putt about four inches.
That's something Tiger has probably never done in his real competitive career, but my living room isn't Augusta National. With Alan at the controls, Tiger tinkled his birdie putt a foot-and-a-half, leaving himself another three-and-a-half feet for par. After the feeble birdie effort, Virtual Tiger even grabbed his putter by the neck and smacked the face with his hand as if to castigate his real-world counterpart. Hooting, my Monty and Furyk both got up and down to save par.
I wish I could say that Virtual Monty broke the spell that has always seemed to come across his golf game when he crosses the real-life Atlantic Ocean to play in the States. Channeling his real-world self, my Monty blocked his tee shot into Charles Schwab's backyard off the tee, consigning us to a double-bogey 7 and a spectator's seat for Faux Furyk's quest to make birdie and try to tie.
Apparently even the video game version of Furyk comes with grit. Travis directed his trusty balding golf avatar 40 yards short of the green in two, where he then jarred a pitch shot for eagle. Tiger needed to make a 17-footer for birdie to tie, which he missed.
It took about 45 minutes for us to play 18 holes -- fast forwarding through most of the banal play-by-play provided by Scott Van Pelt and Kelly Tilghman -- and we all came to the same conclusion. We certainly didn't burn as many calories waving the wand around in my living room, but it there's something to be said for getting a round in with enough to time to go out into the real world and watch a baseball game at sports bar.
Like Travis says, there's a reason they called it "Super No-Friendo" back in high school.