News
Sponsors Showing Support For Woods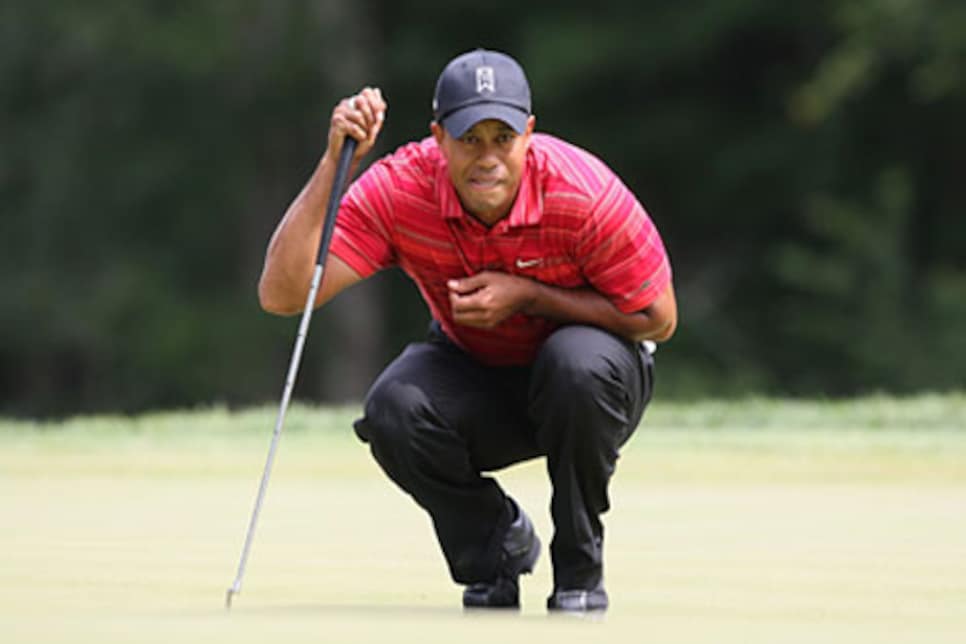 Only time will tell if recent events will affect Woods' marketability.
Longtime sponsors are sticking with Tiger Woods -- for now.
But the world's most famous athlete, who offered a "profound apology" Wednesday following allegations of infidelity, might find new deals hard to come by, marketing experts say, and the loyalty of existing sponsors could be tested by any additional controversy.
"Unfortunately for Tiger, the situation is not over," said Bob Williams, CEO of Burns Entertainment and Sports Marketing, which represents companies looking to hire celebrities to sell their brands.
"The linchpin will be when he addresses the public for the first time," Williams said, adding that will help companies determine how they feel about him.
In a statement released Wednesday, Woods said he had "not been true to my values and the behavior my family deserves."
Forbes estimated earlier this year that Woods was the first athlete to surpass $1 billion in career earnings, more than 80 percent of that coming from endorsements with companies such as Nike, Gillette, Gatorade and AT&T. Woods is also a Golf Digest Playing Editor.
Those are all long-term relationships, Octagon First Call's David Schwab said, partners not likely to dump him at the first rough patch.
Nike, Gatorade, EA Sports, and Golf Digest all have made statements expressing their support or commitment to Woods, and Gillette said it had no plans to change its marketing programs. AT&T declined comment.
"These are people who are invested with him in his foundation, his golf courses, across the board. So they're part of his family, too," said Schwab, who also links companies and celebrities for branding opportunities.
In fact, cutting ties with Woods now could actually hurt a company, Schwab said.
"Brands look at how impactful a spokesperson can be for their brand but also what the public outcry or public opinion would be," he said. "If a brand drops him, there could potentially be negativity toward the brand for doing so.
"That's why brands typically weather the storm."
But companies that may have wanted to align themselves with Woods might rethink that -- particularly companies whose target audience is women or children. Part of Woods' appeal has been his pristine image, off the course as well as on, and events of the last week have tainted that, making him an easy target.
Jay Leno poked fun at Woods during his show Tuesday night. Spirit Airlines is trying to capitalize on his troubles, too, offering an "eye of the tiger" sale, which they're promoting with a video that shows a tiger in a baseball cap driving an SUV into a fire hydrant.
Zeta Interactive's "Zeta Buzz" mines more than 100 million blogs, message boards and social media posts to analyze the feelings of potential consumers. In the past, terms most associated with Woods were "Masters," ''golf" and "winning," Zeta CEO Al DiGuido said. In the last week, that's changed to "affair" and "cheat," DiGuido said.
The tone of posts has also changed, he said. Before the car crash, 91 percent were positive. That's now down to 74 percent. The volume also has skyrocketed. Zeta Buzz found 900 posts related to Woods on Tuesday; from midnight to noon Wednesday, there were 2,000, DiGuido said.
"As much as he wants to put this behind him, what's happening now is the alleged scandal is starting to fuel the buzz, and it's not positive for Tiger Woods," DiGuido said. "The volume is continuing to grow and the negative side of it is getting more intense.
"It would be something that (if you're a sponsor) you would watch pretty closely because it starts to take on a life of its own."
It's not just Woods who stands to lose. The Tiger Woods Foundation provides educational resources to disadvantaged children, with a $25 million learning center in Anaheim, Calif., and plans to build another in Washington.
"With respect to the sponsors and partners, they've shown a tremendous amount of support in us and this event, and they've been supportive of the foundation and they've been proud of the work we've done the past 13 years with more than 10 million kids," Greg McLaughlin, foundation president and tournament director for Woods' Chevron World Challenge, said this week.
"A lot of kids need our help and want our help, and we're going to continue to grow our foundation and provide valuable services to these kids," he said.
Woods, who backed out of the tournament after the accident, again pleaded for privacy in his statement Wednesday, saying "problems within a family shouldn't have to mean public confessions." But that's not going to be good enough, the marketing experts said.
The longer Woods goes without facing the public, the more fans and consumers will question the faith they had in him.
"Sponsors are going to listen to the people who buy their products," said Michael Gordon, CEO of Group Gordon Strategic Communications in New York. "If he handles it well, and he still has the opportunity to do that, he can put this to bed. Currently, the way he's handling it is failing.
"The language in the statement is perfect," Gordon added. "But he needs to come out and humanize it and say those words and answer a handful of tough questions on the subject. The more he avoids direct media contact, he creates more scrutiny of the situation."